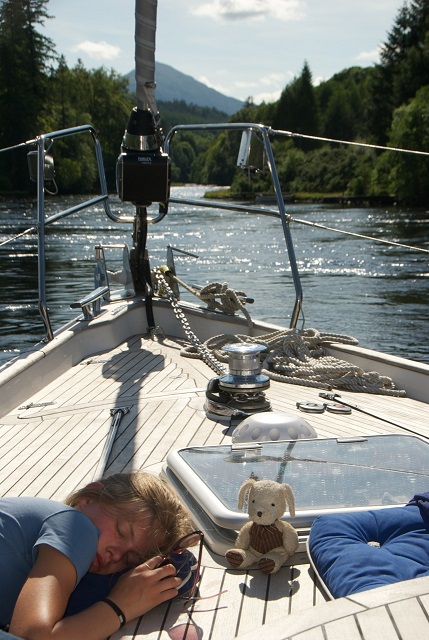 Sailing and Living on Regina Laska
Highly custom-oriented cruising and sail training legs for anyone between total newcomers to ocean sailors.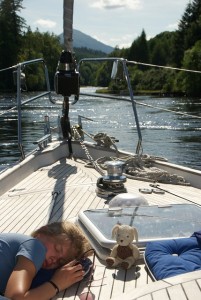 Choose between lazy canal trips, the Scandinavian archipelago, whiskey tours in Scotland, adventurous legs crossing the North Sea, remote places like Shetland, Orkney or the Hebrides. Join us crossing the Bay of Biscay, visit the Atlantic Islands or relax with pleasant warm cruising along the Spanish and Portuguese coasts. We have years and years behind us in delivering unforgettable and wonderful memories. 
"Each time, Sailing on Regina Laska feels like coming home. For me, it's sailing among good friends, while sharing the considerable cost for running such an excellent fine perfectly kept and comfortable yacht. What Leon does is building a group of good friends around him that stretches far beyond the sailing experience! The atmosphere is outstanding!", William Brochs-Haukedal, Norway
All guests have one thing in common: the desire to swap a hectic lifestyle with living with the breath of nature for a while. Participants are no students, nor are they treated as customers. Rather, they feel like guests – and that's what they really are! They come not only for the sailing experience but for meeting equally nice people just as well. Many keep returning and so a friendship group among Reginasailing is naturally formed.
Guests are not simply shuffled together on a first time – first serve basis. A lot of emphasis is put into pairing guests together that might enjoy their company. Hence, for new participants, a short description of yourself is very helpful to make your sailing experience an outstanding one!
We take the day as it comes, lead by weather rather than by a full diary. Our cruises are held flexible and customer oriented, never stretching it longer than your personal limitations.
Sailing should always be fun and the weather situation is always taken into consideration when planning the sail for the day. No risks are taken and the overall goal is to have fun and to enjoy with the highest standards of safety.
Shore excursions are just as much part of the sailing experience as sail training is. The balance between laid-back cruising, exploration and sail training is highly up to the participating guests. Therefore, a special attention is given when putting together the individual crews for each leg, so that people with a similar background and expectation are welcomed on the same leg.
Bring your camera to make your own movies and/or photos of the beautiful places we visit. Historic sites are just as important as meeting local people. Who else would  personally get to know the very lady knitting the sweater you just bought on Fair Isle, or  be able to talk to the archeologists who are just about to work on a Viking excavation, or visit the distillery of one of the best whiskies in the word?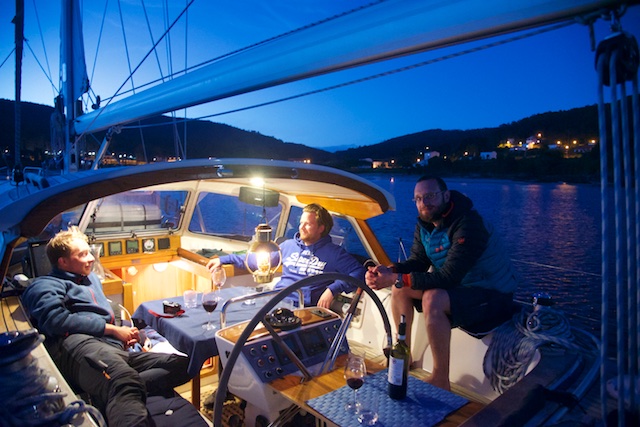 The maximum number of guests is kept to four in two separate cabins in order to allow for comfort and privacy. This is no camping-sailing: We sleep in real linen, rather than sleeping-bags, on extra thick mattresses.
You may take daily showers or use the hair dryer, which is provided. In oder to maximise comfort while showering, Spa-like shower heads have been installed in both bathrooms. Nice smooth hot water is now showering down from a large head with many nozzles. By means of a button, the shower type can be changed according to desire.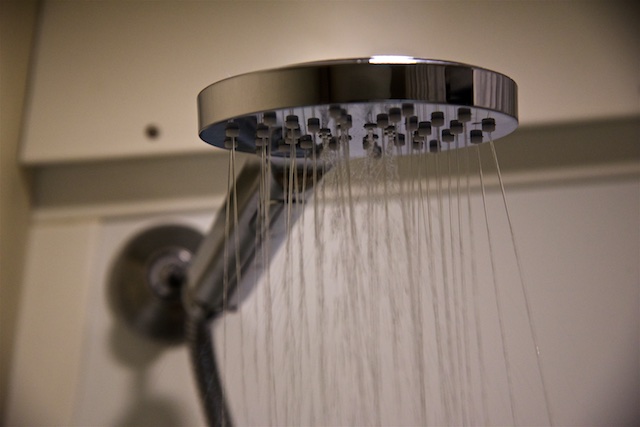 Toilets are electric, so hygienic is looked after as at home, even though space and water is, or course, limited. All cabins and the bathrooms are stylish, cozy, warm and dry, even the cockpit provides a comfortable shelter thanks to the hardtop.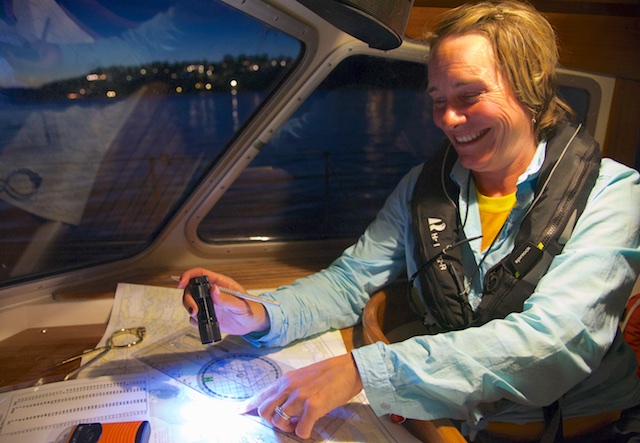 Navigating at night in the shelter of the cozy hardtop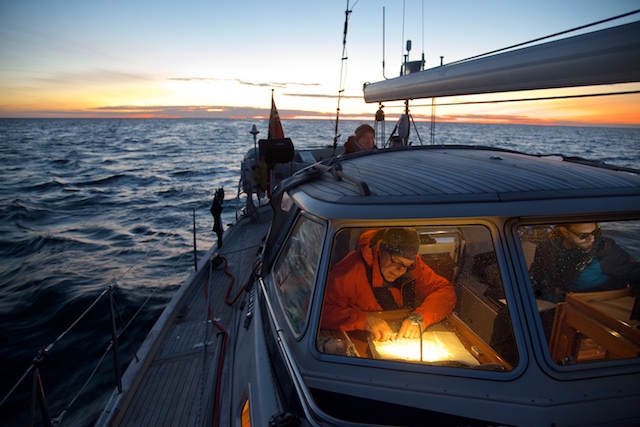 Obviously, you are encouraged to actively take part in the sailing, standing at the helm and navigate, why foul-weather gear is advisable to bring.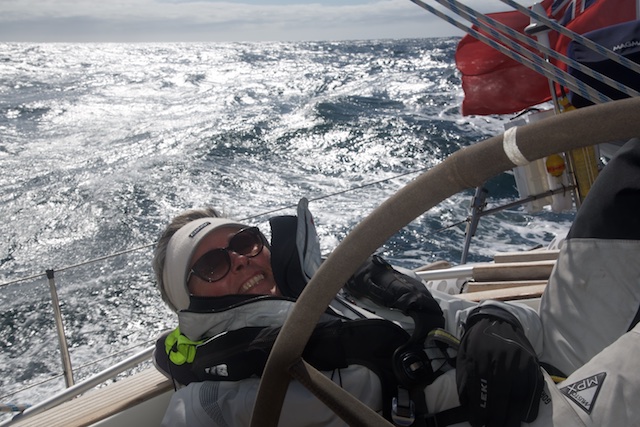 Your adventure, however, only stretches as far as your own set limits: I call this thrill without anxiety.
Cabins have their own hatches as well as all-weather-ventilation to allow for fresh air. Fans are installed for the hot days. A bimini gives shade in the cockpit an the hard-top extension gives an extra room in the cockpit during rainy days.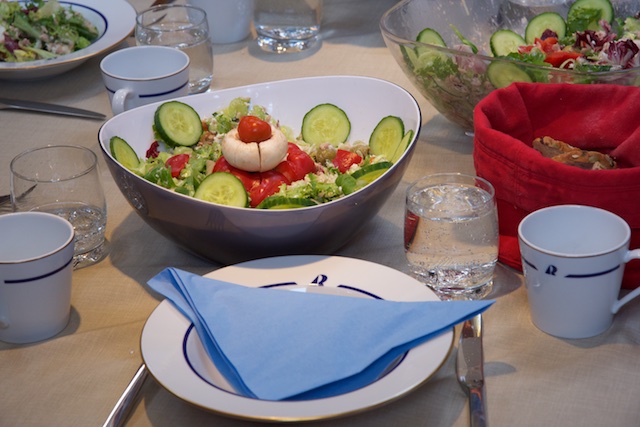 Eating and drinking is considered as very important aspects of cruising and is part of the Regina Laska lifestyle. Hence meals are often jointly prepared wit joy and care, while the high-end Marantz stereo-system with Bose cockpit speakers and ELAC salon speakers provides the music of your choice (bring your iPod and iPhones to share your music!). The onboard entertaining system consists also of a screen and beamer, so we can hold talks or watch a great movie with fantastic surround sound.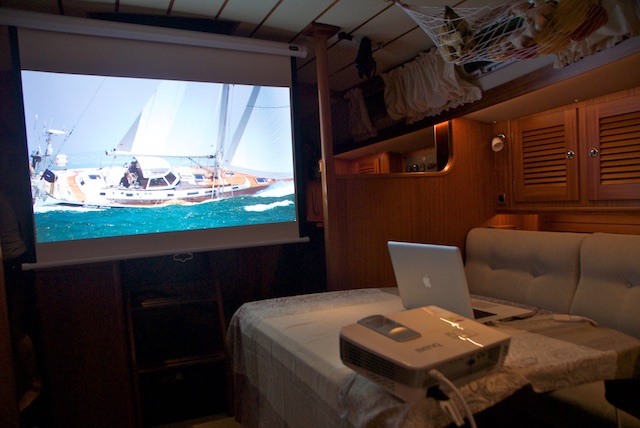 A Magma BBQ is placed on aft deck for the warm days at anchor. It's great when the aft deck is turned into a BBQ party zone!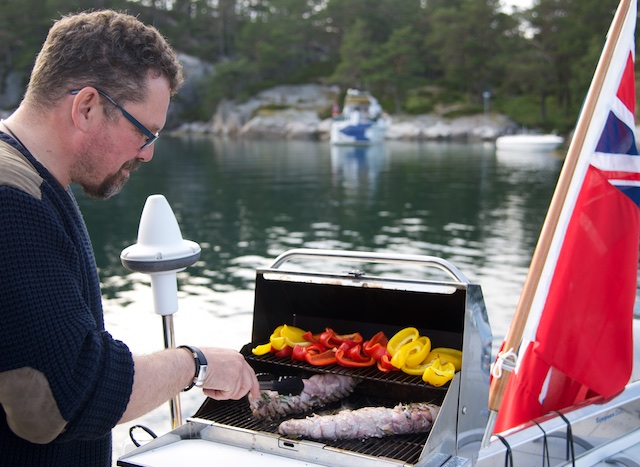 For cold days , the cockpit is, instead, turned into a Spa: The steam sauna is a great way to end a cold day at the helm!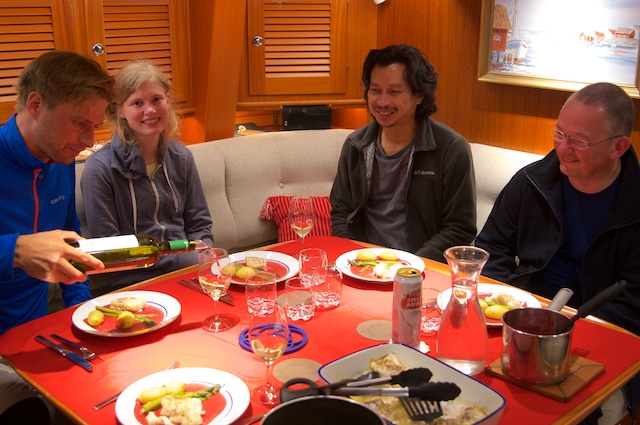 Kitchen tools, such as the knives, are of the highest steel quality, there is a toaster, an electric hob, as well as two gas hobs and an oven. Meals are served on elegant Rörstrand china with high class cutlery and if you fancy fine wines, these are stored in a special wine cellar under the floor boards and served in Riedel wine glasses. The water is filtered through a Seagull IV sub-micron filter, where not even bacteria can find their way through, offering drinking water with an excellent taste, which is also important to ensure excellent taste of the served tea or coffee, or when watering your single malt whisky with a couple of raindrops of water. A Sodastream provides sparkling water. Choose between several type of coffee beans for the Nespresso machine  or make your own loose leaf tea. If you wish to call home from mid ocean, a satellite phone is provided.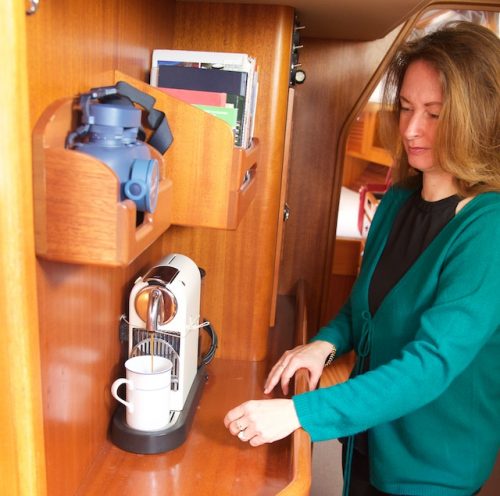 Sailing on Regina Laska is done in style.
Therefore, a sailing vacation on Regina Laska is not comparable with an ordinary bare-boat charter or any comparable sail training. This is cruising in safety, comfort and style!
As always on a boat, it is worth mentioning that no matter how large a yacht ever may seem, space always remains limited. A sailing yacht is simply no cruise ship! Yet, Regina Laska offers remarkable comfort for her size with push-button electric furling systems, a rigorous 150L/h watermaker, three showers (two down below plus one on aft deck), a steam sauna, ample power supply with 230V continuously available, insulated hull, three independent heating systems heating systems, three independent ways to heat the water (cooling water of main engine, cooling water of generator or the super-fast 2kW electrical hot water boiler) and a hardtop against wind, rain and cold.
At the same time, you actively form part of the crew and can influence your vacation. After all, we're about to create your own unforgettable and pleasant sailing adventure! You will take part in sailing the vessel, prepare food, navigate and get a taste for what a cruising lifestyle is all about.
You may find comfort in the fact that the languages spoken onboard can be English, Swedish and German and is very often a mix with guests flying in from all over the world in order to join on an unforgettable sailing adventure onboard Regina Laska.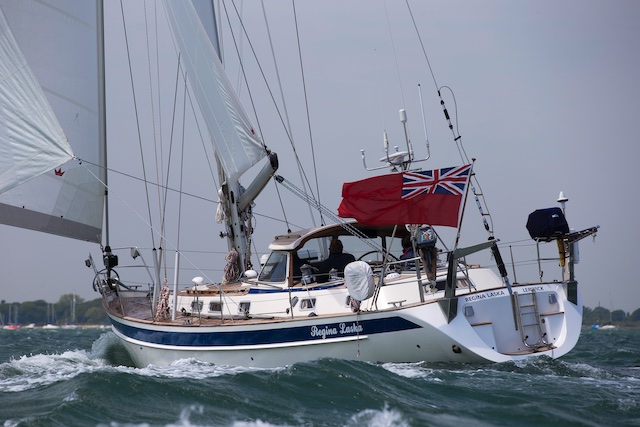 I am often asked why my boat is UK flagged. See here, what this means to safety!  I must say, I am proud about the extensive safety equipment onboard and the Maritime Coastguard Agency (MCA) has one of the most stringent rules when it comes to safety on commercially used yachts for offshore sailing.
Naval Architect Stuart M Roy doing the inclining test of Regina Laska to provide the individual stability booklet  for safe ocean sailing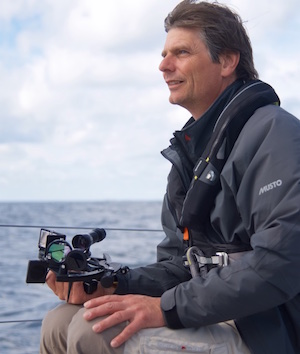 The differences are so significant and also is the reason why so very few sail training or charter boats that are commercially classed for Area 1 sailing by the Maritime Coastguard Agency (MCA). Some boats are classed for offshore racing, but not even this is comparable with the MCA. I have tried to describe the safety philosophy here.
Regina Laska is one of these few yachts and that you may feel safe, trusting that every little detail has been looked at to keep your sailing experience as safe as ever possible. In addition, all safety issues are being continuously looked after and annually inspected by the MCA, as well as by the RYA. Regina Laska is hence undergoing two (2) in-water inspections per year plus a very detailed out-of-water inspection at her yard every 5 years by independent classification surveyors working for the MCA (such as Germanischer Lloyd, ABS, Det Norske Veritas etc).
Regina Laska is commercially coded for sailing in area 1 (offshore sailing) and complies with or even surpasses the stringent safety rules of MGN280. For her rigorous equipment, see Regina Laska's Equipment. She was totally refitted in 2013 and has then undergone annual refits thereafter. So, she is continuously being refitted, refurbished and updated during her annual 6 months stay at a refit-yard (such as Adams Boat Care AB or Marina Coruna). See the entire refitting process here.
No cost is spared to allow for maximum safety, comfort and style.
Having an RYA Yachtmaster Ocean Instructor with well over 60,000 miles of sailing experience and an IMO STCW Certificate of Proficiency in Medical Care (A-VI/4)  as your skipper does not only mean that safety and professionalism plays a major roll during the cruise, but it also means that you have a great opportunity to learn!
Please see here for more technical information as well as more photos of the boat.
If you are on Instagram, follow us under "reginasailing".
Many sailing legs take place in pleasant, sheltered waters, but there are also some offshore legs included every year. For these, sea sickness is always an issue. Please read here for my thoughts on the subject of sea sickness.
Having said all this…. There is nothing like letting previous guests giving their view of  their sailing experience, so please read how participants experienced sailing on Regina Laska here.
If you are interested in RYA sail training onboard Regina Laska, please check here. If you wish to start with an onshore theory course first, please check here.
"We feel like your guests, Leon, while the money we pay for being part of the experience is just our humble contribution to the considerable cost you have for keeping your boat in this excellent condition we all can share!", Marianne Karlsen, Switzerland
We recommend booking early, since in the last year all legs were sold out very quickly. Please click here to send us an e-mail.
Includes:
Breakfast, lunch, dinner onboard, internet, diesel, harbour fees
Not included:
Extraordinary expenses (such as canal fees, shore excursions etc)
Eating ashore in a pub/restaurant
Request:
It is requested not to smoke onboard.