Artur sees Blue Daisy for the first time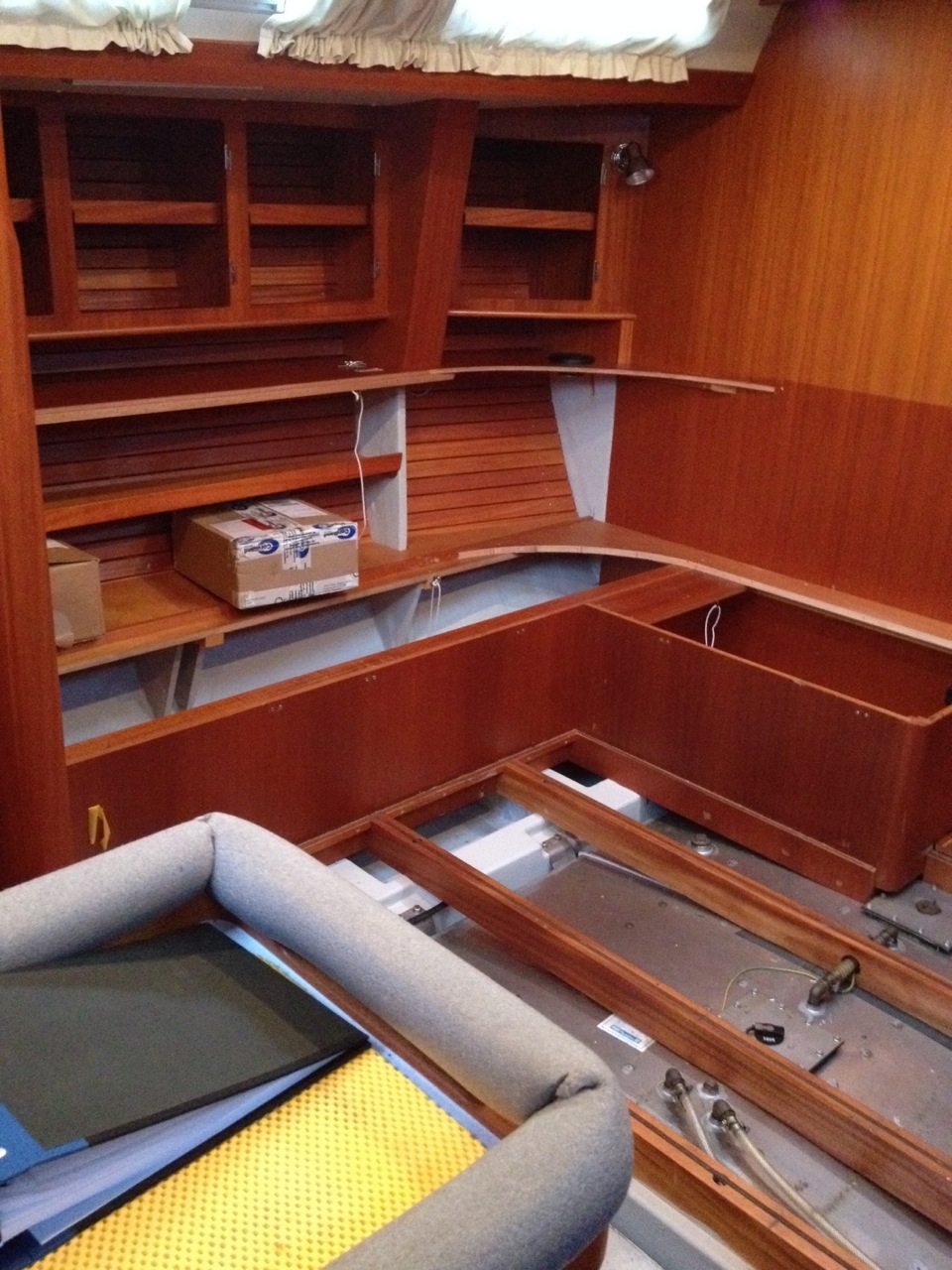 I think I talk for all of us, including Artur himself, when I say that we were all a bit nervous when Artur was coming to Ellös to see his own boat for the first time. Artur had shown a great confidence when he had had team members of the Refit Team flying to Ibiza to look at this boat that I had for sale, totally trusting me and the team members' judgment to purchase the boat.
Without having seen the boat himself, Artur put full confidence into us when we ensured that this boat was perfect for a total refit, which, in turn, puts a huge responsibility back onto us. Artur had then PYD (Professional Yacht Delivery) sail his new investment from Ibiza to Ellös, where she was lifted just before Christmas. Now, in the beginning of January, was the time for Artur to fly to Ellös to see his Blue Daisy for the first time!
I flew to Sweden as well to meet Artur in Gothenburg and we both drove up to Ellös together, eager to see the boat.
As usual, the boys had already started to work on her on this Saturday morning since 07.00 am. These boatbuilders in our Refit Team are so much enjoying their work with Adams Boatcare refitting boats that you really can't stop them getting up early in the morning, even on a Saturday, to give their love and care for their refit-babies… We are all like a big family working together and I think our customers can feel the spirit!
When we arrived at the shed, Blue Daisy was all stripped and emptied and the boys were just about almost finished to drill out all old through-hulls.
Anna explained that when she had emptied the boat she had even found spices onboard that had been originally bought at the local supermarket in Ellös, called Hemköp (allias "Matpricken") back in 1999, when the boat was originally launched by the Hallberg-Rassy yard! Apparently, still having these Swedish spices on board, this boat cannot have been used much and had most likely only been sailed from Ellös to Ibiza and then not been used a lot thereafter. Artur was really lucky to find such an unused boat!
Underneath the boat, the activity was going on and there was already a pile of old through-hulls lying on the floor. We looked at them with astonishment.
We could see that almost all the brass has gone on these original through-hulls. And this boat is no more than 13 years old! To all of us, this looked really frightening. Then, Carl picked up another through hull and we compared it. "Why does this through-hull look so different?" Artur wanted to know. "It looks so much better, doesn't it?!" he continued, clearly seeing the difference with his innocent eyes.
Christer knew the answer, of course: "This solid through-hull is an original Volvo Penta through-hull. It was delivered with the engine and was installed for the water intake to the main engine. It's made of bronze instead of brass."
We all looked at each other. Same age, same boat, same place…, but here, all the material was still intact. Strong as ever! We agreed that this really shows how crucial it is to install nothing but bronze under the waterline. (Having said that, there are also through-hulls made of composite material, which I have no experience of.)
Artur was shocked and very pleased that his boat is taken care of by these professionals. "I'm so glad that I took my new boat to the Refit Team of Ellös, where there is 100% belief in safety and quality with no compromise! I feel so confident when I can be part of the whole process being able to influence the project into the smallest detail. Especially in these times when yards tend to save money wherever they can, I feel that I know exactly what I am getting with the Refit Team!"
As a next step, we looked at the rudder and the damage the net that was caught in the propeller had done. The marks on the rudder were only cosmetic and could easily be touched up, while the cutlass bearing and the stern tube fitting has to be replaced. This is no big deal, since it was planned to be done anyway, as a standard part of the refitting process.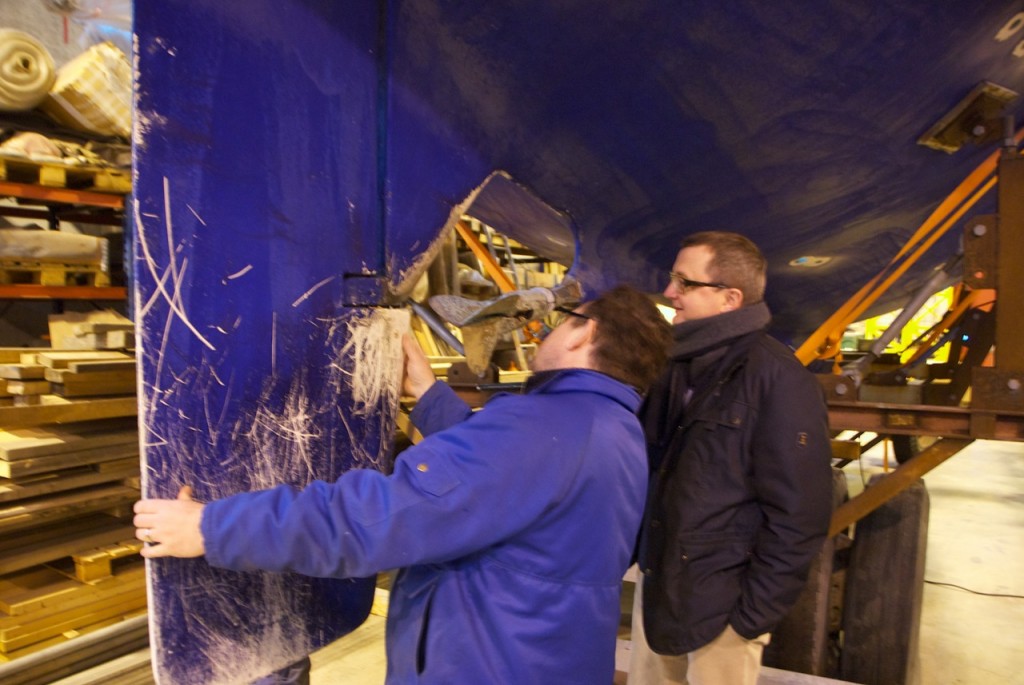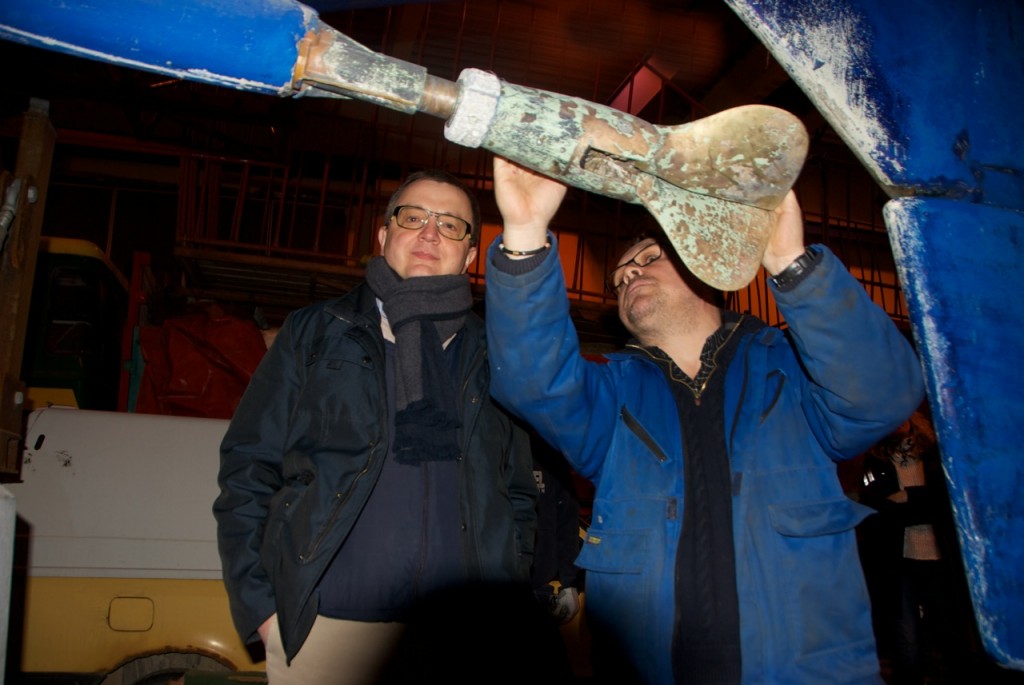 Daniel, the rigger in the team, came to discuss the refit of the rig. Artur wants to electrify the furling main and also to get a furling headsail with electric furling. A new standing and running rigging goes without saying for safety reason. Artur was delighted to see his rig being in such a good condition proving of very little signs of having been used a lot. Daniel was sure that this rig has never ever been taken off the boat.
Up on deck, the teak looked awful. Especially compared to the shining hull, the teak did not look very good. "The owner must have loved his teak to death" Carl reflected. "While the topsides must have been cleaned and polished regularly, the teak must have undergone the same frequent treatment, possibly even with a brush! However, a teak deck should not be worked and scrubbed on. Just some Boracol from now and then is enough to keep a teak in good condition."
Artur smiled: "This is good news with an ugly teak, I think! It keeps the price down because people do not dare to buy a used boat with an ugly teak deck. I am planning to have it replaced by the professional teak layers at the Refit Team of Ellös anyway, so I don't mind. The uglier the teak the better for me, because then the purchasing price is much more attractive!"
Down below, we went through the refitting project in all detail. When doing a refit project, the owner has all possibilities to influence the boat. We discussed the placement of batteries, the colour of the cupboard doors in the heads and placement of mirrors, the microwave oven and instruments and many more things. Despite the fact that Blue Daisy already had a washing machine, Artur wanted to exchange it: "Well you see, a new washing machine is less expensive than a couple of blouses of my wife, and if the old machine destroys these, I would have to buy new blouses, which would cost me much more!"
The refit team smiled: Luckily they knew how to exchange the machine. It is not that easy to get it out, but with the experience of Regina Laska and having built countless new Hallberg-Rassy's the swap of the machine will be easy for them. Generally, this Refit felt so much more straight-forward compared to when we worked on Regina Laska. We had by now gathered a lot of experience and working on Blue Daisy felt more like a repetition of Regina Laska.
The Refit Team sees a flourishing future and feels confident when thinking of the boats that will be taken care of this coming fall: So far we have no less than four HR46's, one HR45, one HR40 and one HR312 that will be taken care of by Adams Boatcare and his team! We are growing into a considerable refit yard gaining a lot of experience!
While some work, like the new washing machine, is by now a standard job, Artur came up with some real fun challenges, in order to personalize his new boat. And now I am not talking about the placement of his coffee machine (where the place is not quite 100% decided yet).
Artur, being a wine lover, wants to build a wine cellar into his new boat to carry his dear drops with style. Carl immediately jumped onto this great idea and they discussed the best placement. A wine cellar should have a constant temperature, be in the centre of the boat and as close as possible to the centre of movement. A classic Hallberg-Rassy still has the deep bilge that is perfect for this and a position just in front of the water tank was picked as the ideal position. 1,000 liters of water is a good guarantee for a constant temperature.
The next request by Artur was a special challenge to Carl: Artur needs the finest glasses to go with his beloved wine. And he has already some ideals how to store them. Artur picked up his iPad and showed interior photos of some very glamorous superyachts. "This is how I want my glasses to be presented!" he explains, happy like a little boy! Carl looked at the superyacht-photos. Glass cabinets with transparent interiors holding the finest glasses, all illuminated from the inside. It sure looked fancy!
Artur continues: "I need space for 6 white wine glasses, six red wine glasses, six champagne glasses (you see my wife just loves champagne!), six tumblers and then, of course, special glasses for all the distilleries I will visit with Leon this coming summer!" Artur was hinting to the fact that he has booked two weeks on Regina Laska this summer sailing from Norway via the Shetlands to the Orkney islands and further to Scotland. Learning as much as possible on Regina Laska before taking delivery of his own Blue Daisy is only one reason for the charter. Visiting distilleries is the other reason not to be neglected!
Artur and Carl got into deep carpentry discussions, how to change one of the salon cupboards into a wine glass cabinet, all to be illuminated from the inside by Båtsystem LED lighting systems.
Artur decided that he needed to come back to Ellös in a not too far distant future, to bring samples of his crystal so Carl can fit a snug cupboard interior made out of plexiglass. I think this was a splendid reason to come to Ellös soon again!