Getting the boat to Ellös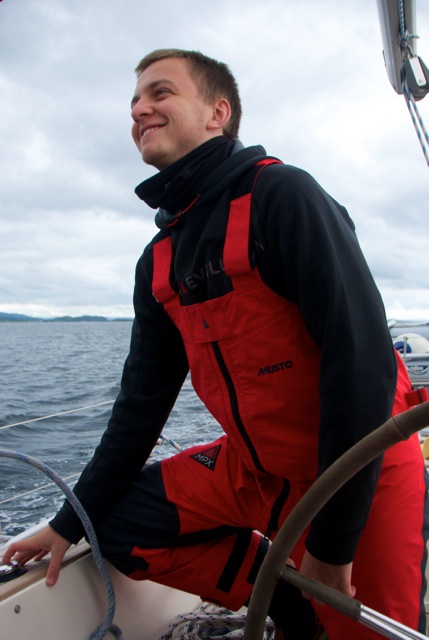 It is a special joy to be involved in the second total refit of a HR46. This boat is owned by a Polish owner called Artur and was sailed from Ibiza to Ellös specifically for the refit. The boat was delivered by the brave men of Professional Yacht Delivery (PYD), despite the harsh winter weather. I just cannot imagine how to cross the Bay of Biscay and the North Sea in December, and this even without a working heater! The heaters had never ever been used in this boat ever since she was new in 1999. Neither the people in the Mediterranean, nor the poor PYD crew was able to get it working. Instead, they had to put hot water bottles inside their clothes to survive during the passage. I feel so sorry for them!
To illustrate and to give an example why it is worth while to have a boat refitted in Sweden, despite the higher hourly rates I would like to mention that it took the chief engineer of the Refit Team of Ellös no more than an hour to find two issues with the heaters and repaired them on the spot. No technicians along the way from Ibiza to Ellös were able to solve this, despite several trials. The labour hour itself was possibly expensive in Sweden, but the total cost to get them repaired is a fraction compared to fix them elsewhere. It's just another story to let a professional do the work, who knows these boats and their equipment inside out.
Artur, the owner, had read about the refit of Regina Laska and wanted to learn more about the results. So he sent his son on a two weeks chartersail onboard Regina Laska during the summer of 2013 in order to investigate and test the boat and her equipment. Artur himself could unfortunately not participate due to a broken foot.
With or without a broken foot, Artur wanted to see Regina Laska in real as well, and came to the annual boat show on Orust, the Open House week-end in August. You can imagine my pride when he said that Regina Laska was the finest boat on the show!
Artur then decided to have his HR46 sailed up from the Med to Ellös. Since the boat arrived rather late on 10 December, it was decided to split the refit project into two steps: During spring 2014, the HR46 will get a new vacuum glued teak deck, a new power system by Whisperpower, new navigation&communications by Furuno and a new lighting system by Båtsystem. The boat will also receive a special attention to her interior and exterior wood-work as well as new mattresses and possibly new upholstery. A new rigging, electrifying the manual furling systems, is also due this spring together with new sails. Safety equipment is also an important feature for this spring, so Artur can go sailing in confidence during summer, cruising in safety, comfort and style.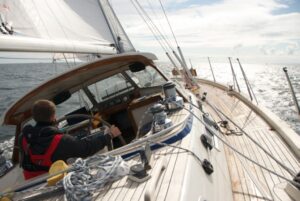 Artur and I flew to Sweden in order to meet one more time in December to discuss the details and the project management, all while his boat was still in the North Sea battling the harsh conditions. We agreed to set the first deadline to the 7 July 2014, where the boat needs to be launched and ready to sail again. It is always a challenge to set a date and promise to deliver on-time and so the team will work hard and co-operate closely together in order to allow for Artur's summer sail. For sure, this will become a very busy spring, with not only Artur's HR46 to refit, but also other boats that we have taken under our wings to refit as well! The business is growing fast and Adams Boatcare and his team are now looking for expansion.
For next winter 2014/15, we will look at the engine room, possibly exchanging the generator, install a watermaker and some other bits and pieces.
We welcome Artur to the Team and promise we will do our utmost to satisfy Artur in order to get a Hallberg-Rassy 46 at least as fine as Regina Laska. I am proud to work with the Refit Team of Ellös with yet another exciting refit project.