Nautical Channel on-site in Ellös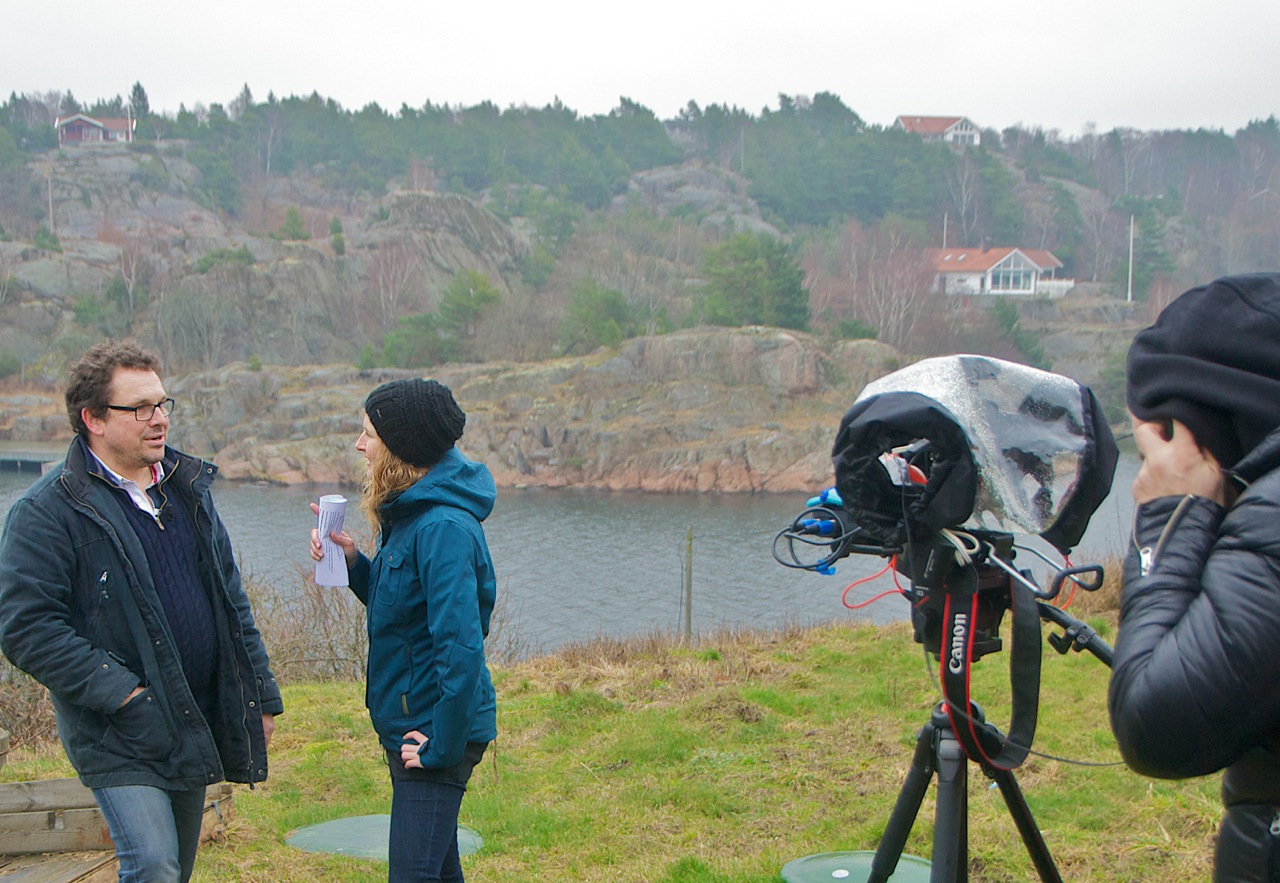 30 Minutes TV documentary on refit when Artur sees his Blue Daisy for the second time
The second time Artur flew to Ellös to see the progress of Blue Daisy's refit, a film team from Nautical Channel was already on site waiting for him. Refitting boats has gained a huge interest internationally and Nautical Channel is currently doing a series of documentaries about the new trend in the boating industry: More and more boat owners strive to take care of all the beautiful classic boats around the world.
Orust is well known for its yards and the outstanding craftsmanship when it comes to boatbuilding and refit. After all, boats have been built and repaired here for thousands of years! This is why Nautical Channel chose to come to Orust to do its documentary about refit and wanted to take Artur's classic Hallberg-Rassy 46 as an example of the ongoing trend in the industry.
Lucia from Nautical Channel said: "Adams Boat Care and his team is an excellent example of small companies working successfully together in a network, stating an example of how companies can develop and grow even through times by others considered as a crisis."
There are many owners who are literally in love with a classic design, which they claim is no longer available in contemporary models. It is explained by the fact that it would simply be too expensive to build such boats these days. The mass market is said to prefer cheaper, faster and more spacious boats and to accept the drawbacks of having a deeper shorter keel, flat hull bottoms slamming in the seas, less elegancy for the eye and lacking the love by handmade craftsmanship. This might be true. But a small percentage of boat owners seek for more.
There are many reasons to fall in love with classic boats, e.g. the hull shape with beautiful overhangs, narrow sterns and less draft, but also the interior finish, such as the beautifully handcrafted jalousie-doors, adequate ventilation along the hull sides, all around opening windows in the salon, adequate cupboards and storage area, mahogany frames around the hatches or even the entire superstructure made of mahogany.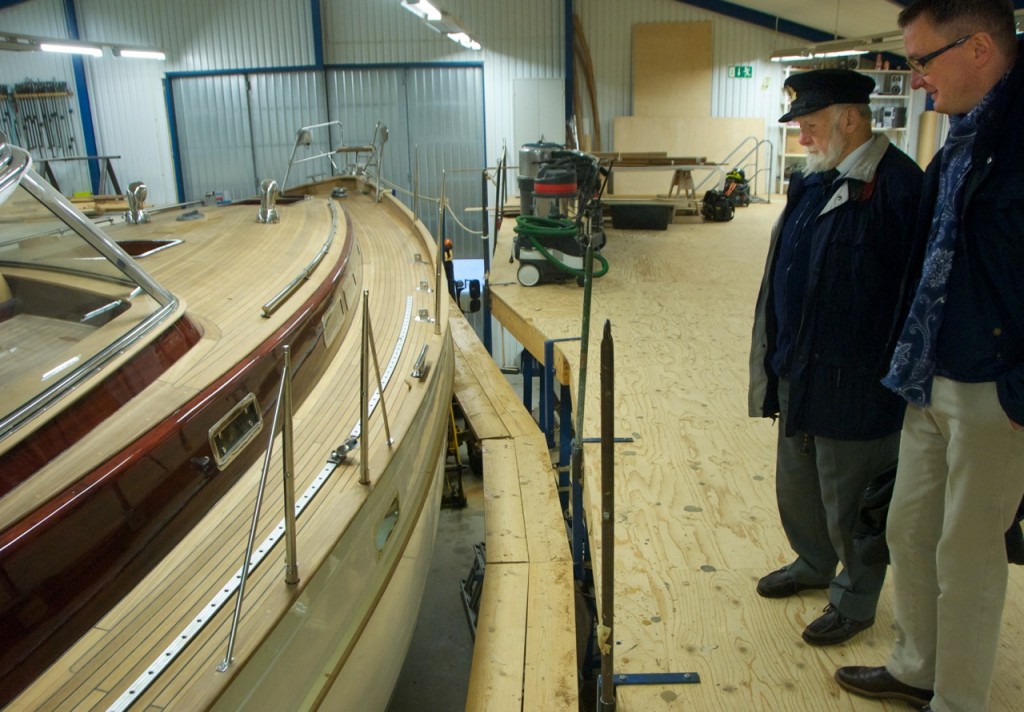 For the same boat length, modern boats are obviously faster, but when refitting an old boat, one can afford a bigger one sailing just as fast. E.g. the classic HR42F is as fast as the modern HR40, the classic HR46 is as fast as the modern HR43 and the classic HR53 is as fast as the modern HR48 etc).
What Nautical Channel wanted to capture was the fact that owners do not have to sacrifice comfort or modern state-of-the-art equipment if choosing an old, classic boat. In addition, Nautical Channel was interested in filming how owners, such as Artur, can get their boat customized to their own desire when refitting. Today's boat owners want to create something individual for them to love. Readily available boats that are made in many identical copies are not to everyone's taste. Further to classic design and personalization, owners want to ensure that their investment is keeping its value. A not too easy balance between them two and that's where I find my roll as a refit consultant: To personalize the boat while still keeping it attractive on the market. Many cruisers but a significant percentage of their life savings in their boat, so it better keep its value!
Personalization is fun and an important part of refit! In Artur's case we are talking about his wine cellar and his tailor-made glass cabinet for his collection of fine wine glasses. And in my case it is the cockpit Spa (steam sauna) and the tiles in the galley and for yet another client of mine it is to replace the modern cupboard doors in a new HR to the old type of jalousie doors that are so beautiful. Then, I have a costumer with six daughters, and hence we are to create berths and storage space for all his girls in a HR45. Yet another customer thinks Hallberg-Rassy's are overpowered and requests us to install a smaller engine in his Hallberg-Rassy. Berthing bow-to ("Scandinavian mooring" to gain privacy in the marinas) is becoming increasingly popular, and so boat owners want an electric stern anchor arrangement, a bow platform and a bow ladder. With a refit everything is possible!
Obviously, it is not cheap to have a boat refitted, and believing one can make money by buying a bargain second-hand boat, refitting her and selling her more expensively is risky. Rather, customers, such as Artur, love their boats and find an investment in a refit is a lasting value for themselves. Customers are very well aware of the fact that buying a new boat is no less risky these days, often involving a hefty decrease in a new boat's value during the first years of ownership.
Not all customers do a total refit, getting an as-new boat. Others take it step by step or just do some specific upgrades or refurbishments on their existing boats. This is the beauty of boatbuilding: There is a market for everyone, customers buying new, customers who want to keep and update their existing boats and customers who wish to do a total refit and get an as-new boat in a classic hull.
And this was exactly what Nautical Channel wanted to capture: They wanted to show what is possible when refitting a classic boat and film how the small village of Ellös on the island of Orust in Sweden has started to flourish since the people started to open up for refit and to co-operate instead of working as small individual companies. In the wake of the crisis, with many yards shutting down completely or decreasing their number of employees, a new industry has awakened: Refit.
The refit business is nothing new; it's the structure and organization that is, and that was why Nautical Channel came to the small village of Ellös. The film team interviewed all sorts of small companies who have developed in the last couple of years. They followed Artur from where he slept in the newly opened Bed&Breakfast place where customers may stay during their visit to Adams Boat Care. Then, the film team visited the newly opened clothing shop, where Artur had bought an "Ellös sweater" for his daughter. Thereafter, Nautical Channel interviewed all the talented boatbuilders working on Artur's HR46. The film team found it especially interesting that there were so many boats of various brands, sizes and state of refit they could see: A Vindö, an old wooden double-ender and several Hallberg-Rassy's in a variety of sizes and ages, the oldest being over 30 years old. The best, they thought, was that they could compare one-to-one between Artur's HR46 still in production with HR46 Regina Laska which was finalized last year.
The classic Vindö was a beauty, they thought. It was just about ready to leave the yard to make place for Artur's Blue Daisy in order to start changing the teak deck. The Vindö had also received a new teakdeck, been totally varnished and a new windscreen and mainsheet arrangement had been retrofitted.
Not only Nautical Channel came to see the development at that week-end. Also Captain Ziemowit Barański traveled from Poland to witness what is going on in Ellös. 79 year old Captain Barański is one of the most renown sailors of Poland and has sailed a total of over 225,000 nautical miles. This is equivalent to circling the globe 10 times. He has sailed across the Pacific and Atlantic Ocean, the Mediterranean, the North, Black and Baltic Sea and has rounded Cap Horn a number of times. The longest voyage, in which the captain participated, lasted 8 months and 24 days, while in terms of nautical mile distance, the longest voyage was one around South America – 25,778 nautical miles. He has a Yacht Master Mariner rank, he is a sailing instructor and lecturer (including ice sailing), and sailing judge. Grand Master of "Brotherhood the Coast Table of Poland " and Commander of the "Brotherhood of Brigs".
Captain Ziemowit Baranski, who has seen countless yards around the world, was very impressed by the work of Adams Boatcare and his team. He said: "I am very pleased to see that these boatbuilders look into every detail and do not compromise with quality at any place I can see. Everything is made strong and sturdy, yet beautifully crafted with the best wood finish imaginable and highly customer-oriented. I am very confident that Artur Kawa will get boat perhaps even better than new. It is a pleasure to get to know these people who have built boats for generations."
The community was excited about the prominent visit by both Nautical Channel and Captain Ziemowit Baranski. Even the Swedish Sea Rescue Society (SSRS) volunteered to take us all out onto a tour at sea so we could enjoy the archipelago and shoot some footage of Ellös from the sea. A big thank you to the Swedish Sea Rescue Society, who solely live on private donations with no government funds.
In the evenings Carl and Anna from Adams Boatcare invited all to a nice dinner at their cozy home. Anna had made a fantastic fish soup from the west coast of Sweden one day, and during the second evening Artur opened his big suitcase he was carrying around all day: It was filled with Polish delicacies and his favorite wines from Tuscany. Anna added Swedish special cold-cut she had prepared as well, so we had a great party deep into the night.
This is what the refitting team of Ellös is all about: Owner, boatbuilders, experts and boat lovers all sitting at the same table having fun during work and pleasure alike. And refit the best boats of the word.
See the trailer for the documentary here.