Welcoming Saida to the health resort of Ellös
When the owners hand over their beloved Hallberg-Rassy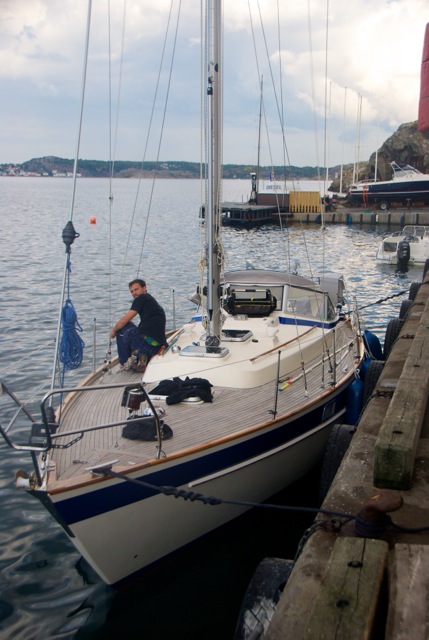 All boat owners are special. When taking care of a boat for a refit, we try to be highly customer-oriented and to listen to the boat owners in order to find out
exactly what he or she wishes to achieve with the reft.
The Refit Team of Ellös is not a yard requiring the customer to provide a ready "to-do-list", which is then ticked off by the numerous employees and subcontractors. At Adams Boatcare and his Team we listen, discuss and care. Sometimes, an owner even doesn't even know what he exactly wants but has some ideas which need to be discussed to find a cost efficient solution. For us, it is important that the boat owner meets the individual team members in person and thus we very much welcome boat owners to Ellös where you also can see boats in progress. Every team member feels dedicated and involved and the owner forms part of the co-operation.
When Rudolf and Doris landed with their 30 year old Hallberg-Rassy 31 in Ellös, they wished to stay for several days in order to go through the boat in detail to jointly discuss various possibilities and solutions. The boatbuilders on Orust know their profession and have decades and decades of boatbuilding experience which they are so happy to share.
I had the joy to spend one full day together with Rudolf and Doris. We called in the corresponding experts, whenever a subject was discussed and Rudolf and Doris could talk to the very people who then will actually do the individual jobs. By this, any misunderstandings can be solved before they even appear.
Rudolf and Doris had spent their holiday sailing their HR312  Saida from their home port in Germany to Ellös via Norway and would now leave their boat in Ellös over the winter. She was to get a new teak deck, which was the original reason for them to come to Ellös. The vacuum suction technique with the patented teak shape is reason enough to have your boat getting a new deck at Ellös Marin & Teakservice over the winter.
For Doris and Rudolf it quickly became obvious that it could become so much more than just changing the teak: When Rudolf and Doris discovered that they could get help with all aspects of boat refit, it was decided that Saida would be treated as if she had come to a health resort, getting the best possible treatment.
We started with a tour around Ellös Marin&Teakservice where they had already booked a space in beforehand. They were shown how the entire process is being done and could witness the work currently done on a Vindö and a Najad, which were both in the process of getting a new teak deck.(see story on teak here)
Then, there were some technical issues to be looked at, e.g. Saida's water tank was not quite water tight and the boat needed some rigging work done as well. The water tank issue was dealt with by Carl Adams, while we quickly called the rigger Daniel from SpinSail to discuss the rigging issues. Daniel took ample time to go through the rig with Rudolf and to discuss his wishes and necessary work. It was figured it was timely to exchange the standing rigging, but the running rigging still looked good enough. Rudolf wanted a service made on the Furlex and to service the winches on the mast at the same time, while the winches in the cockpit just needed the ordinary maintenance, Daniel thought.
Then, Anna from Orust Lack came onboard. Doris and Anna discussed the interior and how the varnish could be touched up. There are always small scratches that need to be looked at, and it is a joy to talk to a professional who knows varnish so well as Anna.
When Rudolf and Doris finally came onboard Regina Laska for a cup of coffee, I demonstrated the lighting system onboard and explained how easily it can be refitted on any boat thanks to the smart LED-Tapes. The dimmers did the the rest to convince Doris and Rudolf that this would be something they'd like to have onboard their own HR312. Actually, the smaller the boat, the more important it gets to build space by means of light design. A HR312 Mk1 is a very good example for this, due to its lack of windows in the coachroof and deep shelves (often filled with books) where the windows in the hull are found. These shelves are excellent to be lit up in order to create an interesting atmosphere. We decided that I would do a suggestion on the lighting system and to provide a quotation.
I think Doris and Rudolf went home in good faith that we would take well care of Saida.
After their return to Germany, they wrote to me: "Me and Doris were very satisfied with our visit in Ellös. I would like to thank you once again that you have helped us to get in contact with the Refit-Team. I am absolutely convinced that we are exactly at the right place. It was such a joy to see how engaged, competend and thereby friendly the members of the team are. Each one is a specialist in his field and yet everything goes "hand-in-hand". Excellent!!!
Your offer to be available when I have more questions and to help is very appreciated. I'm sure there are still quite some questions to come, which need to be clarified from my side, e.g. '…. think light, not lamps' ". 
LETTER
To Leon
Ich und auch Doris waren und sind sehr zufrieden mit unserem Besuch in Ellös. Auf diesem Weg noch ein mal danke, dass Du uns dies vermittelt hast. Ich bin absolut überzeugt dort genau richtig zu sein. Es hat mir so viel Freude gemacht zu sehen wie engagiert, kompetent und dabei freundlich die Leute dort sind. Jeder ist ein Spezialist und es geht alles "Hand in Hand". Exzellent!!!
Dein Angebot bei weiteren Fragen mir behilflich zu sein nehme ich gerne an. Es wird sicherlich noch so manches geben, was von meiner Seite aus zu klären ist. z.B. "…. denke Licht, nicht Lampen"
Rudolf und Doris
Thank you, Rudolf for these warming words! We will all take well care of your wonderful Saida!