Ocean Sail Training
Everything you need for the RYA Yachtmaster Ocean
Navigating by the sun, planets, moon and stars using a sextant

Complete RYA Yachtmaster Ocean package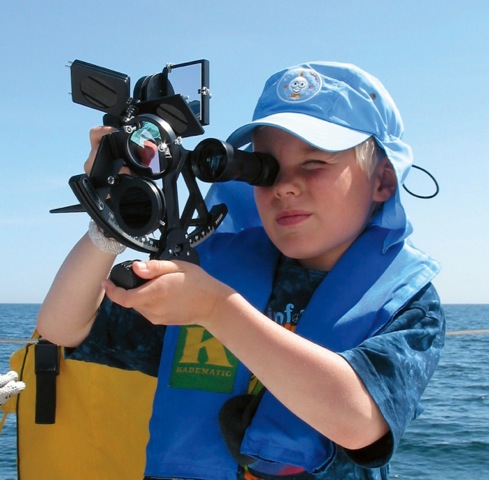 Irrespectively whether you dream about crossing an ocean or are just fascinated by the tradition to find your ways by looking into the sky like the ancient sailors did, this course is for you! 
And if you already are a proud holder of the RYA Yachtmaster Offshore certificate (like these Reginasailing participants), our complete package gets you prepared and supported to the prestigious Yachtmaster Ocean exam. For all others: Join for the fun or get prepared if you ever take your Yachtmaster Offshore in the future.
The Reginasailing Ocean Package consists of:
5 days intense theory course in Malta
– including sophisticated templates that never let you down
– Return to 30 tutorial videos that remind you how it works even years after the course
half a day of theory assessment for the RYA Yachtmaster Ocean 
– get rewarded by the RYA Yachtmaster Ocean theory certificate
4 days practical celestial training preparing for your RYA Yachtmaster Ocean exam
– Quick rehearsal of the theory
– sailing out from the coast until no land is in sight and take your sun-run-sun and compass check for your RYA Ocean exam
10 days RYA Qualifying Ocean Passage sailing
– Weather briefing, passage planning, watch schedule, safety briefing, victualling
– 600+nm and 4 days nonstop ocean passage which qualifies for the RYA Yachtmaster Ocean
Book your RYA Yachtmaster Ocean exam
– provided you have your RYA Yachtmaster Offshore certificate
The individual modules can be booked separately and if you are more interested in celestial navigation and ocean sailing than getting the RYA Yachtmaster Ocean certificate, you are just as welcome to join on one or several modules.
This is so much more than using the sextant – it's about sailing the oceans!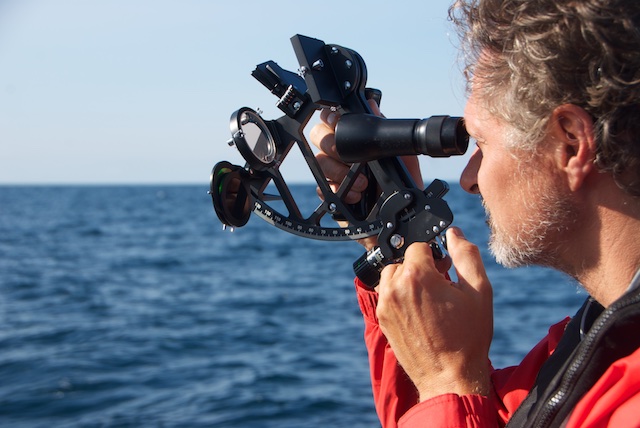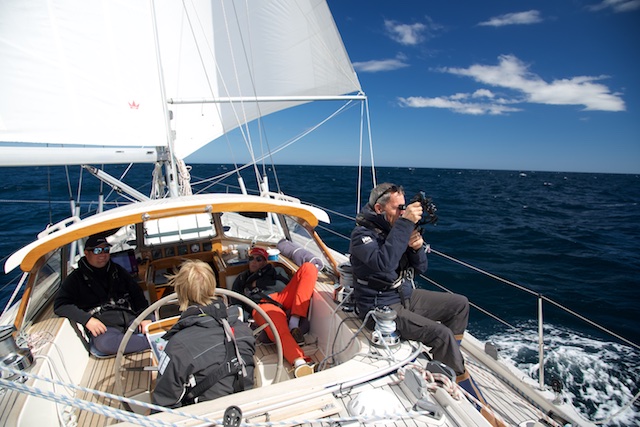 Why the RYA?
For all German speaking sailors, nobody puts it better than legendary Bobby Schenk, when he describes the differences between the German "Sporthochseeschifferschein" and the RYA on his own homepage in German here. Just the German name of the "Sporthochseeschifferschein", which is the equivalent to "Yachtmaster Ocean", reveals how ocean sailing is approached in Germany. No wonder, why there are so few Bluewatersailors from Germany compared to from other countries and why their own certificate is on a heavy decline, while the interest in the RYA is on a steady rise, also in Germany…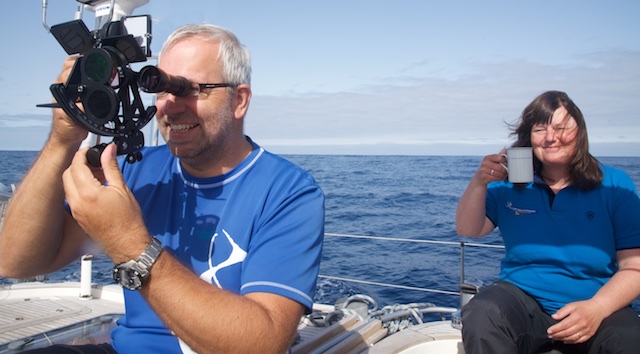 The RYA is more looking at ocean sailing in a pragmatic and realistic way, teaching seamanship and how safely to take you and your crew over oceans and become a true blue-water sailor. This includes, but not solely, celestial navigation.
Celestial navigation is presented in an easy to understand way, encouraging you to to actually use it on a daily basis. Our video tutorials will then guide you through the entire material and you can go back years after your course and look up how it was taught and done, in case you need some brushing up. 
The RYA Yachtmaster Ocean consists of four parts plus exam, namely
5 days comprehensive theory course 
An assessment at the end of the theory course giving you the Yachtmaster Ocean theory certificate 
The Ocean Qualifying passage (>600nm nonstop, >96h, >50nm from shore during >200nm)
Taking celestial sights (sun-run-sun) and calculate own position with no land in sight incl. celestial compass check
Exam with an RYA Ocean Examiner giving you the Yachtmaster Ocean Certificate of Competence. You need to have a Yachtmaster Offshore certificate in order to qualify for your exam.
You may complete the individual steps from several sources or stay within one and the same group and instructor. Or you do it all with Reginasailing offering all of the above.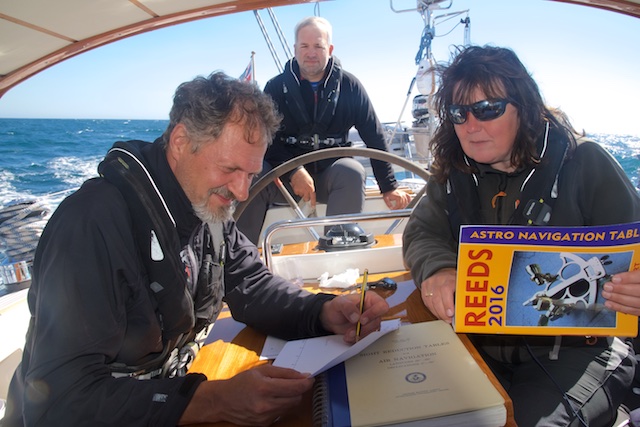 Why Reginasailing?
With Reginasailing, you will receive everything through one hand and learn from an experience ocean sailor who really uses a sextant. It's less theoretical and very much practical. Having said that, with my engineering background, you will get a deep understanding to why you are doing what, not just following a recipe.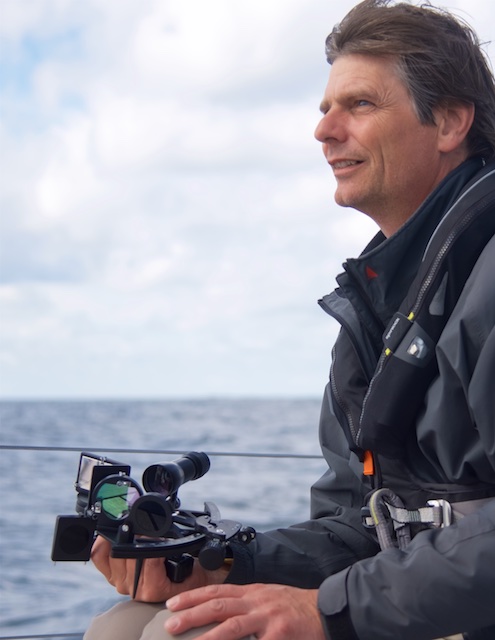 Typically, the course starts as a theory course and continues with the same group onboard, crossing the Bay of Biscay and ends with the exam upon arrival. Some subjects, such as passage planning or studying the world weather pilot charts can be done onboard.
 This way, we can concentrate on pure theory during the Malta-based course and have ample time for understandings and practice. The practical sextant exercises are then done onboard under real conditions.
It's the "real thing" we do!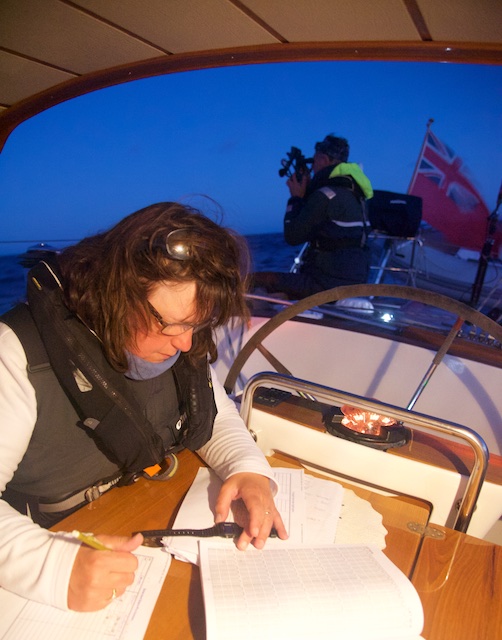 The final exam is leading to your Certificate of Competence for the Yachtmaster Ocean. For Reginasailing candidates, this is normally not taking more than 2-3 hours. It is often considered as a pleasant experience, discussing the made passage and explaining how we did the celestial navigation to the examiner. My previous student have all enjoyed the exam. Thanks to their profound understanding of the matter, they found it all not particularly complicated.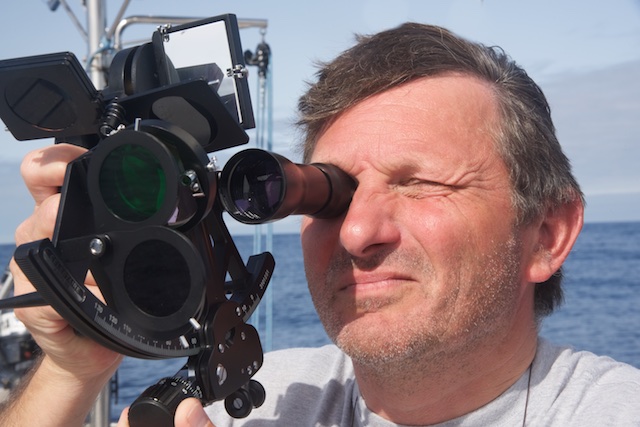 Why Celestial navigation?
In the era of GPS, who needs a sextant? The reasons are simply
GPS is owned by the US Government and operated by the US Departure of Defence and may be switched off without warning (as has been the case during the Gulf War)
The risk of hacking the GPS system is considered serious enough that the US Navy is back on the school bench for celestial navigation since Oct 2017 after a 10-year period of blindly believing in (their own) GPS system.
A lighting strike may completely destroy all electric and electronic devices and give your main compass a non-disclosed deviation (hence teaching the celestial compass check!)
It's romantic, beautiful, fun and not too complicated. Passing on classic navigation from one generation to another is a mission! 
For centuries, the Sextant has been the ultimate status symbol of a seafarer. The mariner who could handle this precision instrument and master the necessary calculations in order to find his position by means of the stars, the sun, the moon and the planets, ruled the seven seas.
Although GPS has turned this once essential skill for ocean sailing into a backup system, it is still important to master. 
On the Official U.S. Government information site about GPS they write:
"Like all radio-based services, GPS is subject to interference from both natural and human-made sources. A civilian GPS unit can lose reception in the presence of a device designed for intentional radio jamming. This can also occur during a solar flare. For this reason, the U.S. government strongly encourages all GPS users to maintain backup capabilities for positioning, navigation, and timing."
But even without the above overhanging threats, it is an indescribable beauty to monitor your own little boat traveling on our blue planet earth with all the stars around. Celestial navigation puts you in context with the universe and the stars above become guides and meaningful friends. The earth turning around itself and then again around the sun and the moon around the earth…. it all becomes so beautiful and obvious!
Or, to quote David Barrie in his excellent book "Sextant: A Voyage Guided by the Stars and the Men Who Mapped the World's Oceans":
"GPS banishes the need to pay attention to our surroundings, and distances us from the natural world; although it tells us precisely where we are, we learn nothing else from it. Indeed unthinking reliance on GPS weakens our capacity to find our way using our senses. By contrast, the practice of celestial navigation extends our skills and deepens our relationship with the universe around us."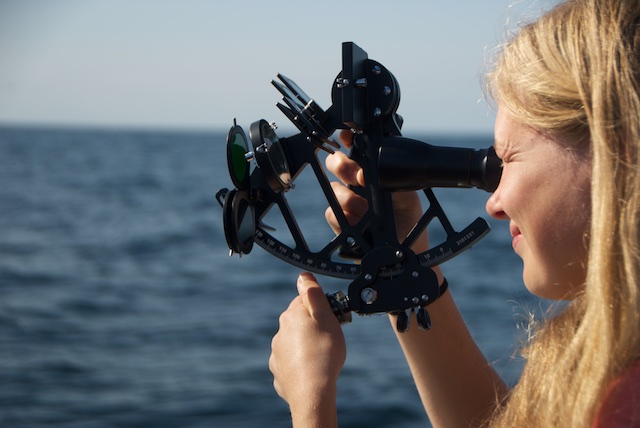 The principles of celestial navigation
In a nutshell, what you do is to measure the angle between the horizon and the sun (or another celestial object) using a sextant. Then, you compare your measured angle (called "Ho" after a couple of corrections) to what you should have measured (called "Hc", which is found in tables), had you really been where you think you are. If you measure the same angle as stated in the tables you are obviously exactly at your assumed position. In most cases, however, you measure a slightly different angle, due to the fact that you are a bit off from your assumed position.
If you know the direction of the celestial object (called the "Azimuth") and how much your own measured angle (Ho) differs from the angle you should have measured (Hc), the task is easy: If your measured angle is smaller than the one from the tables, you are further away from the celestial object (e.g. the sun), if your angle is greater, you are towards. That's the entire secret!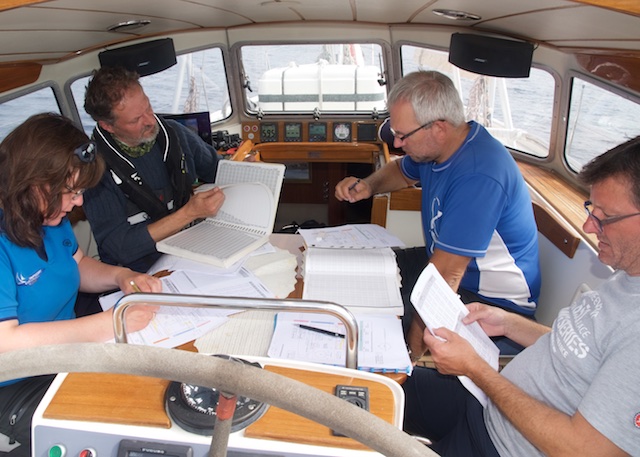 The rest is using tables in order to look up the angle you should have measured (Hc) and the direction to the celestial object (Azimuth) as well as do some corrections to your own measured angle (in order to get Ho). That's it!
"The sextant is proving that you aren't at the position you think you are,
and it gives you the exact measurement of your misjudgment."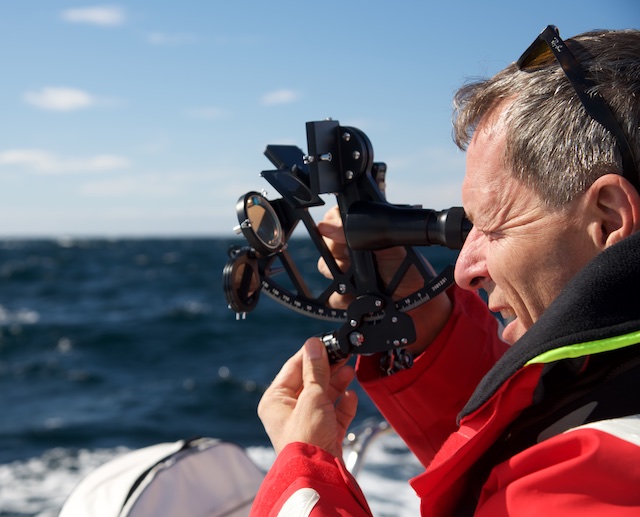 The syllabus
Obviously, there is more to ocean sailing than celestial navigation. Unfortunately,  on many RYA Ocean courses a lot of time is spent on explaining celestial navigation, leaving little room for anything else. On Reginasailing, the course continues onboard with ample time to learn a lot more and in greater detail!
Celestial navigation, emphasising on shooting the sun and doing a compass check, but also explaining how to shoot the moon, planets and stars, although these are much less used in daily life. 
Ocean passage planning (useful sources, routing charts, prevailing winds, ocean currents, etc)
Victualling and bunkering (food, water, diesel)
Watch schemes
Ocean Meteorology and weather sources (GRIB, routing companies, routing software, Weatherfax, InmC, Navtex, HAM, etc)
Satellite Navigation
Storm tactics (escape from hurricanes and weathering storms)
Living onboard while on passage (watches, provisioning and storage of food for ocean passages, pests, water management, maintenance, rest, social and psychological aspects)
Ocean communications (all types of Satcoms, SSB, e-mailing from offshore)
Seasickness, security, risks of accidents and other medical issues
Power management (batteries, generators, alternators, solar panels, wind generators, emergency power etc)
Customs and other issues when entering a foreign country
A great book covering the subjects is "The Complete Ocean Skipper" by Tom Cunliffe. Buy it here. Please don't forget to use your discount code rs-BHAPGG10 when ordering from bookharbour.com. 
Course Info
Coures date:
Yachtmaster Ocean Theory course: 12-16 January 2022
Yachtmaster Ocean practical incl Qualifying Passage: Whenever a place is available
Yachtmaster Ocean exam: When you are ready, i.e. have done the theory course, done a qualifying passage and done a celestial Sun-Run-Sun with sight reduction plus a compass check.
Number of participants:
In order to grant the exclusive character and an individual and efficient learning experience, the number of participants have been limited to around 8-12 students. Onboard Regina Laska there are never more than 4 guests. 
Price for the course:
Yachtmaster Ocean Theory course (5 days): EUR 860 plus travel, food and hotel
Yachtmaster Ocean practical incl Qualifying Passage (10 days onboard Regina Laska): EUR 3,430
Yachtmaster Ocean exam: GBP 166 to the RYA (as per 2019)
Price includes course notes, training and exercise booklet, training charts, assessment test,  RYA certificate for the RYA Yachtmaster Ocean Shorebased course.
Please bring: pencil, eraser, colour pens, notebook, divider, course plotter
Hotel for Theory:
For the theory course, we will stay at the Corinthia Marina Hotel in St Julians Malta which is a pleasant hotel, offering first class standards. Rooms have been upgraded to be with sea-view for the same price. The Hotel is situated directly by the sea and offers great opportunities for combining your RYA theoretical course with holiday.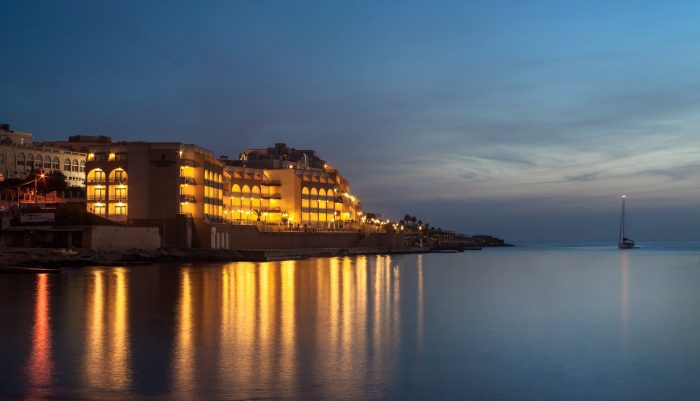 Hotel prices for 2020 TBA, but for 2019 these were:
Standard single room: EUR 115 per night including breakfast
Standard double room: EUR 125 per night including breakfast
Lunch/Dinner/Coffee for Theory:
Lunches are planned, but not necessarily, to be enjoyed jointly. Some wish to have a lunch break on their own, which is fine. Often lunches are great fun, I must admit,  joining in for more talks about our joint sailing dreams… . Coffee breaks are offered for EUR 5.50 pp including coffee, tea and biscuit. Nights are spent freely or jointly, all depending on our mood and desire day by day. I can definitely recommend a visit to Valletta (the capital of Malta and a World Heritage Site) and enjoy the fantastic atmosphere of this European Capital of Culture 2018.
The course ends with a joint dinner at the famous Royal Malta Yacht Club, (also famous for hosting the Rolex Middle Sea Race). 
Flights:
Malta is one of the easiest places to fly to from all over Europe. Air Malta, Lufthansa, Ryanair are just a few of the many airlines that fly into Malta several times per day.
For the practical course, you fly to Santiago do Compostela and back again from London/Heathrow (or Southampton, which is even closer). 
Preparation:
It is assumed that you have a working knowledge of the RYA Yachtmaster Offshore, but there will be no questions asked from the Offshore syllabus. This is all additional material and you do not need to prepare yourself for anything special other than the experienced Yachtmaster Offshore you already are. 
Reading Tom Cunliff's book "The Complete Ocean Skipper" (see above) makes, obviously a great start and if you wish to prepare for anything, this book is awesome.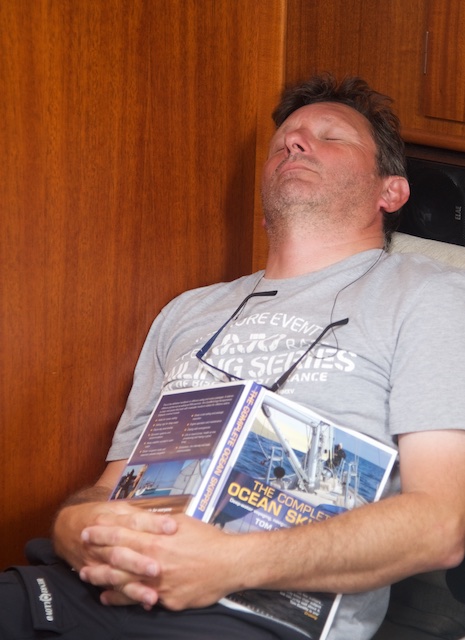 Buying a sextant:
The Astra IIIB by Celestaire is the sextant I own myself and has an excellent price-performance value and is the most popular sextant among sailors. This highly cost-effective and surprisingly accurate sextant is being sold by the thousands to yachties every year.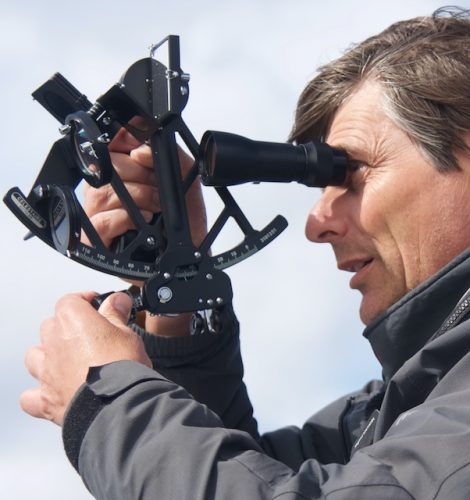 Bookharbour has put together a "kit" for us, including not only the sextant itself but also all four necessary tables (costing GBP 85 if bought individually):
– 2020 Nautical Almanac 
– Sight Reduction Table for Selected Stars 
– Sight Reduction Table for Lat 0 – 40
– Sight Reduction Table for Lat 39 – 89 
Not only are all the books included, the Reginasailing family can sometimes receive some extra discount on the package (and other books and items purchased on www.bookharbour.com) in a campaign! 
Please note: Only the Nautical Almanac needs to be purchased annually, the Sight Reduction Tables are good for decades. 
Choose between full view (simpler to use, great for sun-shots) or split view (traditional, a bit more difficult to use but allows for shooting starts for longer since no mirror is clearer to see the horizon in the dark). I have the full view-version, by the way, since you normally shoot the sun and not the stars, which is only possible at dawn and dusk, anyway.
The price for the complete package that Bookharbour has put together (package plus the 4 tables) is GBP 750 (2020).  
If you are interested in the sextant package, please click 
here
.
Book early:
Please contact me, preferably including some short information about yourself, if you are interested to participate in one of the upcoming theory courses.