Jenny Gloge
"To me, sailing on Regina Laska was:
– When I suddenly realized that I wanted the day to last, the evening not to end and that I could not wait until the morning finally would commence…
– When I gazed away into a crystal clear nights with more stars I could ever imagine on my night watches and felt free of all thoughts…..
– When I crawled into my cozy and safe bunk after my 4-hour watch and felt the heavenly softness of the waves cradle my falling-a-sleep…..
– When no words were needed when gazing over the horizon's eternity…
– When I felt deeply humble towards the greatness of nature, seeing whales graciously rising only short distances in front of the bow, or when I felt the energetic joy when meeting the fast playful dolphins racing around the boat ….
– When I amazingly recognized the rich colours and the beauty of the coastline…..
– When I became close to myself and realized my own deep-down love to life….
– When I fell in love with the timelessness and greatness of life…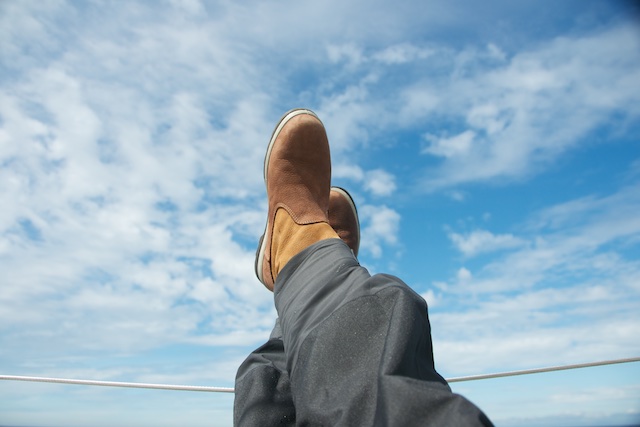 "….that was when I realized that I had became close to myself and realized my own deep-down love to life and timelessness. I realized I had arrived: the next harbour is no more a destination, it becomes a direction. The sailing, the anchoring, the ports, the on-shore excursions… all became the being of the moment. Transportation during time has turned into fulfillment.
This is possible thanks to you, Leon. A master of sailing and life. You are a calm, assuring, knowledgeable, experienced, thoughtful and happy man, always spreading a great atmosphere onboard. You are naturally wanting to make us feel good on-board, either taking away fear and anxiety, or reinforcing us in our actions and boosting our dreams we never dared to admit we ever had. You trigger belief in possibilities, be it within sailing or generally in life.
To be honest, it is not fair to express my experiences in words – each of us can live it, instead!"
Jenny Gloge, Belgium, sailing Leg 5-2015 Lymington (The Solent, England) – Dublin