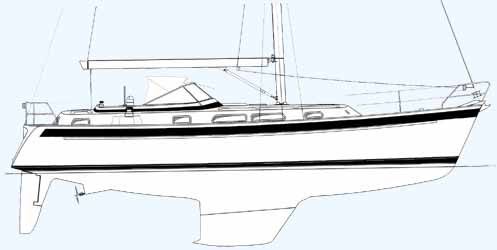 Hallberg-Rassy 46 Regina Laska


The Boat:
General Specifications
Equipment
The never ending refit project year by year
The Name
Safety Philosophy
(following the stringent MGN 280 rules for Area-1 offshore sailing)
Frequently asked questions and experience on equipment
Old technical articles I wrote for my previous HR40:
– Article from my previous HR40 Regina on installing a HOA (High Output Alternator)
– How to read an Ah-meter (Amp-hour-meter) for your batteries
– Some thoughts I had when deciding between a DC and an AC boat for my HR40 Regina
– Some thoughts I had when deciding which types of batteries to install on my HR40 Regina (today, you also have Lithium-Ion batteries to choose from: great by expensive!)
– Talk on Communications Part 1 for my HR40 Regina from 2003. Surprisingly valid still today, with the exception of SatPhones which have come a long way to provide Data, but still quite slow and to a continuously frightening high airtime-cost still today! NB: I repeated the same installation on my HR46 Regina Laska, not too much has changed for us yachties, thus….
– Communications Part 2
– Communications Part 3
– Communications Part 4
External Links:
– Hallberg-Rassy 46
– Hallberg-Rassy Main
– Yahoo Discussion Group for Hallberg-Rassy owners
– Selecting a Cruising Boat by John Neal
– Reasons to buy a Hallberg-Rassy by Magnus Rassy
For pictures of the boat, see below and many more photos posted in the correspondent stories and testimonials provided by previous participants and guests as well as on instagram ("reginasailing").