STCW Safety Training – 2017
February 2017: STCW Basic Safety (6-10 Feb) + STCW Medical First Aid (11-14 Feb) + STCW Medical Care (15-19 Feb), Southampton, UK
(you may choose one or all of the above courses)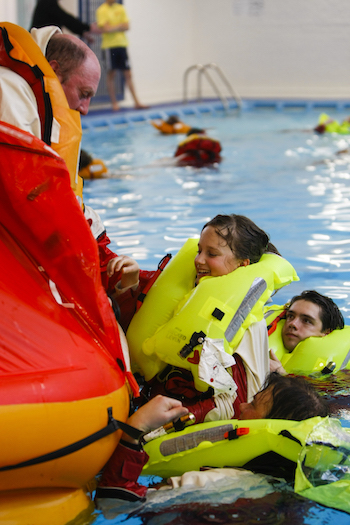 Safety is paramount and a highly important aspect of sailing. It is no coincidence that RYA Yachtmasters wishing to obtain a commercial endorsement need to be safety trained according to STCW. It goes without saying that anyone working commercially on or around the sea have to undergo a safety training programme.
Without a commercial endorsement, you are not allowed to earn any money while sailing. But even if this never will be your goal, why not doing it for one's own safety? Safety Training is for everyone!
There are many "safety training courses" available on the market, but I would highly recommend to join one that follows the standardised rules of STCW by IMO (International Maritime Organisation). An STCW course follows the Convention on Standards of Training, Certification and Watchkeeping for Seafarers and is also important if you wish to obtain your commercial endorsement of your Yachtmaster.
There are several STCW courses available, whereof the STCW Basic Safety is the most known one. No less important are the two medical courses, however: STCW Proficiency in Medical First Aid and STCW Medical Care.
It is many years ago I did my last basic safety training and too long ago I did a Maritime Medical Course for Bluewatersailors, in addition to the obligatory bi-annual Elementary First Aid training, obviously. Therefore I was looking for possibilities to join these three courses myself in the winter of 2016-17, preferably all at once. Every skipper planing to sail beyond marina-hopping should have some basic medical training, I believe, and for me, too, it's time to get some medical training again!
It is quite difficult to find an STCW Medical Care course, and if so, the entry requirements are that you must have done an STCW Medical First Aid course first. This Medical First Aid is, by the way, a four (4) day course and by far exceeding the one day Elementary First Aid, known to all Yachtmaster candidates.
Maybe there are more sailors planning to do the same, looking for a suitable course, I reckoned, and so I thought it would be nice going the course with some former or future ReginaSailing guests or other future bluewater sailors. In close co-operation with one of the leading safety training schools in Southampton, OMT Training Ltd, I can now offer a ReginaSailing special course taking you all the way through the three courses in one go. From Zero to Hero in 14 days! The venue is the Saxon Wharf on the banks of River Itchen in central Southampton, exactly next to Southampton Yacht Services and renown Ocean Safety, who have, by the way, provided me with a lot of my safety gear onboard Regina Laska. It's no more than 15 minutes from the Southampton airport, 7 minutes from the train station and 10 minutes from the ferry terminal.
N.B. Please note that from 2017 the 2010 manilla amendments to the MCA STCW 95 will be coming in to effect. This will require the revalidation of certain STCW certificates and this course, obviously, follows the new curriculum.
You are very welcome to join all or some of the ReginaSailing STCW safety courses below. It would be nice to re-unite with some of my previous sail training participants and get to know future candidates as well. The course is open to anyone and you do, obviously, not have to come sailing on Regina Laska in order to participate on this safety course!
Since places are limited, please send me an e-mail if you are interested to join on this special ReginaSailing STCW course to be held in February 2017. Regarding prices and description, see below. Accommodation is extra and I hope to  find a pleasant cozy B&B where we could all stay jointly.
Course 1: STCW Basic Safety Training
6th -10th February 2017

The STCW amended 78, is a must for all in the industry working on boats of 24 metres, from nannies, chefs, deckhands and workboats including  windfarm vessels and cruise liners. It's also part of the RYA Commercial Endorsement but highly advisable also for anyone sailing on a pleasure craft.
The STCW Basic Safety consists of four elements:
Personal Survival Techniques (STCW Code A-V1/1-1)
This module gives you the introduction of what to do should you ever need to abandon ship and take to the liferaft. The course covers basic survival afloat, what to take with you and how to best survive whilst awaiting rescue. The practical part of the course, takes part in the pool where you will don on a lifejacket and practice your skills in and out of the liferaft. You will be required to wear your swim suit, shorts and T-shirt  or track suit bottoms, whilst completing the pool session. Please bring a towel.
Fire Prevention and Fire Fighting (STCW Code A-VI/1-2)
Learn to protect your vessel and crew with some exciting scenario training and real fire training. The course will give you a greater understanding of how to manage a fire, don on Breathing Apparatus while safely extinguishing any fire found. With these course we recommend long sleeved tops and tracksuit bottoms that you don't mind smelling of smoke, all other equipment will be provided.

Elementary First Aid (STCW Code A-V1/1-3)
A basic awareness of injuries commonly found amongst the crew of guest, cuts, bumps, bruises including awareness to classic on the water symptoms such as Hypothermia Mal de Mer (sea sickness) and rope burns. You may be asked to take to the floor for the recovery positioning so be prepared to get involved.
This module is necessary for the following STCW Medical First Care (see below)
Personal Safety and Social Responsibilities (STCW Code A-V1/1-4)


Emergencies can occur, but here the importance is to learn how to prevent them, providing a safe working practice. The module includes safety procedures and accident prevention, understanding effective communication, knowing the values of drills and training with the overall goal to keep working in a safe environment. This module also includes control of fatigue, teamwork and marine environmental awareness and gives you an overview of how to respect your crew mates and understand the possible vulnerability of the crew and the vessel you're on.
Course 2: STCW Proficiency in Medical First Aid
11th -14th February 2017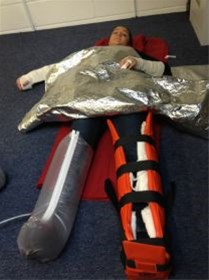 This four day course follows directly after the STCW Basic Safety Course and deepens the Elementary First Aid knowledge. Prior to this course, you must have completed an Elementary First Aid (see above) or have relevant medical training within the preceding 5 years. If you have recently taken an Elementary First Aid Course elsewhere and are not interested in the other modules of the STCW Basic Safety course, you may also join from Course 2 onwards (STCW Proficiency in Medical First Aid).
This training is intended for seafarers who are to provide medical first aid on board a ship, in accordance with Regulation VI/4 of the Annex to the STCW Convention and Section A-VI/4 (1 – 3) of the STCW Code.
This course will give you more in depth knowledge of how best to treat your patient and using the kit and equipment onboard and the level of knowledge gained will be sufficient to enable the seafarer to take immediate action in the case of injury or illness. It is recognised up to 150 Miles from shore (Area Category 1) Category B or A stores.
Course 3: STCW Medical Care
15th -19th February 2017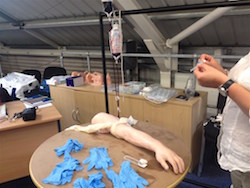 This five day course follows directly after the STCW Proficiency in Medical First Aid and deepens the Medical First Aid knowledge. You must have gone the above mentioned STCW Medical First Aid course prior in order to join this course, hence offering the three courses as a block for ReginaSailing.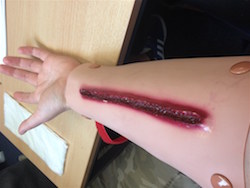 For any serious cruisers planning on going on a sabbatical or otherwise blue-water cruising, this is a chance to gain necessary basic medical training. Especially the module "making a diagnosis" I personally find highly important in order to know how to continue a treatment.
This training is further intended for seafarers who are to take charge of medical care on board ship, in accordance with: – Regulation VI/4 of the Annex to the STCW Convention and Section A-VI/4 (4–6) of the STCW Code – the Merchant Shipping (Training and Certification) Regulations 1997. It is also a prerequisite to ocean cruising and for manning levels on vessels of 24 meters or over.
The course modules consist of: 
Making a diagnosis
The cardiovascular and respiratory systems
The abdominal system
ENT, dental and ophthalmology
Communicable diseases
Wounds and injuries
Medication
Defibrillators and use
Prices
Course 1: STCW Basic Safety Training, 6th -10th February 2017
GBP 875
Course 2: STCW Proficiency in Medical First Aid, 11th -14th February 2017
GBP 450
Course 3: STCW Medical Care, 15th -19th February 2017
GBP 600
For course 2 and 3 combined the discounted price is GBP 945
For all three courses the total price is GBP 1,820
Prices are for the courses only and accommodation will be looked at a later stage, preferably finding a cozy nice B&B in vicinity, or you may find your own accommodation, of course.
I will personally take this unique opportunity and join all three courses. It would be great to have you onboard! Looking forward to hearing from you!