Sailing Books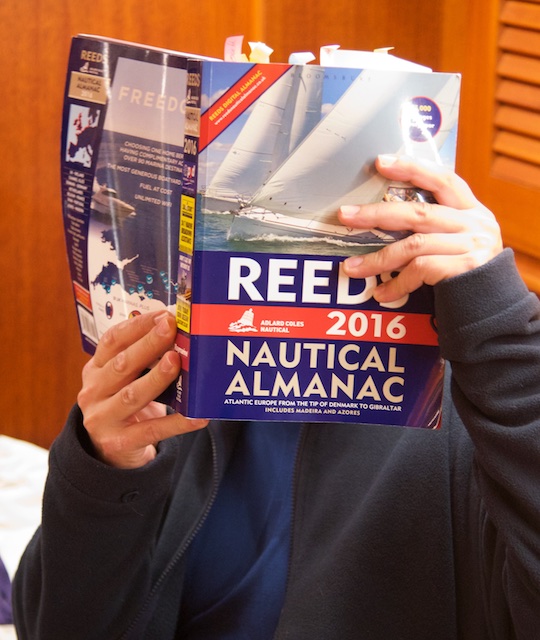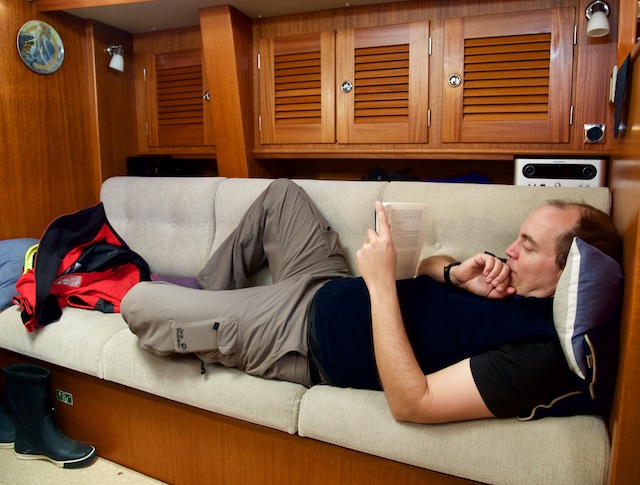 Christian reading while crossing the North Sea. Seasickness has gone on the third day and life begins!
I buy most nautical books, charts and navigation material from bookharbour.com. I am allowed to pass on my discount to my participants so you can benefit from a 10% discount from bookharbour.com. All you need to do is to add the discount-code at the check-out. The code is:
rs-BHAPGG10
They have everything in paper format plus a bit more and therefore I have linked most books to their site.
German books by Delius Klasing Verlag are linked directly to them. 
Praxisguide Fahrtensegeln in German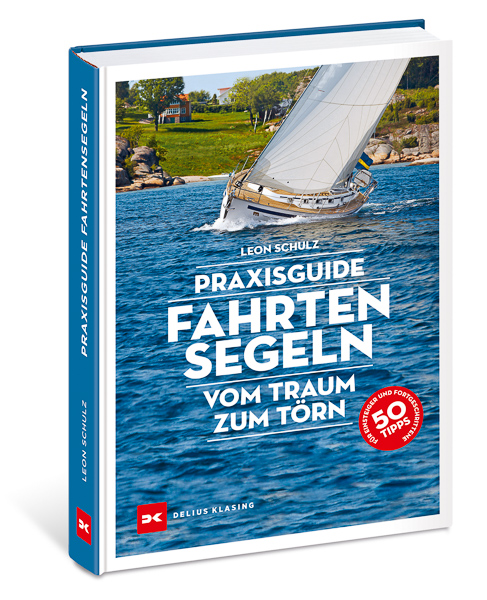 My own book "Praxisguide Fahrtensegeln" is summing up the Coastal and Offshore Theory course. Use it to get prepared before the Coastal and Offshore Theory Course or  use it for repetition of the necessary know-how even years after the course. Buy it here directly from the publishers Delius-Klasing-Verlag!  
Yachtmaster Offshore Theory
For the Yachtmaster Offshore I suggest you buy a book and FlipCards to learn the Collision Regulations (ColRegs) as well as a book to cover the syllabus. 
Books to learn the ColRegs
A very good way to learn the ColRegs are by means of FlipCards.  I strongly suggest you buy and use both of the below if you plan to take the Yachtmaster, namely "Lights and Shapes" as well as "Sound/Light/Distress".
There are more FlipCards here. 
There is also a good App for the iPhone to learn the ColRegs calls "Master Nav". 
To read and learn about the rules, I recommend to buy one of the following books, which explains all the rules in an easy to understand way.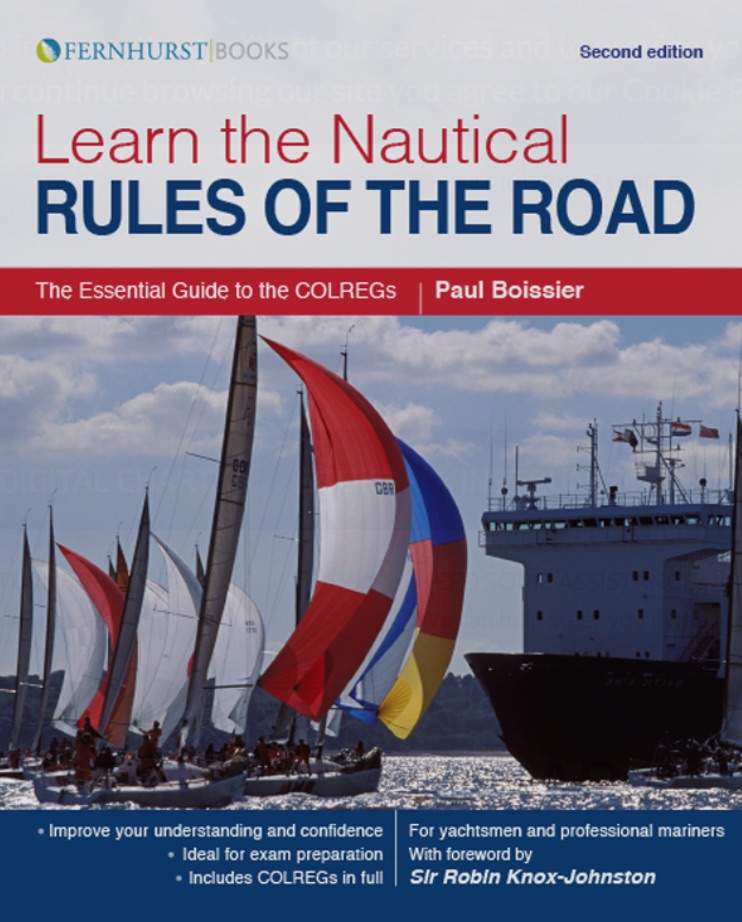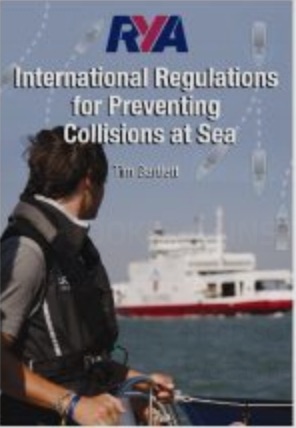 The RYA has a book with the not so sexy name "G2 RYA International Regulations for Preventing Collisions at Sea" . It presents and explains all the rules and discusses many interesting possibilities and gives a lot of food for discussions! It's deep and possibly a bit "academic", but I find it very interesting to read about various (court) cases and how one shall interpret the rules and how far you can stretch them. 
Another book, and the one I prefer for the pleasure of learning, is called "Learn the Nautical Rules of the Road", which sounds much more encouraging, doesn't it?! That's the book I think is the easiest not to loose concentration on. It's a hand on and more entertaining book, written from the perspective of an experienced seaman. The author Paul Boissier also gives nice hints and tipps how he remembers the rules and talks about his own experiences and mistakes as well…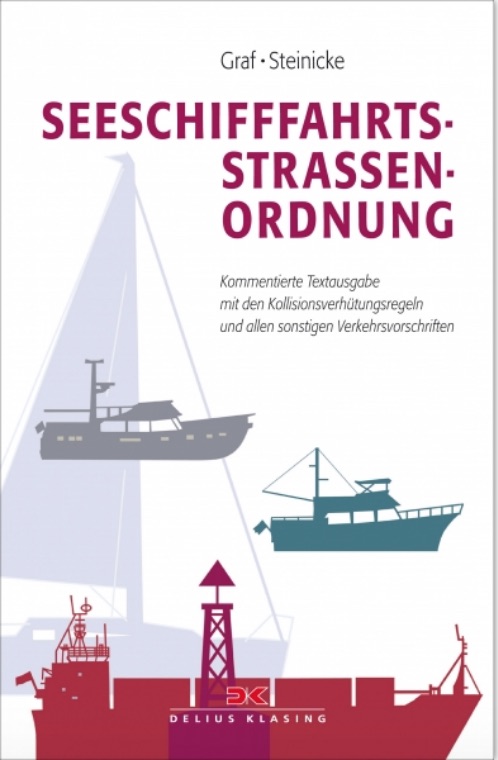 ColRegs are international and valid on all seas, so you could also study them in your own native language. For German readers I can recommend the book called "Seeschifffahrtsstraßen-Ordnung", published by my own publishers Delius Klasing Verlag. Not the coolest cover photo, possibly, or name for that sake, but that's how it is. 
None of the books cover an entertaining subject, but it does form a very important part of seamanship and needs to be known by heart by an RYA Yachtmaster. So, I suggest you buy the book that suits you the best and just study. There is no way around and after some time it begins becoming interesting, nevertheless. 
Reading gives the understanding, but the most effective way to learn them by heart is by means of the above mentioned flip cards. Make sure you know all the cards.
Yachtmaster Offshore syllabus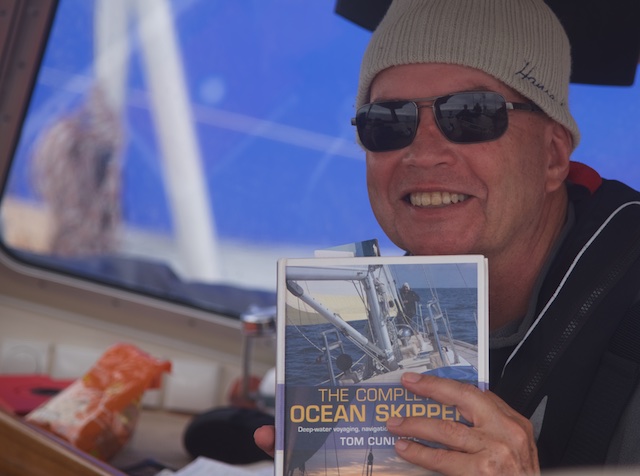 Depending on your personality and how fluent you are in English, you can opt between two excellent books.
If you prefer to get the stuff just delivered and explained in a schematic way (i.e. "this is how you do", "this is how it works") maybe the book by Alison Noice is right for you. The book "Yachtmaster for Sail and Power" covers everything in a structured way and does also include the ColRegs in the back as an appendix. 
If you, instead, appreciate a narrative way, presenting the material in an entertaining "story", written by Tom Cunliffe, you will enjoy his British humour, his vast experience as a sailor and profound seamanship. Tom's legendary book "The Complete Yachtmaster" is now in it's 9th edition and a great book. If you don't mind reading some more text, Tom is just as entertaining as informative. To get to know Tom a bit, see his Videoblogs here.
Please note that Tom's book does not cover the ColRegs, which, instead, is dealt with by the books on ColRegs mentioned above. under assessment 1 above.
Unfortunately I am not aware of any Yachtmaster book available in German, yet, which would explain the syllabus of the RYA Yachtmaster in an entertaining and easy to understand way.
Further small pocket guides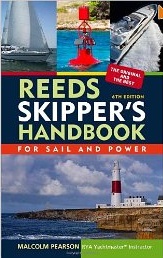 There are further a couple of nice-to-have pocket guides, such as the Reed's Skipper's Handbook. Here more or less all subjects of the Yachtmaster syllabus is covered. Its small and handy and fits into most pockets. Nice to have onboard to quickly look up something.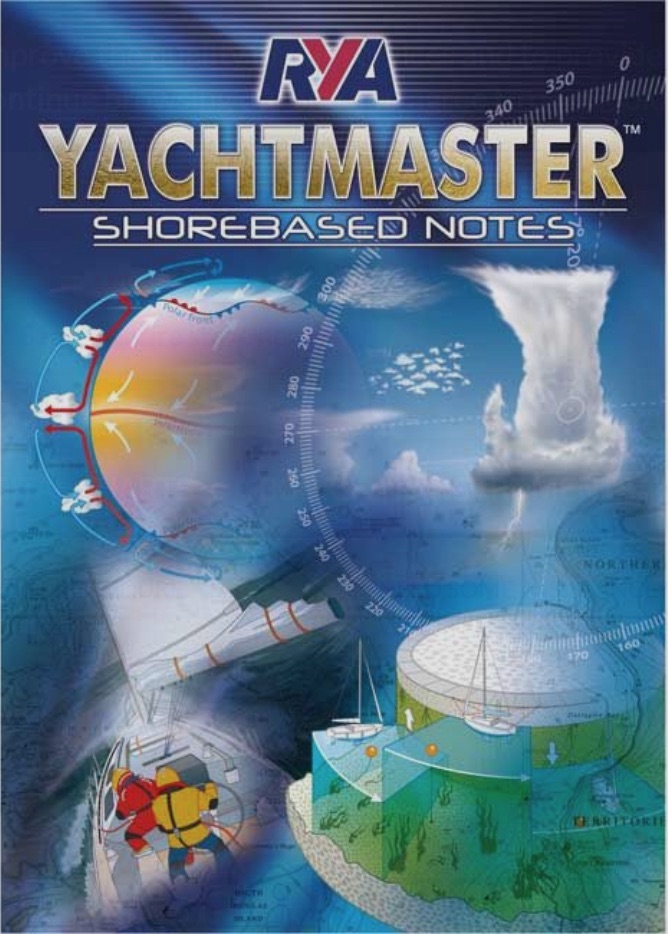 The RYA also offers a little handy sketchbook-style booklet called "Yachtmaster Shorebased Notes".  This is a very practical little book with loads of drawings and pictures and extremely little text. Perfect to just get a reminder of who things work and as a guide to remember what you need to know. If you join on a Reginasailing Theory Course, don't worry to buy this, since it is included in the course and will be handed out when you join the course.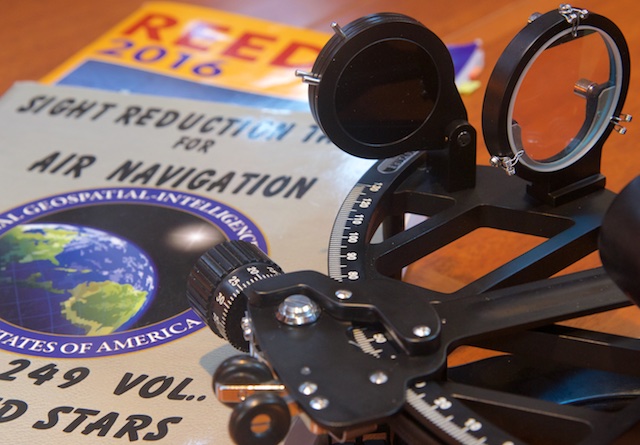 Yachtmaster Ocean Theory
If you hold the Yachtmaster Offshore Certificate of Competence, you may continue with the Yachtmaster Ocean. Similar to the Yachtmaster Offshore you might wish to buy two books to cover it. First of all a textbook for the syllabus and secondly a book to learn celestial navigation. The latter is, however, easiest done in classroom during a Reginasailing Yachtmaster Ocean theory course.
It is great fun!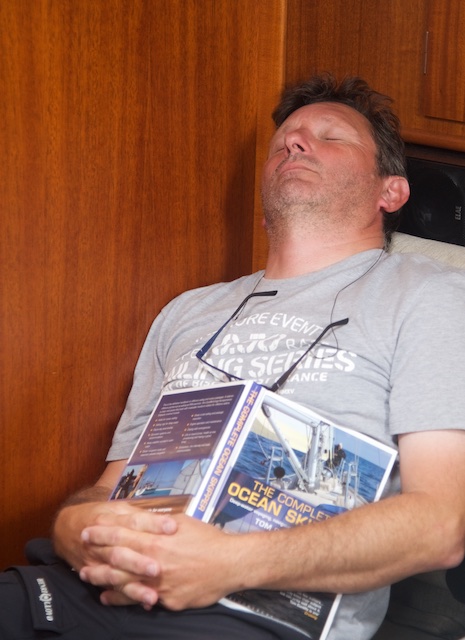 Yachtmaster Ocean syllabus
In my view the best book covering more than you need to know about the seamanship needed for the Yachtmaster Ocean is by Tom Cunliffe, who writes in an entertaining, narrative way, I think. It is quite enjoyable to read his books and learn from his vast experience and read about how he does it.
Tom's book covering the Yachtmaster Ocean is called "The Complete Ocean Skipper" with a lot of photos taken by me on my HR40 Regina or HR46 Regina Laska, by the way. 
Celestial Navigation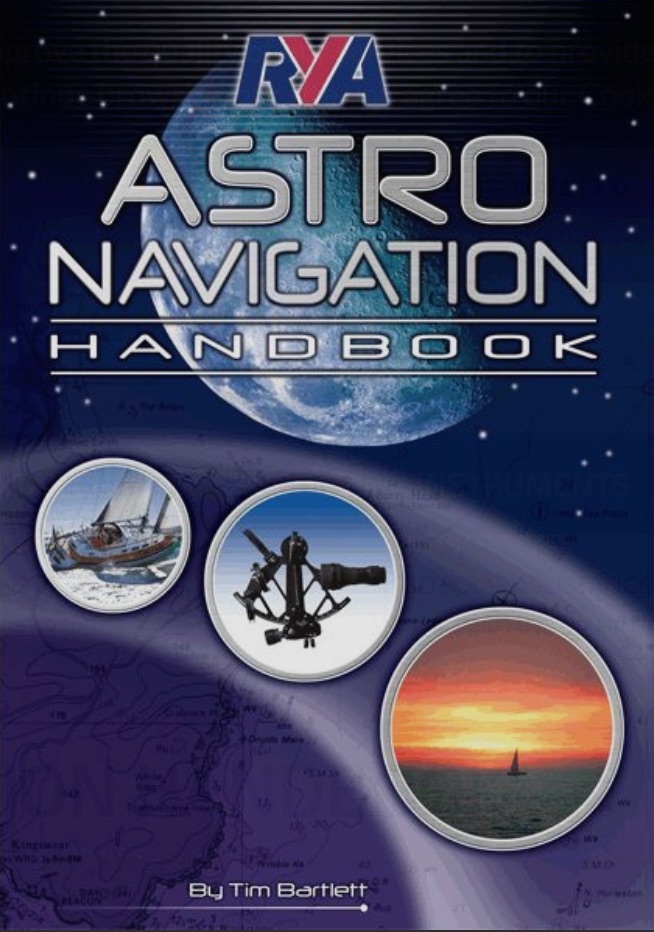 A great part of the Yachtmaster Ocean is about Celestial Navigation. There are an impressive and increasing number of books about navigating with a sextant and I find it difficult to find a good book explaining celestial navigation in an easy-to-understand way. The best way to learn celestial navigation is to join a Reginasailing Yachtmaster Ocean course. Here, we have a lot of fun and I have developed a lot of easy-to-follow templates that you can use even after many years of not looking at your sextant!
A quite good book covering the material is by the RYA and called  "RYA Astro Navigation Handbook".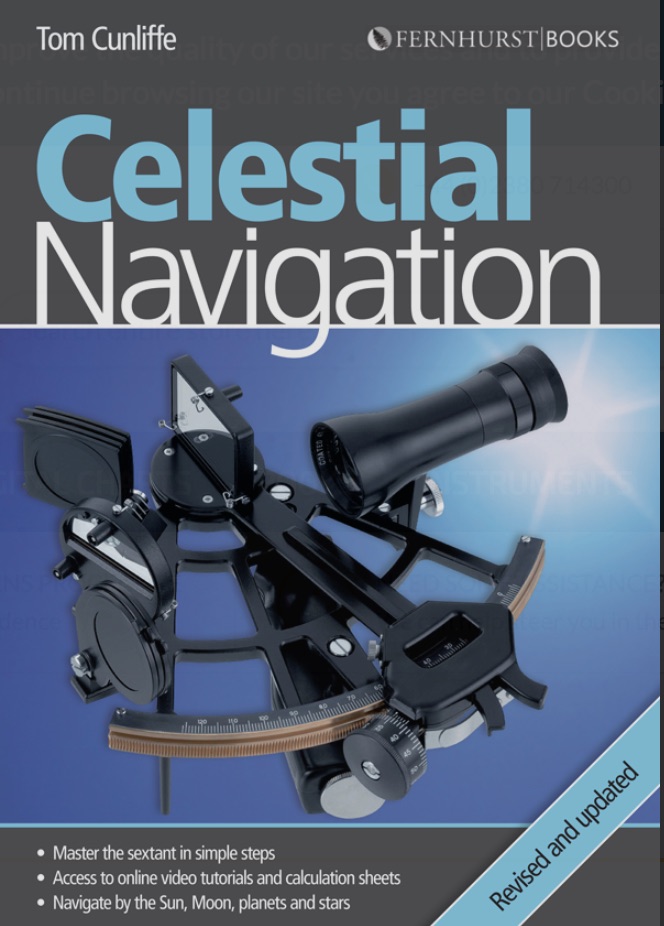 But, as I said, there are so many others on the market, including "Celestial Navigation" by Tom Cunliffe.  You just need to find the one that explains it so you can understand… Or, as mentioned, why not join a Reginasailing Yachtmaster Ocean course?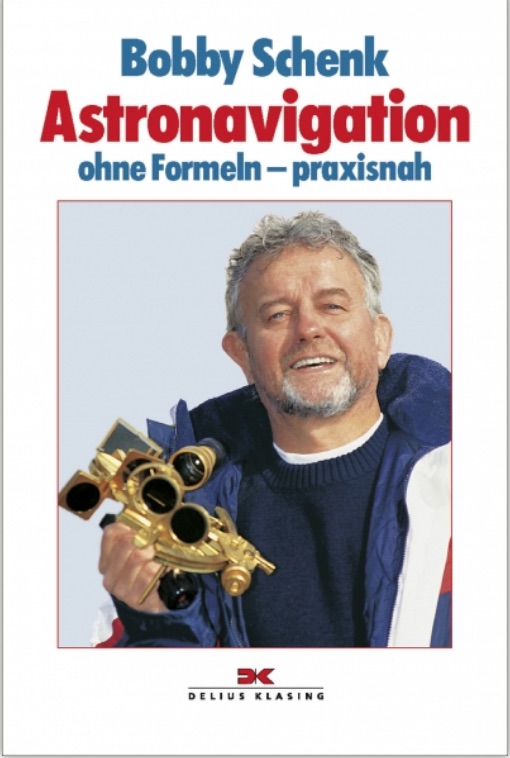 If you are lucky enough to read German, the good old book by Bobby Schenk "Astronavigation", originally written in the pre-GPS-era back in the 1980's, is still a good read. It takes you step by step and you can even learn it at home. It does not 100% follow the RYA way and takes some (very understandable and practical) shortcuts, but it's a really good home-schooling book with loads of exercises. 
And when I began sailing with a sextant in the early 1990's, this was the book I taught myself by. It feels like many "donkey years" ago, as Tom Cunliffe would have put it…