Offshore Sail Training
Offshore Sailing in a Thrilling Surrounding
Includes both offshore and coastal sailing for the more experienced crew

Places, weather and conditions that possibly stretch your normal comfort zone, but never too much!

Yet: Fearless adventures with a maximum feeling of safety 

Apply your theoretical knowledge:
– learn where you need to be exact and where approximations are accepted and still keep you safe

Optimal learning conditions with just 4 participants and typically 7 days of cruising

Typically these legs are in tidal waters

Get prepared for your Yachtmaster Offshore Exam

Enjoy learning on a Hallberg-Rassy many sailors are dreaming of!

Feel the comradeship of the Reginasailing family – learning and sharing experiences together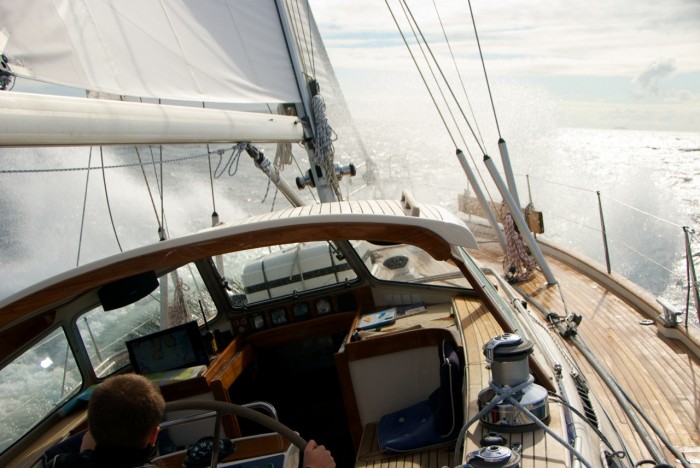 .
The syllabus
Passage planning – Get prepared! 
Skippering – Take responsibility! 
Crew Communications – Instruct your crew clearly, politely and respectfully! 
Tidal Calculation – Play the tides! 
Watch schemes – For the longer passages!
Offshore Meteorology and weather sources – know your limits! 
Classic Navigation – Get prepared for your Yachtmaster Exam!
Radar Navigation – Your third eye! 
Sail and Storm tactics with heaving-to (weather permitting)
Seasickness, security, risks of accidents and other medical issues
Customs and other issues when entering a foreign country
Safety Systems – avoiding the emergency! 
Emergency Situations – What if… despite a comprehensive safety system!
Man Over Board, Sinking, Fire, Gas, Storms, Anxiety, Seasickness etc
Anchoring – Feel the freedom! 
Your Questions – Get the answers! 
Examples of topics that can form part on an offshore sail training leg:
1. Seamanship
– Crew briefing
– Use of checklists
– Organising navigation, deck-work and domestic duties
– Crew welfare and seasickness
– Awareness of meteorological trends
– Discussing watch keeping
– Delegating responsibilities
– Planning for emergencies, such as abandon ship
– How to give firm, clear and sovereign, yet friendly and calm, directions

2. Handling under Power
– Leaving dock and berthing bow-to and stern-to
– Coming alongside, driving into a spring
– Springing off with bow- and stern-spring
– Spronging off
– Securing the boat with springs, bowlines,
sternlines and breastlines
– Use of prop-walk for mooring and turning
– Benefits and limitations of a bow thruster
– Boat handling in confined spaces, tight turning
– Turning in stream (in tidal waters)
– Deadly corners of a marina, which must be avoided
– Ferry gliding (in tidal waters)

3. Handling under Sail
– Correct setting of roller furling main and headsail
– Reefing techniques with roller furling main and headsail
– Use and benefits of a cutter stay sail and check-stays
– Heaving to in order to stop the boat
– Sailing efficiently on all points of sailing and
trimming the sails accordingly

4. Man-overboard
– Man-overboard under engine (standard procedure)
– Precision sailing
(picking up a fender overboard under sail only)
– Usage of Lifesling/Swedebuoy
– Line throwing (Hansalina)
– Discussing means of getting MOB onboard

 
5. Mooring and Anchoring
– Picking up a buoy under motor and under sail only
– Leaving a buoy under motor and under sail only
– Choosing and judging an anchorage
– Discussing various types of anchors
– Decision on length of scope
– Anchoring with more than one anchor
– Setting an anchor properly
– Taking bearings and leading lines
– Setting electronic anchor watch
(GPS, iPhone, Echosounder, Radar)
– Raising anchor and discussing a foul anchor
– Use of anchor sail

6. Navigation
– Use of electronic navigation equipment
– Use of hand bearing compass
– Finding a place by intercept
– Dead reckoning by means of course, time, distance and speed
– Blind navigation, course to steer without visible references
– Radar navigation
– Night navigation

7. Pilotage
– Preparing a Pilotage Plan
– Plotting a yacht by day and night

8. Adverse weather tactics (weather permitting)
– Preparing vessel for heavy weather
– Yacht handling in strong winds
– Heaving to as a storm tactic
– Storm sails
– Navigation in restricted visibility

9. Technical 
– Rig maintenance
– Going aloft
– Basic engine checks
– Servicing winches
– Water management and watermakers
– Power management, batteries and consumption
– Spareparts
A great book covering the subjects is "The Complete Yachtmaster" by Tom Cunliffe. Buy it here.
More books can be found here.
Please don't forget to use your discount code rs-BHAPGG10 when ordering from bookharbour.com. 
Regina Laska and your RYA Yachtmaster Instructor
The facts about the boat can be find here.  She is a commercially coded vessel for Area-1 offshore sailing and I personally cater for the guests.
Next available Offshore Sail Training Legs
Leg 2-2023: Lymington/UK – Lorient/France (29 Apr – 10 May 2023).
Leg 3-2023: Lorient/France – La Coruna/Spain (20 – 31 May 2023)
Price
Click on the links above for the corresponding legs to see what they cost. Their price differ depending on the total length of the leg.  
What do others say?
Read the many testimonials and crew's blogs and get a picture of the atmosphere and learning experience onboard!
Ho to become an RYA Yachtmaster Offshore
The RYA Yachtmaster Exam is the pinnacle of sailing qualifications and is the highest achievement within the RYA system. It is very well respected anywhere in the world. With a Commercial Endorsement you can work professionally on boats.
A Yachtmaster Exam is the pinnacle of sailing qualifications and is the highest achievement within the RYA system. It is very well respected anywhere in the world. With a Commercial Endorsement you can work professionally on boats.
While the Competent Crew, the Day Skipper and the Coastal Skipper are 5-days courses, the Yachtmaster is not. The Yachtmaster is a "Certificate of Competence" and is, in other words, purely an exam. As a Yachtmaster Instructor, I can teach you the necessary knowledge and skills, but it is a Yachmaster Examiner who will assess you and do the actual exam.
What you need in order to apply for a Yachtmaster exam is the following:
– Theory knowledge equivalent to the RYA Coastal Skipper & Yachtmaster theory
– 50 days sea-time
– 5 days as skipper
– 2,500 miles of experience (of which half in tidal waters)
– 5 passages over 60 miles, including 2 overnight and 2 as skipper
The exam itself, which is a purely practical and oral test, takes some 8-12 hours for one candidate and 10-18 hours for two candidates. You need to know all the necessary theory, starting from the rules of the road to weather, safety, rescue and tidal calculations. You are assessed as a skipper (practical), how you handle your crew, the boat and your navigation and you need to know a fair amount of how to handle and maintain a boat, starting from sail trim to diesel engines. You will also have to prepare a passage plan including a tidal gate to your examiner.
Since it is not easy to know exactly what you need to know for your Yachtmaster exam and in order to help students to brush up their knowledge, especially within tidal calculations, there are "Yachtmaster Prep Courses" which als go under the name "Refresher Course" or "Prep Week".
The Yachtmaster Prep course is all about preparing you for the examination. There is no way that someone could be taught everything needed to pass a Yachtmaster exam in one course. In reality, the course is a mix of vessel familiarisation, an opportunity for the student to explore the exam area and brush up the candidate's skills and knowledge. The Yachtmaster exam has a syllabus, both concerning theory and practical. We will together identify any areas of weakness which require attention and deal with them in order to coach you through the syllabus with the goal that you will pass the exam. Taking this examination can appear to be a daunting experience, so we need to avoid any nasty surprises and give you the confidence to pass. Having previously worked as the chief instructor of Malta Sailing Academy, and now running my own RYA Training Centre Regina-Sailing, I have the experience to guide you through the process, with a long list of successful candidates. Having said that, you do need to come well prepared in order to apply for the exam.
The Yachtmaster Prep course is a "brush-up", showing you the small tricks and practicing the skills that an examiner would be looking at specifically.
Please see here for a typical Yachtmaster Prep Course onboard Regina Laska.