Hallberg-Rassy Cruising
Relaxed cruising adventure holidays for newcomers and experienced alike
"Each time, it feels like coming home: sailing among good friends, while sharing the considerable cost for running such an excellent fine perfectly kept and comfortable yacht. What Leon does is building a group of good friends around him that stretches far beyond the sailing experience! The atmosphere is outstanding!"

 

(William Brochs-Haukedal, one of the many returning guests)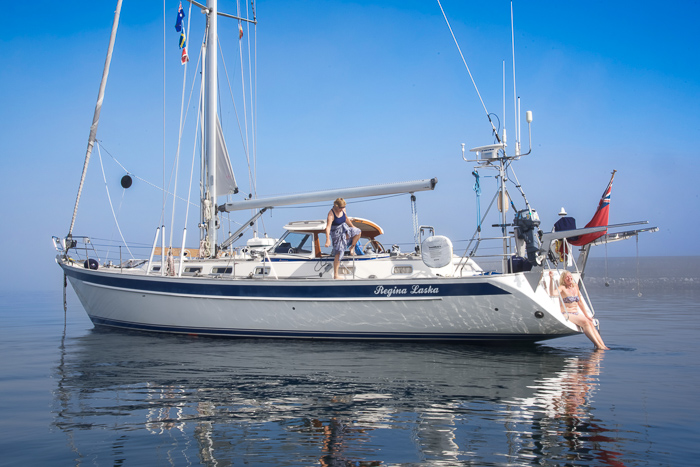 Ever dreamt of owing your own fine Hallberg-Rassy for pleasant private sails?
At the same time, realising you realistically don't have the time or desire to sail more than a couple of weeks per year?!
Don't fancy the standard production boats offered by most charter companies?
Enjoy getting tips on where to sail, what to see and which restaurants are the best?
You already own a boat but wish to try out new destinations? 
Relaxed and exclusive cruises: travelling by a fine sailing yacht, exploring new placed

Highly custom-oriented cruising legs; some for newcomers and others for ocean sailors

Typically chosen by returning guests who have undergone (enough) training already

Normally 4 guests are welcome, but some couples charter the entire boat for themselves for privacy

Sailing to exciting new and different destinations every year

Get as involved as much as you please

Feel like coming home to your own boat sharing it with good friends

Exploring the shores, taking the time it takes, living into the day with no pressure on sailing every day
(e.g. in unpleasant weather)

The cost-effective and hassle-free way of quasi owning your own Hallberg-Rassy 46

Feel the comradeship of the Reginasailing family – sharing adventures together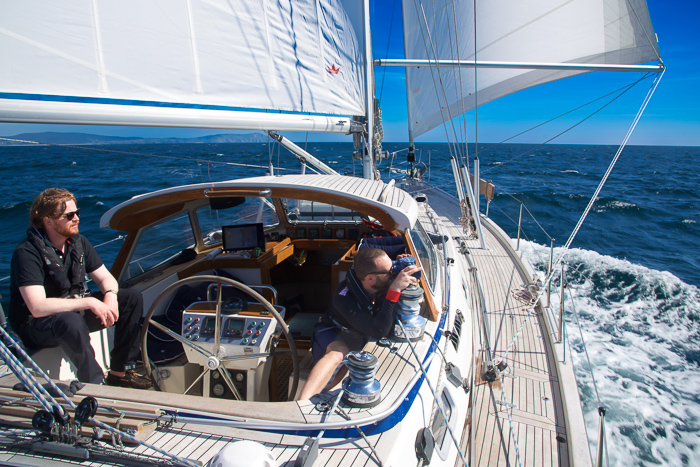 .
The "syllabus"
There is't any – Just relax and enjoy! 
Want to skipper? – Take responsibility! 
Wish to explore? – Go for a hike or book a custom oriented taxi-tour! 
Wish to stay another day? – Keep the anchor dug! 
Fancy stand-up- paddle – use the SUP!
Wish to get far? – Sail through the night! 
Wish to practice some Navigation? – Get some brush-up coaching!
Wish to look into the sky? – Get a quick tutorial and use the sextant! 
Wish to try the local food? – Let's pick the best restaurant in vicinity! 
Feeling a bit sleepy?  – Go for an afternoon snooze! 
Time for a glass of wine? – Choose from the wine cellar onboard! 
Beer o'clock? – Dig into the beer cellar! 
Wish to sail off on your own? – Not possible! I will always be around!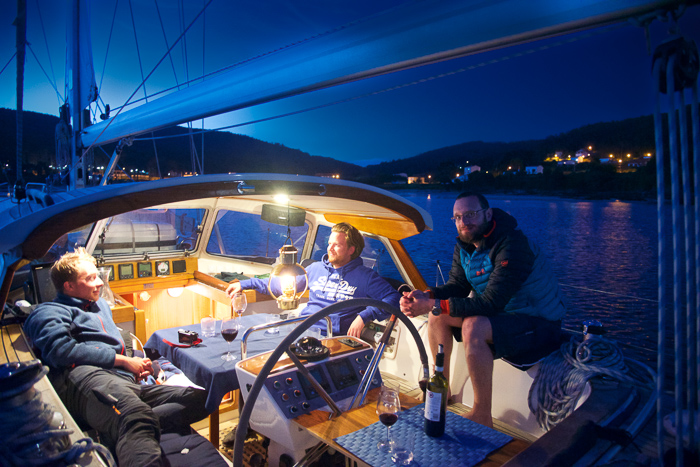 Who is typically joining these legs?
All guests have one thing in common: the desire to swap a hectic lifestyle with living with the breath of nature for a while.
Participants are no students, nor are they treated as customers. Rather, they feel like guests – and that's what they really are! They come not only for the sailing experience but for meeting equally nice people or to explore the surrounding shores.
The balance between laid-back cruising, exploration and sail training is highly up to the participating guests. Therefore, a special attention is given when putting together the individual crews for each leg, so that people with a similar background and expectation are welcomed on the same leg.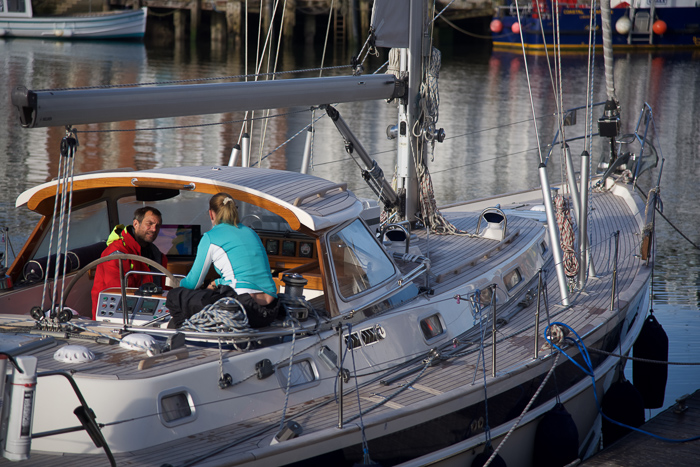 Many keep returning and so a friendship group among Reginasailing is naturally formed. There are guests travelling all the way from Thailand, USA, Australia and, of course, from all over Europe and most guests keep returning annually. They get to know each other at Reginasailing Reunions (e.g. traditionally the second Saturday night at boot Düsseldorf each January) and plan to sail together the forthcoming years. 
It's actually quite common that, for instance, women come on an all-women sail training course and liked it so much that they wish to share it with their husbands. So they return the following year as a couple on a relaxed holiday cruise. Or, alternatively, that men come on a more adventurous sail training tour one year and bring their wives for a relaxed, careful coastal cruise in sheltered waters the following year. The untold aim sometimes seems to be to get their wives enthusiastic about sail cruising. But that's just a bold assumption… 
Guests are not simply shuffled together on a first time – first serve basis. A lot of emphasis is put into pairing guests together that might enjoy their company. Hence, for new participants, a short description of yourself is very helpful to make your sailing experience an outstanding one! Singles or couples alike, who wouldn't want to enjoy some relaxing adventurous holidays? 
Some couples prefer to charter the entire boat, not having to take any consideration towards other crew members. They then get the side cabin as their private "dressing room" and the bathroom as an en-suite for themselves. Having said that, very nice friendships have begun when you join with others. The initial fear of lacking privacy is soon turned into a pleasant cruise with interesting new likeminded people. 
We take the day as it comes, lead by weather rather than by a full diary. Our cruises are held flexible and customer oriented, never stretching it longer than your personal limitations.
Sailing should always be fun and the weather situation is always taken into consideration when planning the sail for the day. No risks are taken and the overall goal is to have fun and to enjoy with the highest standards of safety.
What to bring
Before you come, you will get a suggested list of things to pack. 
Obviously, you are encouraged to actively take part in the sailing, standing at the helm and navigate, why foul-weather gear is advisable to bring in higher latitudes, but if you plan to sail in warmer climates these are obviously not as crucial. Foul-weather gear is such a personal thing, like clothes, so I have decided not to provide these for everyone to share. These days, foul-weather gear are not as heavy and bulky as they used to be. They are ver light, water and/or windproof clothes available on the market, one of the best being from SailRacing (unfortunately they only have a limited choice for women, but the ones they have are great!). Women could otherwise look at Douglas Gill. If you purchase from SailRacing, please note that my guests get a 10% discount by providing the discount code "reginasailing". If it doesn't work, let me know, and I will check with them!  Breathable, watertight and stylish sailing boots from Dubarry are the most comfortable I know. If you don't want to bring boots, look at watertight socks from SealSkinz you wear in your normal shoes. The shoes get wet, but your feet stay dry!
Safety gear such as life jackets by Spinlock are supplied onboard, which cater for maximum comfort and safety.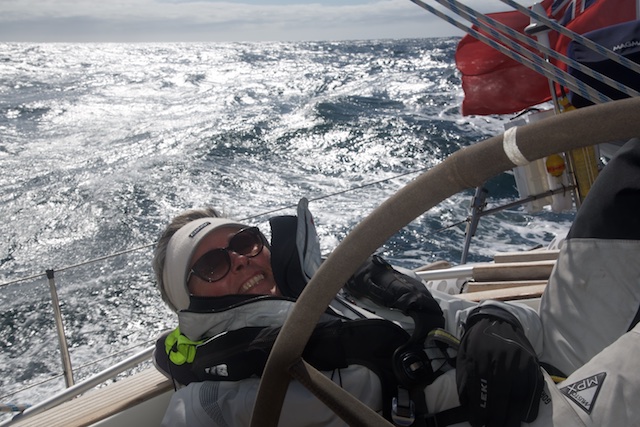 What I can encourage is to bring your camera to make your own movies and/or photos of the beautiful places we visit. Historic sites are just as important as meeting local people. Who else would  personally get to know the very lady knitting the sweater you just bought on Fair Isle, or  be able to talk to the archeologists who are just about to work on a Viking excavation, or visit the distillery of one of the best whiskies in the word?
Regina Laska and your RYA Yachtmaster Instructor
The facts about the boat can be find here.  She is a commercially coded vessel for Area-1 offshore sailing and I personally cater for the guests.
Next available Hallberg-Rassy Experience Legs
Leg 4-2022: La Coruna/Spain – Porto/Portugal (26 June – 7 July 2022).
Leg 5-2022: Malaga/Spain – La Coruna/Spain (4 – 24 Sept 2022)
Leg 4-2023: La Coruna – Portosin (1 – 11 June 2023)
Leg 6-2023: Terceira – Terceira (Azores) (29 June – 6 Jul 2023)
Leg 7-2023: Terceira – Terceira (Azores) (9 – 22 July 2023)
Leg 8-2023: Terceira – Terceira (Azores, all-women) (24 – 31 July 2023)
Price
Click on the links above for the corresponding legs to see what they cost. Their price differ depending on the total length of the leg.  
What do others say?
Read the many testimonials and crew's blogs and get a picture of the atmosphere and learning experience onboard!