Shore-based Coastal Theory Course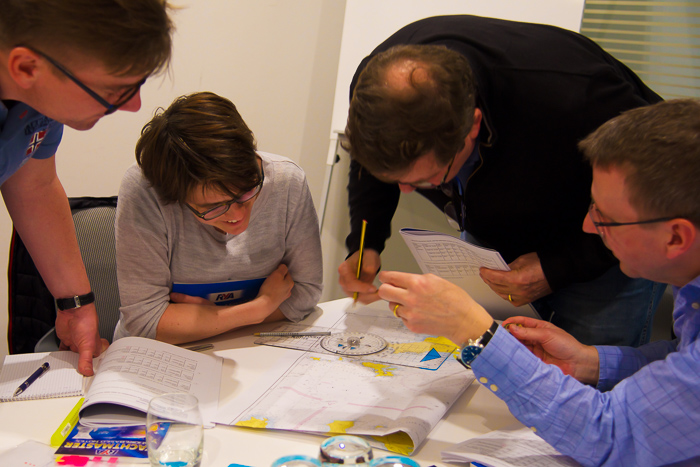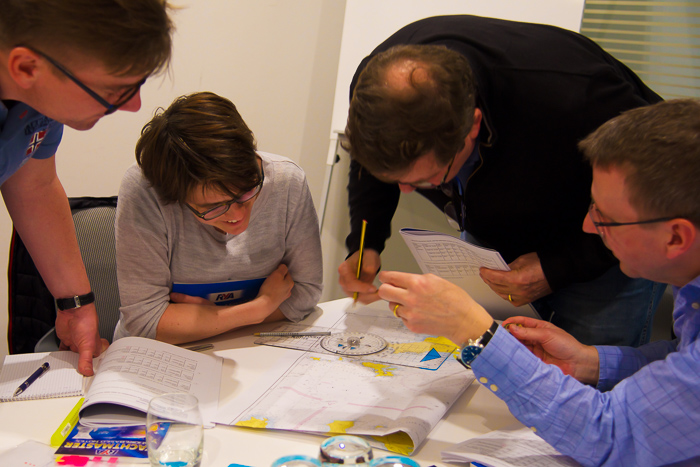 6 days pleasant learning in Malta. Next course: 3 – 8 January 2024 
6 days of intense, yet friendly and relaxed learning 

(checking in on 2 Jan, checking out on 9 Feb, prolonging stay possible)

Complex issues explained with an holistic approach in an easy to understand way

All necessary preparation to easily pass your theoretical knowledge for the RYA Yachtmaster Exam 

Hands-on tips what you really use during every-day skippering
– learn where you need to be exact and where approximations are accepted and still keep you safe

Combination of electronic and traditional navigation

Discounted hotel prices which can be extended for some relaxing holidays in sunny Malta if booked early 

Pleasant lunches and evening dinners with heartily sailing discussions   

Feel the comradeship of the Reginasailing Family – learning and sharing experiences together 

You may take the RYA Yachtmaster Offshore Theory assessments (at no extra cost) on your last day

After the assessment, we all go and celebrate the end of the course in the legendary Royal Malta Yacht Club in the evening (check-out of the hotel on 9 January in the morning)

Get prepared for your Yachtmaster Offshore exam

Course is held in easy to understand English with explanations in German or Swedish possible

Bei genügend Nachfrage,  Theoriekurse auch mit 100% deutschsprachigen Teilnehmern möglich (bitte bei Wunsch kontaktieren)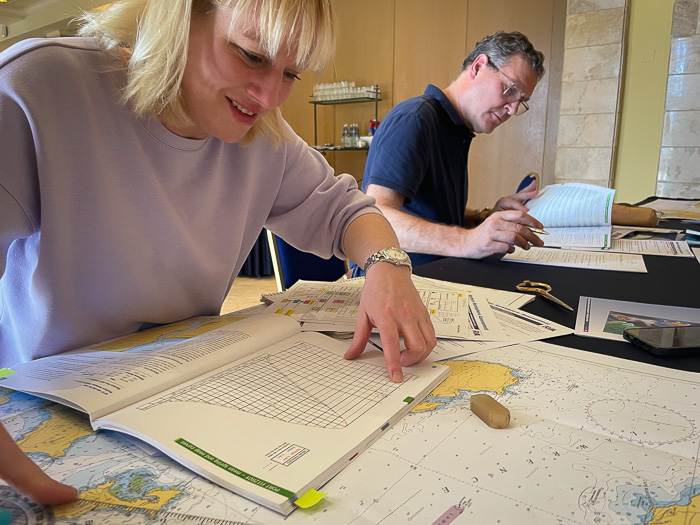 The Syllabus
The subjects are as wide as they are important and interesting. Some examples of the hands-on subjects: Tidal Navigation, Radar, Weather, Navigation in Fog, Electronic Navigation, Buoyage, Lights, Rules of the Road, Ship's Safety, Distress Signals, Helicopter Rescue, Passage Planning, Stability and so much more!
The curriculum of the RYA Yachtmaster Offshore Shore-Based course in Malta consists of: 
 
 

1. Position
– Dead reckoning and estimated position
– Satellite-derived position
– Use of waypoints to fix position
– Radar fixes
– Techniques of visual fixing
– Fixes using a mixture of position lines
– Relative accuracy of different methods of position fixing
– Areas of uncertainty

2. The magnetic compass
– Allowance for variation
– Change of variation with time and position
– Causes of deviation
– Swing for deviation
– Allowance for deviation
– Different types of compass

3. Tides
– Causes of tides – Springs and Neaps
– Tide tables – sources
– Tidal levels and datum
– Standard and secondary ports
– Tidal anomalies (e.g. Solent)

4. Tidal streams
– Sources of tidal information
– Tidal stream information in sailing directions and Almanacs
– Allowance for tidal streams in computing a course to steer
– Tide rips, overfalls and races
– Tidal observation buoys, beacons etc

5. Buoyage
– IALA system buoyange in Region A
– Limitations of buoys as navigational aids

6. Lights
– Characteristics
– Ranges – visual, luminous and nominal
– Rising and diping distances
– Light lists

7. Pilotage
– Harbour regulations and control signals
– Methods of pre-planning
– Clearing lines
– Use of soundings
– Transits and leading lines

8. Electronic Navigation
– Principles of operation and limitations of use
– Raster and vector charts, Datum
– Confirmation of accuracy while underway
– Knowledge of independent source and keeping a separate record of position
– Importance of paper charts

 

9. Echo sounders
– Principles of operation and limitations of use

10. Logs
– Principles of operation and limitations of use

11. Deck log
– Importance of log as yacht's official document
– Layout of log, hourly and occasional entries

12. Meteorology
– Basic terms, the Beaufort scale
– Air masses
– Cloud types
– Weather patterns associated with pressure and frontal systems
– Sources of weather forecasts
– Ability to interpret a shipping forecast, weatherfax and weather satellite information
– Land and sea breeze
– Sea fog
– Use of a barometer as a forecasting aid

13. Rule of the Road
– A sound knowledge of the International Regulations for Preventing Collisions at Sea, except Annexes 1 and 3

14. Safety at Sea
– Personal safety, use of lifejackets, safety harnesses and lifelines
– Fire prevention and fire fighting
– Distress signals
– Coastguard and Boat Safety Scheme
– Preparation for heavy weather
– Liferafts and helicopter rescue
– Understanding of capabilities of vessel and basic knowledge of stability

15. Radars
– One of the main topics in Malta!
– Navigation in restricted visibility
– Precautions & Limitations in fog
– Get to know your Radar system maximising its use
– Modern Solid State Broadband Radars, who they work, benefits and limitatations

16. Passage planning
– Preparation of charts and notebook for route planning and making, and use at sea
– Customs regulations as they apply to yachts
– Routine for navigating in coastal waters
– Strategy for course laying
– Use of waypoints and routes
– Use of weather forecast information for passage planning strategy
– Sources of local and national regulations

17. Marine Environment
– Responsibility to minimise pollution and protect the marine environment
These subjects are further deepened during the Practical Coastal Sailing and the Practical Offshore Sailing, respectively. 
The Preparation and Pre-Course knowledge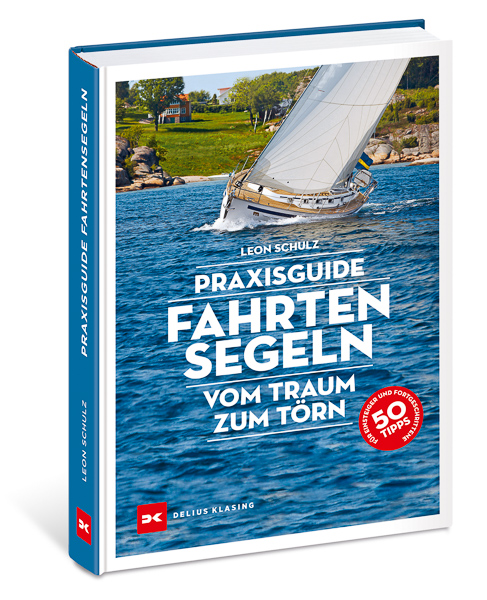 The taught subjects are wide-spanning and the course is very intense. It has therefore lately been expanded from 5 days to 6 days, since the days simply got too long and tiresome. 
Therefore it is very important to get prepared before you come.
What you need to have is a good working level of the theory knowledge of an RYA Day Skipper, Swedish "Skärgårdsskeppare", German SKS or equivalent. You don't need to hold these certificates in order to join, but it's so much more fun if you brush up your basics before you arrive in Malta.
It is assumed that you have some sailing experience and working experience using the chart, but you don't need to be a navigational expert before you come.
Having said that, you should feel very confident in the following tasks. Practice or repeat them before you come so you don't feel hesitant when doing the following tasks: 
– Plotting of a position on the chart (LAT/LONG)
– Reading a position from the chart, noting it's LAT/LONG 
– Drawing a course or bearing using a Navigation Triangular, Portland Plotter or equivalent on the chart
– Reading a bearing or course from the chart using a Navigation Triangular, Portland Plotter or equivalent
– Reading a distance from the chart using a divider and then using the scale on the Longitude (!)
– Remember the basics how to treat deviation and variation (compass course to true and vice versa)
– Learn all the Col-Regs (lights, shapes and sound signals)
Especially the Col-Regs need to be learnt by heart, since it's not fun to spend your valuable time in Malta by learning shapes, lights and sound signals in your room! You don't need to know which Paragraph says what, nor do you need to know how far the lights need to be visible, but you need to understand what you see or hear "out there". And by this I actually mean all shapes, lights and sound signals there are, unfortunately. 
I have compiled a variety of books, flip-cards and Apps you can buy and to prepare yourself for the course. Don't overdo it, since there needs to be some left to learn in class, but I can't stress enough: please learn the Col-Regs and please know how to plot a distance and course and read and plot a position really well.
Most books are in English, since this course is held in English and the RYA stipulates that it needs to be taught in the international language of the seas. Having said that, I have recently written a book that covers the necessary subjects in German. So for all German-speaking participants, reading "Praxisguide Fahrtensegeln" is a great preparation for the course in your own mother tongue. 
Please don't forget to use your 10% discount code rs-BHAPGG10 when ordering from bookharbour.com. 
Praxisguide Fahrtensegeln, you can buy directly from the publishers Delius-Klasing-Verlag. 
Course Info
What's so special?
The Reginasailing theory courses are unique in many aspects. The main benefits are:
Concentrated learning during an intense course covering everything you need to know for safe sailing and good seamanship
Combining holiday with fun learning
Beautiful venue at the famous Corinthia St George Hotel
Dinner at the renown Royal Malta Yacht Club (Members only and their guests) 
The Reginasailing atmosphere: make friends, meet again at reunions, at sea or at other courses. Become part of the Reginasailing family! 
Discuss your dreams, plans and boat equipment during evenings and lunches
Learn from an instructor with well above 75,000 miles of sailing experience 
Use your instructor's own book in Navigation and Seamanship as your course material (currently in German only)
Enjoy Reginasailing animated slides and presentations, renown and sought after for talks at boat-shows, webinars and talks at yacht clubs 
Use of Reginasailing templates, turning secondary port calculations and Time-Zone calculations into an easy to understand and logical work-flow 
The venue: The 5-star Corinthia St George Hotel:
Reginasailing has been offering Yachtmaster Theory courses in Malta since 2017. Thanks to excellent connections and loyalty Reginasailing has been upgrade to the 5-star Corinthia St George Bay Hotel in St Julians with extraordinary discounted price due to our loyalty! Prices have been kept the same for years, we may enjoy their best conference rooms and it is encouraged to bring your spouse for a relaxed holiday even if they don't participate at the course. A spouse stays for free and only pays for the breakfast! 
Prolong your stay over the week-ends to enjoy some own sight-seeing and exploration of this historically interesting island! Especially Valletta is definitely worth a visit! Prolonging at the same discounted price is subject to availability and can only be guaranteed for early bookings. 
The Corinthia St George is one of the absolute top hotels in Malta, offering us a first-class conference room with a direct exit to the pool area with sea view. The Hotel is situated directly by the sea and offers great opportunities for combining your RYA theoretical course with holiday. It can't get any better!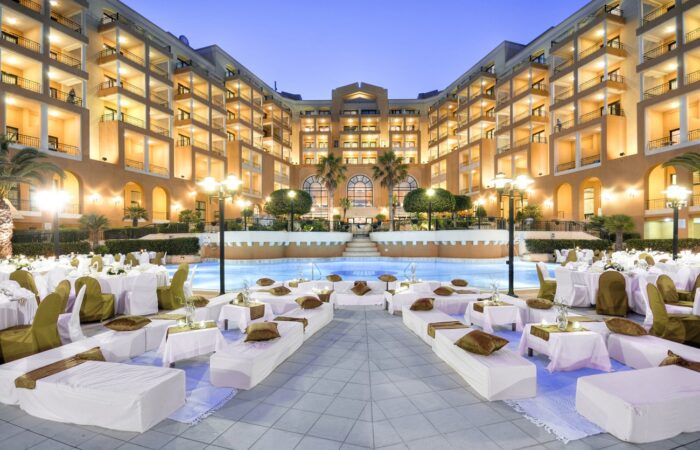 Hotel prices for 2024 are (still!):
Superior room with sea view (single occupancy): EUR 115 per night including breakfast
Your spouse just pays EUR 10 extra for the very extensive breakfast. 
Coures date:
Yachtmaster Offshore Theory course: 3 – 8 January  2024
Number of participants:
In order to grant the exclusive character and an individual and efficient learning experience, the number of participants have been limited to around 10 students.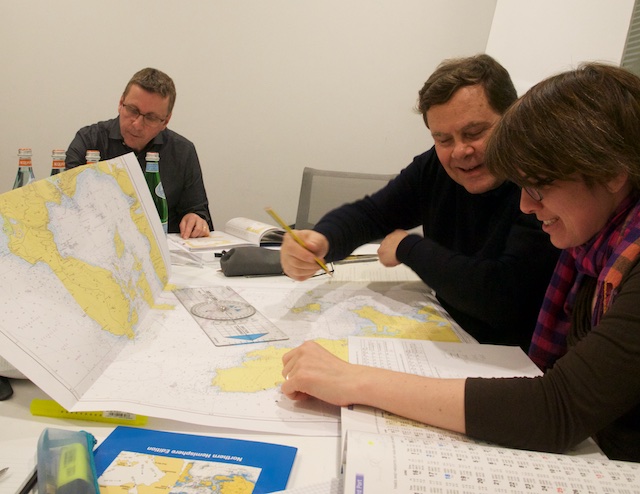 Price for the course:
Course Fee: Yachtmaster Ocean Theory course (6 days): EUR 995 plus travel, food and hotel
Assessment Fee: Yachtmaster Offshore Theory assessment (3 in total) during the course: NIL, included in the above
Additional costs:
Hotel: The cost for the hotel nights are paid on site directly to the Corinthia hotel and booked via Reginasailing
Coffee breaks, water, lunches and dinner (see below)
Obviously your individual travel cost to Malta
Course price includes course notes, training and exercise booklet, training charts, assessment test,  RYA certificate for the RYA Yachtmaster Offshore Shorebased course.
What to bring:
Please bring: pencil, eraser, colour pencils, notebook, divider, course plotter (navigation triangle or Portland Plotter).
If you wish to purchase a Portland Plotter and divider (approx EUR 35 together) please order them from me in good time before the course.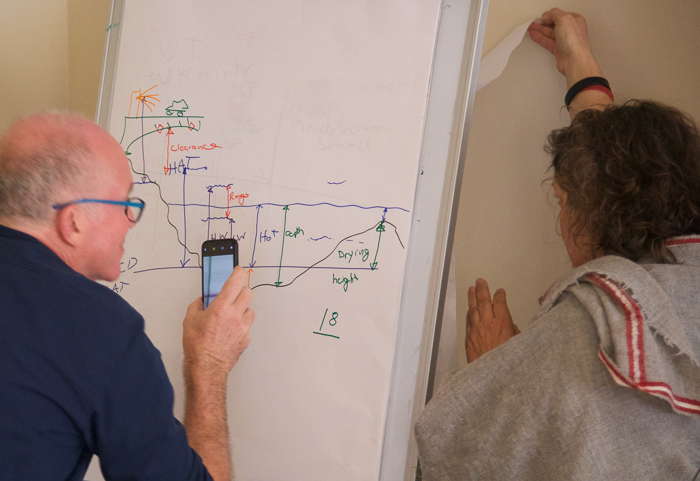 . 
Tea&Coffee/Water/Lunch/Dinner:
Coffee breaks are at 10:30 and 15:30.
Previous participants have requested to take these breaks in the hotel lobby at our own expense so everyone can choose their favourite coffee or tea, whether it is a freshly made cappuccino, an espresso or a fruit tea, rather than getting the usual pre-brewed coffee from a thermos in the conference room.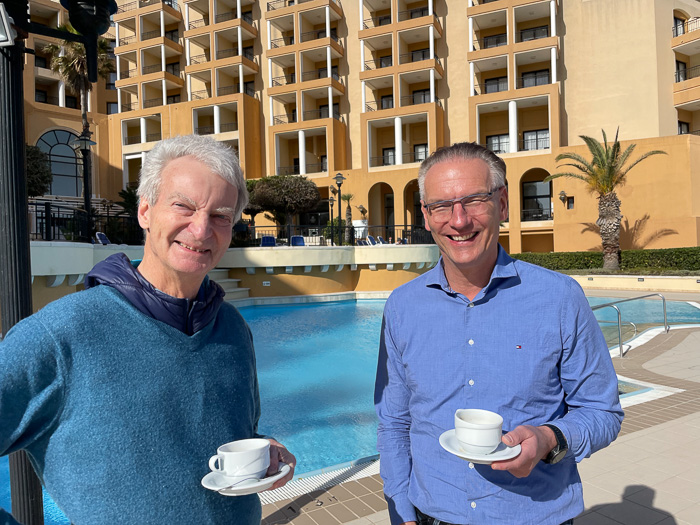 Water bottles are supplied on our conference table and cost 3 EUR per large bottle. The total number of water consumed is divided through the number or participants (including me, of course). 
Lunches are planned, but not necessarily, to be enjoyed jointly. Some wish to have a lunch break on their own or having a short nap after an intense morning! Often lunches are great fun, I must admit,  joining in for more talks about our joint sailing dreams…
To enjoy an efficient lunch, we choose from the menu and order during morning coffee breaks. At around 12:30 we walk over to the lunch terrace of the hotel at "Henry J Beans" which is then promptly served thanks to the fact that we ordered it during the morning break. Alternatively, we stay in the hotel lobby for some club sandwich or sallad or we go for a short walk to the near by beach for a simple sallad in the sunshine. 
If your spouse or partner is making you company for a holiday on Malta but does not join the course, they are obviously very warmly welcome to join for lunches and dinners! 
Dinners can be enjoyed on your own or jointly with the group. Typically I join you for most (but maybe not all) of the evenings. We enjoy dinners in my favourite restaurants in vicinity, trying out local Maltese food (e.g. at Gululu) or choose cozy Bianco's on the exceptional rainy day. Fresco's is also a favourite service excellent food with direct view over the sea. 
Possibly the top of evenings is when we jointly meet at the renown Royal Malta Yacht Club, (also famous for hosting the annual Rolex Middle Sea Race). As a member of the RMYC, I may invite my participants as guests at this exclusive club. 
Flights and getting to and from the airport:
Malta is one of the easiest places to fly to from all over Europe. Air Malta, Lufthansa, Ryanair are just a few of the many airlines that fly into Malta several times per day.
The the easiest way around on Malta is to download the BOLT-App to your smartphone and let one of the over 1,000 BOLT-drivers pick you up anywhere and drive you exactly where you need to go. 
Preparation:
If you intend to take the RYA Yachtmaster Assessments, it is strongly recommended that you come well prepared and have a good understanding of the basics of navigation. You are, however, also welcome if you wish to learn as much as you please without doing the assessments in which case you, obviously, may come as prepared or unprepared as you like.
It is very helpful, if not necessary, to be on the working level of an RYA Day Skipper or have taking your "SKS" in Germany. Alternatively, reading the Complete Day Skipper by Tom Cunliffe or Praxisguide Fahrtensegeln by myself makes the course so much more relaxed to attend!
Please check here for some examples of books to read. 
Please don't forget to use your 10% discount code rs-BHAPGG10 when ordering anything from bookharbour.com.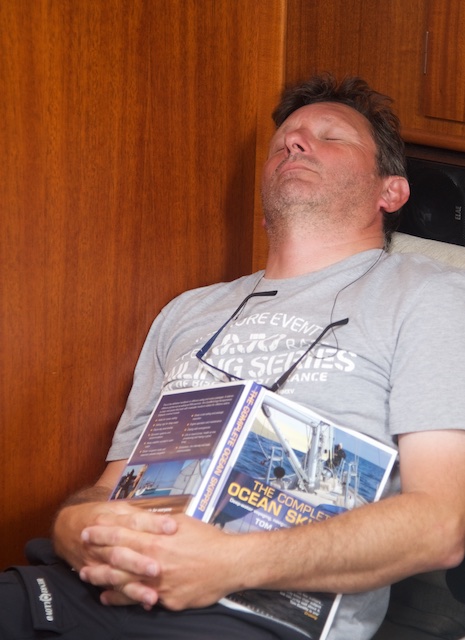 Book early:
Please contact me, preferably including some short information about yourself, if you are interested to participate in one of the upcoming theory courses.
What previous participants say: