Stefan zu Dohna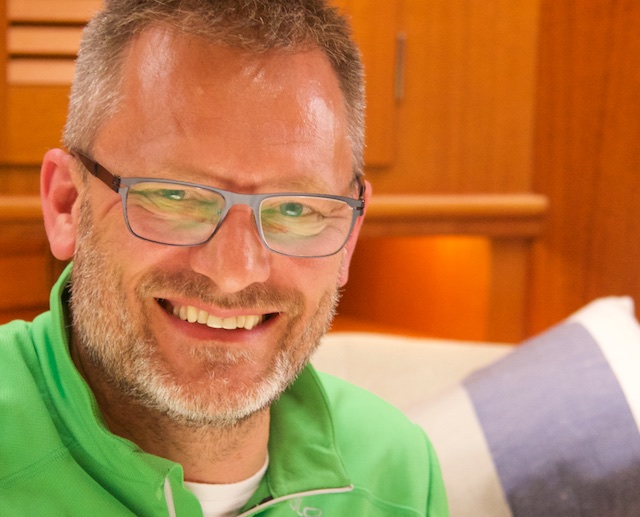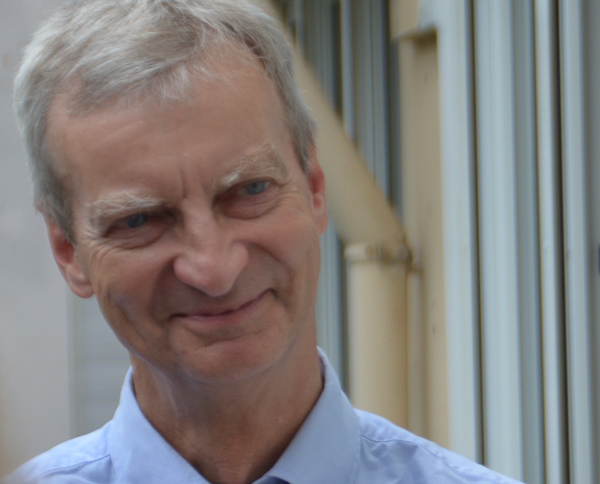 I met my dear wife Sibylle while sailing in Croatia and we are both equally fond of sailing. Each January, a visit to the annual Düsseldorf boat show is therefore naturally our agenda. And one of the first things we always do at boot Düsseldorf is to visit the "YACHT-stand" in Hall 16, which we consider to be the hotspot for sailors. Very interesting talks are being held by renown sailors here, hosted by this leading European Yachting magazine. 
 Some years ago, we listened to a good-looking enthusiastic man, who could be described as a typical "mother-in-law-dream". He talked about his "Sabbatical at sea" and how he and his family with two children (9 und 11 years at that time) had casted off and sailed to the Caribbean and back for a year. We really got hooked and loved the way he told his story! After the talk, we bought his book with the same title. While he was signing the book for us, we had a very pleasant chat, I remember. The business card he left us was kept for years and we continued to follow him and his adventures on www.reginasailing.com ever since. This is how we met Leon for the first time and it was a lasting impression.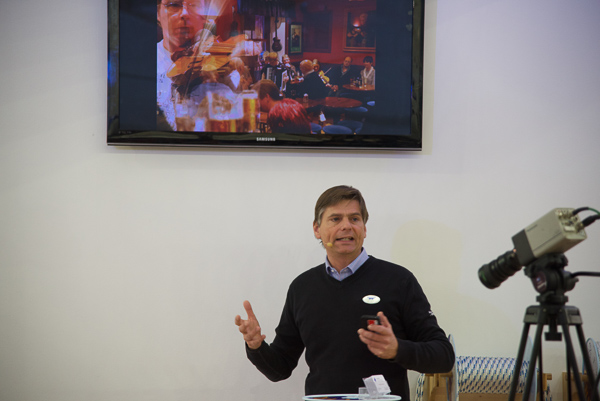 Years thereafter, my wife Sibylle got an offer to join on one of his all-women sail training courses which she could not refuse. Although booked long ago, this will actually now take place this coming summer in Galicia and she is very much looking forward to this sail training leg. 
A year after the booking and still a year to go until the actual sailing course, another really tempting offer was given to us via E-mail: Leon offered us both to join his brand-new RYA Yachtmaster Theory course. This course was not to be held just anywhere, but on the ever so sunny island of Malta during the darkest of months in the year. Since I am of the kind of man that does not appreciate these German dark and constantly wet and freezing cold days of winter, this was an offer not to be missed! 
Thanks to Leon's good organisation and preparation, booking the course, the flight and the hotel was a matter of less than an hour. We just didn't want to miss this opportunity! A few days later, the curriculum and the course literature was given by Leon, together with the subjects he suggest we should study in beforehand. It was all so easy to follow, since all was so well organised!
 Time flew during autumn and suddenly winter approached and we all sat there in Malta: eight well prepared students full of expectation gathered in the small conference room of the hotel, excited to be learning loads of new sailing stuff. We did not get disappointed! The course was packed with knowledge and it was a joy to learn from an instructor like Leon. Here, are some examples of stuff we learnt: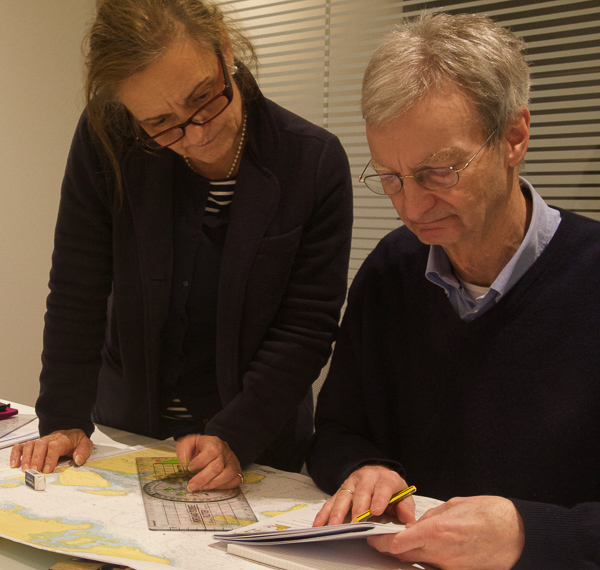 For most students, tidal calculation is a real challenge! Especially, if you have mainly sailed in the Baltic or in the Mediterranean before. This "scary" subject of tidal calculation was given a large portion of time, so we all had enough time to understand the background and techniques to master it. For instance: What should you think of when you anchor in tidal waters? In which time window and with what safety margin can you sail under a bridge? How do you moor in a tidal marina? How to calculate your EP – your Estimated Position – in order to find out where you actually turn up after sailing a specific compass course in tidal waters, taking into account your speed, time, your deviation, your leeway and the variation? This become especially exciting, since the tides change every hour, so be prepared when you are underway during several hours; there are some calculations to be made…!
The flip chart was frequently used to explain how to do, step by step and all supported by colours and easy-to-understand explanations. It might look complicated, but it all made sense in the end!
Or take the CTS – your Course To Steer – where we calculated the ETA (Estimated Time of Arrival) and figured out which compass course we have to steer in order to get to a specific waypoint, again taking loads of parameters into account, such as variation, deviation, leeway and the ever changing tidal streams. For me, the tidal calculations were a big highlight in the course.
Then, we continued with the ColRegs, the collision regulations. Even though I thought I knew them quite well, I did learn a lot! I did, for instance, know that rules change in poor visibility or in fog, bit it was good to hear how you really should apply this in practice using the Radar, which needs to be understood in order to take advantage of this fantastic instrument! The  rest of the rules do not have much to do with "right of way", which you never have at sea, anyway, we learnt. Rather, we had to learn how to identify what looked like lit up Christmas trees at sea and to figure out what vessels were hidden behind all these lights! We had to know them all, without cheating! Normally, in this case, I would look them up on my laminated table I usually have in the cockpit…
ColRegs were explained step-by-step on the flip-chart giving sense to all the lights and shapes rather than just seeing them on endless slides. 
 Here's where Leon's great teaching methods come in: Instead of having to learn every individual combination of light by heart, Leon gave us structures and some sort of logic to all the lights. Leon showed us how to "take apart" the lights and to see the composition of the pattern. To differ between "above" and "under" and to distinguish the static part (type of vessel or what they want to tell us, such as if constrained by draft or restricted in manoeuvrability) and the dynamic part (making way through water, being underway, on ground, at anchor etc)… It was all so helpful and made learning by heart easy! He gave us many mnemonics, which Germans call Eselsbrücken ("donkey bridges", so learning the ColRegs became logic at the end. 
 The subject about weather was fantastic and thrilling. Leon has the ability to explain this complex issue on a really practical and easy-to-understand way. Among very many different weather phenomena, Leon explained how clouds form, what they mean, their layers and how to interpret them. He explained the dynamics of cyclones, anticyclones, areas of high and low pressure and in which sector around a Low we can expect what type of weather. Possibly, you have heard of it all before while taking one of the local or national certificates, but I promise: no way so deep and so structured as thus! I am so impressed on how the same type of subject can be taught so differently! I have now understood so much more than before, despite the fact that I have had a personal interest in meteorology. Everything seemed to fall in place, make sense and to be so logical, when it was explained in the bigger context. 
I really liked the element of Seamanship. Valuable tips were given regarding equipping a boat, anchoring and handling unexpected incidents at sea. Even cultural variations regarding how different skippers handle their boats and their crew was discussed. 
For example, the RYA in the UK takes the fact that Yachtmaster candidates know all their theory as a matter of course. The issue is not just if you know your theory or not, but how you implement the same sensibly at sea. On the actual exam it is then rather tested that the candidates can actually use his or her knowledge in a real down-to-earth practical scenario. Theory and practical exercises thus work hand-in-hand at a Yachtmaster exam and are not two different subjects, which makes so much more sense to me! Real and made up scenarios are then set up by the examiner and you have to use all your knowledge – theory as well as practical – to prove that you are a true seaman! I like that!
 A further part of the Yachtmaster exam is the polite, caring and respectful relationship between skipper and crew, we learnt. As so often seen in some countries, shouting out commands over the entire marina or reprimand a crew in harsh tones if they happen to do a mistake, is by the RYA seen as a proof of lacking sovereignty and poor leadership qualities. What in some countries is seen as a normal, formal and everyday way of barking commands, is definitely deteriorating your chance of passing your Yachtmaster exam! I really like this polite approach of the RYA!
During this RYA theory course in Malta, we could get a glance of the friendly way of learning! It goes without saying that all participants of the course were wonderful people and we studied in great harmony and had a lot of fun!
It was great fun doing the course together with my wife Sibylle!
 During lunches and evenings, we jointly enjoyed the great Maltese restaurants close by. We were all very interested in each other and exchanged a lot of valuable experiences and made plans for the future. For me, I am sure this had led up to friendship of life and I am already looking forward to be sailing with some of the participants in summer onboard Regina Laska.
All in all, this shore-based RYA theory course on Malta was a highly successful event! A course, where learning was made so easy and gave so much joy while participating! A crash course for some and a good repetition for others. And all this embedded in a great holiday-feeling in the sunshine! 
.
Stefan zu Dohna, Germany, Reginasailing RYA Yachtmaster Theory course on Malta in January 2017