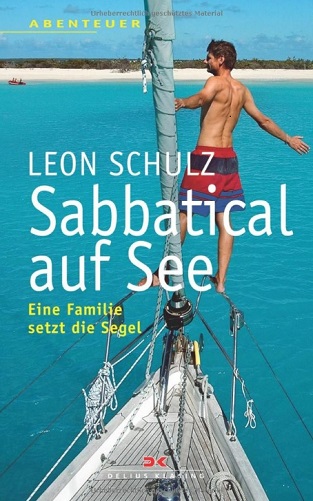 .
Zu Zweit an Bord – Spielregeln fürs Paarsegeln
Click for more info (in German):
– The back cover of the book
– The inside front cover of the book
– Info about the authors
– Test-read the first pages
Buy it in a book-shop close to you, at Amazon.
The Books about our family cruising year
Sabbatical auf See bei Amazon
Buy the Missing Centimetre
 "I am now looking at buying my first boat after reading this book. Be warned"
 from Amazon reader review
Bild (circulation: 2.7 Mio)
has nominated "Sabbatical auf See"
as one of the five best reads for the summer
 The Missing Centimetre

One family's Atlantic sailing adventure
My aim in writing The Missing Centimetre was to inspire others – to make anyone who had ever dreamed a similar dream feel at least a little bit more confident about making that dream a reality.
When we first started talking about taking time out and going on an adventure we found very few books or other guides to help us along the way. By being truthful about the worries we had and difficulties we faced, as well as the eventual triumph and transformation we felt, we hope we might help some of you come to believe that it is possible to live a bigger life.
In our case, we snipped one short year out of the measure of our lives to make a voyage by boat, but the big questions we faced, about careers and family and, ultimately, what life is for, should be familiar to everyone – sailors and non-sailors alike.
As well as providing inspiration, I hope I've told a good story that will draw you in and keep you reading. We had a great time, visited some beautiful places and met some wonderful people. I am keen to hear what you think of the book.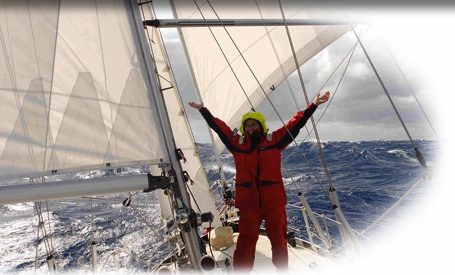 "The book's concept is well thought-through. It has a pleasant design, choice of typeset and font size. One picture at a time illustrates a subject mentioned in a chapter. The thick, semi-glossy paper is Over-The-Top!  It doesn't glare, which would make reading difficult, and works well for the photos. The printing of the pictures is fantastic — the colors are realistic, none are over-dramatized, and there is not a hint of magenta anywhere.

Compliments are in order to the author, editor, publisher, designer and printer! Highly recommended to anyone who is considering taking a sabbatical and looking for the final spark to set the plan in motion."

Deborah Shapiro, S/Y Northern Light

"I first met Leon Schulz at a book signing in London. I was offering textbooks, but Leon Schulz had a dream to sell. Thousands of coastal sailors nurse a deepset ambition that one they will cut loose and go cruising – for a year at least. Succeeding in this aim is not unusual. Some even write books about their sabbatical, but few, if any, produce work so calculated to inspire others as Leon.

With a book, however, it's not what you do, but how you tell it. The difference lies in Leon's ability to communicate the driving force behind what must always be a bold decision, then to use modern media to bring it to us all."

Live the dream
Dear Leon,
Your book has made my dream come true. We are now two instead of one, sharing the same dream.
My wife read it and came to the conclusion that it is time for us to do the same thing. Before
she started reading she was not really committed.
Your book was so inspiring that she is pushing hard to get ready for our Cruise. I recommend anyone who might be in the same situation as myself, to read and share this book with your partner.
By Dreamer

 How a dream becomes reality…
The impressive message of this book is found in the description of a vision and how it turns into reality.
The way the entire family jointly ponders over their dream, which, for them, is a year-long sailing trip, and how it slowly develops and becomes more and more detailed, despite the fact that, in the beginning, it is believed to remain a dream forever… – all this is described so comprehensibly by Leon Schulz.
Many readers will recognize the thoughts about a big project as well as about life in general, but also about the following alignment between dream and feasibility.
And here one finds the real strength of the book: Leon Schulz not only describes how a dream comes true, but also about all doubts, which inevitably come with the realization of a dream. He encourages the readers in a humorous, understandable and exemplary way, explaining how to realize such a dream.
The way, in which a firmly rooted Swedish family turns into a "blue-water-crew", which, amongst others, sails in the wake of "Captain Jack Sparrow", is not only easy to follow and to understand. At the same time, the book is an esteeming and easy to read encouragement, how dreams can come true.
The fact that interesting, detailed and competent information about technical, as well as personal issues, are included for the becoming "blue-water-sailor", enhances the value of the book.
Unfortunately, the book is, so far, only published in English, but the easily understandable text makes it a good read also for readers not having English as their first language.
Leon Shultz book is both an enjoyable read for anyone interested in long distance cruising under sail, and a great tool to those dreaming of taking off for a year or more.
It paints an engaging picture of long-term cruising, with lots of information for everyone interested in the classic Atlantic circuit. Although the good is emphasised over the bad, the overall presentation is realistic, and fits our own experience of cruising 5 months/year for 17 years.
It was fascinating to follow the decision making process that lead to the family making an abrupt right turn, for Maderia (some 500 miles away) instead of going on down the Portuguese coast to Lisbon.
While it makes no pretense of being a textbook on sailing, or a cruising guide, it includes lots of information that will help the reader form his/her own opinions of the information in the textbooks and sailing magazines.
Although written from a European starting point, the book is just as useful to an American.
There is fine humor in several spots, such as when an English cruiser picked up a ringing payphone in Les Saintes, and passed it to Leon to deal with an irate Frenchman who thought he was calling someone back in Paris. Leon is a Swede who speaks perfect English and German, but his schoolboy French makes for much more fun than comprehension.
Leon did a great job in putting together a down to earth nuts and bolts sailing chronicle for the entire family to enjoy. Not only did Leon give some interesting sailing tidbits along the way, but it was a great motivator for me to see what it took to get Leon and his family committed to breaking away from the "rat race" – he showed it can be done – no excuses! With the wife reading it now, the dream may become a reality sooner rather than later!
I was hooked from page one and, having sailed to many of the same places that Leon mentioned, it made the read that much more enjoyable! A definite "must read" for the "armchair" sailor as well as those already on the water.
By Bernie

 ESCAPING THE RAT RACE
I think that this book is perfect for people who already own a sailing boat, probably only sail in their local area, but dream of sailing across oceans. It nicely combines the reassurance that any ordinary sailing family 'can do it' with sailing tips on a wide range of relevant subjects. There is no drama and much of the prose covers the ordinary routines of blue water cruising, which would be boring to a non sailor, but meat and drink to those who are just getting caught by the sailing bug. Leon Schulz is not writing in his native tongue, so perhaps understandably, in places I found the style rather staccato, perhaps with too many short sentences. However he conveys the excitement of selling up and leaving the land based life for the sea very well… at times it is rather like 'Alice in Wonderland' as he is constantly amazed at the realization that they are actually achieving their dream of being blue water cruisers. But this makes it all the more believable for those who hanker after following in his wake. Although I did not feel that the photographs were exceptional the book is beautifully designed and produced.
"Prepare to be inspired by this compelling story of self-discovery…Read this book with caution, because it may cause you to quit your job and go after your dreams…'Sell up and sail' books are 10 a penny, but written as they sailed, this book provides a totally gripping tale. The enjoyable narrative combined with an extensive range of practical tips and a host of beautiful illustrations encourages the reader to rethink their dreams." Sailing Today, June 2010

"This book delivers more than just a toss-the-lines-and-go-sailing story. Instead of lists of gear, Schulz spends time discussing getting the family mentally ready for their adventure….making the reader ready to hop on board and sail away with them." Cruising World, June 2010

"But if you don't buy it for yourself and you know some people teetering on the edge of doing something similar, give this book to them and turn them from dreamers to doers. Or better still, buy it for the friends at home who pose those hard-to-answer questions of why you are doing what you are doing. Leon explains it better than anyone I know." Caribbean Compass, May 2010

"…a very pleasant source of inspiration for all who are thinking of doing something similar". På Kryss, May 2010.

"Beautifully produced on high quality paper with superb colour photographs and written with an easy flowing style, the book describes the human experience of such an adventure…With the author's gift for painting vivid word pictures, the reader is taken along on the voyage and gains both inspiration and one family's answer to the question: why sail the oceans and what is it like?" Cruising, June 2010
"Viele tun es gleich, doch nur wenige können schreiben. Leon Schulz kann es. Er schildert die Reise und wie sie ihn, den auf Sicherheit und Ordnung geprägten Ingenieur, verändert hat, so detailreich und anschaulich, dass man ihm glaubt: Nirgends wartet tieferes Glück als nachts unterm Sternenhimmel mitten im Atlantik." Süddeutsche Zeitung, Mai 2012

"Die Frage Warum nicht?" durchzieht Schulz' begeisternden Reisebericht dabei wie ein roter Faden. Fahrtensegler und solche, denen dazu nur ein winig Mut fehlt, motiviert der Autor trotz aller Widrigkeiten in sehr persönlichem Tonfall und mit vielen praktischen Entscheidungshilfen, ihre Zweifel im Hafen zurückzulassen." Die Zeit, März 2012

"Das macht reich! Man muss nicht im Lotto gewinnen um sich beschenkt zu fühlen. Diese Menschen erzählen, was ihnen ein gutes Gefühl gibt." Frau von Heute, März 2012

"Trend Auszeit: Laut aktueller Forsa-Umfrage würden rund 38% der deutschen Arbeitsnehmer es gerne wie Familie Schulz machen, einfach mal anhalten und eine Pause vom Arbeitsleben einlegen – ein 'Sabbatical'. Das Leben ist viel zu kurz, um es nicht mit wahren Glücksmomenten zu erfüllen." GONG, Juni 2012

"Die schönsten Bücher für jeden Lese-Typ. Zum Lachen, Leiden oder Fürchten – die Stiftung Lesen hat exklusiv für BILD die schönsten Bücher für den Sommerurlaub zusammengestellt."  BILD Zeitung hat "Sabbatical auf See" als eines von den fünf schönsten Bücher für den Sommer nominiert, Juni 2012

"Die deutsch-schwedische Familie mit Haus und festem Job, die bisher nur sporadisch über die Seen geschippert war, setzte die Segel und erfüllte sich einen Lebenstraum."  Frankfurter Rundschau, Juli 2012

"Die Schulzes waren eine ganz normale Familie: mit zwei Kindern, einem Haus, festen Job und – mit einem Lebenstraum: Einfach mal die Segel setzen und ein Jahr lang auf dem Meer leben."  Berliner Zeitung, Juli 2012