Ocean Passage Sail Training
Planning and Experiencing a Long Non-Stop Ocean Passage 
Minimum of 10 days onboard, including planning, coastal sailing and ocean crossing 

Experience the thrill of sailing for at least 4 days and nights nonstop without seeing land 

Be part of the passage planning including weather discussions, crew- and boat-preparation

Try out the feeling the ocean passage you might be dreaming of yourself?

Weather permitting, we will also use the sextant for navigation

Join on the 600+ nm, >96 hour, >50nm from land for >250nm for

Approved by the RYA as the necessary "Ocean Qualifying Leg" your Yachtmaster Ocean Exam

Feel the comradeship of the Reginasailing family – learning and sharing experiences together 
.
The syllabus
Victualling and bunkering (food, water, diesel)
Watch schemes
Ocean Meteorology and weather sources (GRIB, routing companies, routing software, Weatherfax, InmC, Navtex, HAM, etc)
Satellite Navigation
Sail and Storm tactics with heaving-to (weather permitting)
Living onboard while on passage (watches, provisioning and storage of food for ocean passages, pests, water management, maintenance, rest, social and psychological aspects)
Ocean communications (all types of Satcoms, SSB, e-mailing from offshore)
Seasickness, security, risks of accidents and other medical issues
Power management (batteries, generators, alternators, solar panels, wind generators, emergency power etc)
Customs and other issues when entering a foreign country
A great book covering the subjects is "The Complete Ocean Skipper" by Tom Cunliffe. Buy it here.
Please don't forget to use your discount code rs-BHAPGG10 when ordering from bookharbour.com. 
The Hallberg-Rassy boats used for the course
Places are limited on these popular practical ocean sail training legs, so Reginasailing is co-operating with Skyline Sailing for these ocean legs, using two commercially coded Hallberg-Rassy boats with RYA trainers.
HR46 Regina Laska
The first boat is my own Hallberg-Rassy 46 with myself as your instructor where I take 4 guests. 
The facts about the boat can be find here.  She is a commercially coded vessel for Area-1 offshore sailing. 
HR43 iDolci
The other boat is the Hallberg-Rassy 43 iDolci with Kurt Cortier and Anita deBruycker as your instructors. Sail training on iDolci is somewhat more private with only two guests taken in their large forepeak with own en-suite head and shower area. 
Kurt and Anita are both trained Yachtmanster Instructors for the Belgium nautical system (similar to the RYA Yachtmaster Instructor). Both are also commercially endorsed RYA Yachtmasters and RYA Cruising Instructors and have been trained by myself to teach celestial navigation in the same way as Reginasailing does.
Kurt and Anita are not only very knowable sailors, but excellent pedagogic instructors and wonderful friendly hosts.  
The HR43 iDolci is coded for ocean sailing according to the Belgium system and flies the Belgium ensign.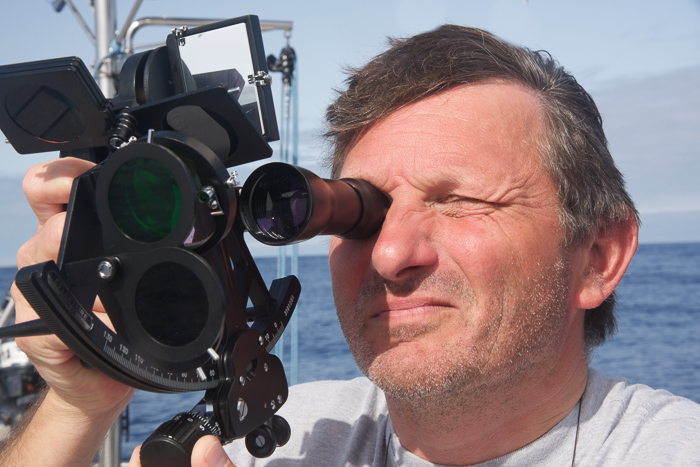 Next available Ocean sail training legs
Du to high interest, participants having taken part on the shore-based Celestial Theory Course in Malta will have a priority when booking these legs. 
Ocean Sail Training on HR46 Regina Laska
Leg 1-2023: La Coruña/Spain – Lymington/UK (13 – 26 Apr  2023).
Ocean Sail Training Opportunity on HR43 iDolci
TBA
Price
Prices for sail training on HR46 Regina Laska
Click on the links above for the corresponding legs to see what they cost. Their price differ depending on the total length of the leg.  
Prices for sail training on HR43 iDolci
TBA.