Eva Eberhartinger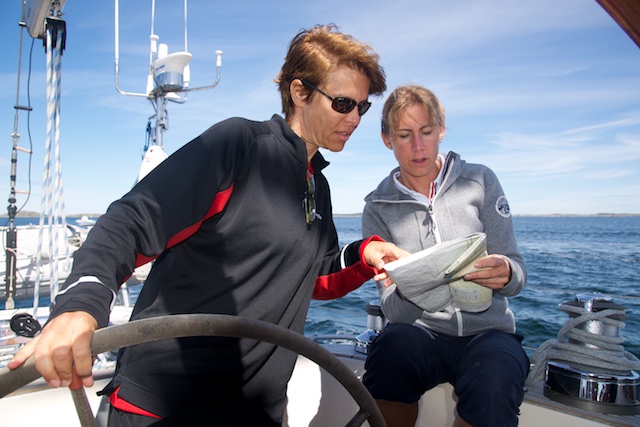 We embarked on our journey in Stavanger in Norway with a gale warning in our neck and a long journey of some 450 miles to Copenhagen ahead of us. We therefore tried to get "around the corner" (ie. around the southern tip of Norway) pretty quickly.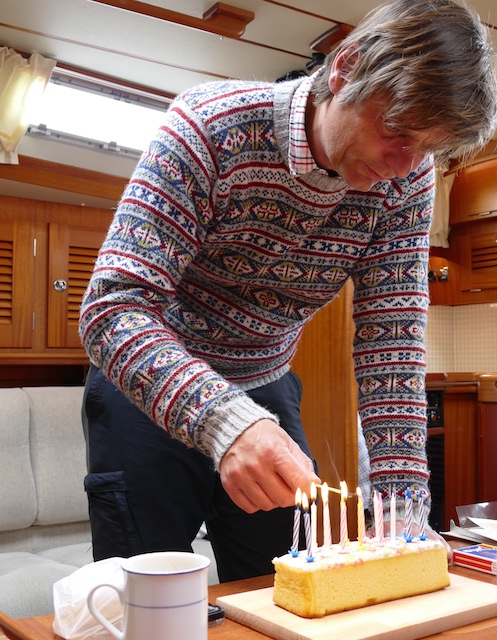 Leon lighting the birthday candles on the day of arrival
Arrival party on Regina Laska
The ride was pleasant, with strong enough winds (up to 33 knots) that were still not scary. I have to add that the pleasantry of our trip depended heavily to the most amazing anti-seasickness-plaster (Scopoderm).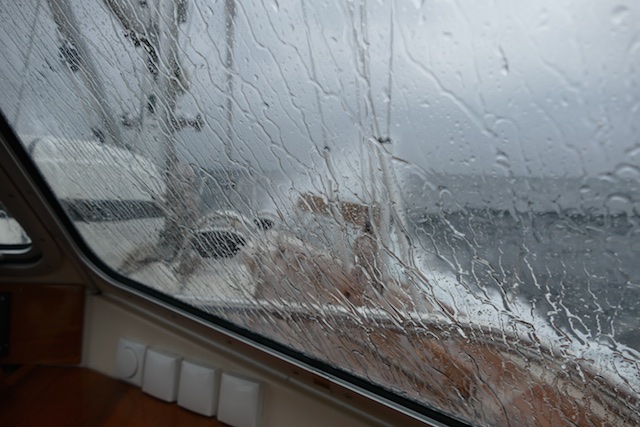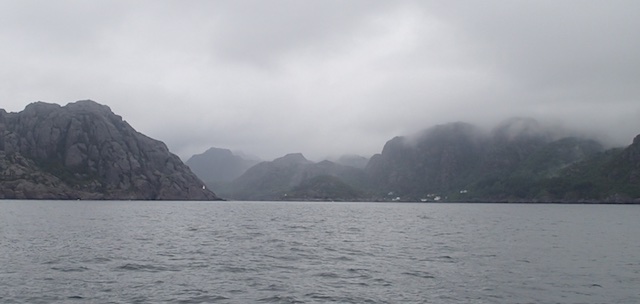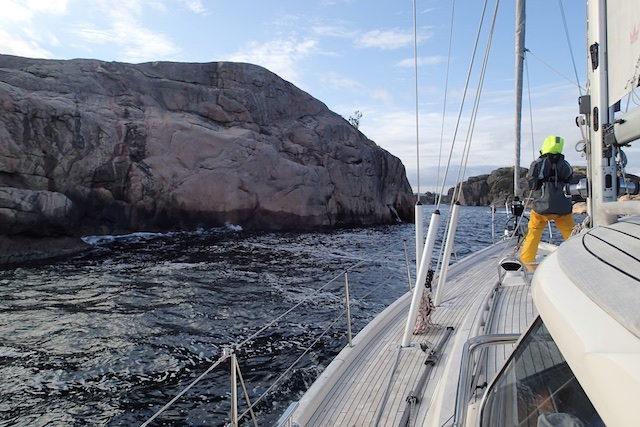 After that, we had a very long leg across the Skagerrak, the 118nm from outside Kristiansand to Ellös taking some 17 hours on the Regina Laska, including arrival in the dark of the night at 2:30 in the morning.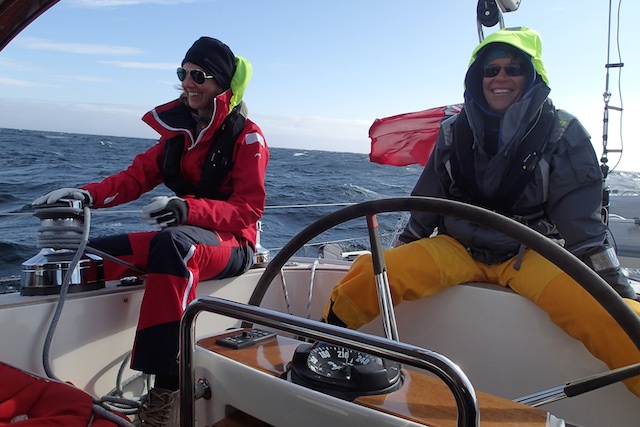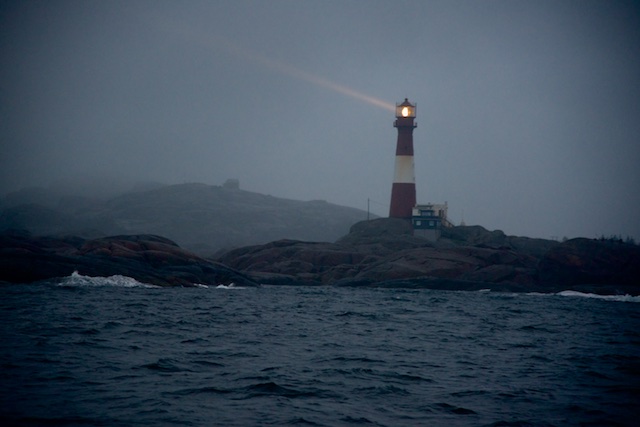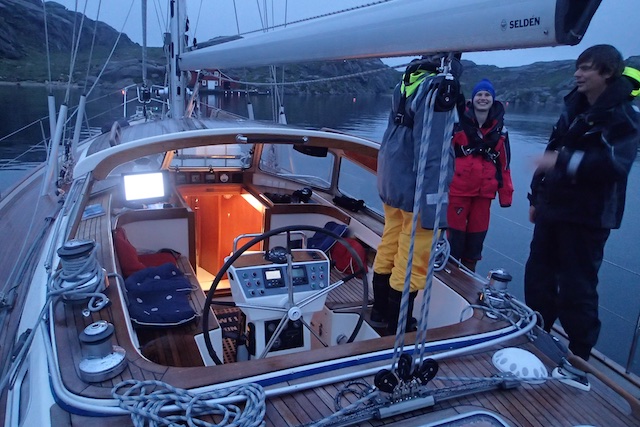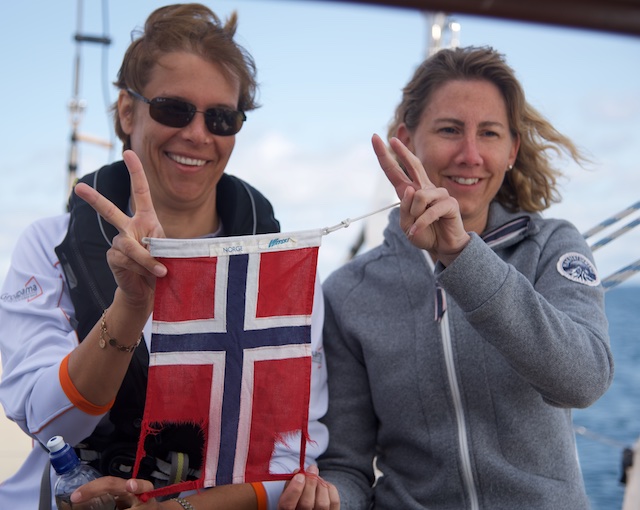 Eva and Helene showing the torn Norwegian courtecy flag which didn't survice the gale force winds
We had force 7 from aft and recorded an all time high in boat speed (as Leon said) on the Regina Laska, surfing down a wave in 12,3 knots! (I must admit, I am a little proud of that, though I had very little to do with it).
I found the arrival at night, steering through all those little islands with the aid of only buoys and lighthouses (and plotter) quite exiting, and I learned a lot. The subsequent journey through the little islands around Gothenburg was very delighting, beautiful scenery!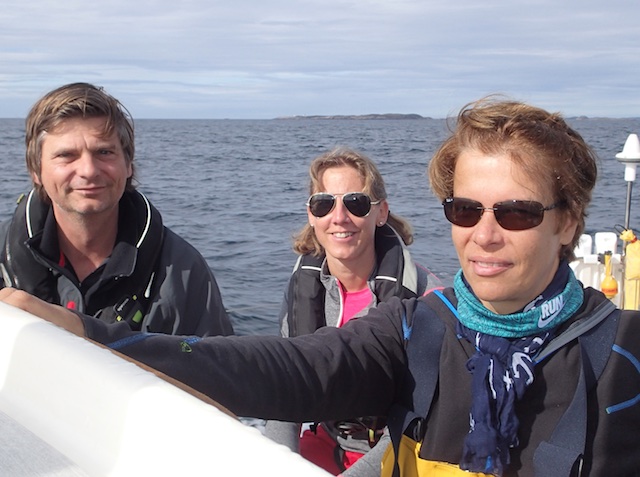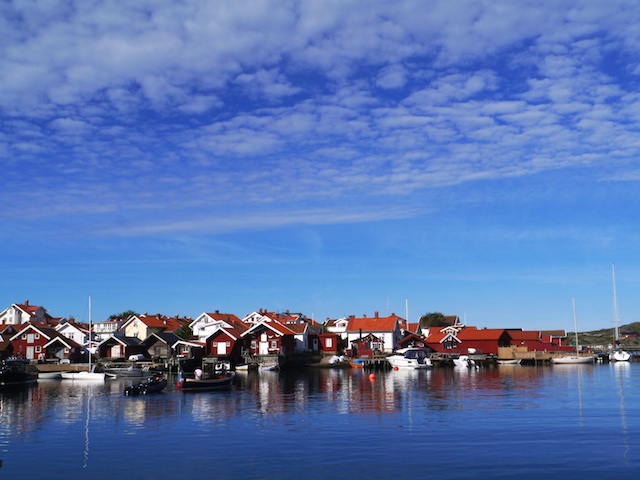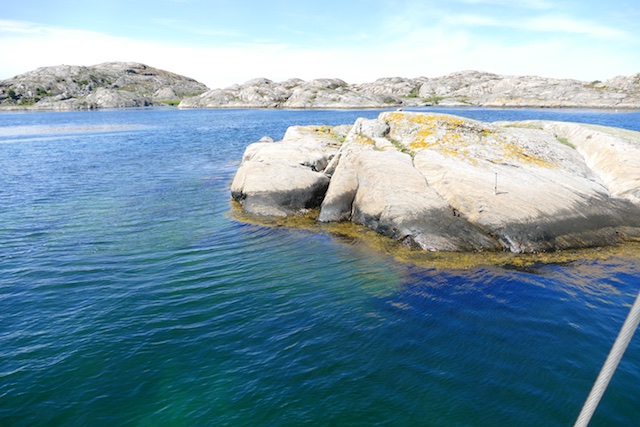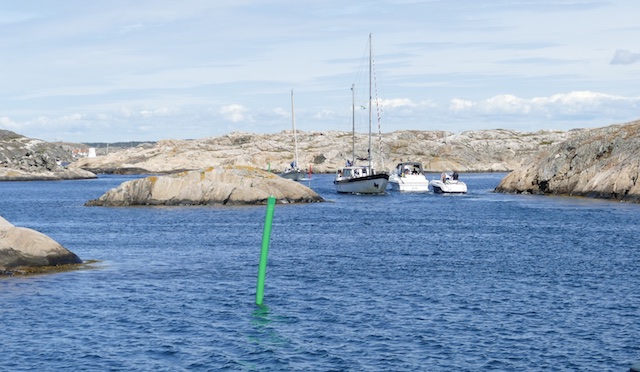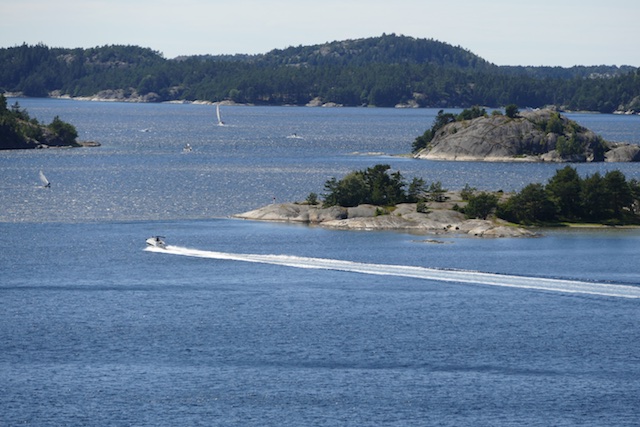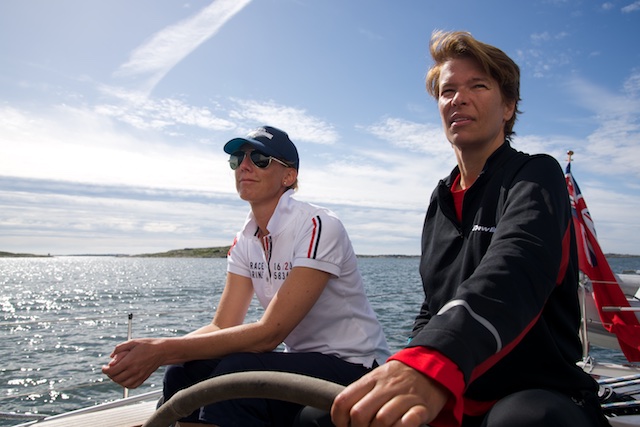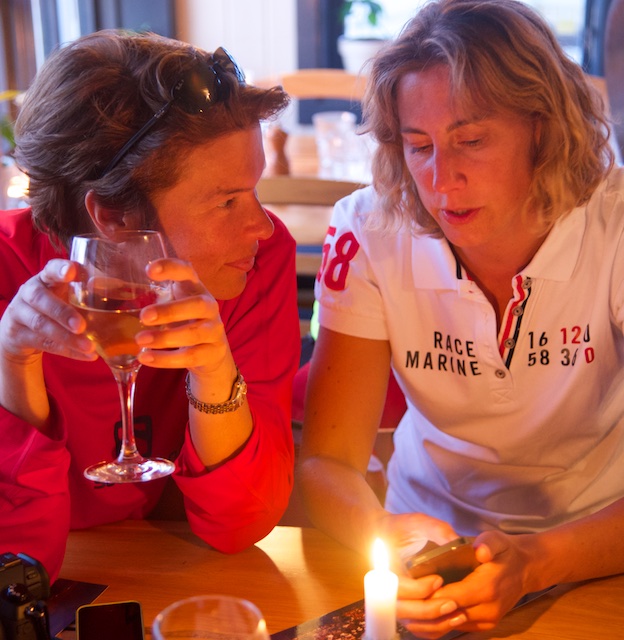 After long trips to Halmstad and Ven and after a delighting sauna, barbecue and swim we finally arrived in Copenhagen.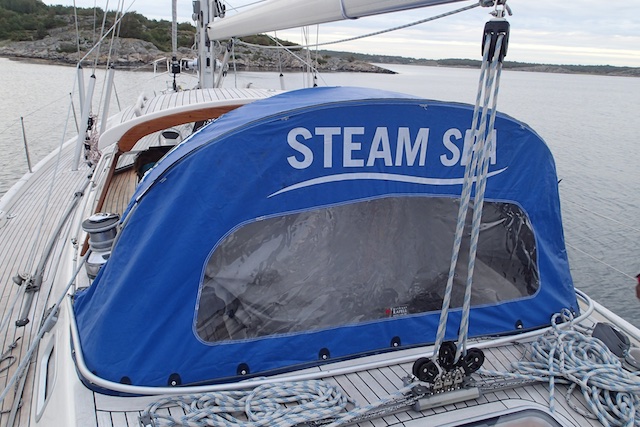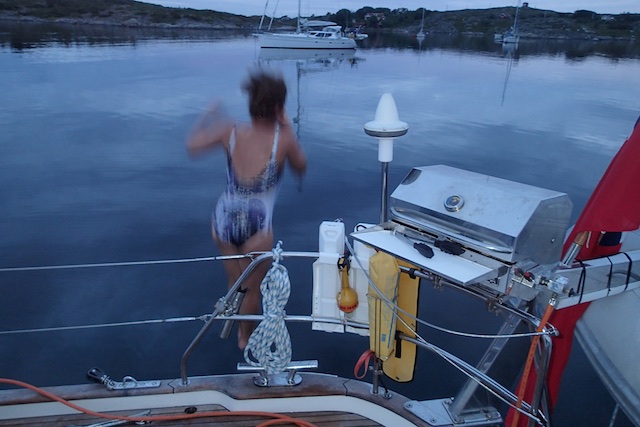 '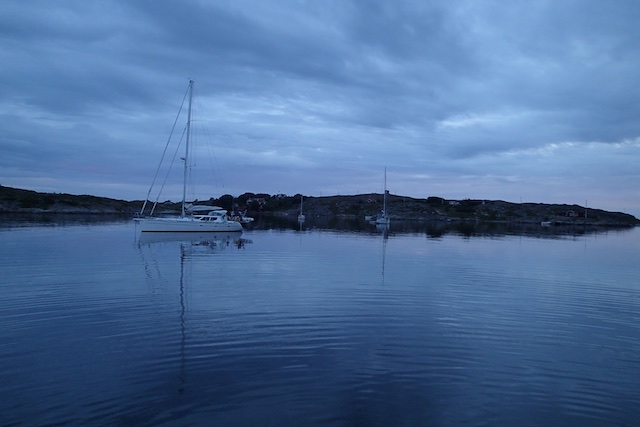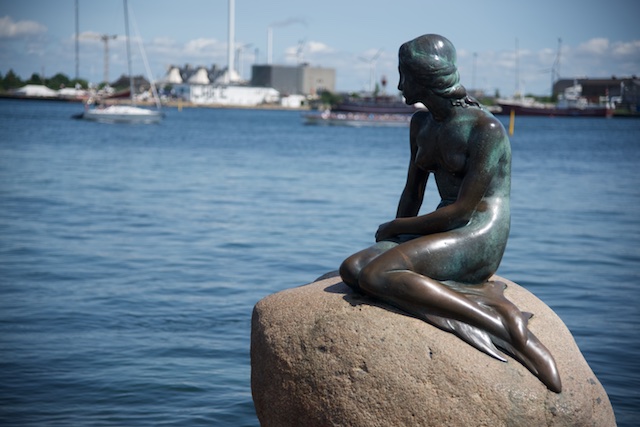 I thoroughly enjoyed our sailing, our crew was wonderful, Leon was absolutely amazing, and we had a lot of fun.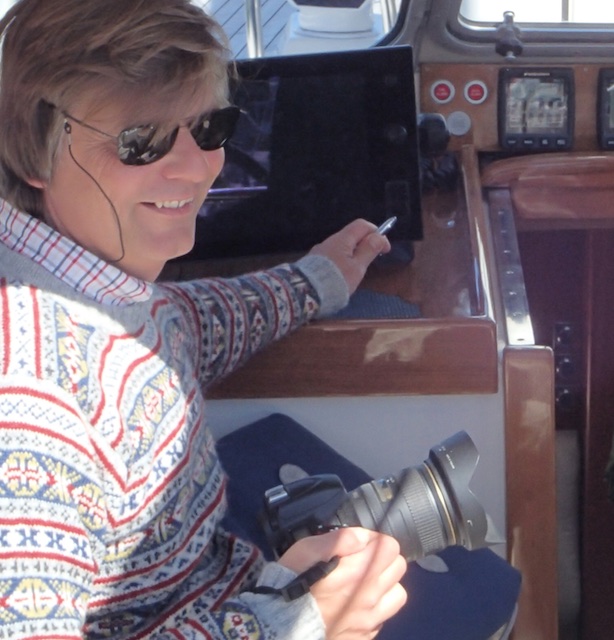 I very much liked the variety of our trip, from a sailing point of view (strong winds, night sail, challenging pilotage, heavy traffic) as well as from a scenery point of view (rough Norwegian and lovely Swedish). My expectations to learn more about sailing and to go beyond my prior experiences under professional guidance were more than fulfilled.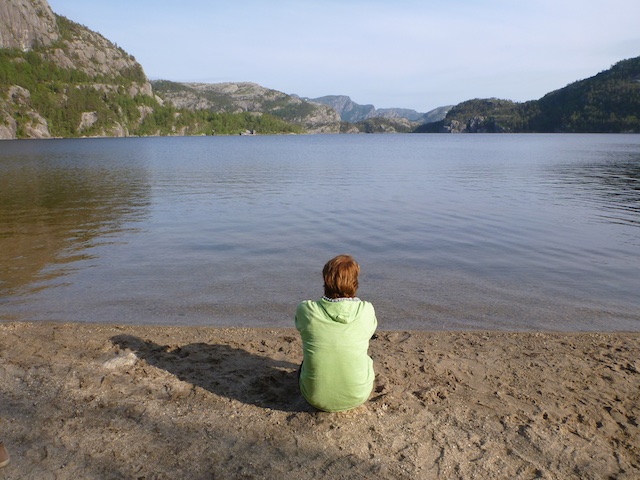 Eva Eberhartinger, Austria, sailing on Leg 11- 2015  from Stavanger (Norway) to Copenhagen (Denmark) via the Swedish west coast archipelago, starting on her birthday!