Mia Wright
"I participated on the all-women sail training leg in August 2015 in the Stockholm archipelago aboard Regina Laska.
"So, before I came, I had a little sailing experience but was nervous that my skills were not enough. I was lacking confidence in myself and my sailing abilities, I was also concerned that I would not be able to keep up with my fellow sailing students.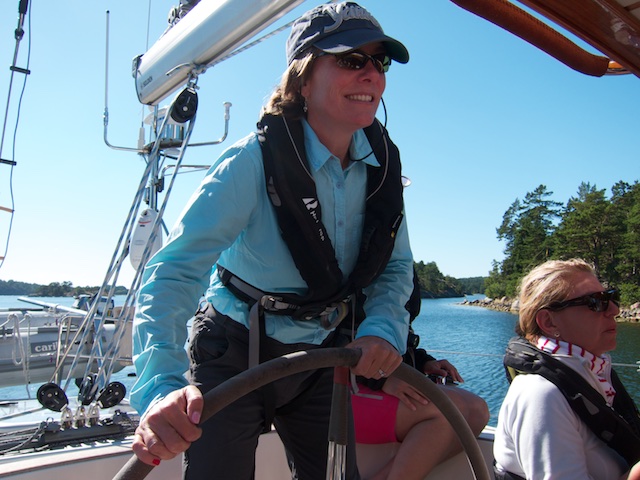 "I was nervous leading up to the trip, I worried that I was not well enough prepared and that I would embarrass myself. I was tempted to abandon ship before I even got there…! Boy am I glad that I didn't!!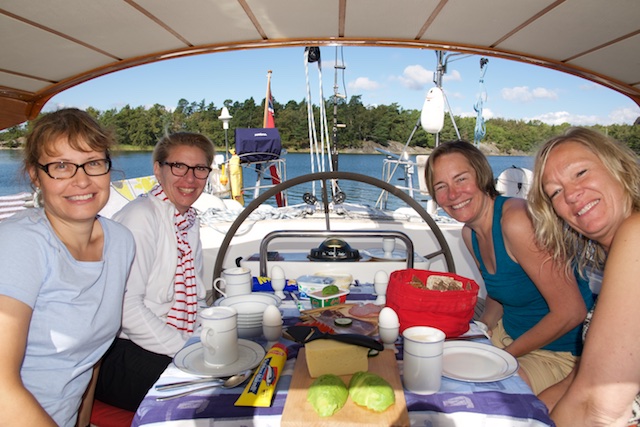 "What I encountered when I found Regina Laska was something beyond my wildest dreams! I was welcomed aboard by the warm and friendly Leon and the first impression of my floating home away from home was a little slice of perfection. The briefing calmed my nerves and before I knew it we were out on the water and wind blew my reservations away.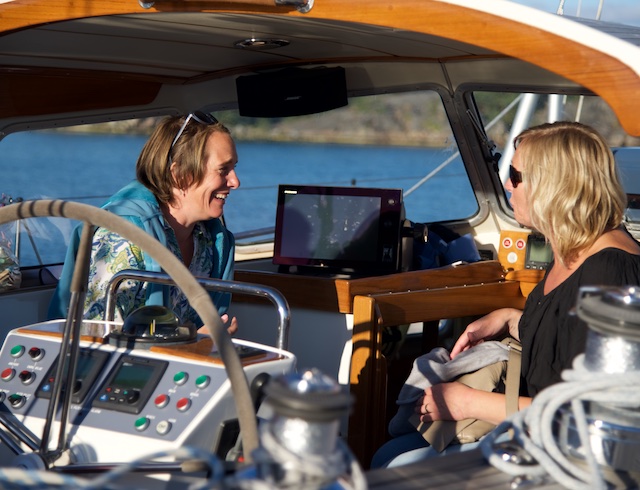 "Leon was very good at managing our expectations at the briefing and it was great that he asked us our intentions and goals for the week. It gave us a chance to get to know each other before we got moving.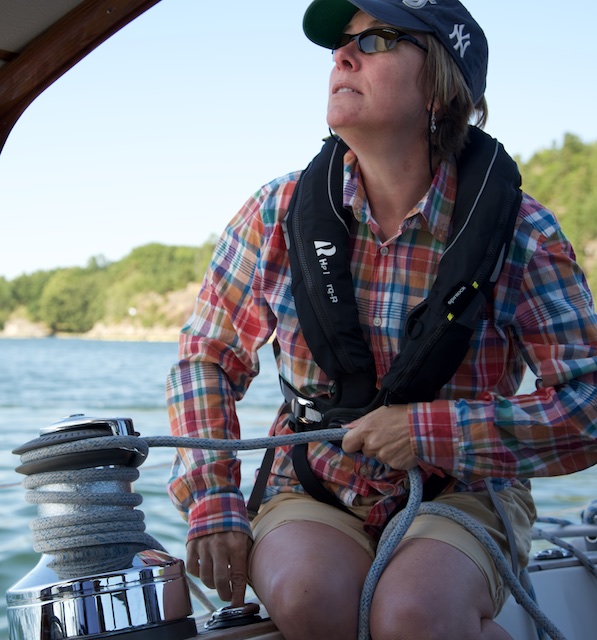 "I could go on and on about the luxury (incredible food and lovely evenings around the table, very comfortable cabins and electric winches and even though I didn't really believe it at first….a sauna!! In fact I do go on and on about it, I think the people around me are getting sick of hearing it ;)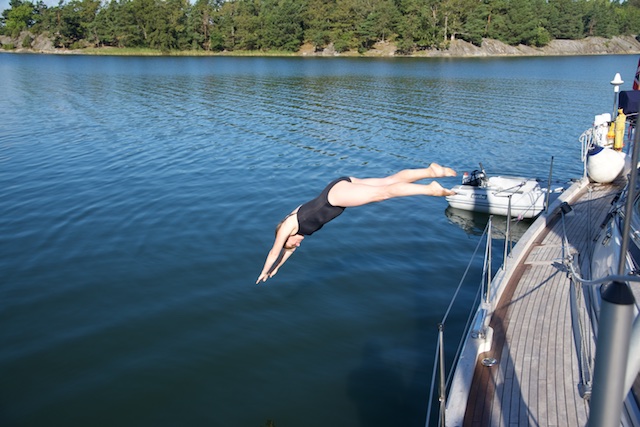 "The tasks and responsibilities were very gentle in the beginning of the week and as we gained some experience, we were pushed just a little harder until I for one found myself happily accepting challenges I wouldn't have dreamed of on Monday (for example navigating in Stockholm in the dark…)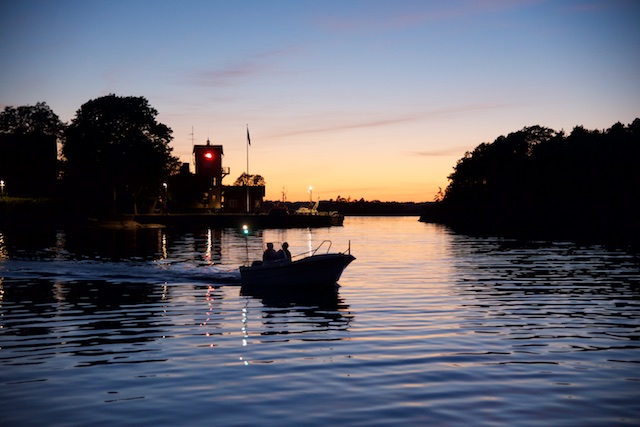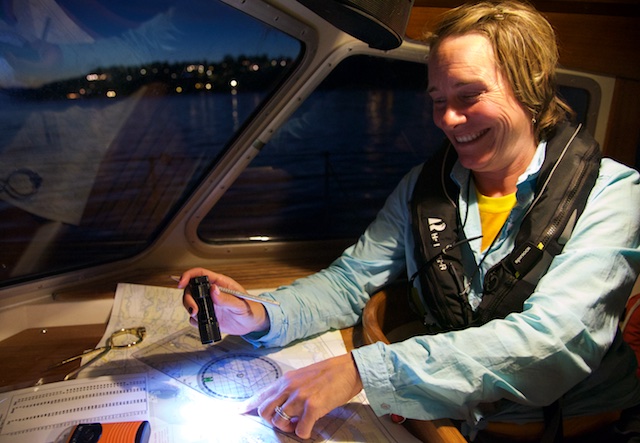 "We learned a lot about sailing and a lot about living on board and that will pay off in the future!
"So, the experience was incredible and I felt so well looked after and so comfortable learning and sailing that I forgot my insecurities and started recognizing a better version of myself. This was personally rewarding for me and I cannot tell you how grateful I am to my instructor Leon and my fellow boat mates!!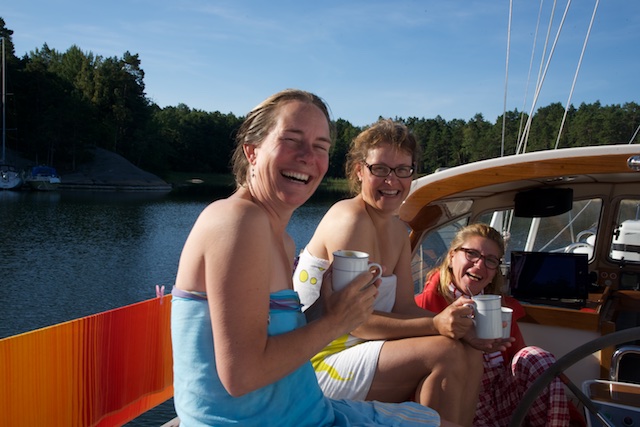 "I feel like I have gained friends and confidence from this experience and I wouldn't trade the experience for the world, in fact it is encouraging me to get out in the world on my own sailing adventure.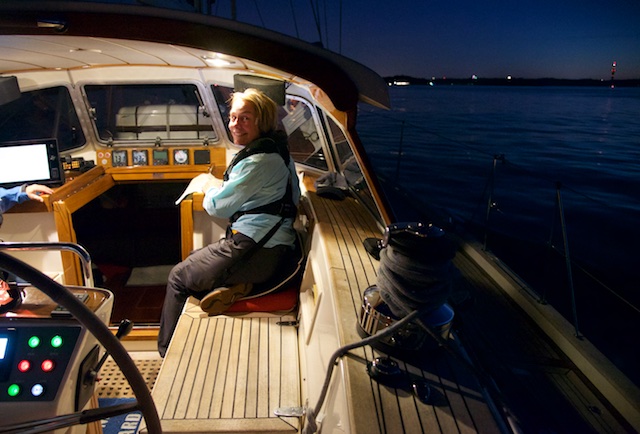 "I am more ready than ever to get going! :)
Mia Wright, Norway, sailing on the all-women Leg 15- 2015  in the beautiful Stockholm archipelago 
Two months later…
Directly after the sail training course, Mia took the train to the Open House Week-End boat show in Ellös instead of the plane to Oslo, as planned. Her husband had been asked to please come by car from Oslo to meet her at the boat show. She had important news to tell. After the all-women sail training week onboard Regina Laska she wanted to change her lifestyle completely. It was obvious, Mia was ready to go, as stated in her above testimonial.
They looked at several boat models at the boat show and decided it would be most appropriate to sail around the world in a Hallberg-Rassy. They went home to Oslo full of ideas and thoughts and began to plan. Two months later they had quit their jobs, sold their house to finance their HR39 they found in the Mediterranean and are literally ready to go.
Some call me (Leon) "Mephisto" since some claim I change people's mind. But no, I don't influence anybody, especially not any wives. So the expression "Mephisto" I think is not quite appropriate. I can't change the desire or wish of anyone, and definitely not persuade someone to do anything they are not dreaming of themselves deep inside. All I do is to to let their dreams fly freely by illustrating that it is all possible to fulfil one's own dreams and that sailing, after all, is more a mindset than an art. Everyone takes his or her own decisions.
You see, I must mention that Mia is now already the third woman in 2015 alone, who, after having sailed on Regina Laska during this last summer, went home, talked to their (more or less easily) convincible husbands and bought a Hallberg-Rassy to do serious cruising.
I am so glad that Mia and the other ladies found the courage to buy a Hallberg-Rassy (or any other type of boat, for that sake) after their Regina Laska sail training leg. I am sure they will not regret it to move onboard their own boats for serious blue-water sailing! (Actually, I have never heard of anyone regretting that they tried going cruising. They might not have liked it as much as anticipated, but the only regret I have heard of is that they should have done it earlier…And the ones who didn't like it quite as much said they had to try, otherwise they would have died not knowing, which would have been a much worse feeling, they say).
Two months later…
Here's what she wrote in an e-mail two months after the course:
"Hi Leon,
We have important news :) 
I am writing this from the chart table of our HR39 which is currently in RCNP in Palma de Mallorca. Last week we sold the house, became the official owners and I quit my job / it was a BIG week :) and we just had to come and visit the new member of the family! Here is a picture of us on board :)))) FB page and blog details to follow…
HUGS from Jon, Teo and Mia"
Congratulations, Mia!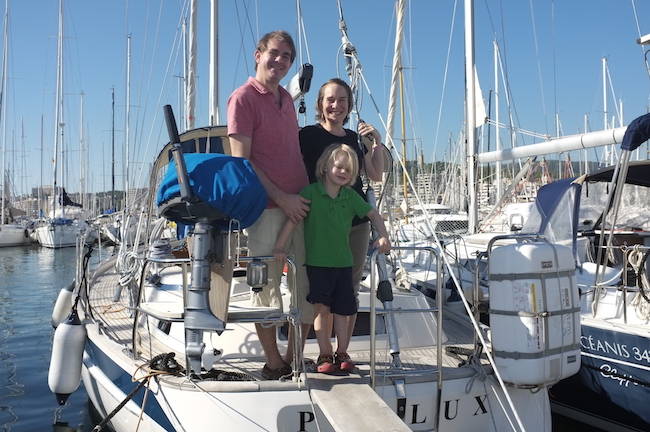 Jon, Mia and Teo onboard their new HR39 Itchy Foot ready to leave for extensive blue-water sailing in a couple of months time
18 months later…
18 months after Mia had joined her Competent Crew course onboard Regina Laska, I received the following e-mail from them:
"Hi Leon,
Just a quick Thank You from the Caribbean – your email was a nice kick up the butt to get out of the Med and, as you predicted, life is far better (more kids, nicer weather, better anchorages) here in the Caribbean than it was in Med.
Sailing with kids (or in our case – kid) is all about finding other kids and crossing the Atlantic is the best thing we could have done.
Cheers,
Mia and Jon"