A voice from a husband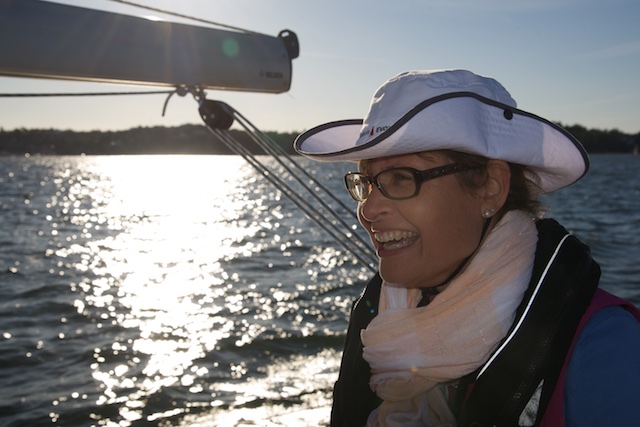 Esther on the all-women sail training leg 15-2015 in the Stockholm archipelago
"Dear Leon,
You should have seen my wife when she returned after her sail training on Regina Laska! I met her at the airport full of energy, enthusiasm and motivation! She loved the sailing week with you and I think you have infected her with a sailing-virus ;-)
The virus for her is about being able to relax in life. She says she wants to sail in style and to enjoy the lifestyle so full of adventure you teach – without any fear and so close to nature. The meaning of "enjoyment" has suddenly received a totally new meaning to her, namely the enlightenment she now experiences while sailing (a comfortable Hallberg-Rassy, that is…).
To her, also the meaning of "freedom", getting away from all the normal day-to-day obligations has received a new possible solution by going cruising (you described it so well in your book "Sabbatical at Sea"). The way you are with people, how you slowly encourage them to grow with trust and self-confidence; how you allow your guests to make mistakes – it all shows to me how empathetic and professional you are in the most positive way imaginable!
Thank you ever so much that my wife was able to join you on one of your all-women sailing legs! Cheers!
Michel"
Michel Leuenberger, Switzerland, e-mailing after his wife returned from the all-women Leg 15- 2015