Eva Helgesson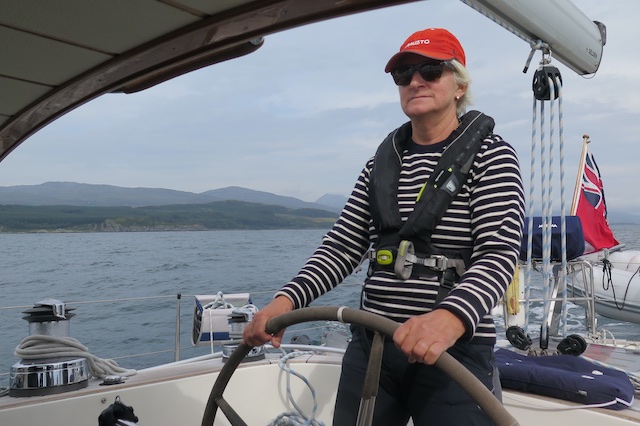 My husband Janne had a business relationship with Leon several years ago, when he still had his marine marketing company and lived ashore. Naturally, we have been  following Leon's whereabouts regarding his sail training activities throughout the years and have been wanting to join for quite some time.
After three years on the Reginasailing waiting list, we finally got an offer to join! Last year, we were asked if we'd  like to sail with Leon and Regina Laska for a week between Oban in Scotland to Dublin in Irland the forthcoming year. Of course we did!
Already when we had sailed home our own yacht from the Mediterranean to Sweden in the early 2000's we had this wish to one day return and sail not only in Galicia but also in Scotland and Irland. In other words, this was an an old dream come true! 
We arrived in Scotland one week early for some shore-based exploration by ourselves by car before hopping onto the train from Glasgow with destination Oban and Regina Laska. We had hardly found our seats onboard the train, when we discovered the man next to us was on the same mission to Regina Laska: Our new crew mate!
How nice to meet Nick from England on the same train! Nick was already an experienced Regina Laska crew member and had sailed many times before with Leon, while it would be the first time for us. So we got a nice chat re life onboard Regina Laska, even before we had stepped onboard.
When we arrived in Oban, Tom from US stood already waiting for us at the Oban train station. Tom was the fourth crew member and definitely the most experienced Regina Laska sailor, having even crossed the Atlantic with Leon and is an RYA Yachtmaster. So before taking the small ferry from Oban to Oban Marina on the island of Kerrera, we all had a nice lunch together. I already felt that this will was to become a fun week!
When we all four arrived at Kerréra it was raining and rather windy. It was so nice to step down into the warm salon of Regina Laska and finally meet Leon.
We all discussed the weather, whereby Leon suggested we would possibly stay in the harbour that night due to weather. We were all agreeing, and possibly also a bit relieved not having to sail out in this gale... Instead, Leon took us through his ambitious check lists and safety gear.
I felt: this is to become a rather ambitious tour in one way, but, at the same time, a rather laid-back in a very nice way as well. I think this suited me perfectly!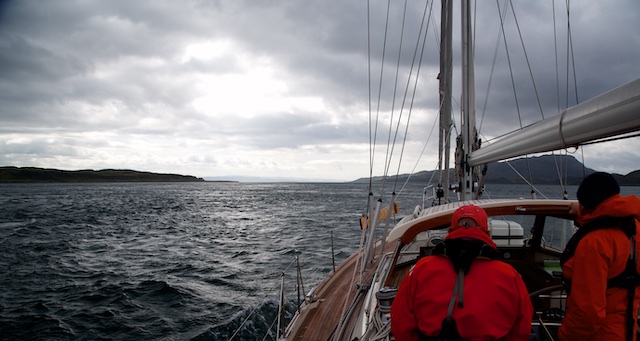 Sailing on the beautiful west coast of Scotland and the east coast of Irland is so different to our home waters back in Swedish and Bohuslän.
To sail on Regina Laska is sailing the royal way: This grand old lady gracefully rides the waves and plays with the wind in such a confident way. Regina Laska is such a contrast to our own yacht s/y Gioiola, who is much more lively and a dancing girl.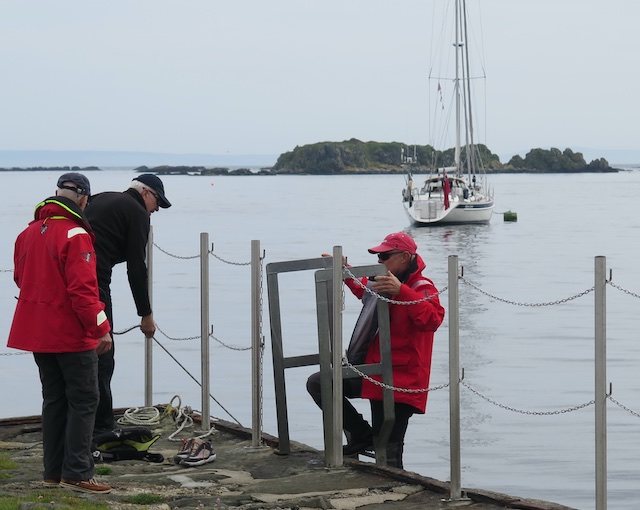 I felt happy like a little girl and full of joy, when going into the strong tides of the notorious Corryvreckan or when visiting the Ardbeg distillery, while tasting Leon's hidden stock of whisky. Or taking a sauna onboard Regina Laska in front of the distillery and then a refreshing jump into the cold water afterwards!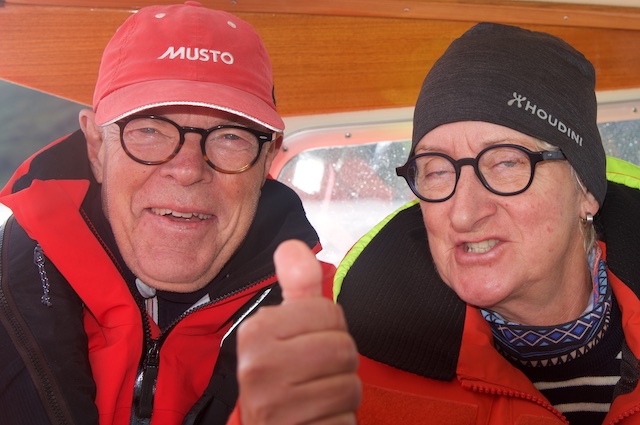 And not to forget all the tasty lunches and dinners that Leon managed to bring from the galley.
I must admire Leon's high expectations and his trust he puts in his crew to navigate and handle his fine Lady.
And finally, not to forget all great discussions we had about everything and anything and the laughter we had, mixed with nice quietness between us when sailing.
All this and so much more made this week such a remarkable and rememberable sailing tour.
We now fully understand why it is so popular to sail with Leon and Regina Laska and why the waiting time can be so long! We really hope that we will get the opportunity to come back soon again without having to wait for another three years....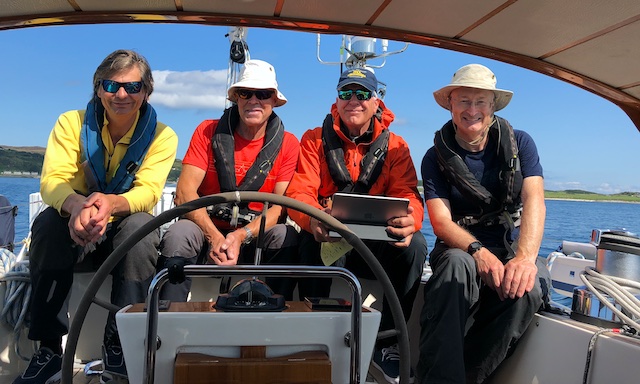 I am even thinking of trying to get the RYA Yachtmaster with Leon as a teacher one day…
Many thanks to you Leon and also Tom, Nick and Janne
Eva Helgesson, Sweden, Arcona owner, joining Leg 13-2019 from Oban/Scotland to Dublin/Ireland.