Leg 15/2016
3 -8 Sept Gothenburg – Ellös, 100-150 miles, All-Women course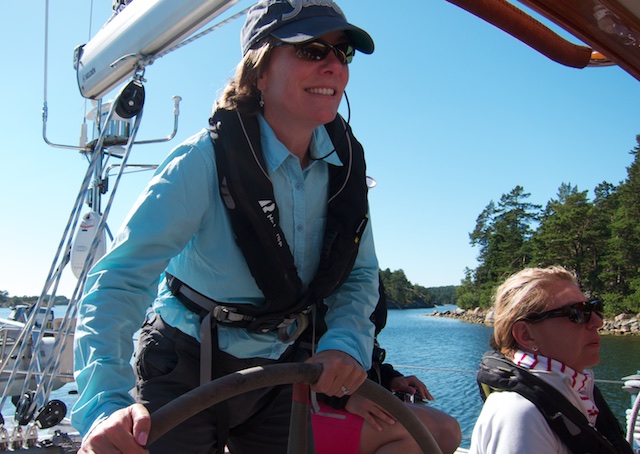 This is the second of two all-women sail training legs in 2016.
There is hardly anything more wonderful than cruising the Swedish archipelago in late summer, with hardly anyone else doing the same, since most Swedes seem to consider the sailing season being over. While we have to be aware of the fact that weather might be somewhat unstable, I have been lucky in previous years to have wonderful weather in September.
We will sail through the picturesque fishing villages on our way north from Gothenburg, doing a lot of sail training, manoeuvres and navigation training, as well as having a lot of fun together. The leg will end in Ellös, where you will be able to see how the new Hallberg-Rassy boats are being built in the yard.
What is better than letting previous participants explain how they experienced their all-women course? Please therefore see the testimonials of Kathi, Mia and Esther, for example. Please also read the voice of Esther's husband Michel after his wife returned from the course.
Please also enjoy the below photos showing the wonderful cruising ground we will be sailing in.
You do not need very much sailing experience or knowledge to join. An interest in learning to sail is more than enough. The rest we discover, learn and enjoy together as a team. Having fun while sailing is paramount and we will mainly be sailing in sheltered  waters in safety, comfort and style.  I am sure you will learn a lot about the lifestyle of sailing and return with a feeling of having built self confidence while having fun. There will be a lot of talking about blue-water cruising, I am sure, as well as covering topics such as safety, weather, storage and victualling, sail trimming, etc.
Price: EUR 1750 per person including all food consumed onboard, harbour fees, diesel etc

4 BERTHS BOOKED
0 BERTH AVAILABLE