Discussing the project with WhisperPower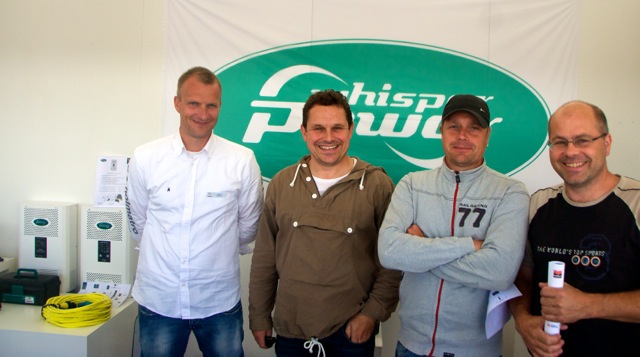 Planning the onboard power systems
This page should have been uploaded long ago. As with any working document, it kept changing and so I have postponed to present Laska's power system until it has been refined to the current state.
The power system is the result of many years of thinking and helping others in solving their power solutions on their boats. And during the last couple of hectic weeks the telephone and e-mail lines have almost been overheated.
First of all we needed a key supplier, which was interested in building a prototype system that could be used on many other boats as well. We were looking for a company that does not only provide state-of-the-art equipment but also has a human touch and a contact person whom it is a joy to work with! It was not difficult to find the right company and the right guy: WhisperPower and Martin Lindgren, who runs SellPower Nordic and represents WhisperPower.
WhisperPower is run and owned by the founder of Mastervolt, Roel ter Heide. In other words, WhisperPower has a profound history in power generation, storage, conversion and distribution onboard boats. Many key employees of Mastervolt, there among Martin Lindgren, followed the development and changed over to WhisperPower, which today is a dynamic company with highly interesting products manufactured in their 5500 m2 factory in Drachten, The Netherlands.
We also then needed the local knowledge of Hallberg-Rassy boats and were looking for key people who have the experience in installing it all. To find out what works and what doesn't on a boat like Regina Laska, we engaged two of the most experience technicians in the area, both of which have been working for Hallberg-Rassy for many years: Martin Johansson and Christer Verta.
Last, but not least, we wanted to take advantage of the experience of other sailors, who do extensive blue water sailing. We didn't want to rely on our own experience only. Roland Olsson, the former sales manager of Hallberg-Rassy and Vickie Vance the founder of HR Parts&Accessories both have a vast contact network of long distance cruisers.
All this lead to a power system that is intended to be simple and redundant while, at the same time, being powerful enough to provide a comfortable living aboard. Why shouldn't a modern sailing boat be as comfortable as a home ashore?
The power system is hence quite different to our HR40 Regina. While Regina with her 40 feet in length was a 12V boat, we believe that a 48 foot boat, such as the HR46, may provide the comfort of 230V where needed. Further, with a boat of this size, it becomes feasible to use 24V as the main voltage, which reduces voltage drops and cable diameters.
Overall Concept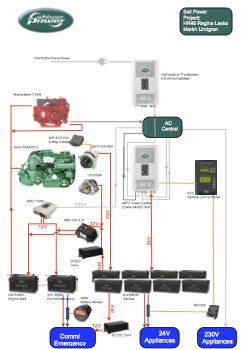 When planning the complete refit of the electrical system on Regina Laska, we have to focus on several targets. First of all, the boat will be used under a variety of circumstances: As a family cruiser, an around the world cruiser, sailing with charter guests as well as being a platform for maritime education, where students and marine professionals will be trained to become RYA Yachtmasters. Furthermore, the boat could well end up at distant shores, far away from civilisation and in quite remote areas. We could encounter tuff situations when the electrical system will play an important role in order to provide continuous safety and comfort.
The system needs to be reliable and must not be too complicated. User-friendliness is also important, in order to correctly manoeuvre and control the power systems onboard. Continuous power production is vital and therefore the system needs to redundant as well, in order not to give up in critical situations.
To better understand the following text and the power concept, please download the drawing here.
Shore-Power
While in port, shore-power is the obvious mean of power supply. Shore-power is lead through the WhisperPower isolation transformer (WP-GI) not only to save the boat from galvanic corrosion, but also to take advantage of its integrated Softstart and Multisteps, which come as standard for the WP-GI.
The Softstart ensures that circuit breakers are not tripped when high power demand is required and the integrated Multistep function comes in very handy when only 120 Volt AC shore-power is supplied, while the boat is design for 230V AC. To have these two features integrated in the isolation transformer becomes increasingly important, since some places in the world no longer allow the use of a diesel generators in harbour.
From the isolation transformer the power is lead to the onboard AC central with automatic circuit breakers and an automatic switch taking AC power either from the generator, shore or the inverter, whichever is available. Thanks to this automatic switch, there is no more need to turn any knobs or handles in order to manually decide where the onboard AC power is taken from.
Charger/Inverter
The combined charger and inverter WPC-3500-24 by WhisperPower plays a major role in the power system. At 24V DC the inverter provides a power of 3,5k W in AC and allows for a peak as high as 9 kW in AC, which opens up new ways to configure an efficient onboard power system. Thanks to the fact that the unit is able to provide a massive pulse of current you can use appliances normally not possible to run off an inverter, due to the fact that they have very high start-up demands. An Air/Conditioner is a typical example of this, while on Regina Laska it's the 230V watermaker, which needs a high peak for less than a second to start up the AC motor. Once running, the AC motor consumes less than 2-3 kW.
Even if the normal procedure is to run the watermaker off the diesel generator, it is important to have a redundant backup, namely the possibility to run the watermaker from battery power and the inverter. The necessary power is then produced by means of the alternators on the main engine.
The WPC-3500-24 Combi by WhisperPower is, however, not only a powerful inverter, but also a 6-step 24V charger supplying our 24V battery-bank with as much as 90 A of charging (corresponds to 180 A for a 12V system). The Combi can be connected to two independent AC sources: one inlet is for shore-power and the other inlet for the generator. The Combi will then automatically detect the active AC power source. In case of AC power failure, and within as little as 20 milliseconds, it will automatically switch to its own conversion of 230V taking the power from the 24V battery bank, keeping the 230V onboard uninterrupted. This is important for some devices, e.g. computers running off 230V which otherwise would crash.
In many harbours the shore-power is limited in amperage (e.g. no more than 10 A). For this reason, the Combi has a power-sharing mode, which automatically reduces battery-charging while, for instance, power is used to heat up water. Once the water has been heated up, the shore-power can then continue to charge the batteries, always staying within the given shore-power limitation.
Thanks to the ability to boost peak power demands up to 9 kW, it is no longer necessary to dimension the diesel generator to deliver the peak power, which often is twice the amount of what is really needed during continuous demand. Considerable money, space and weight can be saved by installing a much smaller genset than traditionally has been the case. Oversized gensets running below specification producing a fraction of its nominal power output is otherwise quite common on yachts and not ideal for a diesel engine.
By combining a charger and an inverter into one single device, we save money, space and weight.
Control & Monitoring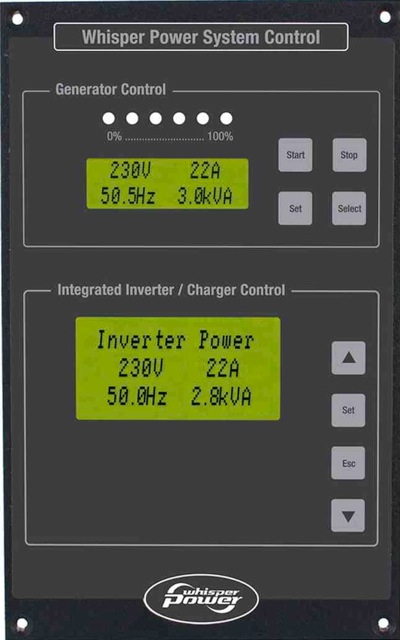 WhisperPower's WPC-RCC Controlpanel for Power Centre is smart and easy to operate for the crew to get a quick overview over the onboard power situation. Currents, voltage and power sources, as well as other important information, are clearly displayed.
The WhisperPower BSI Smart Shunt delivers accurate battery status, so everyone onboard immediately sees how much power there is left in the batteries and how much they are currently drained. There is nothing better than saving power!
Battery type and placement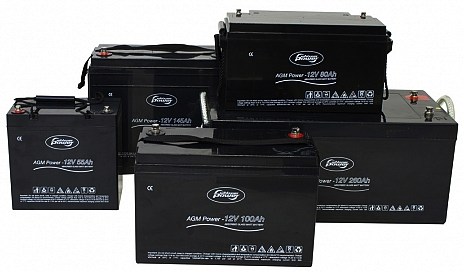 Concerning the batteries and the means of charging we thrive towards maximum redundancy. Moving the former 24V battery pack from the aft cabin to a place under the floorboards in front of the mast we could first of all improve the weight distribution in the boat as well as freeing up valuable storage space under the aft cabin bunk. A HR 46 sails much better without too much weight placed in the stern and we could also lower the centre of gravity. The electrical advantage is that we can avoid the long cables to reach the large bow thruster.
The use of Deep Cycle AGM (Absorbed Glass Mat) batteries combines the benefit of long cycle life and the possibility to take out high currents for the bow thruster. Their capacity is made up of 8 x 12V 145 Ah batteries, giving a total power of 580 Ah at 24V (corresponds to 1160 Ah in a 12V system) ensures enough durability, especially since AGM batteries may be drained down to 30% of its capacity, if necessary (down to 50% is, however, recommended).
On our previous HR40 we had open lead-acid batteries and I argued that they were long-lasting and had a very good price-performance ratio. Open lead-acid batteries are still a good option, should you not dislike the fact that you need to look after them and regularly top them up with distilled water. With this project, however, closed AGM batteries are the only solution: The MGN-280 rules for commercial vessels simply require us to have closed cell batteries.
Communcations and Emergency battery
Should we, in the situation of an emergency, have water penetrating into the boat due to hull damage, there is obviously a risk of flooding the batteries if the water is not pumped out quickly enough. After all, the 24V-batteries are placed under the floorboards and if water rises to the battery poles, they will become short-circuited. For this unlikely situation, we therefore need redundancy in form of a 12V battery, placed high up that supplies emergency equipment, such as essential navigation, communications, emergency lighting as well as the high capacity emergency bilge pump. This 12V/100Ah AGM battery is placed under the port bunk in the aft cabin.
In order to reduce the risk of flooding the main 24V battery bank, high capacity pumps are installed. Two Rule 4000 pumps, pumping 250 litres/minute each. One of the bilge pumps is powered by the the 24V bank and one is powered by the 12V communications and emergency battery. As long as we have 24V onboard, both pumps can work in parallel pumping no less than 500 litres or half a ton of water each minute. This should keep us floating, I hope. And in the unlikely event of the main batteries being flooded, we still have a 250 litres/minute pump running off the 12V battery.
The vital equipment connected to the 12V battery is:
– One of the two mentioned Rule 4000 bilge pumps
– VHF
– Inmarsat Mini C
– Iridium
– Furuno GP33 GPS
– Furuno basic instruments: Speed, Depth, Wind
– Emergency lightning
Engine start battery
The same battery type is used for the third battery bank onboard and is also placed under the port bunk in the aft cabin. This separate 12V 100 Ah AGM battery is for starting the main engine and for starting the genset. A switch ("emergency start") allows the inter-connection of the two 12V batteries in parallel, should one of the batteries be drained. This essential feature is another rule by MGN280, by the way.
Charging the two 12V systems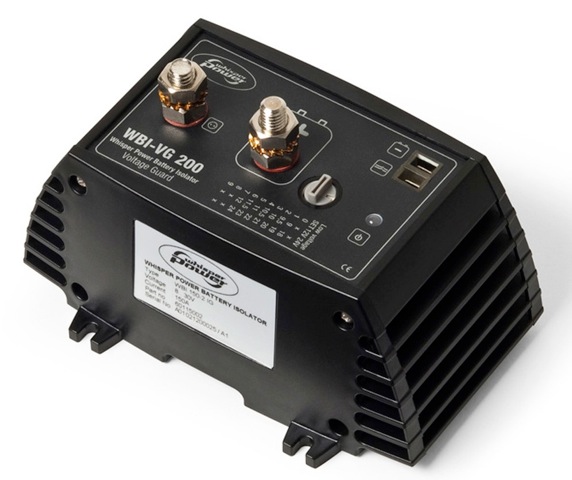 The two 12V batteries are charged by means of WhisperPower 230V/12V DC charger, serving two individual 12V banks separately by means of a WBI 150-3 IG low voltage drop battery isolator with three outlets (of which only two are used and the third could be used should we require a third 12V battery bank in the future). The 230V is either received from the genset or from shore, whatever is available in that priority order.
Secondly, the two 12V batteries are charged by means of a new 12V/110 A alternator by Iskra replacing the standard Volvo alternator on the main engine.
Thirdly, both 12V batteries can be charged by means of 24V/12V DC/DC converter giving 13.8V in order to spill over power from the 24V bank to the 12V banks.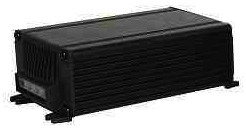 There is a forth way of charging the 12V banks as well: The Westerbeke generator has its own 12V alternator charging the starting battery each time it runs. Since the two 12V banks can be connected in parallel by means of the "emergency start switch", this one 12V alternator on the genset can charge both battery banks in case the first two charging facilities should fail.
In case the very essential 12V communication battery breaks down totally for some reason, (broken, short circuit or drained totally), this emergency battery can be by-passed by means of a MG 24/12-16 DC/DC converter supplying the 12V equipment directly from the 24V battery bank. This little device can cope with 16 amps of power. If more should be needed, they can even be connected in parallel.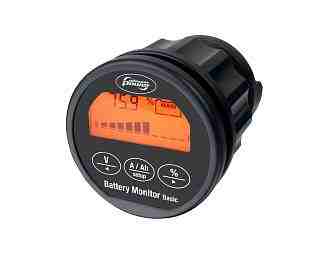 These three means of power supply for the 12V communication and emergency battery give a true UPS (Uninterrupted Power Supply) system that guarantees that the onboard navigation, communications and emergency
systems always have its necessary power. Furthermore, there will be no issues with voltage-drops when a huge device, such as electrical winches, the bow-thruster or the windlass is used thanks to the fact that the navigation battery is complete separated.
Since the navigation and communication battery is of vital importance, a WhisperPower WBM battery monitor will give continuous ampere and voltage information.
Charging the main 24V bank
The 24V battery back is charged by means of the WPC-Combi mentioned above, which, in turns, is fed by either shore-power or the genset.
A second mean of charging the 24V battery bank is by a 110A WhisperPower 24V High Output Alternators, manufactured by Prestolite, on the main engine, which is controlled by a WhisperPower Pro ACR Multistage regulators.