Esther Manser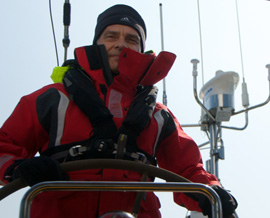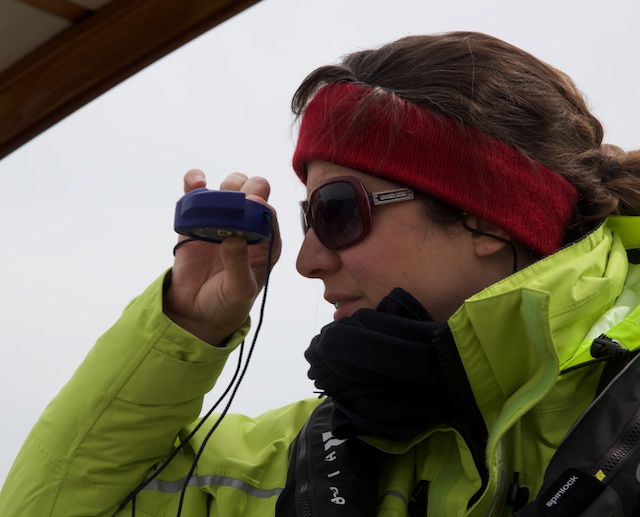 After having experienced sailing with Leon before, I wanted to try something different this time. Last year, I crossed the North Sea with Leon from Lerwick in Shetland to Bergen in Norway and further on to Stavanger, but this year, it should be different. Instead of my previous high latitude adventure, this should become a Day Skipper course. Less adventure and more hardcore learning in The Solent on the south coast of England!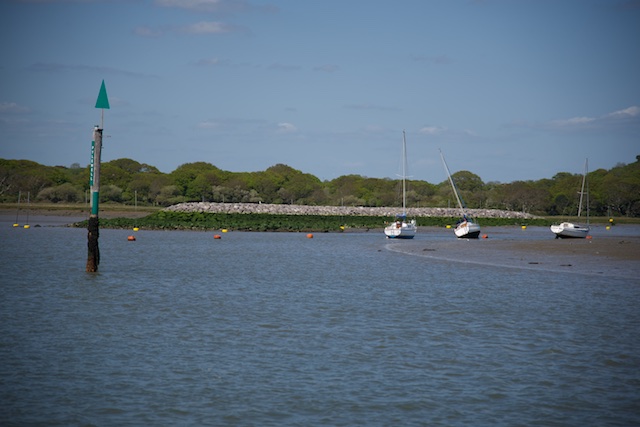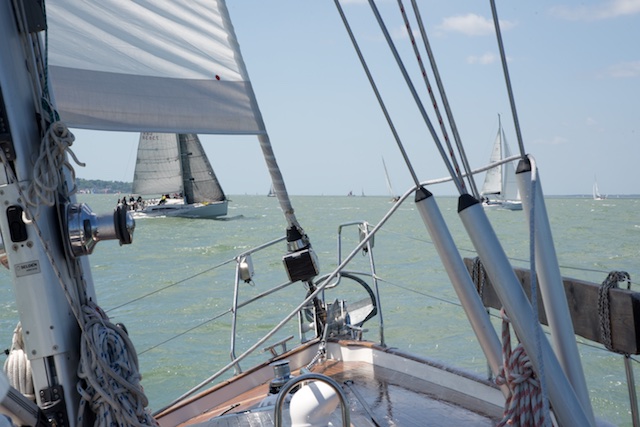 I must admit, I had very high expectations on this training week. Rather than making a lot of miles, we were to learn the hands-on practical aspect of tidal calculations, taking bearings, experiencing the currents, making tight harbour manoeuvres, working on Man-Overboard drills and last, but not least, sailing into a busy unknown harbour by night, only using classic navigation.
The challenge was on! And I must say, my expectations were fulfilled, to say the least!
I am sure I will never forget how we entered Portsmouth by night! We casted off in Cowes on the Isle of White, in the dark at 22:00 and set course 105 degrees Compass towards the east. It was overwhelming! There were so many lights! And the background light of the city made it even more challenging! What was red, green or white and how did they all flash? What was close and what far away? And how to recognise all the different characters?! And then all the ferries and other vessels that seem to come from all direction in high speed showing all their lights, from the blinking hover crafts to the three reds meaning that they are constrained by draft! There were pilot vessels (white over read) and fishing vessels (red over white) and vessels that were restricted in their ability to manoeuvre (red-white-red). Plus all the "normal" power vessels and sailing vessels, of course! I had only seen these in my school books before and had no clue you could see them all in real at once! The Solent is really an exciting place to get the practice! And where did that south cardinal disappear with its 6 quick flashes followed by one long one…!?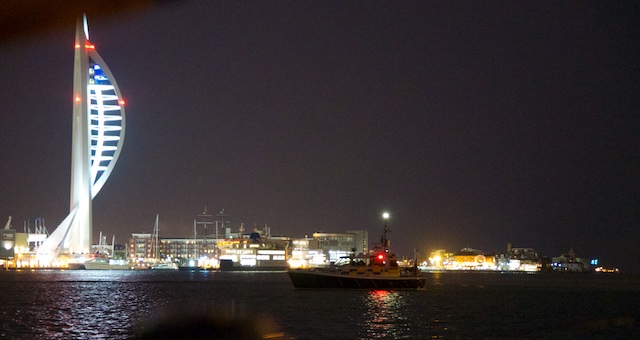 It was after midnight when four exhausted women and a relieved Leon (I guess…) finally moored in Gosport Marina in Portsmouth at midnight. This was pure adventure! Who says you can't have adventure while joining on a training leg?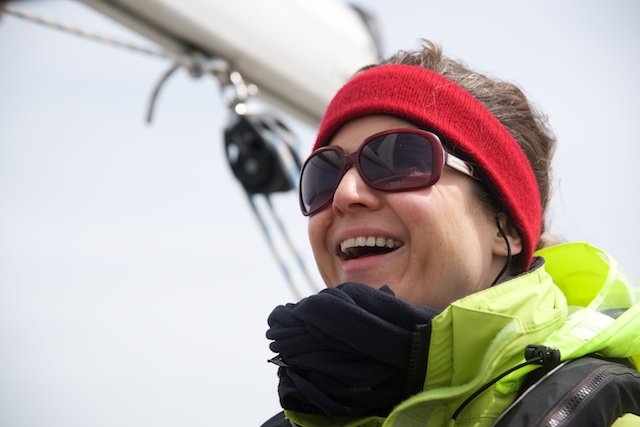 I must say I am impressed about the fact that Leon has his eyes everywhere at the same time. He lets us women sail his boat all by ourselves, but is following everything we do and gives some very fine and polite important detailed suggestions here and there. It gives me an enormous sense of security that Leon always is at hands, if needed. At the same time, he seems to trust us women, so we better don't make any mistakes!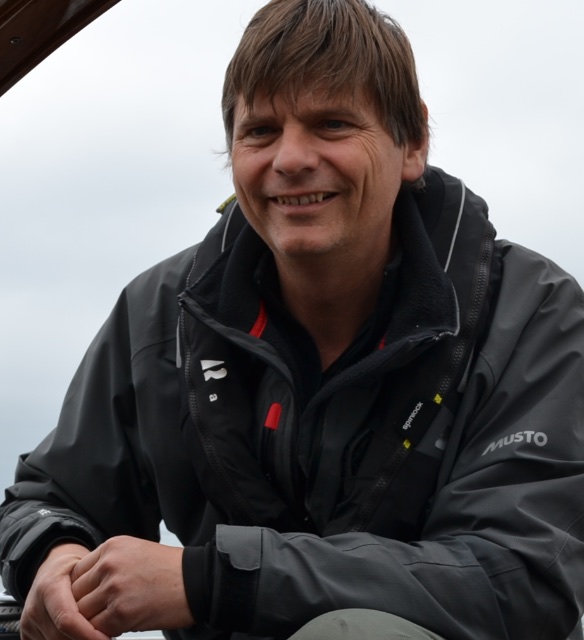 As in my previous leg with Regina Laska the year before, I felt the great comradeship between us – this time with Leon and just women. Leon has the ability to put together really nice and highly interesting people from all over the world and just meeting the others is worth a lot. We laughed so much! We tried to encourage each other and we gave each other compliments and supported each other! Maybe this is the big secret of an all-women course, since we work so fantastically as a team!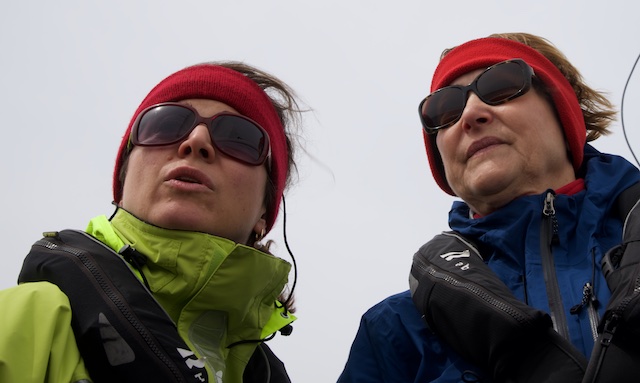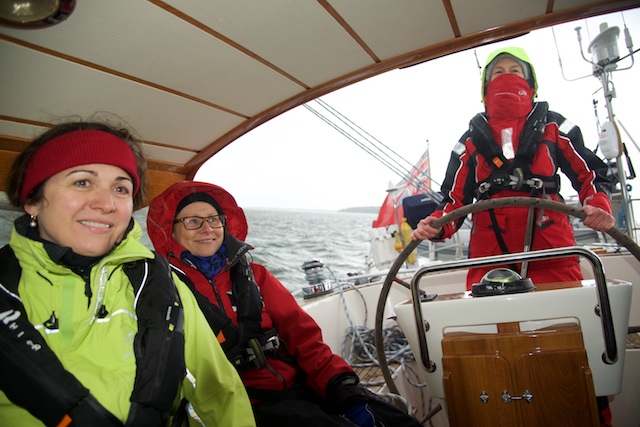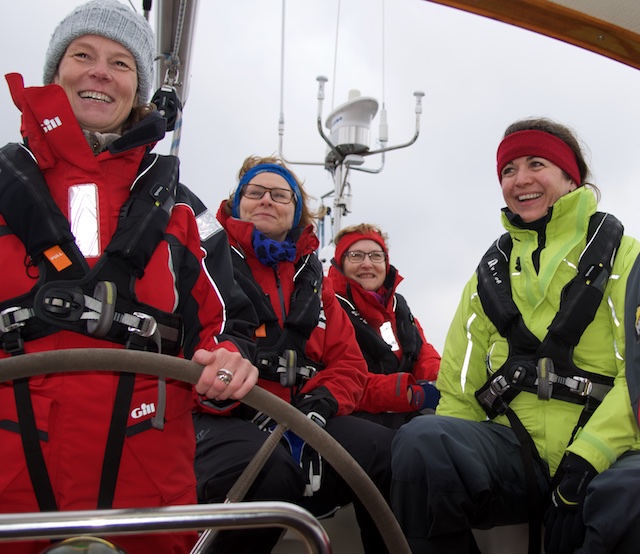 Again, I was able to enjoy Leon's highly efficient magic in the galley! Again, another reason why to come! In addition, Leon's psychological skills to build self-confidence for us women is a gift and difficult to beat. Thanks to his fundamental experience as a sailor and teacher, he strengthens our belief in ourselves that we can just as well – and maybe even better! I am sure another reason is, of course, that Leon has experienced so many women and men taking part on his various sailing legs! He is a good observer and openly talks about the differences between "male" and "female" (social) behaviour on a sailing boat, which leads to hearty laughs and deep discussions accompanied with a glass of wine until late at night.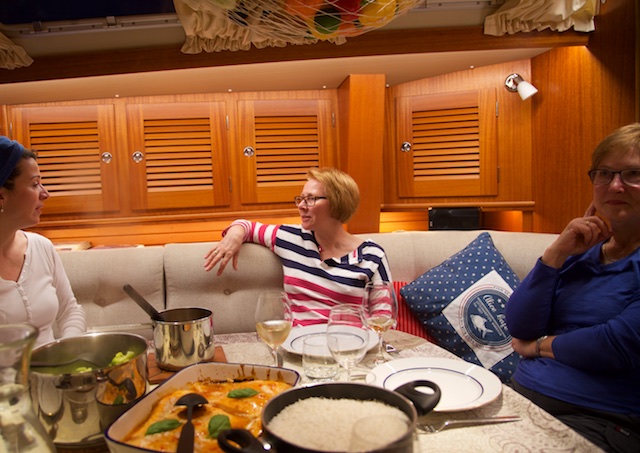 Leon, it was – once again – an experience beyond imaginable and just outstanding! Thank you so much!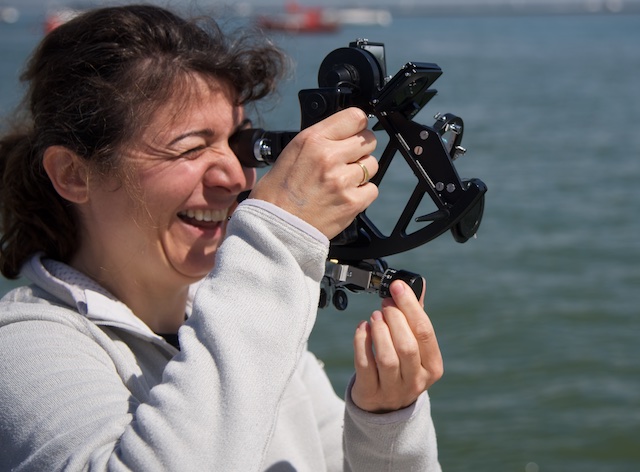 Esther Manser, Switzerland, sailing on the all-women RYA Day Skipper Course Leg 4-2016 in The Solent