Jacques and Kathy Testimonial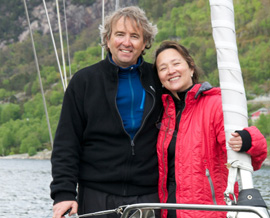 Our objective – to learn how to be full-time cruisers.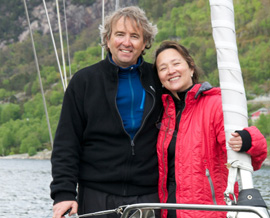 We booked a cruise with Leon to acquire some cruising experience with a bigger boat, as the
largest boat we'd ever handled was 42 feet. Our worst nightmare was that we'd take delivery of
our 55-foot boat (due for 2015) and then make complete fools of ourselves the next day. Performing harbour manoeuvres under motor, handling the vertical-battened furling mainsail, and learning about necessary daily/weekly maintenance were our top issues. Leon acted as our coach – suggesting how we could do things in a better or more efficient way, and as a consultant – providing us with tips on equipment to make the boat a better performer or a better place to live.
He coached us through handling his 20-tonne boat in tight marina spaces, and we became more and more confident, even with winds and currents. He showed us the sensitive touch and observant eye needed for furling and unfurling the sails under power – the winches have enormous power, and you could well end up destroying instead of unfurling your sail.
Leon's qualities as a skipper.
We all know a skipper needs to be a great leader. But does the term really mean? Management theorist Simon Sinek tells us in a recent TED Talk that great leaders make their team feel secure by creating an atmosphere of safety and mutual trust. I would say that Leon took a page from his book. In Leon's hands, we always felt safe, trusted and therefore fully competent to deal with whatever came our way during our Norwegian cruise. Witnessing Leon's zen-like calmness and quiet explanations during harbour manoeuvres gave us the feeling that "this is not difficult at all". There was none of the shouting and waving of arms that raises both the pulse and levels of stress and anxiety. Even beating around Lindesnes under force 7-8 conditions felt amazingly easy and exhilarating. We really felt that he trusted us with Regina Laska, and we now feel confident that we'll be able to handle our own boat.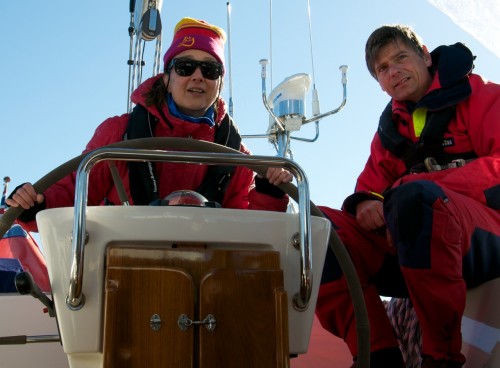 Leon's qualities as a person.
Aside from his leadership abilities, we appreciate Leon as a great person.
We especially admired:
• His clear, concise, non-pompous way of explaining concepts and actions to take
• His uncanny ability to bring out the best in us and quickly see where our competences lay
• His open-hearted and curious demeanour, which enabled fascinating, multi-faceted and humorous conversations
• And last but not least – his great cooking skills. Meals are never boring onboard Regina Laska! Leon prepares his meals with great passion and is quite a connoisseur of wine (important for us as wine producers!)
Thank you Leon for a tremendous experience! We are looking forward to sailing with you next
year as well!
Kathy & Jacques