Anchor alarm with GP33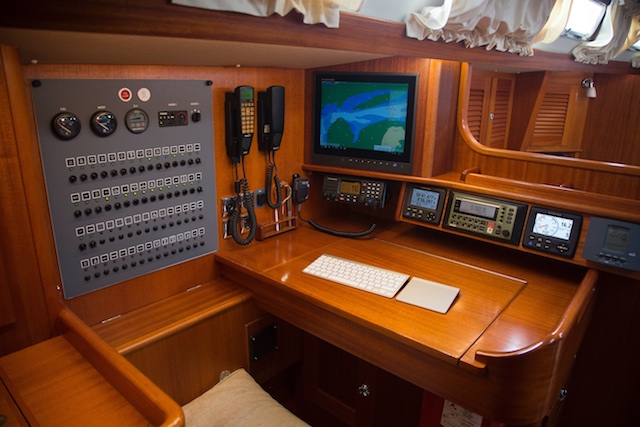 How do you set the anchor alarm with a Furuno GP33?
Like so many other sailors, I use the Furuno GP33 as a stand-alone fixed installed backup GPS. It does give its data into the NMEA2000 network, but has its own power supply. This means that, in case my NMEA2000 network blows up for some reason, I can still power up my GP33.
Further to give data into my NMEA2000 network, it also feeds NMEA183 data directly into my VHF, my SSB as well as via a serial-to-USB-converter to my TimeZero navigation programme on my stand-alone fixed redundant PC. 
In other words, my GP33 gets its own power and feeds both the NMEA2000 network as well as dedicated vital system. 
In addition it acts as my Anchor Alarm. 
I often get the question how to set the anchor alarm, since it is not that intuitive how to do. 
First you need to understand that the Waypoint arrival alarm and Anchor alarm works the same way, but in verse. If the GP33 is set as "arrival alarm" it gives an alarm if my ship is closer to my waypoint than the set radius. If the GP33 is set as "anchor alarm", it gives an alarm, if my ship leaves the circle defined by the set radius. I could also switch off the alarm altogether, which makes little sense in case, since I never use it for waypoint navigation, but only for anchor alarm.
When setting the radius you need to remember that each 0.01 nm is 18m. 
This is how to do:
if not already done so, define the alarm for anchor situations and not for arrival to a waypoint.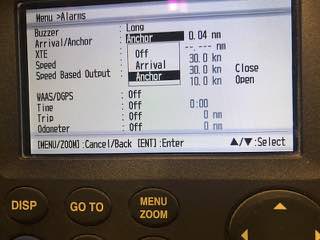 2. Set the radios to when you want the alarm to go off. Here, if I leave my anchor by more than 0.04 nm, the alarm goes off. Remember: 0.04 nm = 4 x 18m = 72m.
These two settings are typical and you don't have to change them for every anchor manoeuvre. This is how it normally looks on Regina Laska. Only if I anchor with an exceptional long anchor chain I change the radios from 0.04 nm to 0.05nm or if I anchor in a very confined space in shallow waters, I change it to 0.03 nm. When set to 0.03 nm (= 54m) the anchor alarm might give a false alarm and wake you up during night. Better safe than sorry!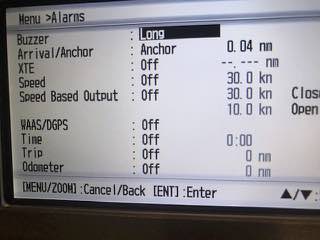 3. Go to the plotter screen. Estimate where you let go your anchor. You can do this by comparing with your TZT main plotter or just look out forward into the wind and check your compass. Here, the anchor is placed some 0.02 nm in North-Westerly direction (0.02 nm = 2 x 18m = 36m anchor chain used).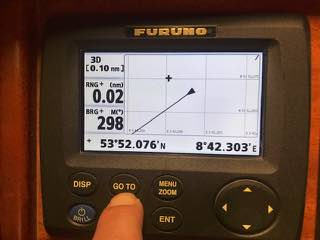 4. Press GoTo in order to set a "Waypoint" where the anchor is. You will get a green dot.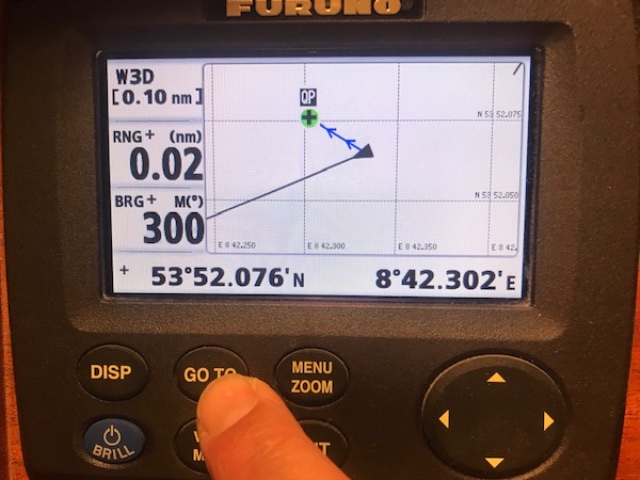 That's all!
Now you will observe how the boat is swinging around the green dot with a constant radius leaving brown marks as as a track (not seen above since it takes some time to draw the tracks).
From time to time, you can leave the anchorage without switching off the anchor alarm to make sure it works. Otherwise do the following before you leave then anchorage:
Move the curser over the green dot (the anchor). Press enter.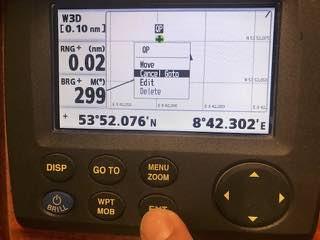 2. Choose Cancel Goto
3. Confirm with Yes.
4. Move the curser again over the green dot if you wish to delete it. Press Enter.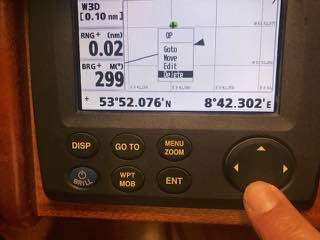 5. Move down to select Delete. Press enter.
Lift the anchor and enjoy your sailing day!