HR46 Mahina Tiare III
This famous Hallberg-Rassy sails all the way from New Zealand to get her 190.000 miles refit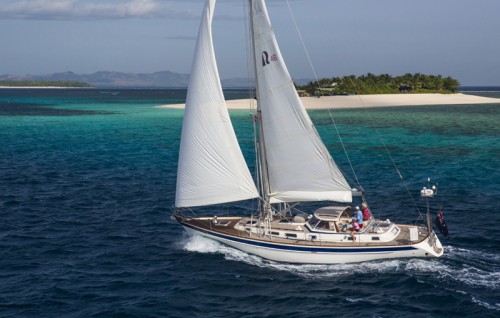 John and Amanda Neal are at the mid-point of a 20,000 mile series of ocean passages as they sail their Hallberg-Rassy 46, Mahina Tiare III from Auckland, New Zealand to Adam's Boat Care in Sweden for her 190,000 mile, 19 year refit. Refit plans include new teak decks, new standing rigging, new instruments and possibly repowering. Their 1996 vintage Autohelm ST 50 instruments are 100% operational and their original Volvo TMD 31 engine now with 13,000 hours runs perfectly but John and Amanda look forward to treating Mahina Tiare to some TLC (Tender Loving Care) at Adams Boat Care.
They are currently preparing to depart Victoria, BC, Canada on their 25th season of offshore sail-training expeditions.
Mahina Tiare's log now reads 181,000 miles, equivalent to seven world circumnavigations and the condition of this vessel is a huge endorsement of the construction quality of Hallberg-Rassy yachts.
Stories and images from their past 19 years of expeditions to the South Pacific, Cape Horn, Antarctica, Svalbard, Alaska and the Caribbean are posted on http://www.mahina.com/expeditionupdates.html.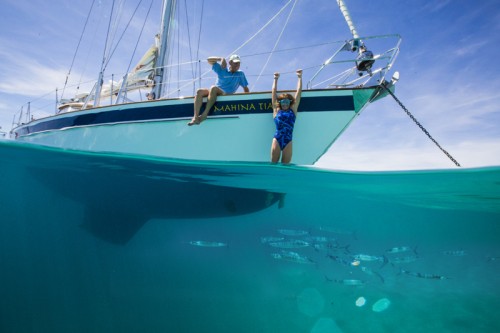 Many of their 1150 students have been sailors considering purchasing and setting off cruising on a Hallberg-Rassy, wanting to experience an ocean passage with instruction before purchasing one.
"It is a huge recognition that John and Amanda chose Adams Boat Care for their 190.000 miles refit." says Carl Adams.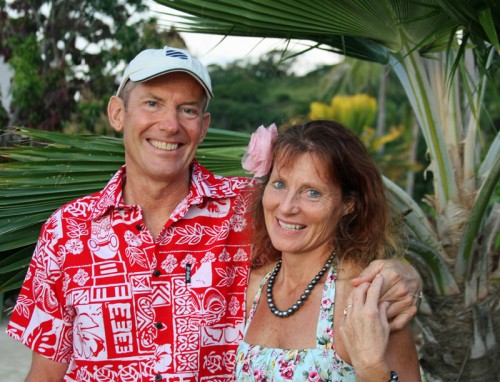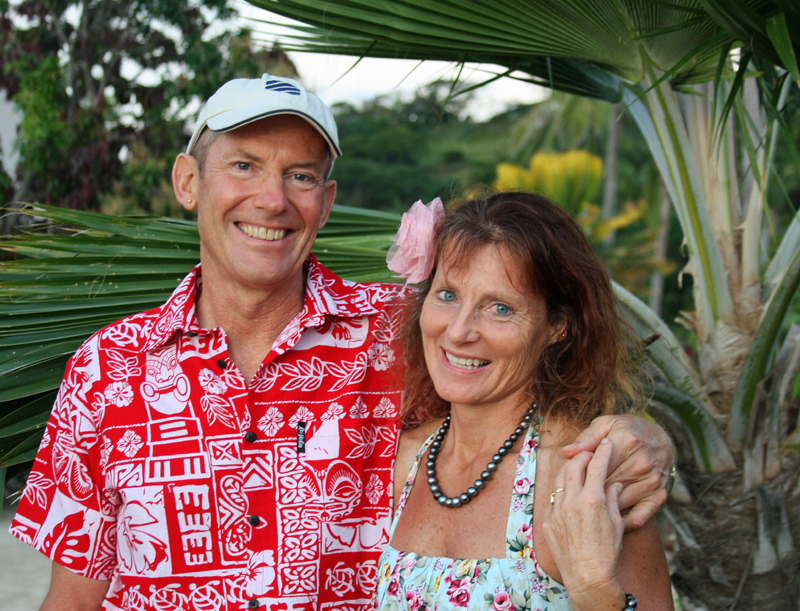 The refit project spans over two winters and starts in September 2015, when Mahina Tiare III arrives in Sweden. They now keep the unbeatable record as the Hallberg-Rassy that sails from the furthest away in order to get a refit by Adams Boat Care. After a sailing season to Spitsbergen, Iceland and Scotland in 2016, where they plan to meet up with Regina Laska at several placed, they will revert to Adams Boat Care for their second phase refit, leaving Sweden in 2017 for warmer waters.
Mid refit  
When I travelled to Sweden in February 2016 I inspected the 10 boats that currently are undergoing their significant refit at Adams Boat Care during the winter of 2015-16. These are far too many to describe on this blog, but I would like to highlight a few at least, of which Mahina Tiare III is one of them.
I think the photos speak for themselves. See how much fun the team has to refit boats and you can really see Carl's pride when he talks about his yard to existing and future clients of his. Carls Partner Anna is doing a fantastic job to administrate and plan for the 10 boats being refitted in parallel.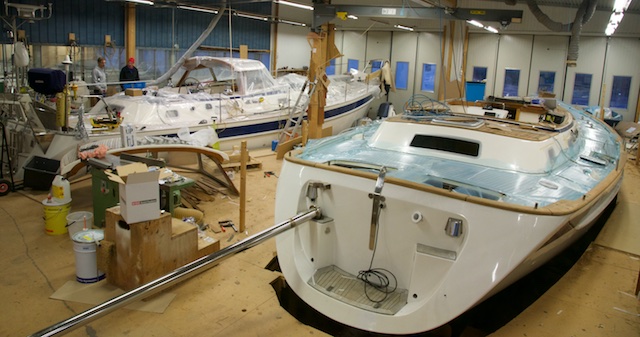 Mahina Tiare III in the foreground getting a new teak deck with Regina Laska to the left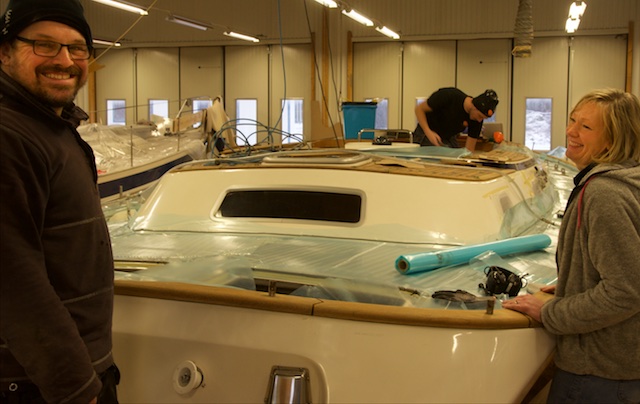 Carl and Anna inspecting the work in process of Mahina Tiare III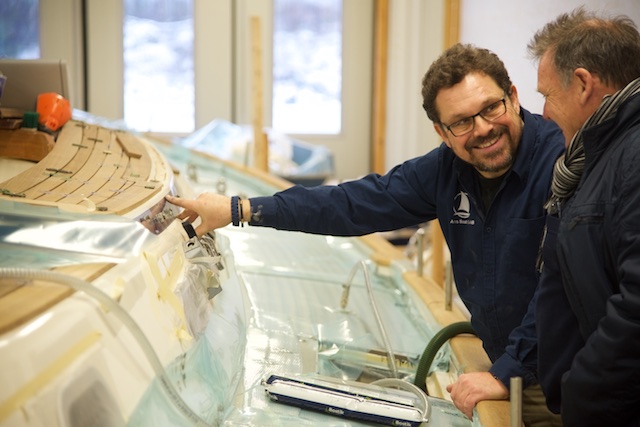 Carl proudly showing the work on Mahina Tiare III to a new customer from Switzerland who has bought a HR49 in Turkey, planning to sail her to Adams Boat Care in Sweden for a refit in 2017-18.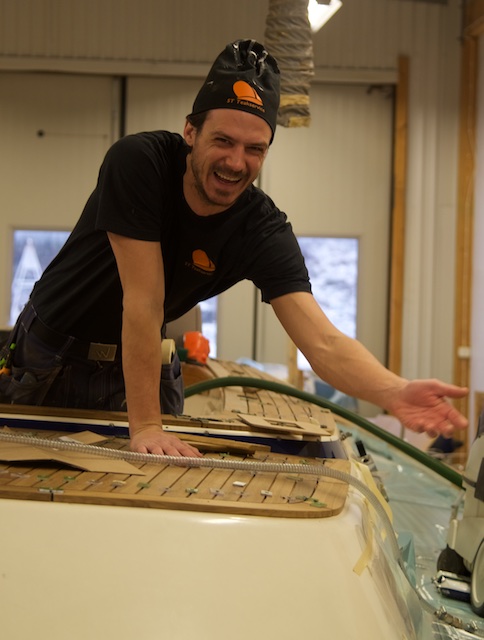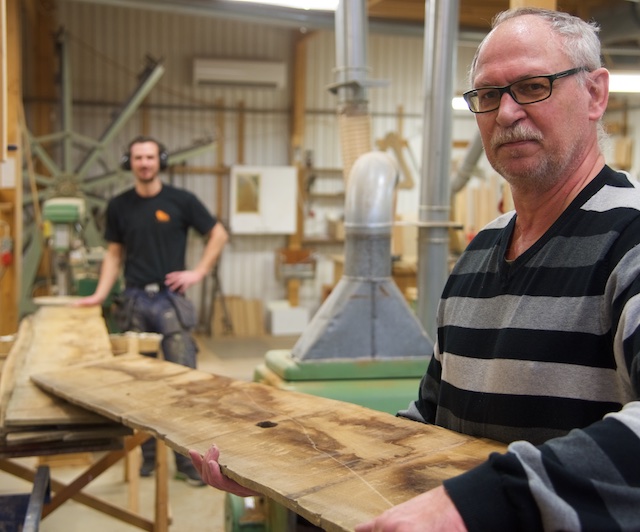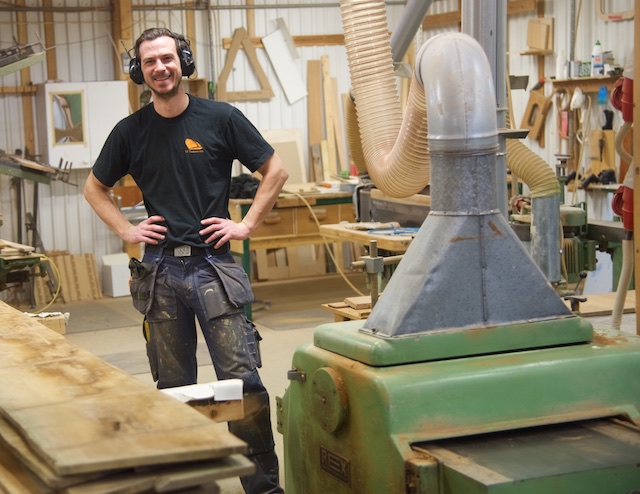 Working on the new new teak deck of Mahina Tiare III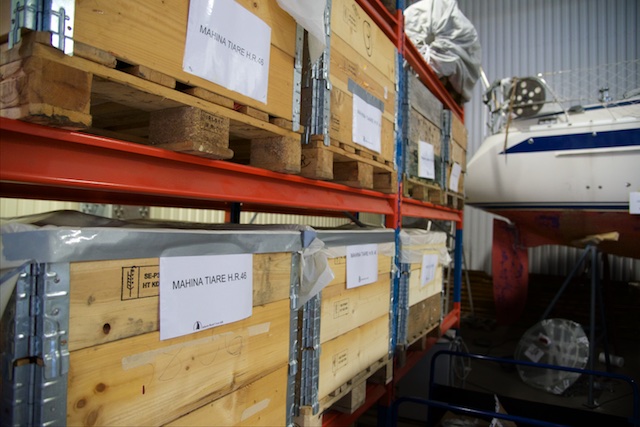 Every boat has its own box and the workflow is highly efficient at Adams Boat Care. HR31 Geisha in the background.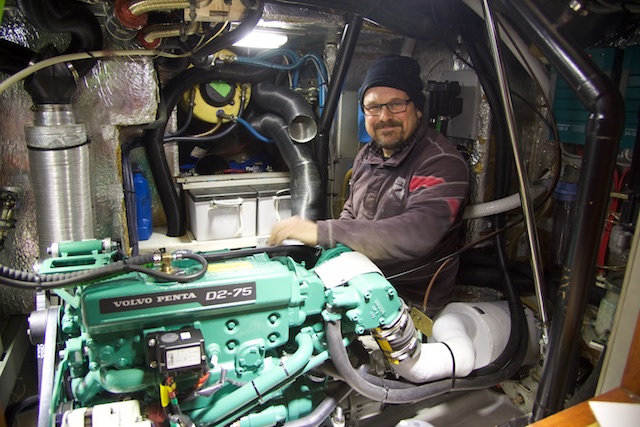 Carl sitting in the engine room of Mahina Tiare III with the new Volvo-Penta D2-75 (replacing the old TMD31 after some 12,000 hours of good and reliable service!)
Teak deck laid 
A couple of weeks later, the entire teak deck is laid and it is time to lift new refitted hardtop in place. Please note the newly varnished foot lists and the new special custom made Adams Boat Care handrails in stainless steel.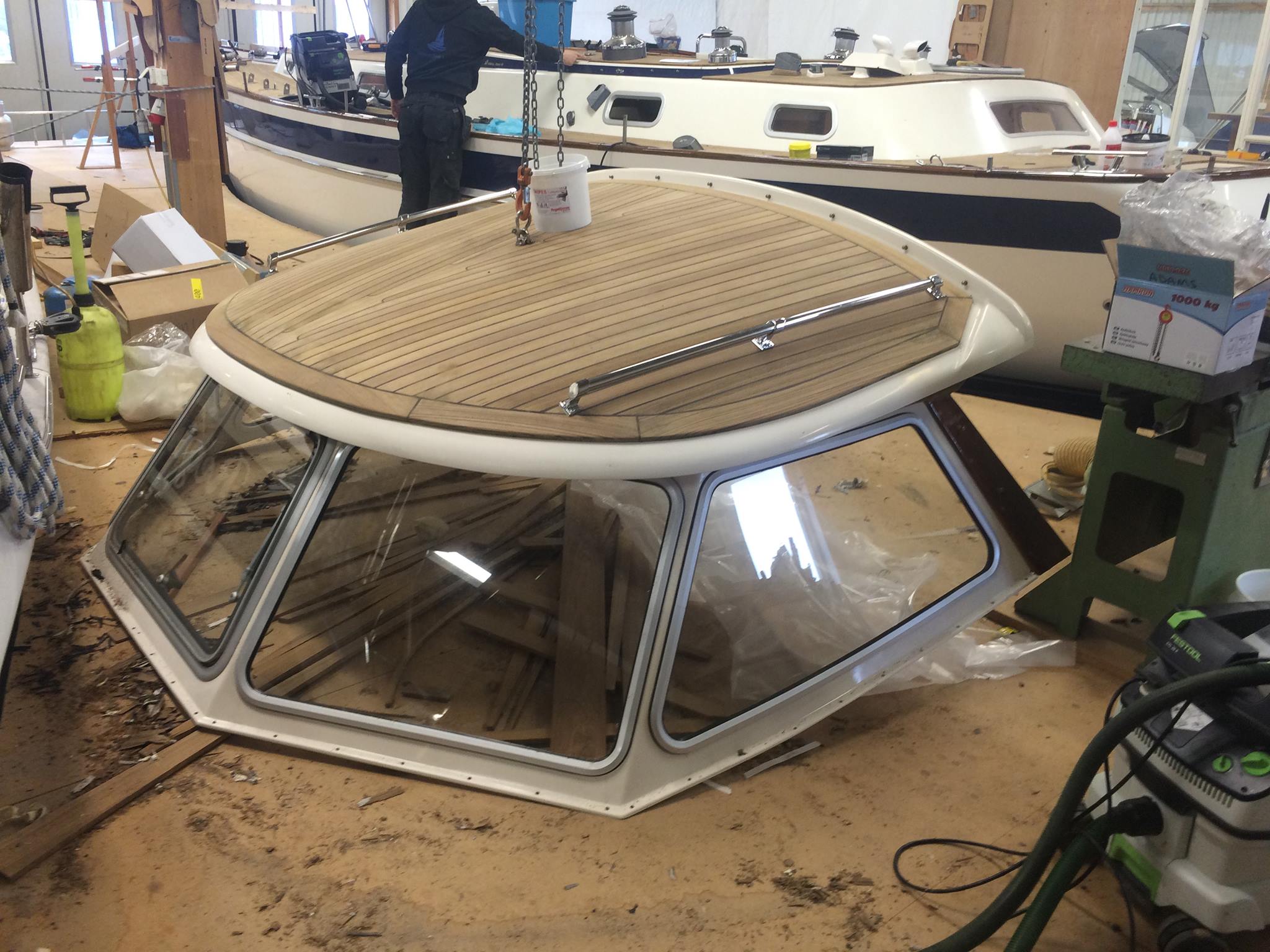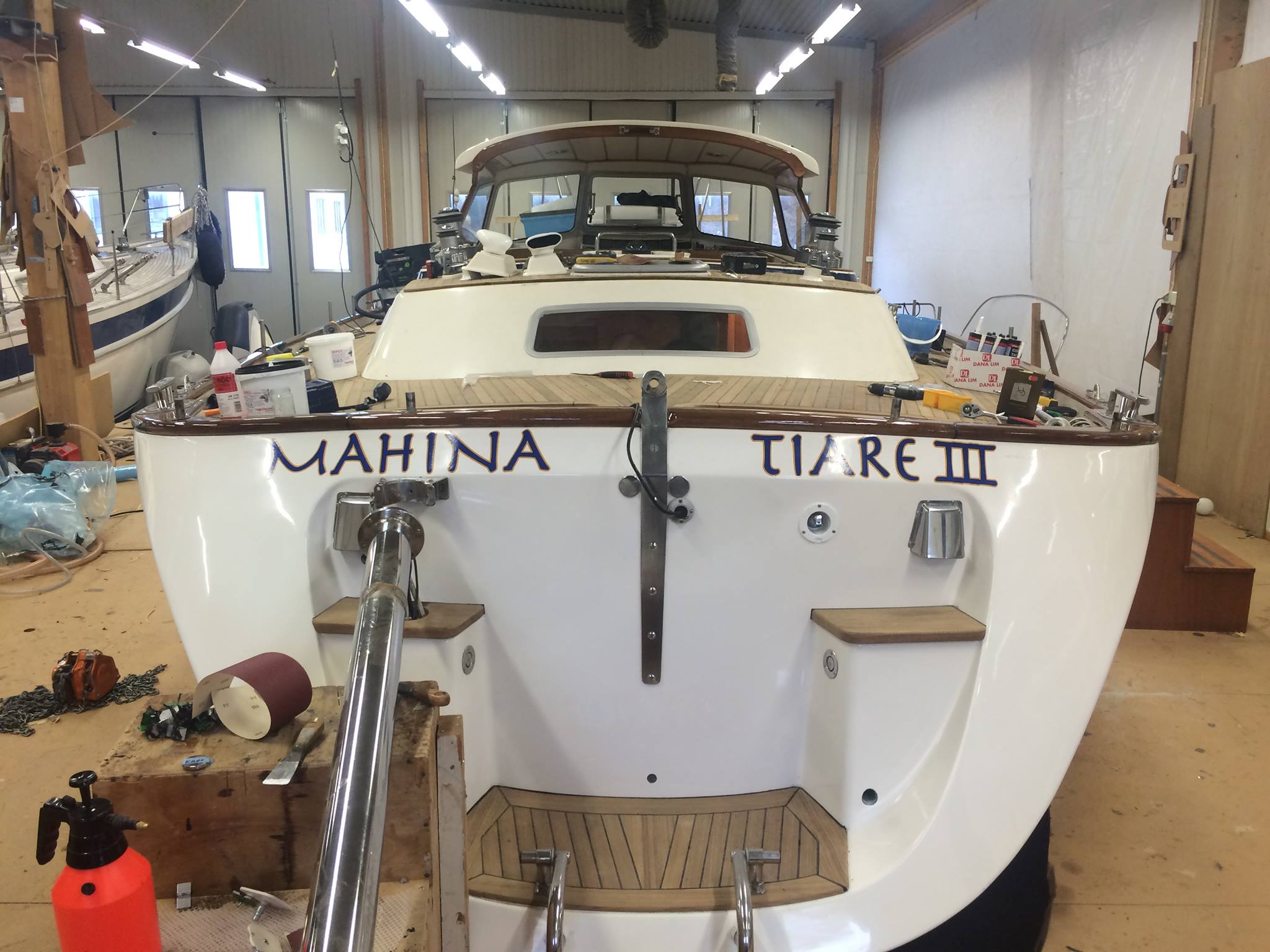 Launching day 
Time flies during spring and there are not many days left until John and Amanda will rejoin with Mahina Tiare III, now more beautiful than ever with her new teak deck, new engine and loads of other upgrades and details that Carl and his team have been dealing with.
In mid March she went into the water and is now happily floating in the Adams Boat Care marina.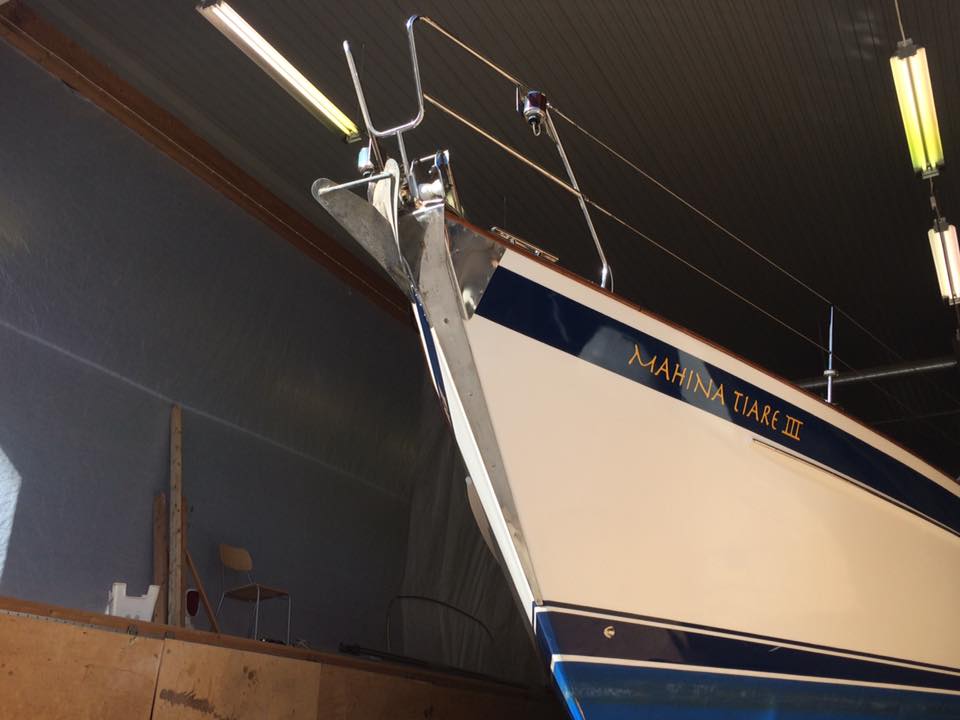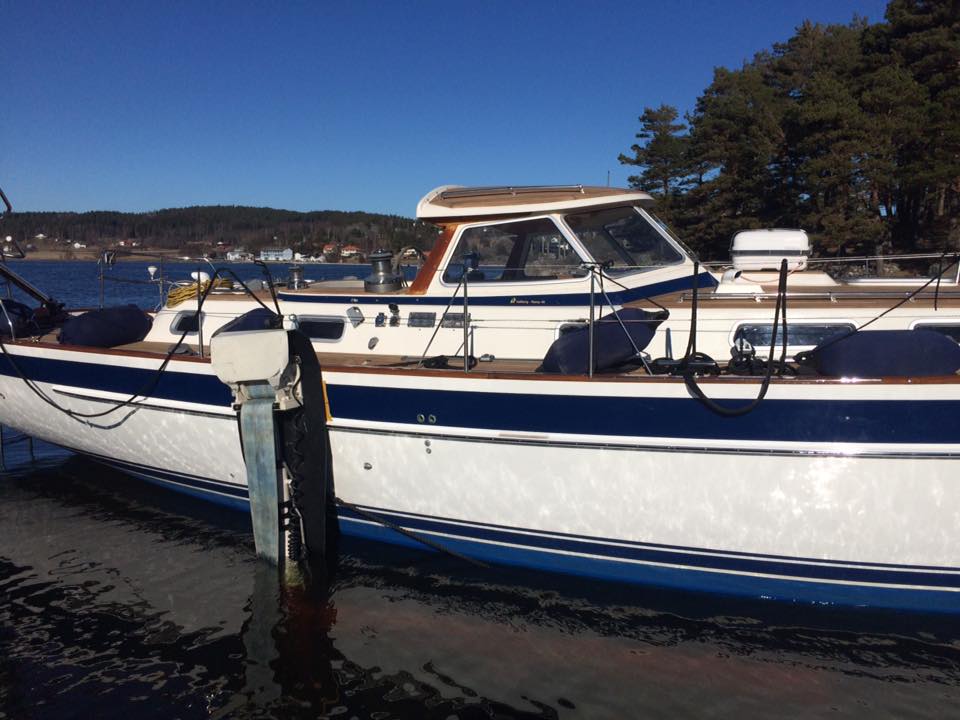 The new Volvo-Penta D2-75 has been tested during seatrials and everything seems working fine! A great end of an intense day!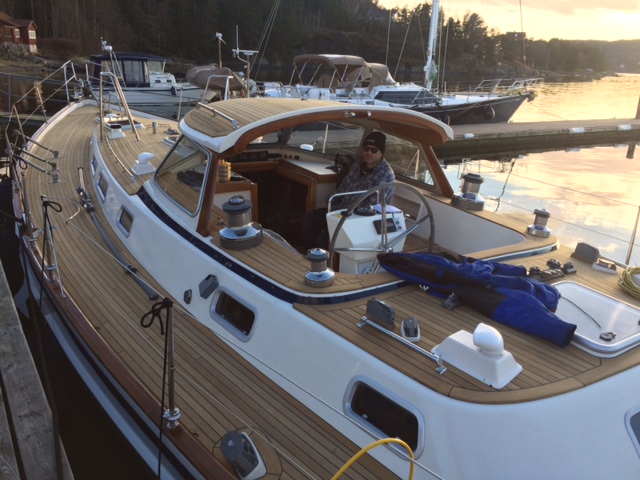 Commissioning 
At the end of March, John and Amanda come to Sweden to pick up their refitted Mahina Tiare III. Their new smaller engine (D2-75 replacing the old TMD31 of 100 hp) runs smother and more quite than their old engine taking much less space in their engine room and, at the same time, they save a lot of weight in their boat. The new Flexofold Propeller is much more efficient than their old propeller, giving them a higher top speed under engine than the old engine did when new. John and Amanda are very content with their new engine and the installation.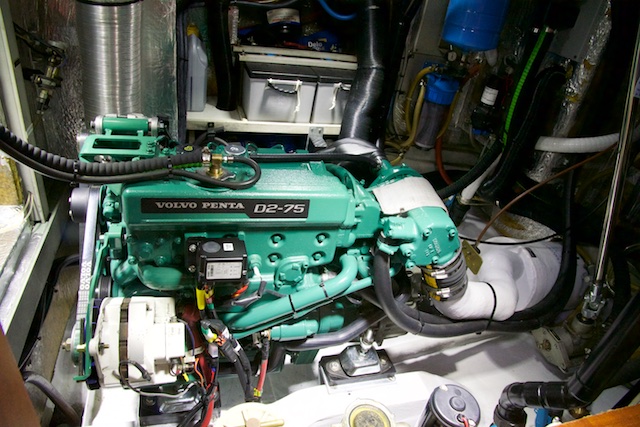 New new teak deck looks fantastic and John and Amanda chose to upgrade to stainless steel handrails, which have been tailor made by Adams Boat Care especially for Mahina Tiare III.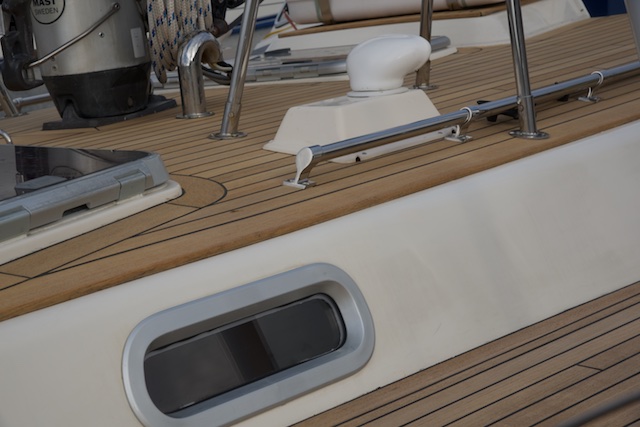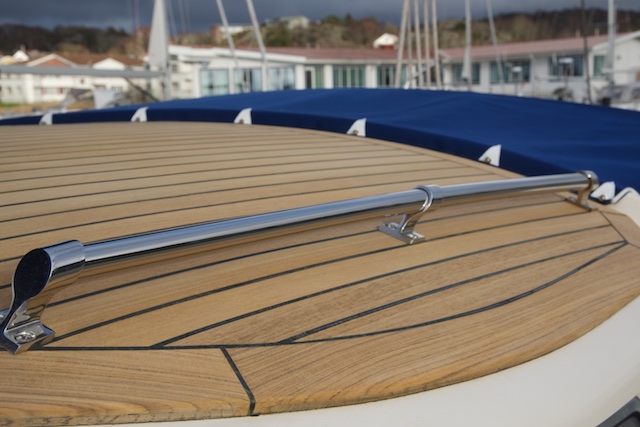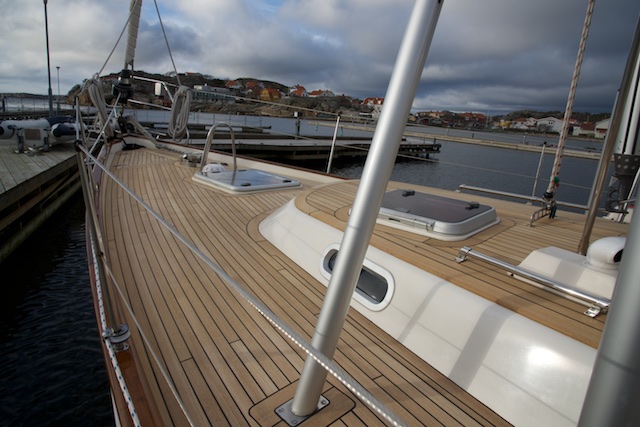 Before they set sail for their sail training adventures to Lofoten, Spetsbergen and Iceland, they had a nice chat with Carl in their cozy salon.