Refit year 4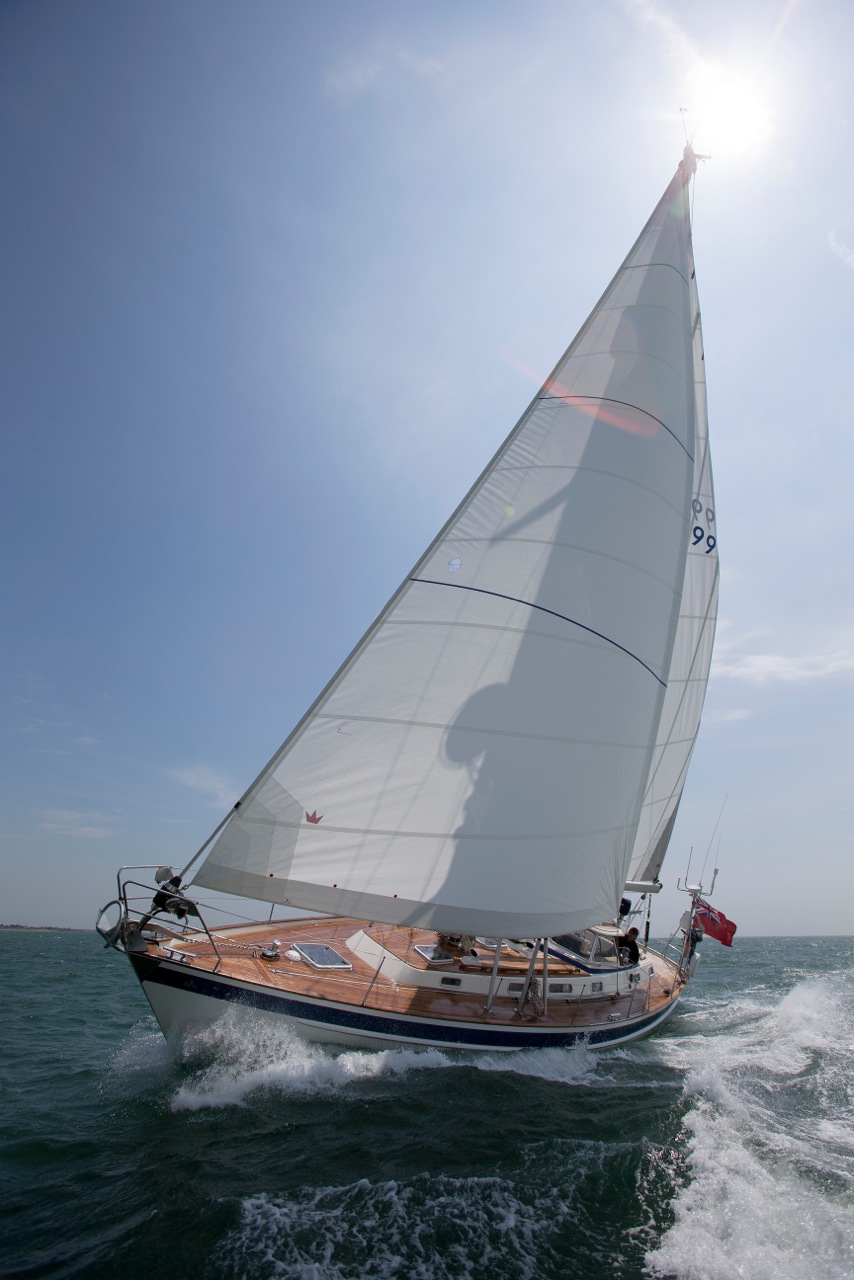 The never ending improvement project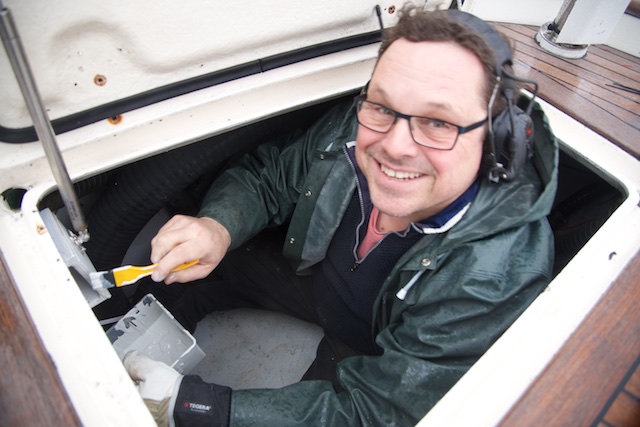 During refit-period four a lot of small improvements and updates have been undertaken to make life onboard even more comfortable, safe and stylish. Every little detail has been looked at by Adams Boat Care and the stringent MCA rules are being followed for a vessel sailing in area 1. So all life wests, jon-buoys, life-rafts, all the fire extinguishers, the gas system and safety systems have been checked by corresponding experts. The annual two inspections (by MCA and RYA) have thus gone through without any remarks.
A new fridge and freezer
Following the two new Webasto heaters from Refit year 3 I had to replace the fridge and freezer. Not they wouldn't work! They still worked flawlessly! But due to the new heaters! New heaters are computerized these days and the internal computers are so sensitive that they sometimes, but not always, gave an error when the fridge and freezer were starting at the same time. The easiest way out are two new compressors, two new evapurators and new cooling water pumps for the fridge and freezer. So now I have two Isotherm fridges and freezers.
And the good news is: The heaters work fine now!
New interior lighting
At some places I have exchanged the existing 3100K LED stripes to 2400K to give a warmer touch.
Also the class cabinet is now illuminated automatically, when opened.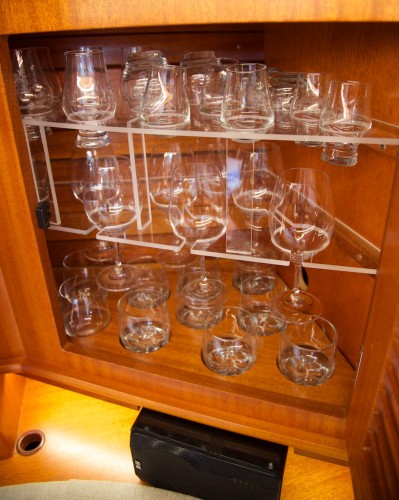 New spice rack
Carl did me a wonderful spice rack which I enjoy every meal I provide for my sailing guests! Carl is a great carpenter! Elegant, yet very stable in any kind of weather!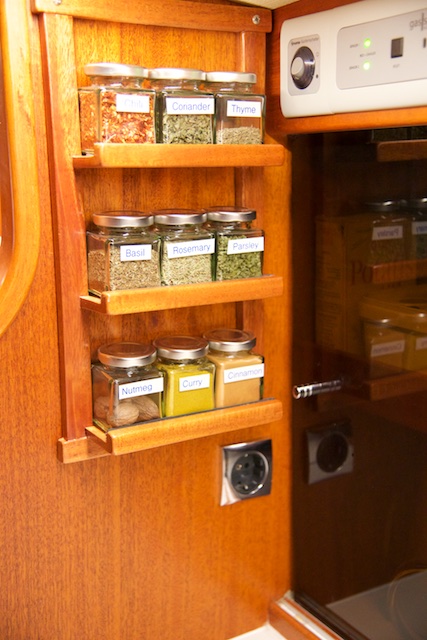 Lew LED navlights
I replaced the old navlights, where the glass had become somewhat milky, with new Wheelmark Approved for vessels under 50m. Impressive how small they have become!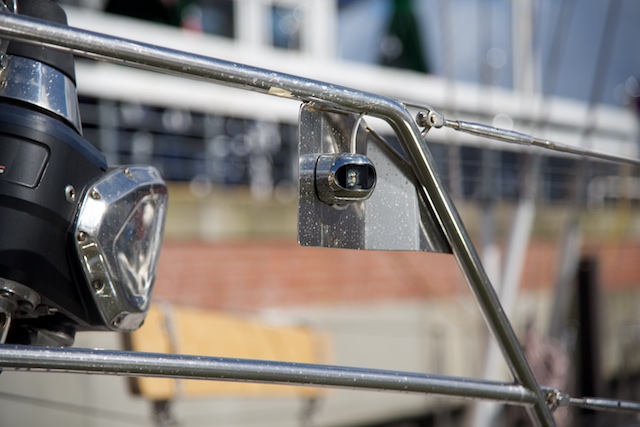 New side ladder and fender socks
In order to facilitate the embarking of the boat, I have a new side ladder by Båtsystem.
The new fender socks add to the style. Aren't they beautiful?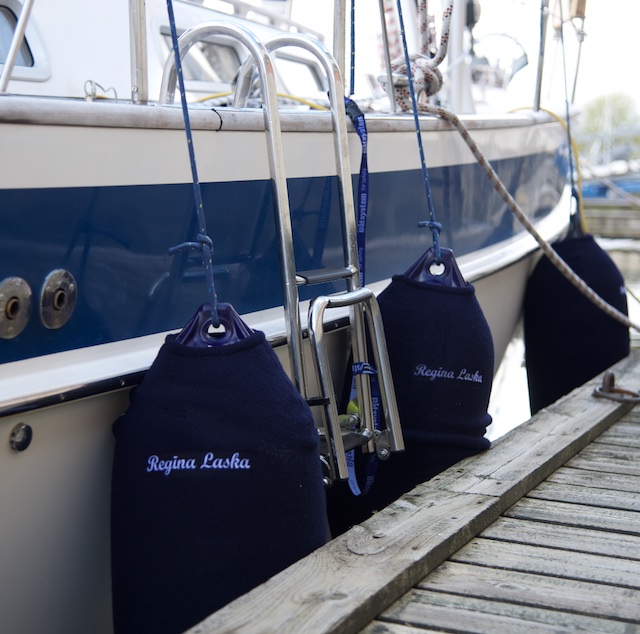 New trottle lever
The trottle lever was replace to a new stainless steel one to look nice and give a more accurate feel of steerage.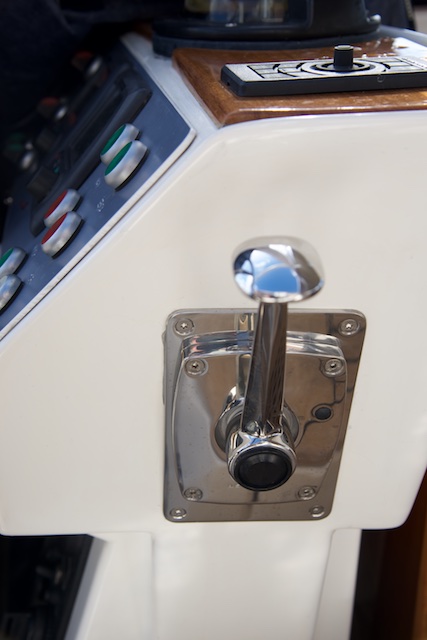 New blocks
After no more than 3 seasons and 15,000 miles I had to replace some blocks which were of inferior size and quality. They have now been updated two sizes lager.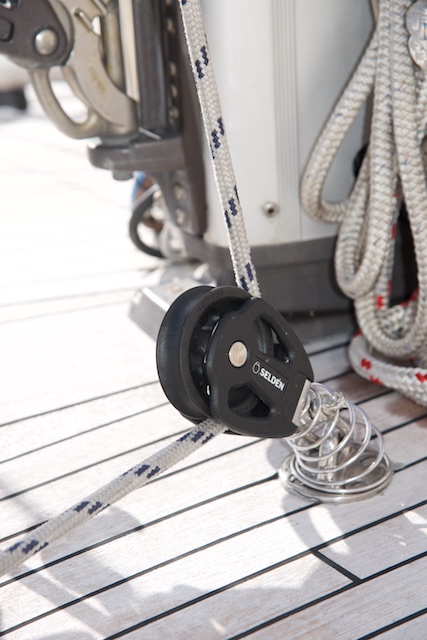 New throwing lines
From MOB Rescue Line I got a couple of new throwing lines in a Man Overboard situation.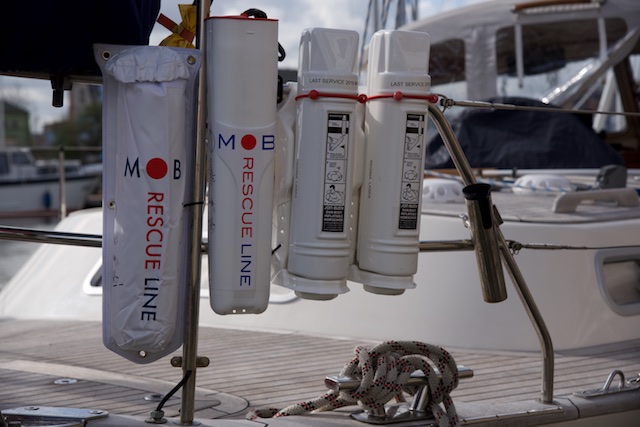 New EPIRB
It might seem crazy, bit it was cheaper to buy a new GPS EPIRB than going through the hassle of changing battery of the old one. My old GPS 40 GPS was replaced by thew new GPS60 GPS from Jotron.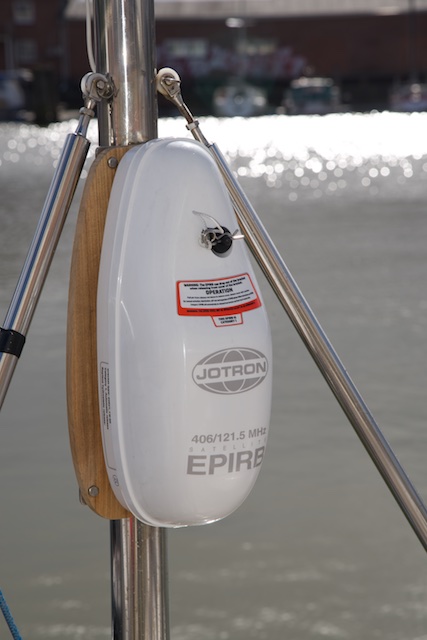 New cockpit table aft of the steering wheel
In order to facilitate more than 4 people around the cockpit table, Carl has built a beautiful table that is easily fitted after the steering wheel. Foto to follow the moment we are sitting in the cockpit to eat. Right now it is far too cold!
New second handset for Iridium Satphone
In order that I can talk on the Iridium Satphone, I have installed a second handset in my berth. Now I can talk both at the navstation as well as in the aft cabin. And: I even can call from my bunk to order some tea from the salon! :-)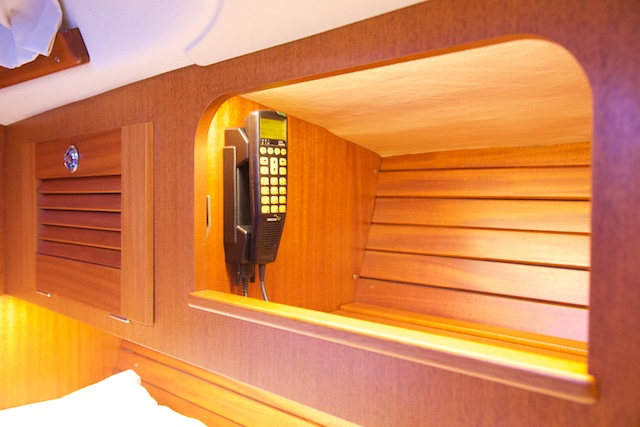 Other items
The SSB Automatic Antenna Tuner has been replaced
Some bulkheads have been added under the floorboards and in the aft deck locker to facilitate stowing
a shelf has been added in the aft deck locker for long items such as boat hooks
fishing gear and emergency tiller
a new shelf has been added in the 230V locker to stow small items
the Relay for the clutch for Pilot 1 has been replaced
the interior has received some touch up and new coats of varnish at places
the carpets and upholstery has been steam washed
the hardtop, outer navtables, the cockpit table and the teak on the pedestal has been revarnished
covers have been built over bolts an cockpit drain that was visible
new cockpit cushions have been bought
the silicone in the heads have been touched up
new shelves for shampoo etc in the showers have been installed
the entire rig has been checked by a rigger
the electric Furlex has been rebuilt and serviced after 15,000 miles
new genoa sheet
the step for shorter guests for steering has been reinforced
new rubber has been put under all the floorboards to avoid noise when walking in the boat
the pneumatic arms for deck lockers have been reinforced
the swimming ladder has been fitted with bolts and nuts rather than being just screwed into the plastic
the aft deck locker has been re-sealed and re-painted from the inside
a new bow sprit for gennaker sailing has been built
the salon table has fitted more strongly to the salon floor
the fridge has received a new better type of sliding baskets
Wichard fittings on aft deck to attach a harness when going down on the bathing platform
new Whishard fittings on deck to stow the dinghy on deck at ocean passages
new propeller for the outboard engine
new fender board
new storage area for the harnesses to be reached from the cockpit
the outer barbecue has received a new valve in the gas locker
the exhaust elbow has been replaced on the main engine
the steering has received new links to get a more exact feel when steering