Cyndy and Ross Moncrieff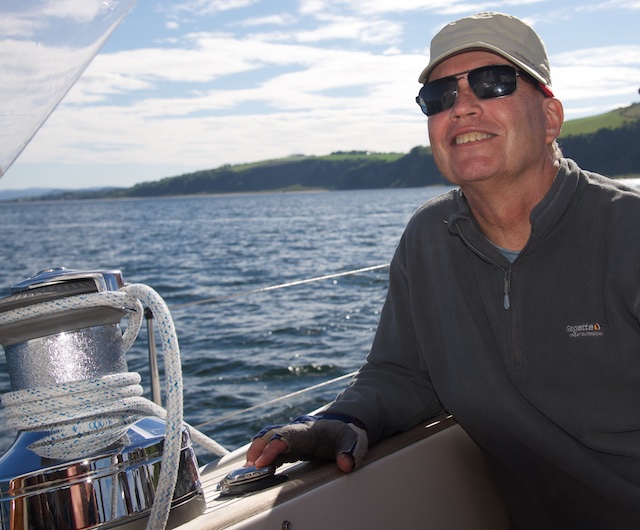 "Choosing to sail with Leon this year began with the conclusion of our trip in 2014 – we had walked the West Highland Way from Glasgow to Fort William before taking a train down to Oban and sailing with Leon around the Western Isles. Our time together was so positive we knew we had to repeat the experience, albeit with a new twist. This time we walked from Fort William to Inverness along the Great Glen Way, before joining Leon in Inverness to sail to Shetland , where we hoped to find distant members of our family (my grandfather emigrated to Australia in 1921).
"Our adventure with Leon began during our walk, somewhere along Loch Ness, when we were walking up on the high trail above the tree line. After reaching the summit, we sheltered behind a wind break made of local stone, and prepared a quick lunch. It was blowing a gale, and difficult to stand against the wind outside of the windbreak. As we repacked and hefted our back backs, I took a quick peak over the top, looking south down the loch. In the distance I could see a small sail – the only boat we had seen on Loch Ness that day. 'That'll be Leon for sure', my wife said, 'He's the only one brave enough to sail out there today!'. I took a photo with my iPhone, but the sail was no more than a pixel or two in size, so even when stretched out, I couldn't be sure it was Regina Laska.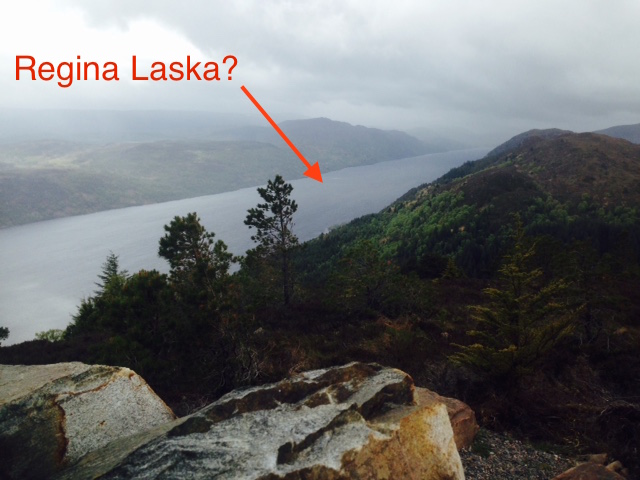 "Cyndy, who has the most acute long distance eye sight, peeked over the top with me. 'Yep, that's him', she declared.  We set off on our decent, and after 15 or 20 minutes came down into the tree line, just in time to catch site of the yacht abreast of us through the trees. This time we could get a larger image of the yacht, and as Cyndy stated, it was Regina Laska, barreling up the loch under a genoa!
"Meeting up with Leon in Inverness was like greeting a friend not seen for a long time – we had a lot to catch up on, and lucky for us the tidal gate outside the loch prevented us from departing the Caledonian Canal until mid afternoon.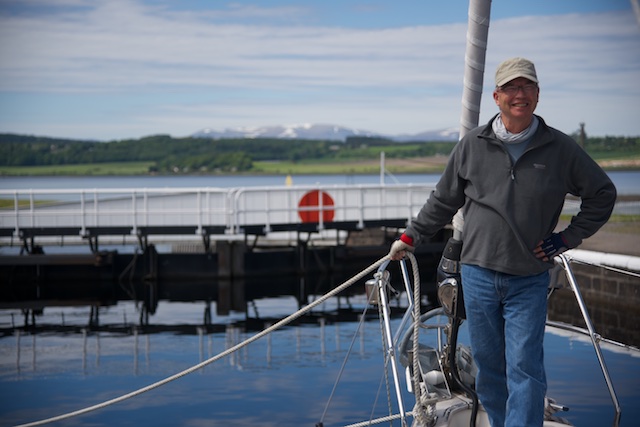 "Our voyage was a port hopping exercise, with stops at Cromarty, Wick, Kirkwall (Orkney), Fair Isle, Sumburgh and finally Lerwick (Shetland). No matter where we moored for the night, Leon seemed to know of a special feature that made our journey a series of insights to life in these northern environments. For instance, our evening in Kirkwall was spent at the Reel, a small café/bar that hosts live music in the evening (we were the last to leave after midnight). This we came to realise, was just a warm up for 'the real thing' in Shetland at the Lounge in Lerwick a few days later!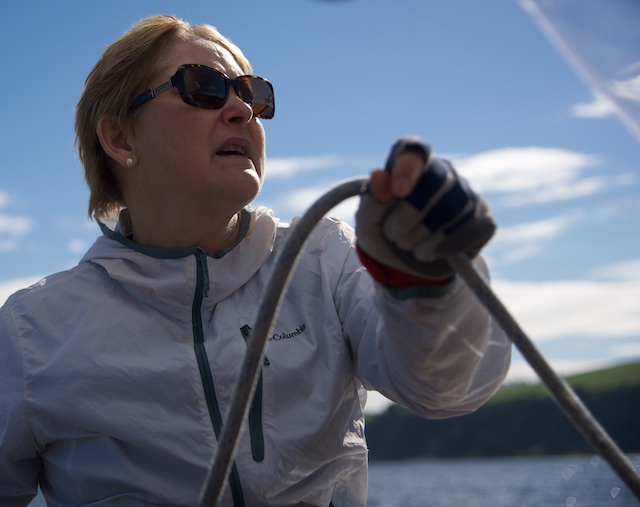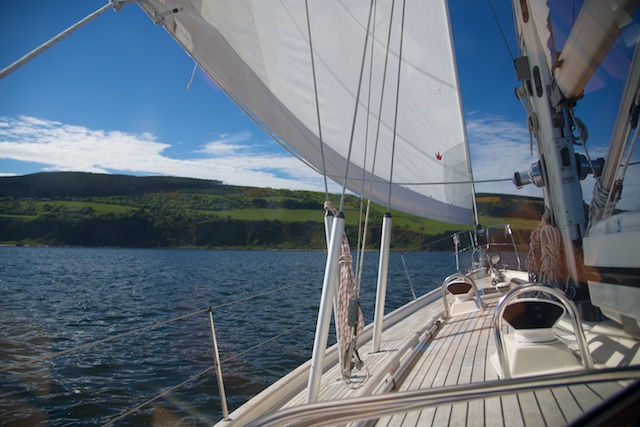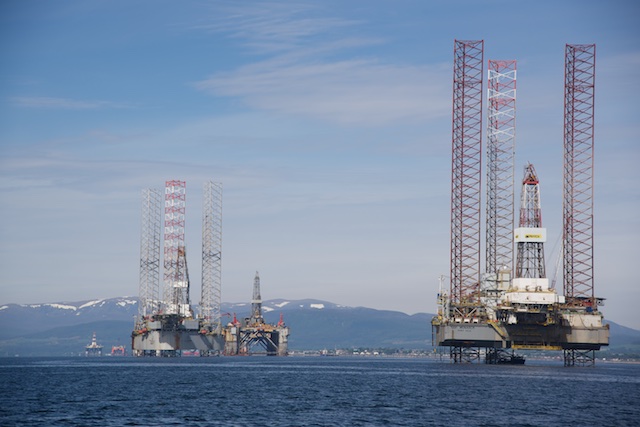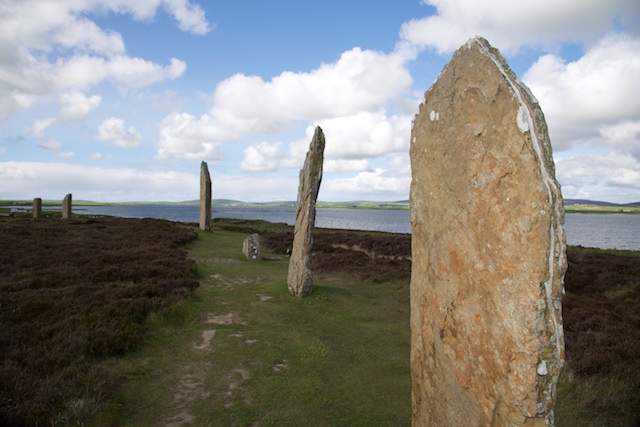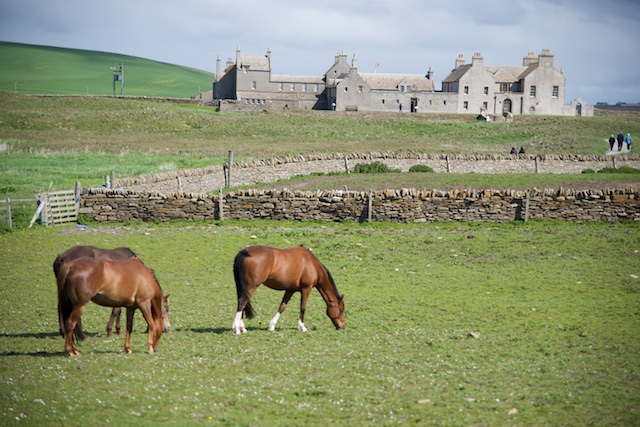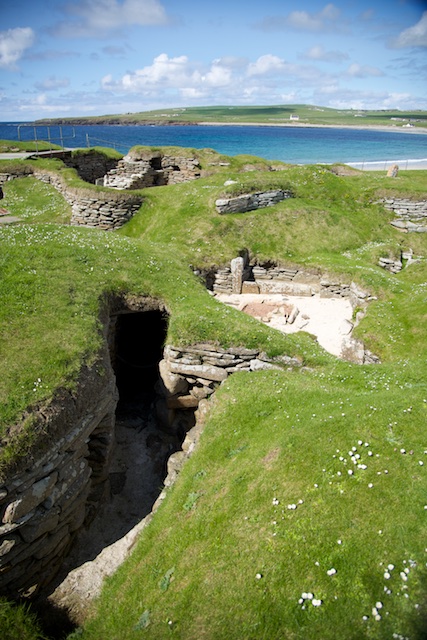 "Early on in Cromarty, we came across a cruise ship in the firth. It was an ugly example of these structures, composed of endless cubicles stacked up and along the hull, and topped off with a gigantic TV screen in case boredom sets in.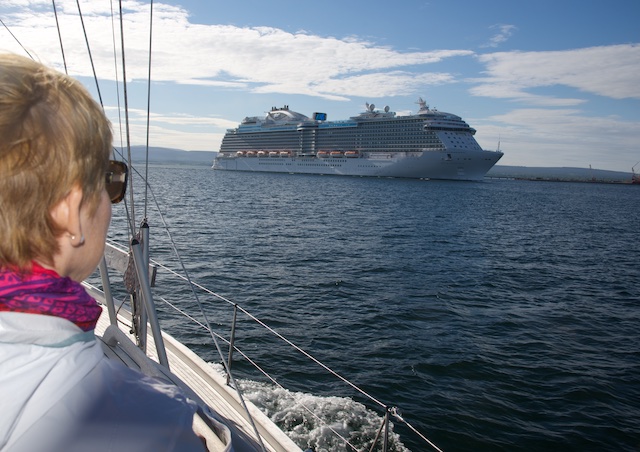 At first glance it reminded me of the ships used in Northern Australia to ship live exports of cattle to Indonesia, so I innocently asked Leon where the cattle came from around here. In his inimitable fashion, Leon reminded me that in Europe, the live exports were referred to as 'humans' and this was called a 'Cruise Ship'! Later in Orkney, another of these floating cities berthed overnight, and disgorged its contents onto the unsuspecting streets of Kirkwall. The press of people in the small streets made it difficult to get about, in stark contrast to the previous day when it seemed the town was barely populated. We took shelter back at the Reel, in order to get lunch, and scored a small table to sit at.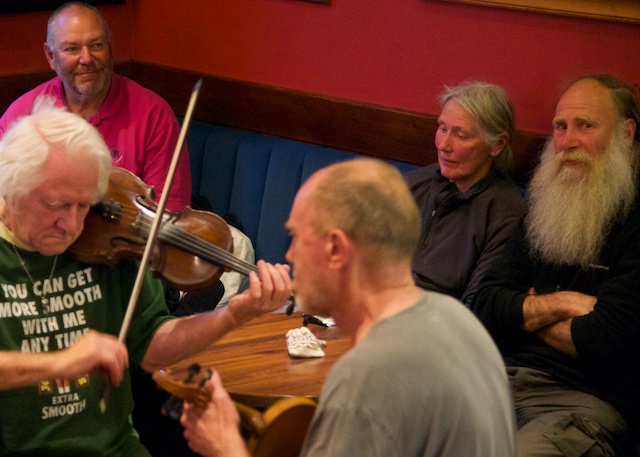 The café was packed to the rafters, and I found myself with my left ear between Leon and Cyndy, and my right ear between two passengers from the cruise ship. While Leon and Cyndy discussed the music we had listened to the night before, the two passengers discussed the merits of retriever dogs – apparently there is a rule that competing dogs are not to wear any adornment, yet one of the passengers was greatly aggrieved that her dog had lost a competition to a dog with a bow in its hair.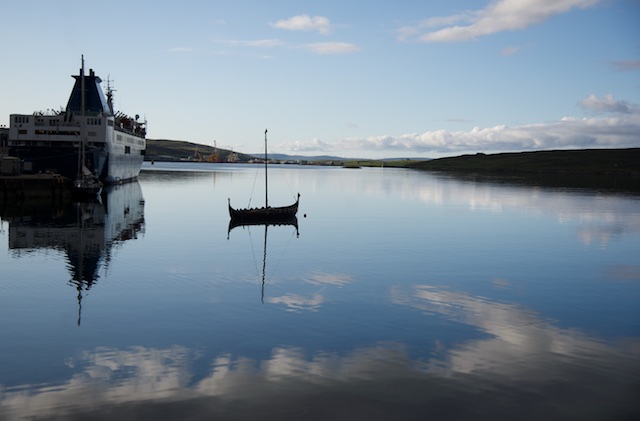 "On reflection, this incident encapsulated the essence of sailing with Leon. On board Regina Laska, we were treated to a hand crafted voyage, tailored around our particular preferences, and augmented by Leon's local knowledge, while all of the time, progressing from one port to the next onboard a very comfortable and expertly sailed yacht. In contrast, the passengers on the cruise ship were just dropped off in one place or another, and obliged to find their own way – small wonder they had reverted to discussing unrelated matters.
"The sailing was also wonderful. Regina Laska is such a mile eater, and with push button controls, so easy to keep moving in changing conditions. This ability came to the fore in the Pentland Firth where we were caught between our preferred course to beat the tide and currents, and the approaching bulk of a north sea oil tanker, who called us up and made it clear he was not going to change his course! By shortening sail (all from the cockpit), we eased in behind the tanker and kept our bearing, while clearly signaling to the tanker's skipper we were taking action to avoid a collision. Sailing further north, between The Orkneys and Fair Isle, then on to Sumburgh and Lerwick set the mood and scene for us as we went 'a –Viking' for our relatives in Shetland.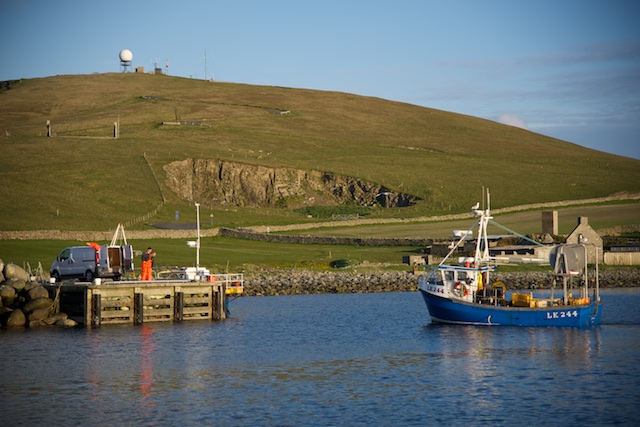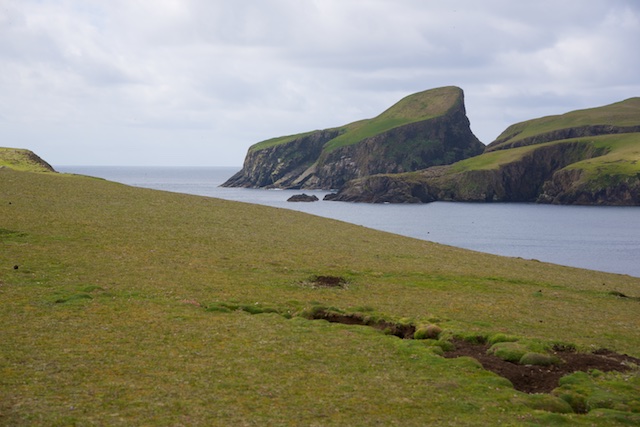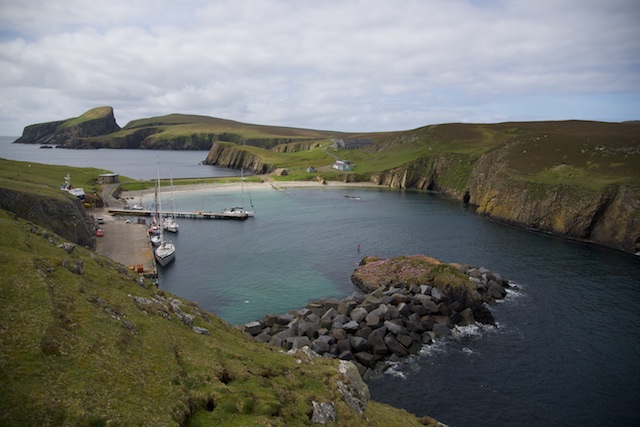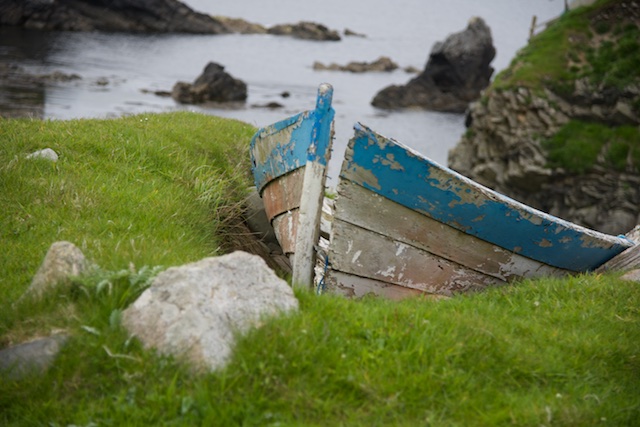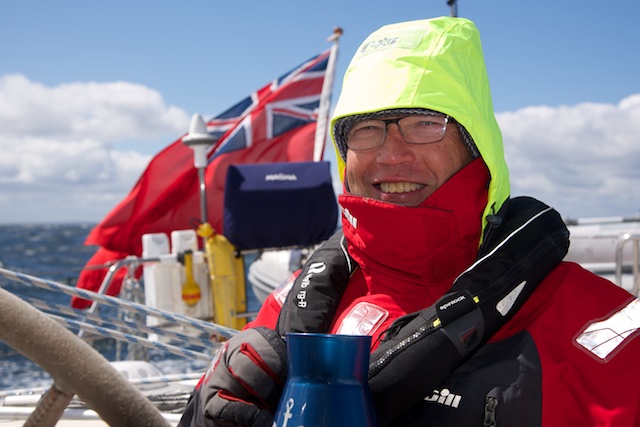 "… and find them we did! A day spent at the Shetland Museum, and two days of knocking on doors resulted in us locating two brothers in Aith, whose great, great grandfather and mine are the same. Better still, we left with a hand shake and a promise to meet up again, rather than reverting to our Viking heritage and laying waste to the countryside!!"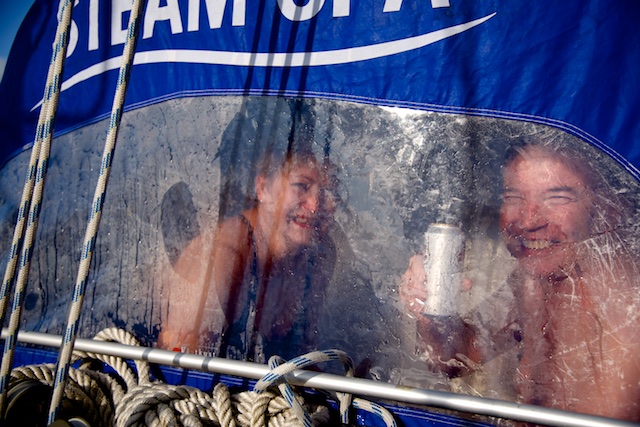 Cyndy and Ross, Australia, travelling half way around the world a second year in order to sail Leg 8-2015 onboard Regina Laska, this time Inverness (Scotland) – Lerwick (Shetland) via Orkney and Fair Isle