The engine room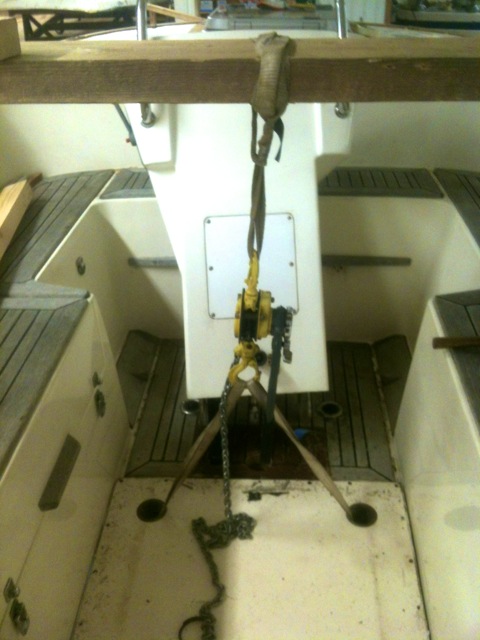 Taking it all out – and putting it all back in again (including a sauna!)
When the motor guys looked into the old engine room of Regina Laska they expressed one big request: To take it all out and – to start all over again. They made some estimates and after a short discussion, we all agreed on redesigning the engine room. This would become much more efficient (i.e. less expensive) and look much neater in the end than trying to fix up the old one. There would also be more space for the technician to work in, and I believe it is important to feel joy while working, instead of swearing over a cramped engine room.
First of all, and before taking it out, we were all eager to test the Volvo main engine. Would it at all start? Hopefully we could save it! To begin with, we just wanted to see if the electric starter motor still worked. So we gave it a short electrical shot for a fraction of a second, just to see if the electrical starter engaged in gear and would turn. Without even attending to start the big diesel, the Volvo was already up an running! Old Mr Volvo seemed more than happy to finally get turning again after two and a half years of hibernation.  None of the involved technicians could have dreamed of the engine starting on this short pulse!
So far – so good.
With the main engine in perfect condition, it could be taken out through the cockpit floor, which is easier said than done. One needs to know the "secret tricks" how to open the bespoke hatch for the engine room, since the cockpit floor is firmly glued into the boat with Silicone and, even worse, the steering pedestal is standing in Sikaflex on top of the opening.
So first of all, the pedestal had to be removed and then a rope was lead through the cockpit drains in a loop. Slowly and with increasing brutal force, the cockpit floor was lifted.
With the cockpit floor open, one could look down onto the engine and get access to the lifting points. Luckily, the cockpit floor on a HR46 is large enough to get the main engine through without dismantling it first. Apparently, on a HR48, it is not as easy, since the floor is more narrow than the engine is wide and a Volvo D3-110 fitted in a HR48 first has to be dismantled in order to get it through. On Regina Laska it was a straight forward task to lift out the whole engine in one piece.
With the engine out of the boat, work became much easier. First of all, the access around the free-standing engine allowed for a very comfortable servicing. Secondly, and more importantly, working in the engine room become so much easier.
Talking of it…., the main engine did not need much service, actually, since the previous owner had kept the engine in a very good condition, having exchanged all possible service parts in 2006. Only the oil cooler for the gear box was corroded due to the salt water and needed to be replaced for a not-so-cheap price. Volvo Penta does know how to charge for original spare parts! Ouch!
Then, the Volvo was washed and cleaned and prepared for the re-installation, including the new SpeedSeal Life impeller kit, new rubber feet, a new silencer for the exhaust, new filters, a Centaflex anti-vibration coupling, a new shaft seal, an extra zink-anode to protect the propeller from inside the engine room and an Ambassador Rope Cutter. Finally, some welding was necessary on the engine in order to prepare it for the new High Output Alternator (HOA) by WhisperPower in order to get maximum electrical charging power when running.
Looking down the hatch through the cockpit floor did not give the best of all impressions after the engine had gone. Oil and dirt could be seen, and this is not how I'd like an engine room to look like. An old household-trick did it this time: It's impressive what can be done by means of water, detergent, a sponge, some sweat and finally new paint.
With a clean and empty engine room, it was a joy to start assembling all the new equipment! It's like building a new boat, whereby the layout of the engine room can be influenced by the owner in close co-operation with the very experienced team of boat builders I am working with. Hence, all filters, pumps and other serviceable parts are placed close to the entrance to the engine room in order to allow for maximum ease of service. Even the impeller on the Westerbeke generator got a special service hatch from the aft shower room. Thanks to the SpeedSeal impeller kit (installed on both engines) changing the impeller is a piece of cake.
Hallberg-Rassy's have a very practical feature: The floor in the cockpit locker is removable and acts as yet another hatch just above the space for the generator. This makes installation of a generator very straight forward with optimal access from above.
With the generator in place, we could begin to feed the new fresh-water and waste-water hoses, install the new through-hulls, hang up all new filters on the walls, fit the pressure expansion vessel, the new holding tank for the toilet and the watermaker with its pumps and pipings. More or less everything is new in the engine room, except for two things: The water boiler had been recently replaced by the previous owner and the two Webasto diesel heaters were, instead, sent to a service shop. They took the heaters apart and replaced any replacable part available for a cost not far from two new heaters… Grrr!
Sadly enough, most yards in Europe use standard brass as their through-hull material these days. Brass contains zinc, which is a metal that is easily "eaten up" by galvanic corrosion. This is also the very reason why zinc is used as anodes in order to protect other, more noble metals onboard. The zinc is scarified and must therefore regularly be exchanged in order to protect, for instance, the propeller or the bow thruster.  However, I don't want to use our though-hulls and sea-cocks as anodes!
Possibly, this is only a psychological factor. Anyway, I would not sleep well knowing that my through-hulls contain zinc. Interestingly, I am not alone with the opinion that brass should be avoided under the waterline and that bronze is the material to use instead. Especially in the United States, it is much more common to use through-hulls made of real bronze, especially on high-end yachts. Bronze is somewhat more expensive than brass, but does not contain any zinc at all. In the old days, it went without saying that all boats were equipped with nothing but bronze under the water line. Why not any more today?
I have spoken with several yards about this issue and I get widespread answers. Some renown yards claim they do not know of any problems with their through-hulls. Others say their brass is of a specially good type while they do not want to reveal the exact type of alloy they use. An answer I find understandable is that if they would change (back) to bronze today, the yard would get into a situation where it needs to explain to customers why the previously used material suddenly is considered not good enough. Finally, many yards don't want to change something that – in their eyes – has worked fine for many years, and think this debate of brass contra bronze is merely academic. Again: understandable.
So, all good reasons, but not on my boat, please! It might work well on most yachts, but boats get older and how many owners are aware of the fact that brass has a limited life-span? Surfing the internet, it is becoming an increasingly hot topic among discussion groups, since many sailors do not know what they have, brass or bronze. Or even worse: Many boat-owners on the forums have been under the impression that their through-hulls were made of bronze but now learn that they are made of brass instead. I think it is better to make no secret out of it, and to say how it is. After all, your through-hulls is a very important safety issue.
And if you are like me and only believe in the best, then it is better to change the through-hulls. It might not be necessary on your boat, but I don't want to take the risk on mine.
As we could see on our own boat, Regina Laska, brass can lead to problems, nevertheless. In one case we could kick off one of the through-hulls with our bare feet, so weak it had become. Some more years, and it had certainly become a threat for the boat's safety, even without kicking! Strangely enough, many of the other through-hulls still had a fair amount of material left. But how can you tell which through-hulls will last and which ones will not? I would strongly suggest any boat with through-hulls older than 15-20 years to check these or, even better, to change them.
The weak through-hull on Regina Laska might be a result from the fact that this particular boat had possibly been connected to shore-power for too long without the so very important isolation transformer installed? If you buy second hand, how can you know for how long the boat has been connected to shorepower? And which harbour has a faulty earth leakage, anyway?
For me, a good solid through-hull is a very important safety feature and, in all honesty, I cannot think of any reason in this world why not to use the somewhat more expensive but so much stronger bronze alloy for underwater through-hulls.
Since Regina Laska is to be commercially coded, fire-safety is of utmost importance. In other words, the engine room will  have its own fire alarm system as well as a piping system to lead the CO2 from the 10kg bottle placed in the cockpit locker above into the sprinklers over the engine. From a switch placed in the cockpit locker the fire extinguisher can be triggered remotely.
In addition to that, all pipes leading to a through-hull are either made of metal or are covered with a special orange fire safe outer hose. In case of fire in the engine room, the pipes can not melt or burn which otherwise would allow sea water to penetrate into the boat and sink the boat.
The wonderful thing about a refit is that nothing is impossible and only fantasy is setting the limits to what becomes possible. I know it might sound crazy, but the fact is that we will have a sauna onboard. Don't laugh! Come and try it out first, before you reject the idea!
In all honesty, I am not sure whether this will work or not, but I couldn't resist the idea to give it a try. The world's leading sauna manufacturer, Tylö, has developed a special prototype for a steam sauna for Regina Laska to exactly match our boat's power supply given by Whisperpower. The sauna project is lead by Båtsystem, who is renown for its innovative approach to things. The very compact sauna unit is installed inside the engine room and steam is then lead via a pipe into the cockpit.
Aft of the steering wheel in the cockpit, there will be a small tent for 2-3 people to enjoy the steam sauna, overlooking the archipelago through a large window pointing aft. Swimming from the boat's transom and showering on aft deck is part of the sauna experience onboard Regina Laska. Come and try it out!
If this innovative idea to have a sauna onboard turns out to be successful, Båtsystem plans to turn this into a commercial product, easily retrofitted on most boats. If you lack an engine room, the small 3 kW sauna unit can be placed also in a cockpit locker and the tent can be tailor made to fit most standard boats.
I must admit: I am a bit skeptical myself, but I'm really looking forward to testing the sauna and will, of course, post my experiences on this site.