Torsten Lange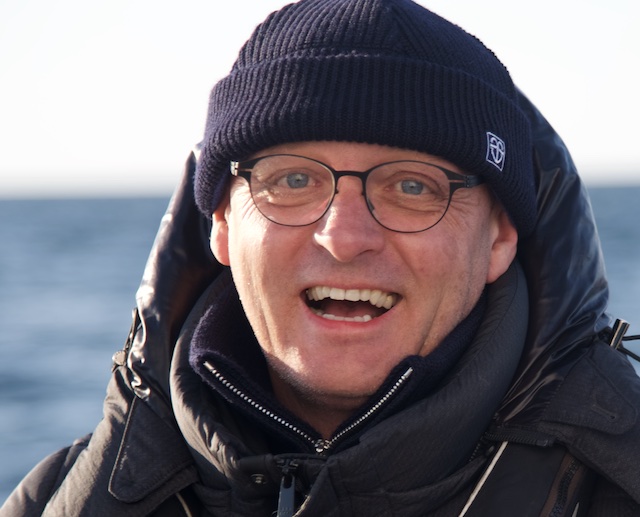 There was no Nutella onboard! 
What a voyage! What a start into the season of 2019!
My trip to Vindön was perfectly prepared by Leon thanks to an easy to understand joining instruction, suggested packing list and some valuable information about the life onboard.
After a hearty welcome onboard the equally perfectly prepared Regina Laska, my sailing vacation with learning character could begin...!
What makes travelling with Leon so unique are all the wonderful, great and interesting people you meet through Leon – be it the fellow crew onboard or all the people we just "happen" to meet along the way. Leon seems to know so many people. Or is it the other way around, that so many people know Leon?
And the great thing is that it doesn't have to be a sail training on Regina Laska all the time. Just to voyage onboard Regina Laska is a privilege and is so much fun; even without learning anything!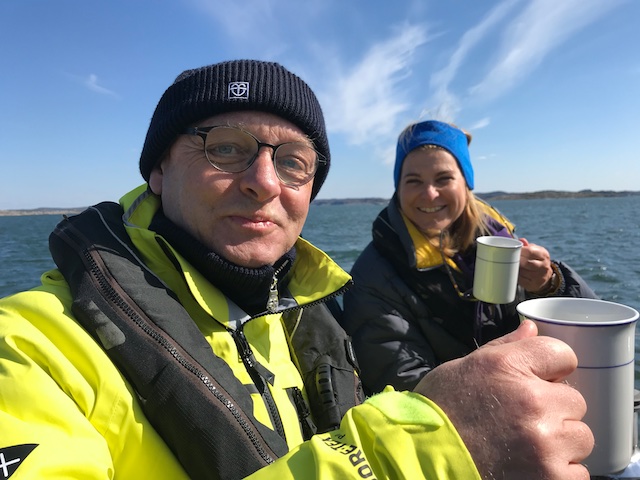 Already on the same day, we sailed to Ellös and the Hallberg-Rassy yard. What a dream destination! Leon had organised a private tour through the yard and this was already the second highlight of this trip! I was deeply impressed by how they build these yachts, even as a non-devoted HR-disciple. But I am quickly becoming one…!
If the Hallberg-Rassy yard was the second highlight, what was then the first one, you might ask? Well, it was the highlight that repeated itself every evening: Leon's cooking is legendary! Whether fish, meat or vegetables, it was all so very tasty and a dream to enjoy after a cool day's sail.
And the breakfasts were no less wonderful and tasty, often accompanied by wonderful music. This is how a sailing day can commence...
...but, there was no Nutella!!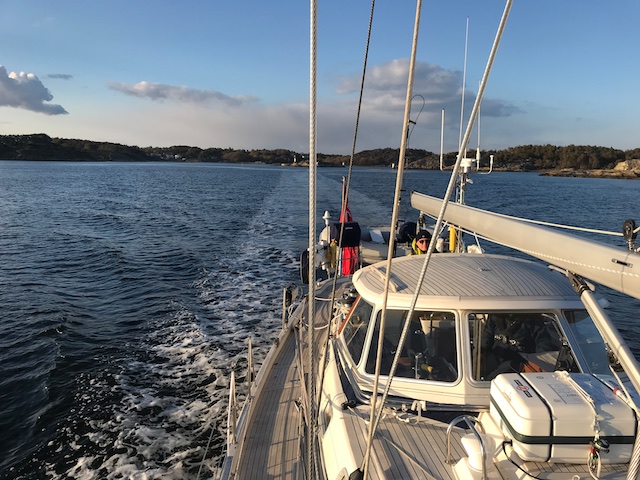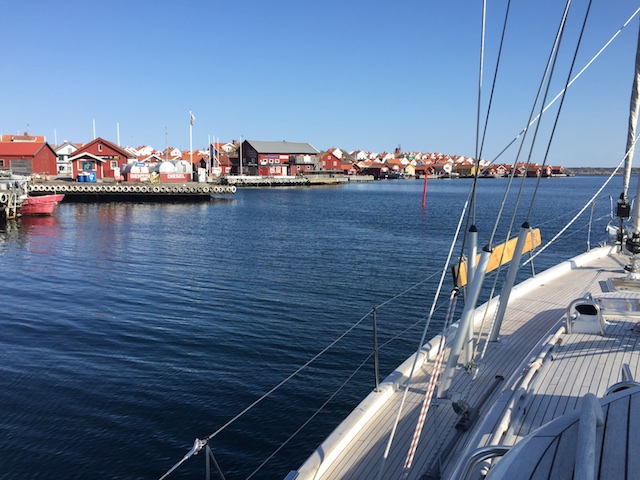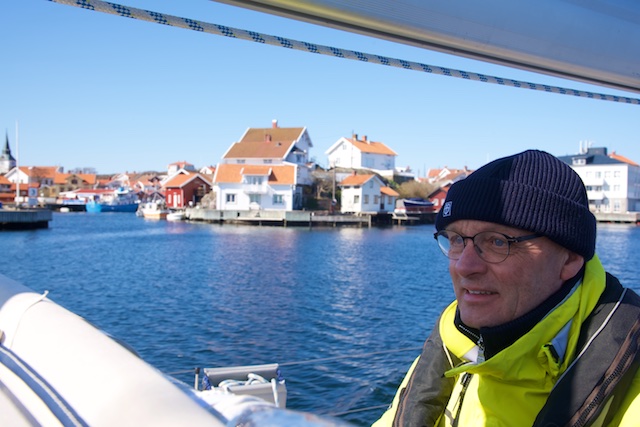 The following day was like taken out of a brochure for the Swedish archipelago. Fantastic landscape, great small fishing harbours, small villages on the islands – a truly interesting and unique sailing ground!
And then: The absolute highlight could never have been imagined in our wildest dreams:
Hardly had we anchored in a wonderful bay behind the Onsala-peninsula, Leon began rigging his onboard sauna. What an experience! Outside a mere 5°C and inside the sauna 45°C and 100% steam moisture, a cold beer!  And thereafter: again one of the legendary meals onboard!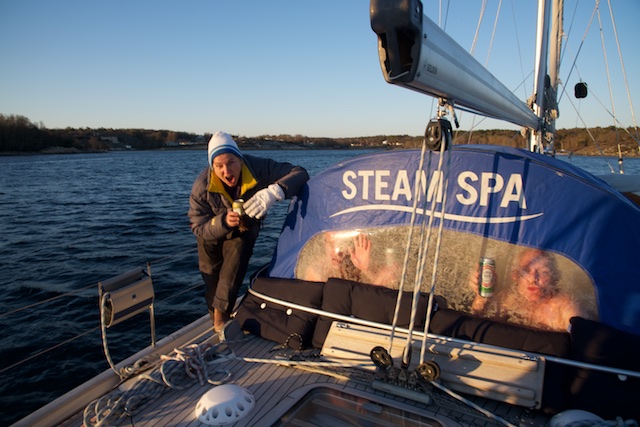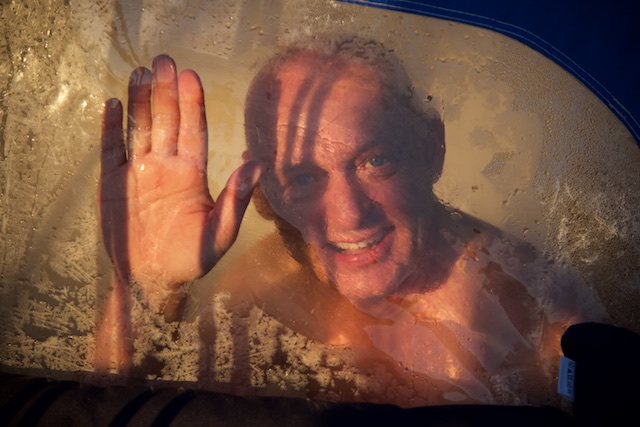 But, there was still no Nutella onboard!!! 
And there she finally was: The Öresunds-Bridge! One of these experiences triggering a very special feeling. Impressive and quite challenging sailing-wise, with a lot of traffic in the Öresund, currents and unstable winds (especially under the actual bridge).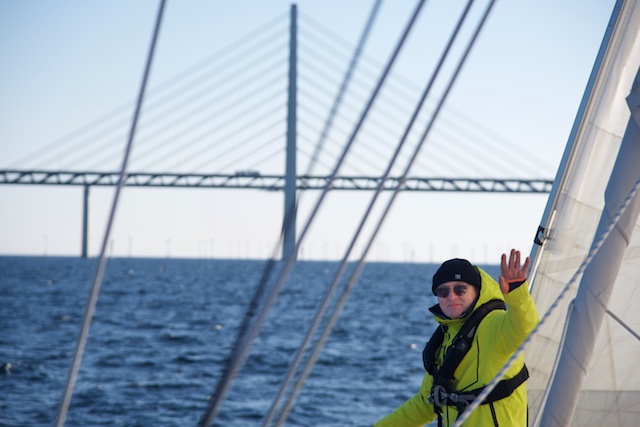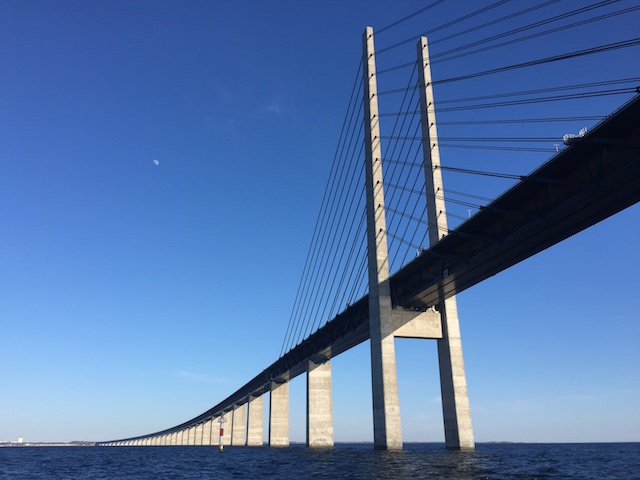 On the next morning, we continued our voyage, again in fantastic weather and perfect winds on our way to the Lübecker Bucht, our destination. Neustadt was an ideal port to arrive to and formed the end of this first trip of mine onboard Regina Laska.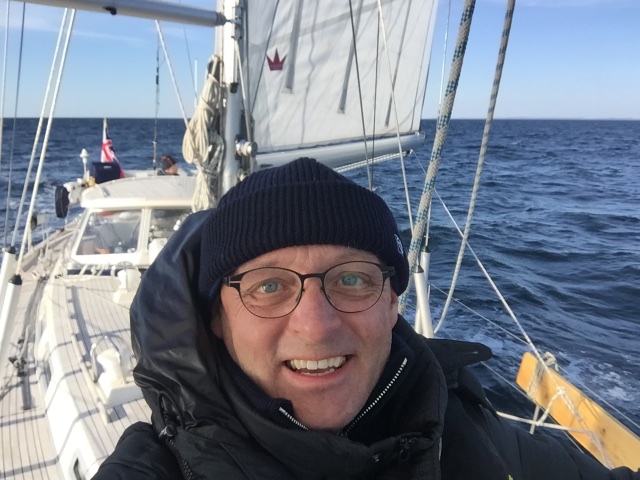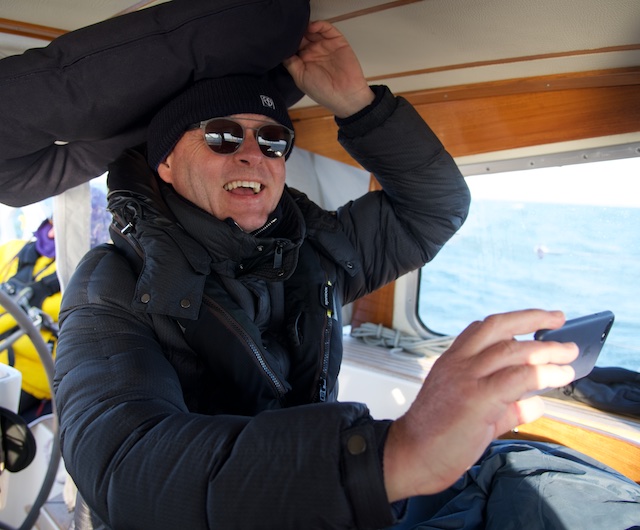 This sailing week definitely increased my desire to come again, continuing to find the secrets of Regina Laska. This time, 
I really checked everywhere onboard , but no Nutella!!!!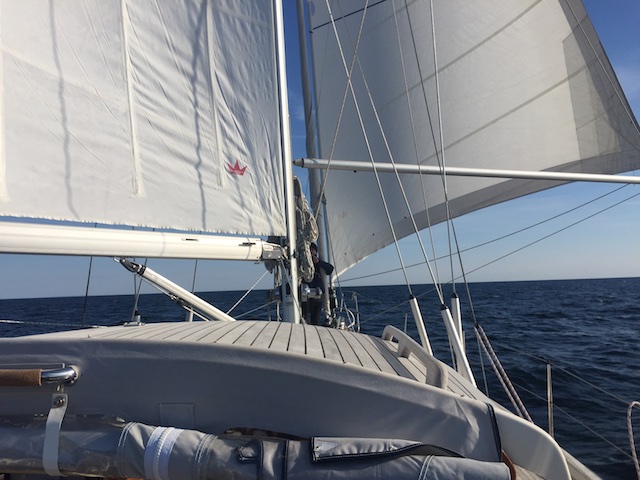 What I don't want to miss to mention is the educational part of the voyage.
Obviously, there are a lot of competent sailors around, but what makes Leon so special and outstanding is his didactic qualities. There is no-one who I have ever experienced who can  explain issues in such an easy and understandable, yet fun and rewarding way! Whether it being meteorology, downwind sailing wing-by-wing, setting the preventer, the perfect anchor manoeuvre or, as our special educational highlight, navigating with the sextant!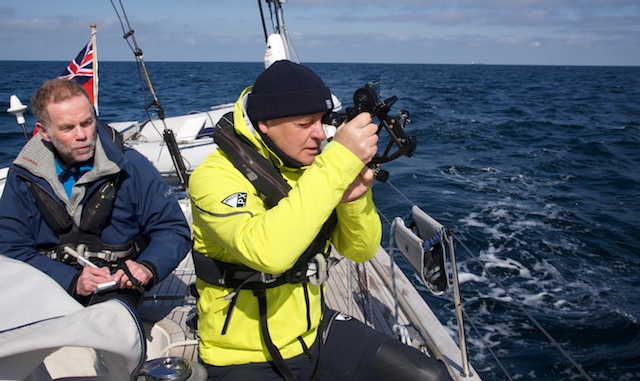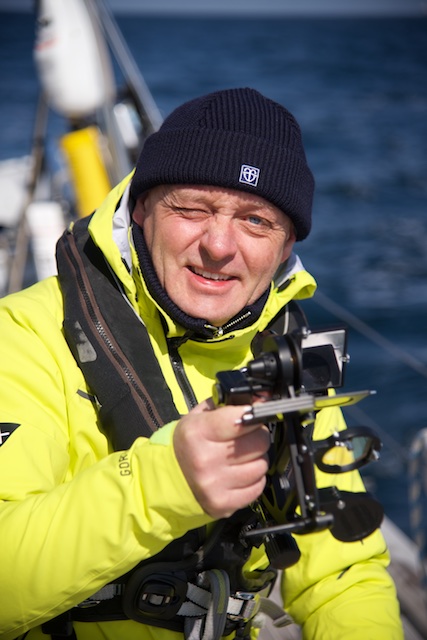 During the practical sail training, Leon creates a sort of "cozy cocoon" onboard, in where every student can move safely and feel so comfortable, while making great learning leaps forward without even noticing it!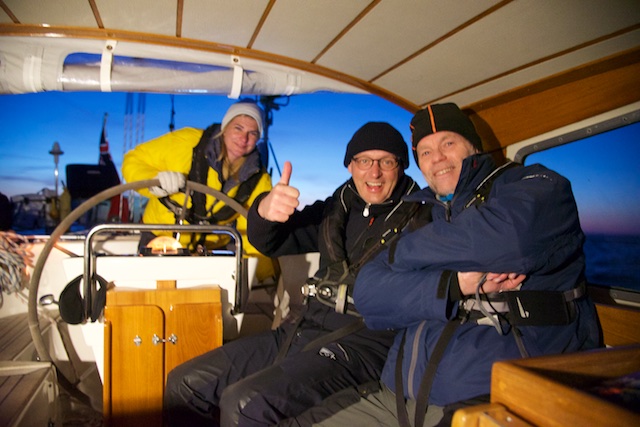 I am really looking forward to next time. And then, I will bring my own
Nutella!!!!! 
Torsten Lange, Germany, joining on Regina Laska for the first time during sailing leg 1-2019 from Vindön, Sweden, to Neustadt, Germany.