William Testimonial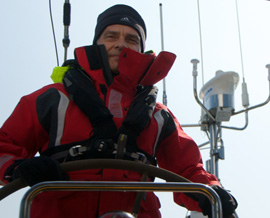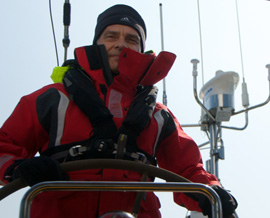 I had the pleasure of participating on a cruise with Leon and Regina Laska from Stavanger (Norway) to Lehrwick (Shetland) May 2014. We simply had a wonderful trip: scenic cruising in Norwegian fjords, the beautiful cities of Stavanger and Haugesund and Utsira (a miniature island being the country's smallest municipality with 200 inhabitants). This must be close to perfect waiting for favorable winds across the North Sea. Leon has the right combination of sociability and skills as a host to make us, the crew/guests feel at ease both with each other and the boat. He is, in addition, a born teacher making us all confident even berthing this large and heavy boat ourselves.
The North Sea can be a handful and we had quite a stiff wind most of the way. Here the skipper proved his worth by always being alert with respect to the weather and ocean traffic. I have sailed with several experienced skippers in order to gather knowledge and experience for myself, but Leon really stands out. His scope and depth of knowledge of how to skipper and live a sailing yacht is really impressive.
The boat is an extremely comfortable cruising safety machine. Every incident imaginable is thought of and provided for, and then doubled and even tripled in some cases. Add to this ample space, ambient light down below, an espresso machine, constant heating, and a skipper who can cook. I had a wonderful time and learned a lot, even though I regularly sail my own boat and crew with others. I enjoyed it so much that I jumped on the chance of doing another trip with Leon this same summer in Scotland, even bringing my wife this time. That is the probably the most sincere endorsement.
William Brochs-Haukedal, Norway, HR342 owner, sailing Leg 2-2014