Michel Leuenberger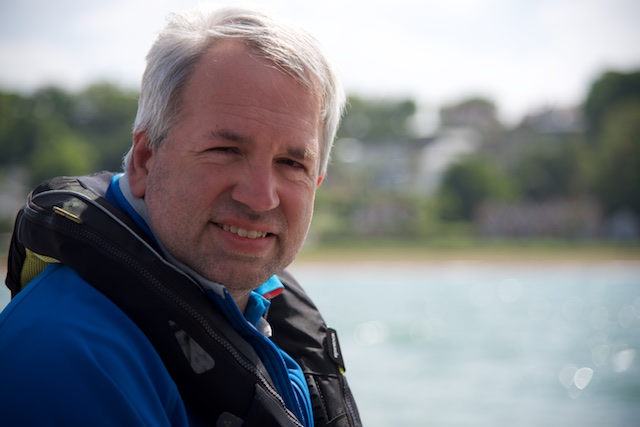 .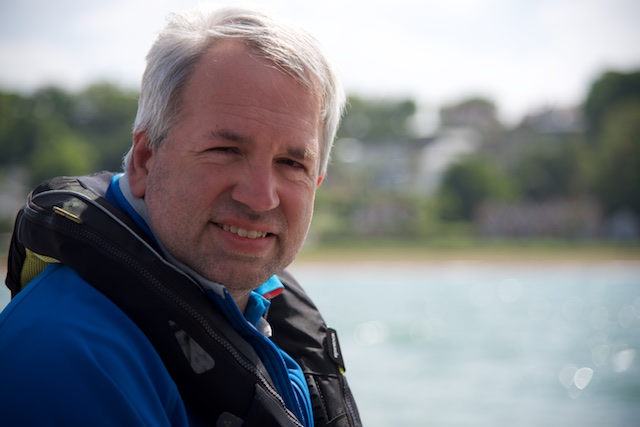 This was to become already my third time with Leon onboard Regina Laska. In 2017, however, it would be significantly different and a real personal challenge for me: After having crossed the North Sea and the Bay of Biscay with Leon in the previous two years, I would joined an RYA Yachtmaster Prep course from Cuxhaven, in Germany to The Solent, UK, where a two day Yachtmaster exam with an official RYA examiner would wait for me!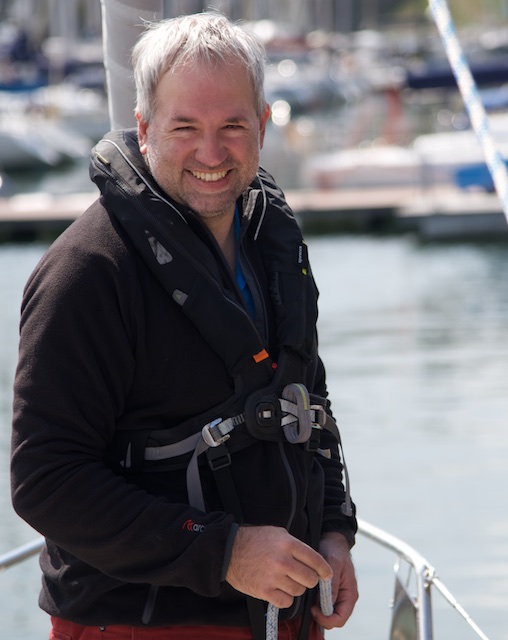 During the months preceding the course Leon did not miss any chance to remind us get adequately prepared for the course, especially, since I had not participated at his theory course in Malta, due to work obligations. He therefore told me several times, I should repeat the theory, especially all the ColRegs. I must confess: I arrived with a deep feeling of bad conscience since, of course, I hadn't done my homework…
Already on the first day we left Cuxhaven towards The Solent. The voyage was exciting, to say the least, since we had long legs including overnight sailing and encountered strong tides and large ships along the German and Dutch coast.
With his huge knowledge and incredible patience, Leon had the goal to teach us more than actually necessary for the exam. He simply wanted us to know it all and especially to understand why certain things are as they are.
Leon's profound knowledge and vast experience in every aspect of sailing, such as technical issues, equipment, seamanship, weather as well as crew communication and leadership, motivated me so much! This was so different to learning in a classroom! Leon uses context to construct a meaning to every bit of sailing. It was so exciting and hands-on and everything came to life when one actually lives what you learnt. To give a meaning to everything is one of Leon's big strengths.
What we all learnt onboard was to handle a beautiful Hallberg-Rassy, eventually being able to manoeuvre her in any thinkable situation. Classic navigation played a major roll during the course and it feels good now to be able to use this basic method of navigation, should the GPS or plotter cease to work one day. Besides, it was fun to learn as well!
Actually, it was very fascinating to experience how accurate classic navigation in fact is, if you know how to use it – even arriving safely to distant shores.
Eventually, the exam's day approached much faster than anyone onboard had wished for… Our uncertainty and nervousness grew significantly! I admit that I felt I was standing in the way for myself. Two days before the exam I was seriously considering to give up and just to crew for the others, without taking the exam myself.
I wish to thank our great crew, which had grown together to a wonderful team. We had become a united group and were supporting each other in such a nice way! So it became a joint decision on the night preceding the exam that we all would go for the exam, no matter the outcome! The most important impact Leon had, of course, who never ceased to believe in us and encouraged us that we, at least, should try. He claimed this was just an opportunity to demonstrate our sailing skills, nothing more. Nobody would care if we failed, he promised. That was easily said, since I knew that so far, none of his students had ever failed. Would I become his first ever student to fail? I didn't want to spoil his statistics, but Leon didn't seem to care about that either. He just continued to encourage us by giving his never ending flood of positive feedback, while he always found some room for improvement and fine-tuning…
If there is anything I could sum it up by, I would say that Leon gives confidence and a belief that we actually can do it and we should at least try! Everything seems so feasible and easy und uncomplicated when Leon talks! And there is no alternative and you just have to believing him!
Yes, we did it all in the end! For me, it was a privilege doing the exam together with our examiner Allan, whom I really liked!
I would like to thank you, Leon, for your never ending patience and your very own personal way to explain extremely complex subjects (such as weather) in such an easy-to-understand way! I am aware of the fact that these two weeks must have been extremely exhausting for you, Leon. Your "Fingerspitzengefühl", meaning your intuition and your very special feeling for everything onboard, was unbelievable and I don't understand where you take all your energy from, always having an encouraging word for each and everyone of us! The positive atmosphere onboard is always present. In the end we all believed that we possibly would be able to pass the exam! And we did!
Not to forget: The magic wonders your create in the galley and your wonderful way of being a host – or rather a real friend – letting us experience true "safety, comfort and style". It all leads to an unforgettable time onboard. I came home changed the first time onboard Regina Laska, I was overwhelmed the second time and, Leon, you did it again! Each time becomes an unforgettable experience onboard Regina Laska!
Thank you, once again, for everything you have done for me and my family!
Michel Leuenberger, Switzerland, sailing on Regina Laska for the third time, this time Leg 2-2017, Yachtmaster Prep course from Cuxhaven, Germany to Lymington, The Solent, UK