Repairing a Hypalon RIB
Some RIBs are made of the superior material Hypalon, while cheaper inflatables are made out of PVC, which is not as UV resistant and durable as Hypalon. Hypalon is a synthetic rubber and most often neoprene. If you keep your dinghy free from dirt and other grime it will last a very long time, up to twice as long as PVC coatings. Because Hypalon is of higher quality than PVC, and often comes with multiple textures and colours, it is often more expensive than PVC.
The seams of Hypalon coatings are held together with glued strips applied on the seams.
PVC, on the other hand,  is the cheapest material that coats most inflatable boats, and manufacture is easier because it can be welded by applying heat. 
Superior inflatable dinghies made out of Hypalon are: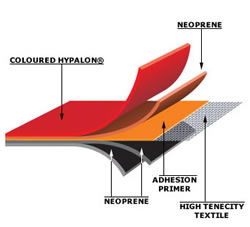 AB
ACHILLES
AQUAFLYTE
AVON (you must check first!)
BALLISTIC
BEAUFORT
BRIG
BWM
CALAGARI
CAMPARI
CARIBE
CHINOOK
COBRA
DELTA
DOMINO
DUNLOP
EUROCRAFT
FLATACRAFT
GOMMONAUTICA
GORDON
HENSHAWS (tube manufacturer)
HUMBER
LOMAC
METZLER (older versions check first!)
ML LIFEGUARD
NOVA JOLLY
NOVAMARINE
NOVURANIA
OSPREY
PICTON
REDBAY
REVENGER
RIBCRAFT
RIBEYE ('S' Series/Larger RIBS only – check first!)
RIBTEC
RIBQUEST
RIB-X
RING
ROBCRAFT
SCANNER
SCORPION
SELVA
SEMPERIT
SKUA
STINGHER
TIDEL
TINKER
WETLINE RIBS (only available as option on larger RIBS – check first!)
XS-RIBS (also manufacture with Hypalon – check first!)
YAM RIBS (different from YAM inflatables)
ZODIAC (pre-1986 models but also a customer option on some RIBS – check first!)
Most other inflatable boats are made of cheaper PVC.
My Dinghy today is a RIB for more comfort and dryness when riding in waves. The Caribe L9 is also made out of Hypalon.  
The problem I have had is the fact that it is chafing against the davits and after a long time of rubbing against the Hypalon, I saw a risk of damaging the material. It didn't really help to cover the davit with some sort of soft material, unfortunately. 
I decided to glue an additional pad onto the hypalon, but how, where to buy and what tools do I need?
I am very pleased to have found RibRight in the UK who sells all sorts of accessories and is also repairing RIB's at their shop in Sommerset on the south coast of England (beware: they are very booked out, however!). So better to order a kit and do it yourself , I thought. 
There is no need for me to repeat what I learnt from their own website, which also has a very good video on how to do it. Their instructions can be found here and their repair kit I bought for Hypalon is found here. Its all complete and it's just to start working using the rule of the 6 P's. The 6-P rule is always valid, which stands for "Proper Preparation Prevents Pathetically Poor Performance". So, it's all about preparation and RTFM (= "Read The F*ing Manual"). 
Following the instructions very carefully (especially the humidity must not be much above 60% and the timing is crucial), I am very pleased with my first result. Since this was a patch on top of a fully working tube, I didn't need to worry about deflating the boat, which is only important if you are repairing an existing hole in the fabric.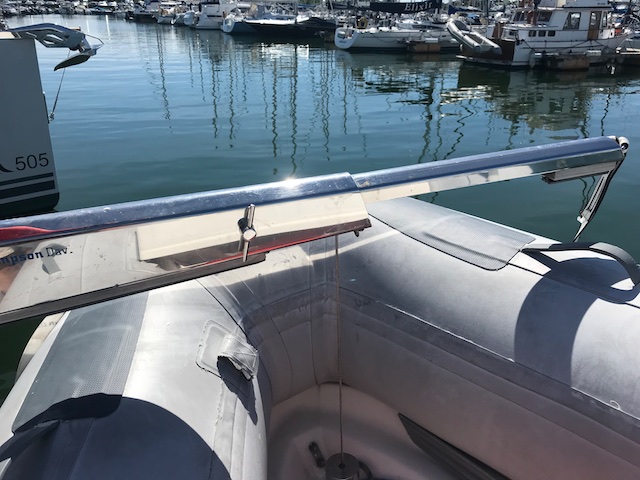 The contact details to RibRight are 
RibRight
7a Coombe st
Bruton,Somerset, BA10OEP
Email: [email protected]
Call: 01225959449
I talked to Ben at RibRight, who was very helpful!