Refit year 6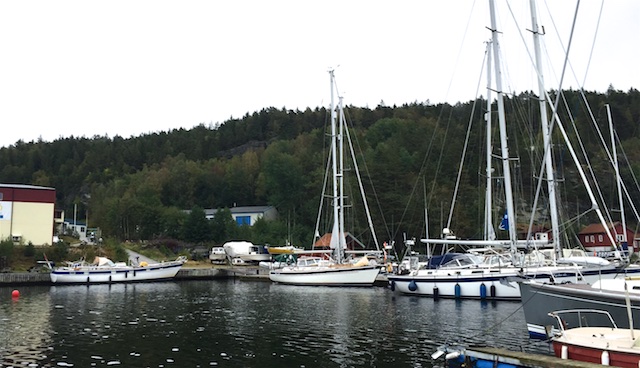 Sneak Preview of improvements for 2018
On 23 September, I left Regina Laska in the good capable hands of Adams Boat Care together with a list comprising no less than 120 points of refit work. This will be her 6th year of refit in the never-ending process of updating, refurbishing and improving an already fantastic boat. At the same time, this is also the 10th anniversary with Adams Boat Care, since, before Regina Laska, I used to keep my HR40 Regina with Carl Adams as well.
10 years of experience with the best people I know to take care of our beautiful Hallberg-Rassy boats!
In the beginning I was one of maybe 2-3 boats that Carl took care of in his free time, while still being employed by Hallberg-Rassy. Today, I never stop becoming impressed by the annual growth of what has now become Adams Boat Care AB on Vindön, Orust. Each time I return, new employees keep greeting me at upon my arrival, as well as a large number of HR's of all sizes coming from all over Europe. Many of the new team members I know from other yards and companies around Orust and I must say that Carl and Anna are really successful in gathering the best people around them. I believe it's the joy of working there that makes all the difference?
The most impressive and surprising view was, however, to see a 50m motoryacht berthed next to all the HR's. This is one of two superyachts who now call Vindön their home port. The other superyacht  is a sailing yacht where the mast is to too tall to fit under the high-voltage cables that block the entrance to the archipelago at a hight I was never thinking of every could block out a boat…. It has to be demasted before motoring into the archipelago and will then come for its refit in due course.
While sharing premises with Adams Boat Care, these superyachts have their own crews working on the boats. Carl welcomes that these superyachts now form part of the marina and is looking forward to a widening scope of boat owners and boat builders that comes with that.
 New engine
I thought I'd post some of the work done on Regina Laska.
First of all, Regina Laska will receive a new main engine. My reliable and good old Volvo Penta TMD31 will be retired after 20 highly appreciated years onboard Regina Laska. My old Volvo Penta will now spend remaining years as pensioner in a Swedish double-ender driving up and down the Götakanal. I am sure my engine will enjoy the calm canal and give many years of pleasure to the new owner. 
The new engine to be installed in Regina Laska will be the Volvo Penta D2-75 with less vibration, less noise, better fuel economy and all the reliability that comes with a brand new engine. Adams Boat Care has already installed this very engine in two other HR 46's with very happy customers praising the D2-75 as as "smart little strong engine" (quote from John Neal on Mahina Tiare III, who was refitted by Adams Boat Care two years ago).
For me, it was very important that this is no engine with common rail (I don't want a lot of electronics on a marine engine!) and that it in the base is a marine Perkins engine and not a converted car-engine. 
By changing engine, I will save 136 kg in weight.
 Aquadrive antivibration system
Between the gearbox and shaft, an Aquadrive flexible couple will be installed in a new bulkhead in the engine room.The propeller shaft is aligned to an Aquadrive thrust bearing, which absorbs the propeller thrust. This way, the propeller does not push the engine, where the force continues through the engine feet. Instead, the propeller pushes the new bulkhead. The flexible coupling leads to yet less vibration and an engine, that does not have to take any axial forces.
To decrease the engine noise under deck even further, the main engine doors will be tightened and the cupboard to the watermaker controls and 230V system will also be tightened in order to prevent noise and smell penetrating from the engine room to the interior of the boat.
 New propeller
If you have sailed on Regina Laska before, it might be nice to know that I have ordered the engine with the same prop-walk as before, so you do not have to change your habit to turn to port in a tight space or berth starboard-to.
A new propeller becomes necessary due to the change, but I will stay with the successful Flexofold, which has proven to be highly efficient with little slip and low vibrations.
 New alternator
While I'm at it, I will have a new 24V/110A alternator installed. 
 New water heater
In the engine room, a new hot-water boiler will be installed with twice the power compared to the old one. Thanks to a powerful 2.5 kW heating element, the water will be heated three times as fast as standard and twice as fast as Regina Laska's old water heater. The insulation of the water heater is also improved, just as the stainless steel outer and inner shell will be ore corrosion resistant and look smart.
Another important feature of the new hot water boiler is that the hot water in the taps will not be as hot as before, avoiding possible burns and allow for safer showering. 
 New batteries
The 5 year old eight 145 Ah AGM Batteries for the 24V system will be replaced by four 160 Ah Li-Ion batteries by Whisperpower. Each battery has its own computer, communicating with the other batteries for optimal and safe charging.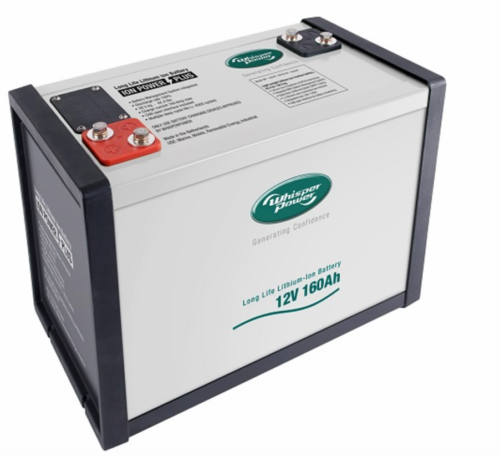 These are Litium-Ferrite batteris and thus have a significantly higher safety standard than ordinary LiIon batteries wich are, for instance, found in electric cars. By changing battery type, the capacity will be more than doubled compared to today (thanks to the fact that LiIon batteries may be emptied to 10%) and the lifetime will be become 12 times as long (5,000 cycles instead of 400 cycles for AGM). LiIon batteries also have the great advantage that they can be charged much faster with higher amps all the way up to 100%, reducing the hours running the main engine or the generator.
Before (with 8 x 145Ah/12V AGM) at 24V:
Total capacity: 580 Ah
Theoretically max usable: 290 Ah (discharge to 50% and recharge to 100%)
Practically usable without shorepower: 175 Ah (discharge to 50% and recharged to 80%)
After (with 4 x 160Ah/12V LiFe) at 24V:
Total capacity: 320Ah
Usable: 290 Ah (90% discharge)
In other words, the total usable power remains the same in theory and increases by over 50% in practice, while recharging is done during considerably less time, saving hours on the engine/generator. The saving in weight is 185 kg. Self-Discharging is considerably less, and does not harm to the batteries. Any state of charging is acceptable over time so they do not have to be re-charged immediately to avoid sulfatation as with AGM/GEL/Lead-Acid.
Considering the longer life span of LiFe, the total cost is also decreasing, making this investment a very sensible one when looking from all aspects (power, recharging time, self-discharging, weight and total life span cost).
The starter battery for the generator and the main engine will also be replaced by an identical 100Ah AGM battery.
The 12V emergency battery for basic navigation, communication and lighting has already been replace last year.
The new batteries and the new engine together will save a total of 376 kg (!), which should be transformed into better and more comfortable sailing performance. 
 Fixed furling cutter stay 
Talking about sailing performance, the rig will be changed from sloop to cutter. This means that a fixed cutter stay with a furling cutter stay sail will be installed. Both the furling and the necessary checkstays will be controllable from the cockpit. The spectra checkstays will be replaced and upgraded from 6 to 8mm.  This means that sailing upwind in gale-force wind will become much more comfortable.
During the sailing season of 2017, I have tested my loose cutter stay sail. Sailing upwind in winds of 30+ knots is a joy with Regina Laska riding over the waves. The centre of sail area is centered around the mast with the headsail further aft and the furling main further forward. Since the cutter stay sail (in Hydranet cloth) is much smaller than the genoa, it does not have to be furled up in higher winds and stands flat like a beautiful shield, decreasing heeling and improving speed against the wind. 
 Testing a new type of Nano technology gelcoat sealer 
A new nano-technology by Nanogate implemented in a gelcoat sealer by Feldten Marine will be tested to fill up and smoothen the gelcoat to give an extra even surface on the hull, where no dirt is said to find a possibility to stick.
We will see if it works. I'm a bit sceptical, but, at the same time, I'm a bit interested in how new chemicals perform….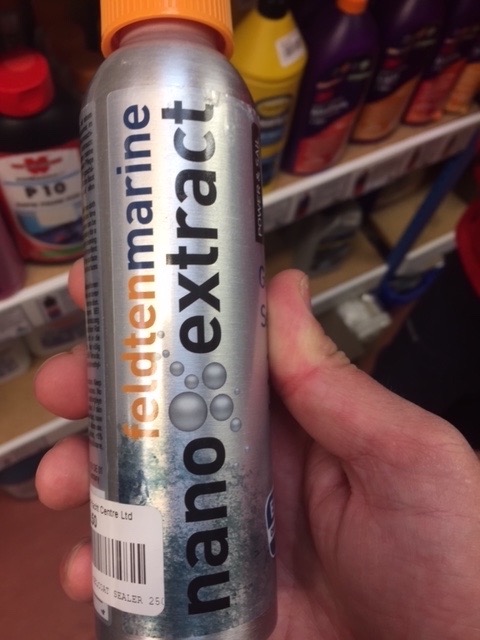 Lower steering board to stand on and new teak on cockpit floor
To follow guests' request, the standing board for shorter people standing at the steering wheel will be lowered by 10cm for a better view over the hardop and better reaching the steering wheel.
Taller guests will stand on new teak, by the way, since the cockpit floor will receive new beautiful teak. 
 USB-charger in reading lights 
Down below, all reading lights in the guest cabins will be replaced by a new type of light with built in USB-socket. This means you do no longer need to bring a 230V phone charger, but can plug in your USB charging cable for your phones directly into the reading lamp over your berth.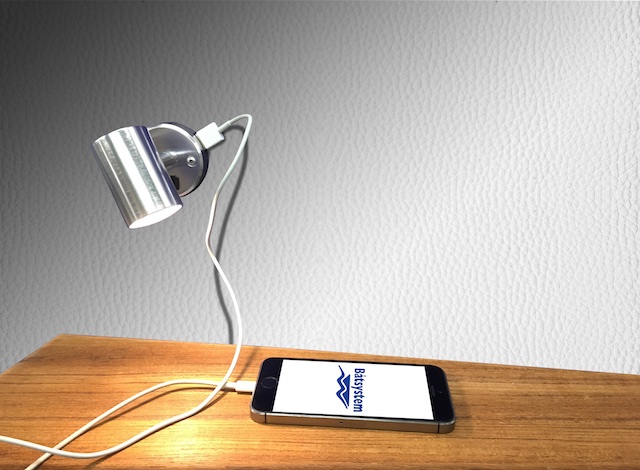 New companionway ladder 
Regina Laska will receive a new stylish companionway ladder with swung footsteps to facilitate climbing down into the salon or up into the cockpit while heeling.
Smart rubber in several grooves will act as antislip for safety and style. Integrated steplights will not only look smart but allow for safer use of the stairs during nights.
 Other small upgrades 
Guest using the port forepeak berth will receive an own little shelf under the cupboard to place phones, their water bottle and other small items.
The forward toilet will receive a new seat for comfort and hygiene. 
Last, but not least a number of smaller repairs, maintenance and service fill up the list to its 120 points for refit work done during the winter of 2017-18. Among these are, as in every year, the annual inspection and service of the fire fighting equipment, all life wests, the life-raft, the medical supply, the Propane gas system etc. 
Welcome onboard!