Silke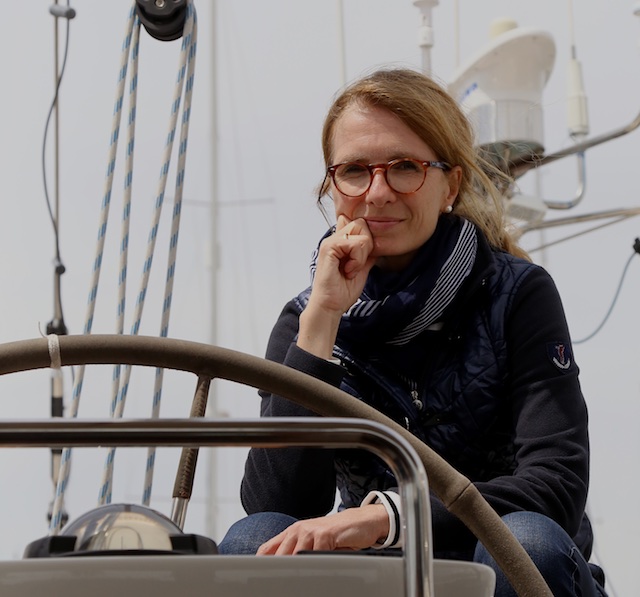 My name is Silke with no sailing experience whatsoever. And more importantly: I'm absolutely no adventurer!
Both should change in July 2019, however, when I stepped onboard a sailing boat for the very first time in my life. It happened in southern England, which, to me, sounded like a nice place to try my luck with sailing. I like England and "southern England" had some taste of warmth, doesn't it?! So I thought, at least.
My husband had invited me to join (most likely with the hidden agenda to discover my until then fully inexistent love for sailing which, most probably, was still burred deep down under a pile of shore-based activities).
The invitation was to sail on Regina Laska, a boat my husband hasn't stopped talking about since the day he and our daughter Anna had sailed on her the year before. My own "Regina Laska cruise" (or that's what I expected it to be) was to sail from Lymington on the said south coast of England to Ireland, which was another country I was looking forward to see. I had never been in Ireland before, so why not, I thought?!
The closer the date for our summer cruise was approaching, the more I felt some sort of uncertainty what I had signed up to and, especially, what sort of "spectacular things" could happen along the way… At the same time, I must say, I was a bit curious as well to find out more about sailing in general and on Regina Laska in particular, which I had heard so much about.
In hindsight, I must say that I was completely unaware of what type of sailing adventure I was about to experience, since all seemed so perfect! My husband had been looking forward to this week ever since he had stepped off Regina Laska the year before. The boat seemed in such a mint condition. Leon, the skipper, greeted us on the pontoon, and he seemed pleasant. And especially the others onboard – my fellow crew – were so extremely nice, so the atmosphere was on top from the very start! The others had all sailed on Regina Laska before and had very much in common with my husband, who immediately felt at home and started to unpack in the fore-cabin, that was meant to be ours. I did like the forepeak and I imagined that it would be cozy to sleep here during nights in the marina.
We had merely arrived, unpacked and gone through the detailed safety briefing, when it suddenly became time to cast off. The cozy night in the bunk in a calm marina had to wait, I reckoned.
We left Lymington and sailed through The Needles with a huge current pushing us out on the open sea as if we were a Champagne cork on our way out of its bottle.
I think it was at this time I began to grasp the scope of this "cruise". This seemed to become a holiday with quite some "spectacular ingredients", I felt. Both wind as well as current did its best to test my suitability for the sea and my adventurousness.
The initial idea was just a short sail over to Pool Harbour, but here we met "spectacular" on a level I would judge as a bold 2 on my own scale of adventurousness: There was not a single berth available for us in any of the numerous marinas in the entire Pool Harbour. Apparently, the sailing season had started and more than us had left the shelter of The Solent for a night in Pool.
Night fell and so we had to leave Pool Harbour again for a night at anchor outside in Studland Bay. That's where my marina night went…, I thought.
Strangely enough, all the others, including my own husband, seemed quite amused by this and loved the adventure to anchor in the dark. All went well, but the penny began to drop: I was beginning to understand that this was not to become what I usually would consider a normal holiday and that the favourite expression onboard - "spectacular" - would reveal many more meanings in the days to come…
Every time I would hear the word and that the next leg would become "spectacular" I just had one question in mind: at what level would the upcoming "spectacular experience" be, and would it be any less or more adventurous than the spectacular experience we had had the previous day?
The night was actually very pleasant, even at anchor, and I began to actually enjoy the morning onboard with stunning views.
Suddenly, the crew began to talk about the spectacular rounding of Portland Bill. Spectacular?!
I asked carefully what this meant and after some discussion they agreed it would be approximately "Spectacular Level 5". I began feeling a bit uncomfortable and imagined that things might begin to look nasty, when they all promised that it would be just great! Ooookaay?! 
During another time, when we talked about leaving the beautiful town of Dartmouth for rounding yet another cape, I could clearly hear Leon's voice between the lines that it is perfectly all right to stay in port for a day, if one feels that the winds during the next day would become more favourable or if you don't feel for casting off that day… This would be totally normal among experienced sailors and show good seamanship and, besides, Dartmouth was a very nice town that we could explore during the day in port, Leon explained. But the rest of the crew did not seem to read Leon between the lines as I did, and were eager to cast off to experience some more spectacular adventures.
I thought: What had I to contradict this experienced crew, who desperately wanted to experience "spectacular level 5"?! But then I noticed that a skipper does in fact have a say and it felt good when Leon promised me that the moment I would not feel comfortable sailing the bumpy ride against the wind, we would immediately turn back to "safety"! No matter what the others said, here Leon used his authority to clearly proclaim that if one of the crew felt uncomfortable, we would sail back. For once, there was no discussion about this fact and the rest of the crew had to obey to this rule. To me, it felt re-assuring that we had a Plan-B, which made me agree to give it a try...
I must say one thing was perfectly accurate, namely the estimation of what we were to expect: This was, for sure, a "spectacular level 5"! Choppy, short, high seas from the side, uncomfortable rolling, unpleasant wind angle and all topped up with the Portland Bill Races, one of the most notorious capes along the British coast. Never that I had heard about these notorious "races" before, but it will stay in my memory for ever!
Now, the good news was, that (contrary to some of the other very tough experienced sailors), I managed not only quite well, but it turned out that I was very, very seaworthy! Not the slightest hint of sea-sickness from my side! And even better: I did not even feel anxious! This came to a surprise for me, especially when I noticed that most of the others, including my own husband, seemed to feel quite queasy or even seasick and uncomfortable.
I kept an eye on Leon a couple of times, but he seemed perfectly relaxed.
One more thing surprised me: Had I just gotten the guarantee that I would survive all this all right, I think I would even have enjoyed it really much! Well, in hindsight, I must have enjoyed it, actually, since I remember looking at this spectacular nature with great appreciation. It was all so beautiful, strong and fantastic! Thank you Leon! It was unforgettable (even though "spectacular level 3 or 4 had been more than enough…!).
The following leg to Plymouth was a piece of cake! No more than spectacular level 2-3! And the continuous leg to Falmouth was possibly even less. From time to time we had, what the British call, "spells of sunshine" and at other times we had wonderful dolphins playing at our bow. Especially meeting the dolphins was so great and, in deed, very "spectacular"!
The atmosphere onboard was always on top and from now on I began to wonder if sailing possibly was something for me, after all? Maybe I really liked it? It almost seemed like it! I couldn't deny that I began to question my previous reservation against this way of travelling by sea.
From each day, I did actually like it more and more!
During a fine sailing day with flat seas, Leon showed me how to predict the currents and tides by means of a thick book he called "the Reeds", how to read and understand charts, how you trim the sails and so much more! Sometimes my head began to get hot and boil with all this information! What I did find impressing was that Leon seemed to have an exact feel for how much my brain could cope with and before it got boring or I lost my concentration, he changed subject or ended his "lecture". Since I am a school teacher as a profession myself, I kind of think that this is a gift not given to all instructors or teachers, if you see what I mean.
Hardly had I began to really enjoy sailing when it became clear to me that we still had the Celtic Sea to cross. This would be an overnight sail from Falmouth in England to Cork in Ireland. A considerable stretch of water where we would take turns to sleep and have watches and continue to sail through the entire night until the following afternoon! Even under optimal conditions, this seemed to be beyond my scope of "spectacular", for sure. My seaworthy tests had, in other words, definitely not come to an end, yet! The tidal currents, wind and waves as well as the temperature were quite challenging, to say the least!
We started with some 2.5 m high waves and quite good wind, but the waves had no rhythm and seemed to come from all sorts of directions. The boat was rolling heavily. It was not easy to find any sleep in my bunk, where I cuddling up behind the lee-cloth in the salon, so I wouldn't fall out. It did work out quite well until something happened that really frightened me! I had just fallen to sleep when a torpedo hit me! A cucumber had found its way through the fruit net that was hanging off one of the grab rails and flew through the cabin to the other side where I was sleeping and hit me!
No doubt, this night sail was on the spectacular scale at least on level 5 if not even 6.
Despite all the adventure, there were real highlights during the night sail as well! As so often, we laughed a lot and had really good discussions and talks during our night watches. One good tip against seasickness is, by the way, to sing loudly, especially the good old songs you know by heart. There aren't any others around on the Celtic Sea who would hear you anyway, and it really does help against seasickness!
Finally I have not more to add then to say that any sailing below the spectacular level of 5 or 6 is really pleasant and I love it a lot! I really hope I can come again onboard Regina Laska and sail with equally wonderful people as crew!'
P.S. I wonder how far the spectacular scale actually reaches and where it ends? Maybe I can find out when I return on Regina Laska in the hope not to find not much more beyond 5 and preferable staying along 1 – 3.
Silke, Germany, Cranchi Endurance 33 Motorboat owner, joining Leg 10-2019 from Lymington, The Solent /UK to Kinsale in Ireland.