Anders Isberg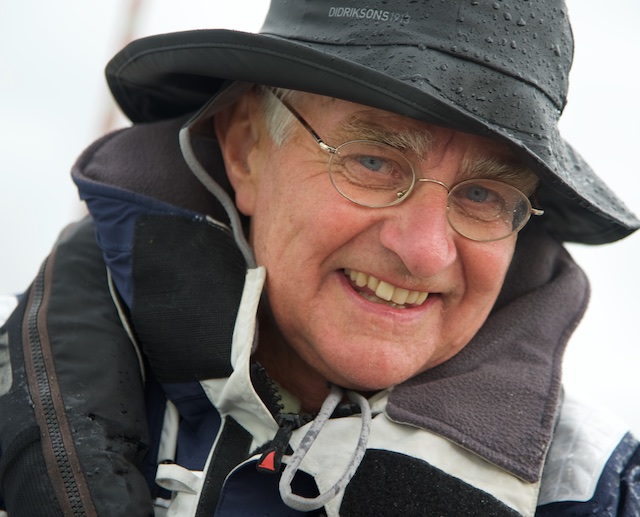 It was thanks to my good friend Lorens, who had sailed with Leon before, that I got in touch with Reginasailing. Lorens asked me if I wanted to join in 2018 and so it became: One week's sailing in Scotland with Oban as our base.
It became a fantastic great sail under typical Scottish conditions: God winds, often rain, quite cold. In other words: For us Swedes nothing worse than typical Swedish summer weather….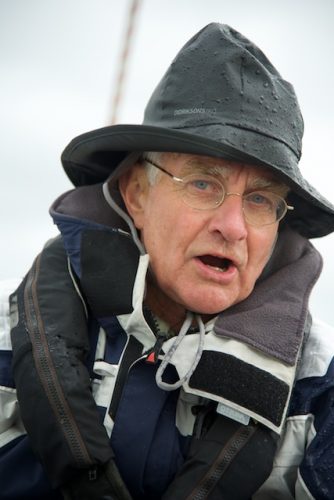 Contrary to many of Leon's other sailing guests, we had no specific goal or intention with our cruise. As the retired naval officer I am, I have done it all, so to speak, and have sailed on most oceans under all sorts of conditions. This time, I'd rather want no more than a pleasant sailing experience in a great environment. In other words "to go for the fair winds and the following seas…"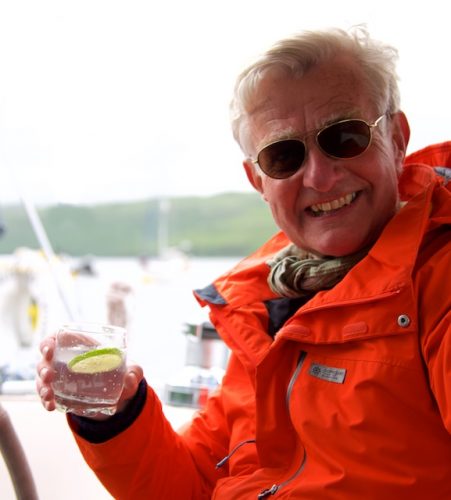 My already high expectations were surpassed by a huge amount!
I have met many captains throughout my long life at sea; naval captains, commercial captains and many, many leisure skippers. You name them, I have met them all… And in the long row of captains I have encountered, one is outstanding. I must say, Leon is highly professional and what I would call a "real captain" in all aspects.
It is not often that I have met someone who is so precise when handling or manoeuvring his yacht. Totally calm, sovereign and well thought-through in every detail, he moves his boat in all situations as if she formed part of his body. At the same time, he fully involves his crew to the desired or necessary amount, so we all feel involved and engaged.
Leon's pedagogical skills can not be stressed enough. Irrespectively of one's own level of competence, Leon always finds the correct level to explain and demonstrate, always remaining on equal eye level. Always full of respect and understanding for his crew, he passes on his deep knowledge, seamanship and skills on such a natural way that it all feels as if there was no other way than doing it right and in no rush! "Slow is Pro", Leon reveals, while explaining a manoeuvre in detail to his guests. From newcomer to highly experienced ocean sailor: On Regina Laska, everyone can learn something!
We had an extremely enjoyable time onboard! As most sailors know: a good atmosphere and a good co-operation creates a "Happy Ship", which is the essence of safe and pleasant sailing. Basically, it all evolves from the captain onboard and then spreads onboard in the form of "Happy Ship" – and Regina Laska is definitely a "Happy Ship", no doubt!
Obviously, how happy a ship gets is also significantly made up by the fellow crew mates onboard. Also here, I felt we had a fantastic team with Viveka and Erik, who were both very experienced sailors and who had exciting plans for their own future sailing adventures, to say the least! A special thanks goes to them!
And of course, I must not forget to mention Regina Laska! An increasable well equipped vessel! Every detail of the profound and complex technical equipment is in top condition and looked after in every detail. Generally, all systems have a full backup systems or are redundant and everything is professionally documented. As one can see on this homepage, there is nothing missing onboard re equipment, coding, documentation or continuous refit! For anyone dreaming of blue-water sailing, Regina Laska is an excellent reference model. System design for navigation and safety equipment is simply state-of-the-art! There are check-lists and stowage plans for everything and even a 195 pages heavy "operation manual" written by Leon to document what he is doing when, why, how often and in what way. Not to speak about the seven thick files with manuals and instructions!
Sailing in these Scottish waters in the Hebrides offer a fantastic nature and unforgettable experiences! The Isle of Canna was my favourite island and sailing through the Corryvreckan was the highlight of the week!
It must be added that it was a joint desire of the crew to try to sail against the current of the Corryvreckan – for the sake of it. Further, it was safer than going with the tide since we always had the chance to turn around, should the overfalls become too dangerous on the western exit of the Corryvreckan. Sailing with the current would have prevented a turn-around if we had been met by a wall of standing water before us…
Since Leon, who has been here many times before, correctly judged the situation being neither dangerous nor risky, and not even uncomfortable, yet "a very slow exercise" as he put it, he said we could go for the experience, since the weather was totally calm. It was an experience I will never forget!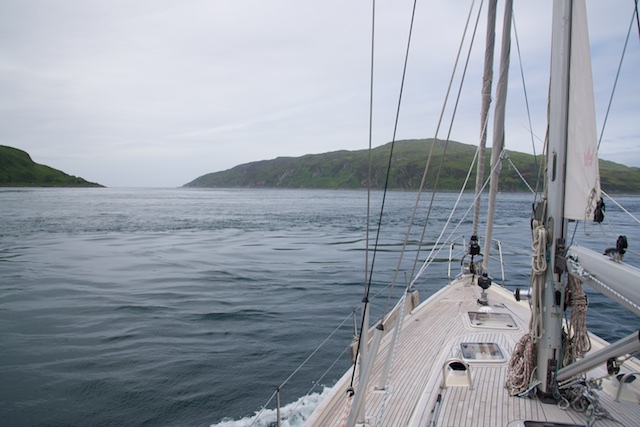 The feeling of the high Scottish islands and the open seas gave a holistic experience and unforgettable days.
For a Swede, the area is surprisingly easy to navigate. The islands have significant contours and, generally, lack underwater rocks like we are used to have in Sweden. Tidal streams an tidal heights do form part of the navigational concept, of course. And it is unadvisable to sail over any considerable wind over tide situation. Nevertheless, these Hebridean islands offer great opportunities to practice tidal calculation in real life and therefore Scotland forms a fantastic area for tidal navigation.
To sum up: Regina Laska with her captain Leon offer sailing guests a complete sailing adventure of the highest imaginable class. I really hope that I may come again!
Anders Isberg, Ex Naval Officer in the Swedish Navy, sailing leg 6-2018 from and to Oban, Scotland.