Mahina Expedition 30 years!
/
Monday, 07 January 2019
/
Published in
News

Congratulations, John & Amanda for 30 years of excellence in offshore sail training! 
I first met John & Amanda in their 10th year of offshore sail training. Little could I anticipate back then that they – 20 years on – would still be as active as ever, just beginning their 30th season with no ending in sight! Congratulations!  
We have been following each other's progress and experiences, keeping in frequent contact, supporting each other and try to meet up as often as possible.
I am deeply impressed by John and Amanda's professionalism, having helped so many sailors to set off on their own keel. Since John first began with his theory seminars back in 1976, more than 11,000 sailors have gone through his shore-based seminars! Just halt and think of this figure for a while! And countless of these have since circumnavigated with their own boats. 
John, an American born in Africa, and Amanda, undoubtedly from New Zealand, joined forces in 1994. This was when John had already offered practical sail training onboard his then HR42E ketch for 5 years and Amanda had finished the Whitbread round the world race onboard the first all-women boat "Maiden" a couple of years earlier.
In other words, doing some maths here, John does not only celebrate his 30th anniversary in offering sail training on a Hallberg-Rassy, but they both celebrate doing so as a couple for a quarter of a century!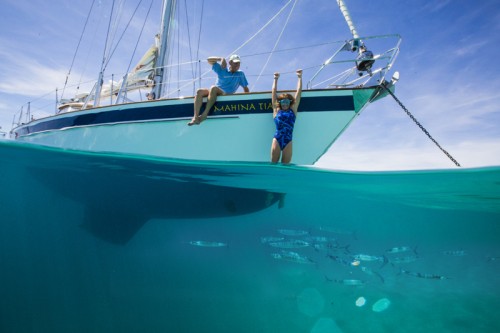 Together, they sail an enormous number of miles per year. Students (or rather "EPs" as they are called onboard Mahina Tiare III – for "Expedition Members") are constantly on the move. In the last 30 years, they have sailed 308,000 miles, covering an impressive 210 sail training legs. That's about 1,500 miles per sail training leg!
This is pure offshore sail training with more time offshore, it seems, than at anchor or in harbour – for sure! 
As Amanda explains: "This is not a pamper trip or a luxury trip – because you are learning how to master a vessel, so you can decide if ocean voyaging is for you." 
John adds: "Our goal is simple: It's to help people become experienced, safe offshore sailors so they can have their own adventures, sailing their own sail boats anywhere in the world". 
Their 30th season will again take place in the South Pacific. They start in New Zealand in May 2019 and finish in November 2019 in Auckland again. They offer sail training ranging from the stormy Roaring Forties in the south to the pleasant tropical latitudes in the South Pacific.  So, if you are interested in serious offshore sail training with days not seeing land and wish to share this experience with 6 other eager Expedition Members, this might be something for you. For sure, all six of you EP's will acquire a huge amount of knowledge from John and Amanda's vast offshore sailing experience! 
See www.mahina.com. 
While I have personally never joined on a Mahina Expedition myself, I have been meeting John and Amanda during a numbers of occasions, getting a lot of valuable tips for my own sail training as well as small helpful improvements on my own HR46 Regina Laska.
Although very many things are different, offering sail training on opposing hemispheres, having different curriculums, accreditation and life onboard, we both sail a HR46 and share the same desire to offer our guests invaluable learning experience.
Here's thanking you for two decades of friendship and mutual support!
Congratulations to 30 years of offshore sail training!