Refit year 7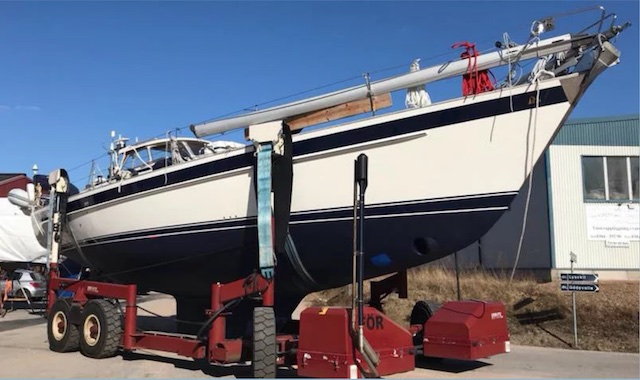 Improvements for 2019
Each year, I keep promising myself to at do my best to limit new investments. At least, I'm trying...! However, it seems that I have a never ending stream of ideas to further improve safety, comfort and style onboard Regina Laska. So, here are some of the major news for 2019, which I hope you will enjoy if you are joining in the years to come. 
Obviously, further to these, there are annual maintenance and safety checks as well as service jobs I don't bother to mention here, such as engine checks, exchange of some leaking pumps, annual service of all safety equipment etc. Below, just find the major new improvements for next year you would possibly notice onboard.
 New rudder bearing
Despite not bore you with all "invisible" maintenance works, one issue is worth mentioning, nevertheless. Not only to illustrate Regina Laska's mint condition, but to remind other boat owners not to forget to have their bearings checked each time the boat is taken out of the water. (Another of these checks is the cutlass bearing for the propeller, by the way, which was exchanged not long ago on Regina Laska) 
After many thousand of miles, these get a small play, which in the beginning can be filled up with "black grease". In the end, there is nothing else you can do than exchanging the bearing, which is a costly work. 
When  Hallberg-Rassy specialist Julian Smith from Hamble Marine Surveys  did the stringent MCA survey of Regina Laska in 2018, he noticed a small play of maximum 2mm in the lower rudder bearing. It was nothing to worry about, he said, and could last for many more thousand miles, if not years, but sooner or later, this possibly should be looked at.
There is no reason to wait, I thought, so the bearing is being exchanged by Adams Boat Care during this winter. 
 Finally found the oil leak!
It has been annoying me for quite some time! Very, very small quantities of lubrication oil kept wetting the vertical fuel hose on the generator. Why was there lubrication oil on the diesel hose? And why only on the lower part of the hose? 
Most people and even technicians I talked to found that such a little bit of leaking oil doesn't matter. All engines leak a bit oil - especially American engines, they claimed, and then they talked nostalgically about their old American cars which always kept having some oil underneath. 
Although it might not matter, it did for me, since I don't like something leaking, no matter how little! Adams Boat Care found it. It was no more than the gasket that needed replacement! 
 Servicing the rig
As in each year, the rig is thoroughly inspected by my rigger in Sweden, Daniel Engström. He is also part of the rigging process in order to trim the rig for safe and comfortable sailing.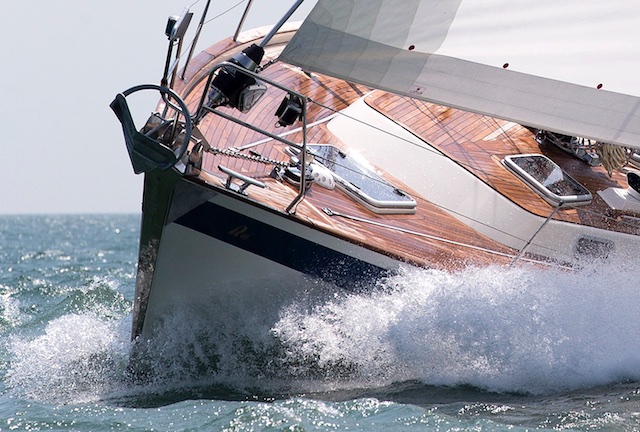 I had the E400 completely dissembled and serviced with new parts in 2016. In 2018 (five years after the new rig was installed in 2013), a major rig inspection was done including exchanging and upgrading parts inside the main sail furler. To have a major rig inspection done every 5 years and exchanging the rig every 10 years is part of the stringent safety schedule I am following.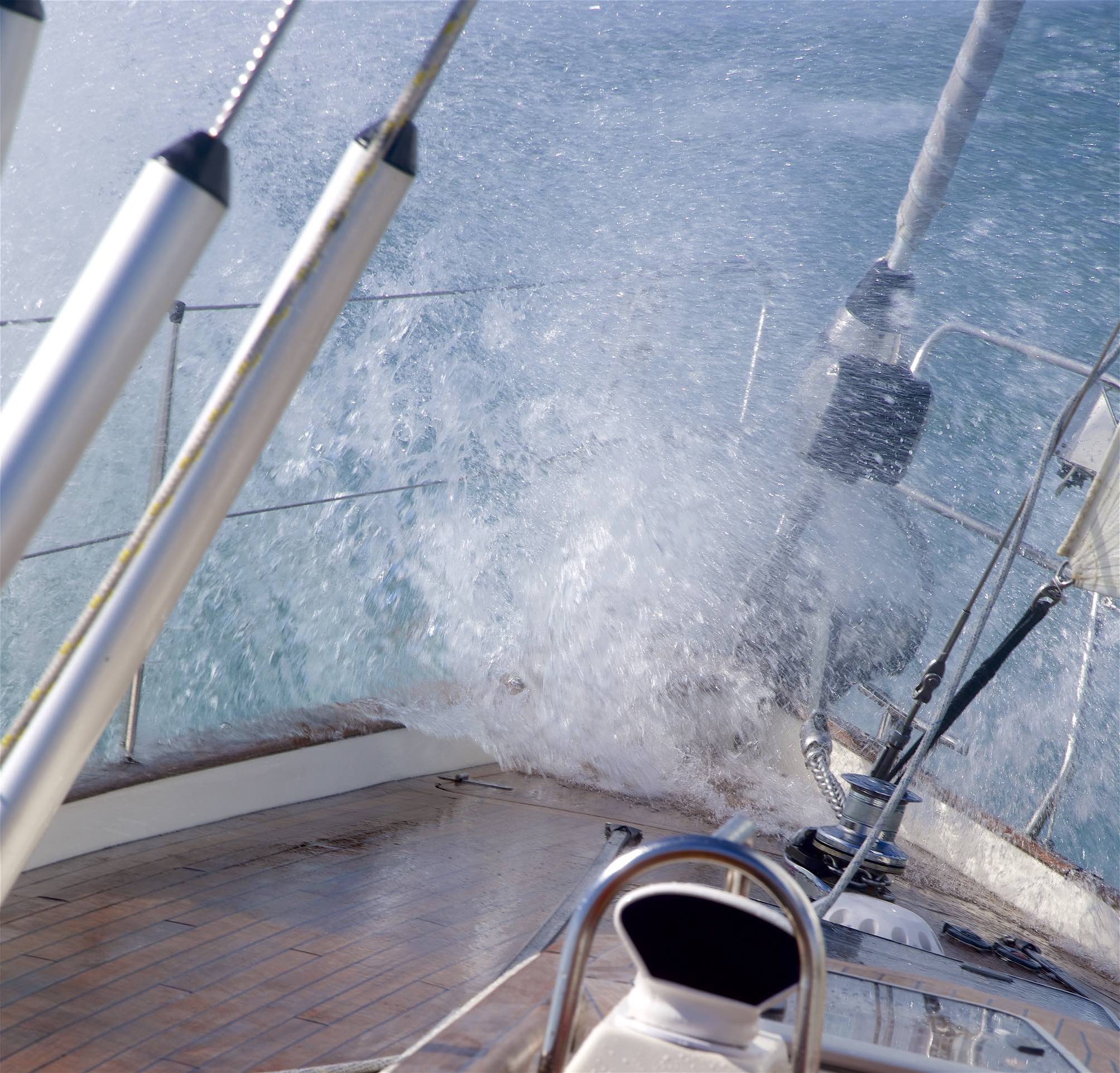 The electrical Furlex at the bow is the most exposed part of the rig, constantly getting its share of green water. Therefore, the E400 will get an intermediate service. It is sent to the Seldén factory and completely being rebuilt and serviced. 
Having faith into your rig is one of the most crucial safety features on a boat.
 New radar
After 6 more of more or less constant use, it was time to change the Magnetron inside the radar antenna. This is a standard job that needs to be done regularly on a conventional radar. You notice that it is time for a change of the Magnetron when the radar picture is beginning to fade and you can't get a picture as clear as you used to, and increasing the gain to max does not help. Normally, the Magnetron is exchanged and you continue as usual. After all, I am highly content with my Furuno Radar. To my experience, there are few companies producing such great radars as Furuno. So why change?  
  When I approached Furuno for changing the Magnetron, it was like when my friend went to his Mercedes dealer to replace his braking light but, instead, came home with a brand new Mercedes... Of course, my friends at Furuno could not refrain to mention that there is a new Furuno Radar on the market with a completely new technology.
  Claus Frederiksen (MD Furuno Germany) could not hide his enthusiasm about this new radar technology when we met! He explained that this new solid state radar has no magnetron at all, uses the Doppler effect to distinguish dangerous moving objects on collision course and is called NXT for "next". Well, a good name, I thought, for my next radar. And anyone who knows me by now is well aware of the fact that when it comes to new technology, I can't refrain from being very, very tempted. So, instead of changing the Magnetron, we agreed to change the entire Radar. Why not?  

Check Furuno's video here.  I am really interested to compare the difference between a conventional radar and this new generation solid state radar providing a "target analyser" with doppler function, "fast tracking function" as well as a "RezBoost" feature to get down to a horizontal beam width to stunning 2°, not to forget the enhanced rain clutter feature. The new radar fits snug on my old brackets and I can even keep my existing radar cable while getting rid of my old power supply for the Radar, since this new radar has a built in power supply. For more information from Furuno, see here.  
My first experiences with the new Radar is so outstanding, that it would fill an entire article about its clarity and features. The most impressive thing is that it can see targets some 36nm away. Many other brands offer solid state radars, who cannot see very far, but my new Furuno NXT has excellent features close by as well as far away.
 New SC33 satellite compass
My old Furuno SC30 satellite compass has been replaced by the new SC33, which has been improved by a number of points. Not only does it give an increased accuracy in heading, roll and pitch information (<0.4 degrees), it also keeps an accurate heading info (<1 degree) after having lost all satellites for a full 5 minutes (thanks to the built in gyros). The heading info is thus much more stable. It also fires up much faster, finding the satellites.
Speed Over Ground (SOG) is also very accurate with its 0.02 kts with just 5 satellites in sight. It gives position data 10 times a second (10 Hz) and has air temperature and air pressure info as a little bonus.
But the real reason I changed it is that the new SC33 does not only use the American GPS system (owned by the US Air Force) for position and heading, but works simultaneously with the Russian GLONASS satellite system, the Japanese QZSS satellites as well as the brand new European Galileo satellite positioning system. The SC33 compares all available satellites continuously and compares the  various position and heading info given by the individual systems. I am thus a bit more safe against hackers targeting the popular GPS system. It is very unlikely that all systems are hacked at the same time...
And if so, I still have my sextant! :-)
And here is the reason, why a satellite compass is so fantastic: It gives a very stable plotter/radar picture thanks to a very fast and accurate heading information. If you compare what an AIS is transmitting (light green) and what my radar is calculating (beige) and you can see that the two prediction lines are on top of each other! They both show the same speed (length of dotted line) and course (direction of the dotted line). 
 New FI70 basic instruments
The new Furuno FI70 graphical show-anything displays are replacing my monochrome FI70 instruments. There was nothing wrong with the old instruments, but the new ones just can show so much more (anything in the NMEA2000 network actually). Also, its clarity is outstanding, so you can see the instruments from the pedestal in high contrast and very sharp. Even small figures can be seen from a distant.
 New NMEA-USB converter for TimeZero Nav software
My fixed installed MacMini Navigation computer was updated to Windows 10 for the TimeZero 3 software. In order to be able to function fully redundantly, even without the TZT plotter, it received an own NMEA200-to-USB converter so all available NMEA2000 inputs are fed into the PC. 
This way, all data, including all four heading sensors (2 x PG700, 1 x Raymarine EV1, 1 x SC33) are fed to the PC, along with all other data, such as radar, AIS, Wind, depth, speed, engine data etc. This means that I have full navigation with all available data, even without the main TZT Plotter. My navigation system has thus become fully redundant.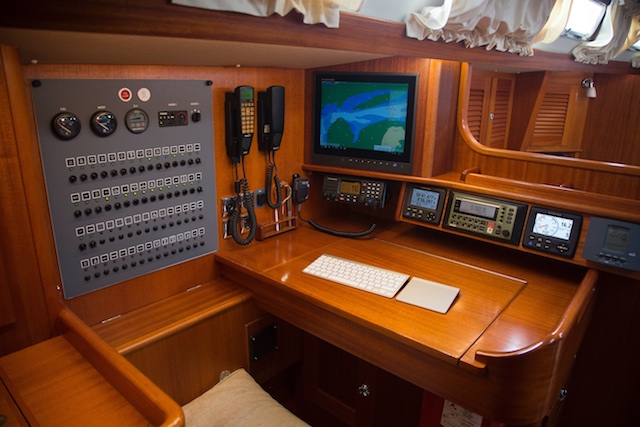 New Scanstrut iPad holder at Pedistal and anywhere in the boat 
A Scantstrut holder has been added to the pedestal so that the plotter can be remotely controlled from the iPad and for better visibility.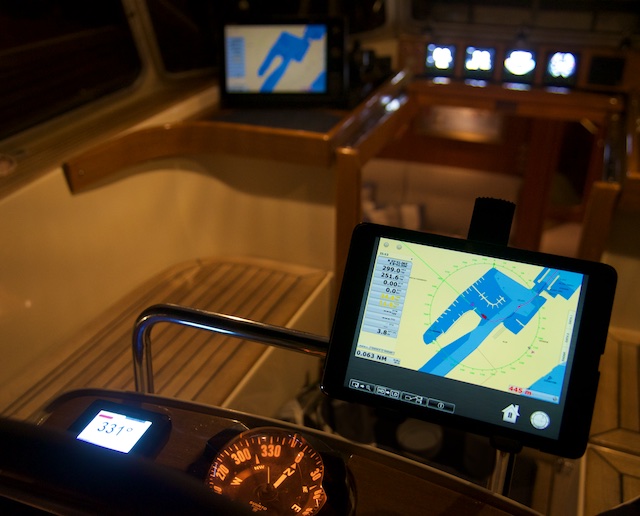 Third NMEA2000 hub
Due to the fact that I now have so many NMEA2000 sources, devised and displays, I had to add a thirds NMEA2000 hub into the backbone.
 Second power supply for the NMEA2000 network
Due to the same reason, I had to double the power supply for the network, now having two individual power supplies for the NMEA network. 
 New third autopilot
What I said above about Furuno is true regarding Radars. To me, Furuno is simply producing the best radars available. However, when it comes to Autopilots, I have another opinion and Furuno must excuse that I am always trying to be honest and open about everything.  
  When it comes to pilots, Raymarine is the state of the art for sailing vessels, at least at the time of writing. I had Raymarine pilots on my HR29, my HR31 and my HR40 with outstanding results already back in 2002, with my ST7001 and the  400G computer including the rate gyro and AST ("Advanced Steering Technology") steered us beautifully over the Atlantic Ocean - twice. Regina Laska has currently two Furuno pilots controlling three drive unites, of which one is a Whitlock drive on the rod steering and two are Raymarine Type II linear electrical drive units working in tandem directly on the quadrant.  New for 2019 is a third autopilot from Raymarine, this time even better than the old Raymarine on my HR40.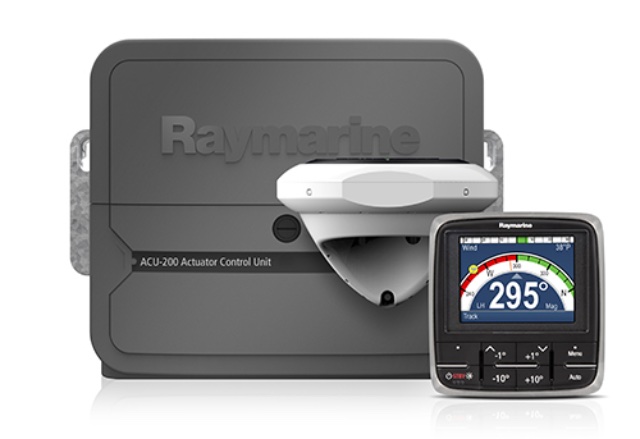 The Raymarine Pilot is the new Evolution pilot, consisting of the ACU400 control unit, the p70s display unit and, most importantly, the thrilling EV-1 sensor unit. It's the Ev-1 I am most interested in, along with the soft start and stop function of the ACU400.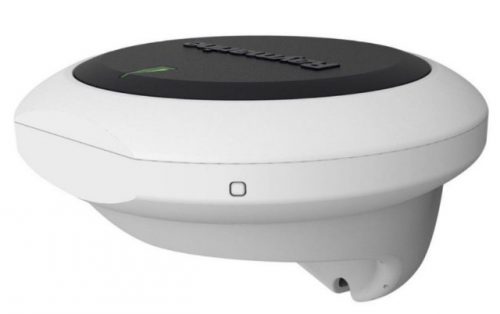 The EV-1 is a precision monitoring sensor, giving information of heading, pitch, roll, and yaw, allowing the autopilot to evolve instantly as sea conditions and vessel dynamics change. In other words, the boat will give counter-rudder even before a change of heading has even been noticed. It steers like an experienced helmsmen, who can feel the motions of the boat long before it changes heading direction. The sensor consists of a 3-axis digital accelerometer,  3-axis digital compass  plus 3-axis gyro digital angular rate sensor. That's a lot of technical stuff to solve one single problem an experienced human being does by intuition: to steer well in a rolling and heeling sailing boat, using a minimum of rudder movements and thus electrical power. Steering straight on without over-compensating in a heavy sea is a challenge Raymarine has solved. For more information by Raymarine, see here. Understandably, I am really looking forward to test this new piece of equipment! By having two Furuno pilots plus one by Raymarine, controlling my three drive units, we can test the pilots side-by-side, compare software versions and drive unit behaviour. This is going to become a very interesting summer, to say the least!  
 New second EPIRB
Following the stringent rules for Area-1 offshore sailing is not enough for Regina Laska's safety standard. For 2019 I have decided to exchange several of my electronic distress signals, just because the new ones are of a more modern design and/or have more features.  
  Two years ago, I replaced my TRON 40 GPS SOLAS EPIRB with the new TRON 60 GPS SOLAS EPIRB in a new type of cradle, also using the H20 Hydrostatic Release Unit by CM Hammar in Sweden. I like this EPIRB so much, that I will now also replace my second EPIRB placed in my grab bag with the same. My old second EPIRB in the grab bag was a TRON 45S and this new one will have the feature of having a built in GPS and be SOLAS approved. I will thus have two identical EPIRB's onboard, one on the antenna pole with automatic release unit and one in the grab bag.      
New AIS SART
My old Search and Rescue Transponder (SART) stowed in the grab bag for the life raft is a device giving an emergency distress signals on radar screens of all boats running and watching their radars in vicinity. With literally all boats using ECDIS or plotters nowadays, receiving AIS signals, it is time to replace the SART for radars with the new type of AIS SART triggering an emergency signal on all boats receiving AIS information. The built-in GPS will give the exact position on the plotters and ECDIS' finding the boat or the life-raft in distress more quickly and accurately.  

Regina Laska's AIS SART by Jotron is Wheelmarked for SOLAS vessels complying to GMDSS. If you wish to be seen in a life raft, the AIS SART is a very valuable piece of equipment.
New SOLAS Handheld VHF
My old TRON VHF has been a reliable piece of safety equipment. It has been with me on several boats for over 15 years and it is now time to replace this somewhat bulky emergency VHF with a modern, waterproof SOLAS approved GMDSS emergency VHF: the new TRON30 VHF. Dormant as it has been in it's grab-bag, my old VHF has been tested every year, the NiMH-Batteries have been charged and Li-Emergency batteries have been replaced every 4 years readily available in the grab-bag to send a distress signal if ever needed.
  The new TRON30 VHF is floating, fully waterproof, GMDSS approved and has excellent microphone noise cancelling for noisy environment (e.g. during helicopter rescue). A VHF is just one of the simplest and most reliable two-way emergency transmitting devices for short distance communication. Therefore, Regina Laska carries no less than 4 VHFs (one fixed Furuno with three working stations, one ICOM M25 waterproof and floating, one TRON20 non GMDSS, and now new: the TRON30 GMDSS).
 New additional Spinlock LITE+ lifejackets
The problem with Lifejackets is that they are not always worn in warm weather, when the sun shines high and crew wears shorts and T-shirts. However, the water is often still cold! A cold-water-shock during the first minute or two is a major problem whenever the water temperature is 20 deg C or below, which fatal statistic shows. With a water temperature of 15 deg C or below, this can certainly become life threatening. And hand-on-heart: Who is wearing a heavy lifejacket on a sunny warm day with little wind and no seas, irrespectively of the water temperature? Sailing in Galicia, for instance, which is on the plan again for 2019, is a typical example: Warm weather and an Atlantic water temperature around 15-16 degC.  
  Looking at statistics of drowned people in Canada (n=772) between 1991 and 2000, a whopping 81% had no lifejacket or a malfunctioning lifejacket. Other statistic even say that 97% of all people that drown do not wear a lifejacket or that 80% drown during the first 2 minutes (due to the bespoke cold water shock). Swedish statistics from 2012 shows that 87% of all drowned did not wear a lifejacket (and, by the way, that 95% were men, 60% were alone onboard and 52% had drunken alcohol). I usually joke and say that sailors should wear their lifejackets, bring their wives and drink in port to improve survival statistics!  
For this reason, my 9 heavy offshore Spinlock D5 lifejackets, containing all thinkable safety equipment ranging from three LED lights, a spray cap and and AIS Personal Location Beacon (PLB), will from 2019 be accompanied by 4 additional Spinlock LITE+ life jackets. This means no less than 13 approved lifejackets will be available on Regina Laska - all annually inspected and serviced by an approved service station.  
These LITE+ contain the minimum of heavy extras and are to be worn when one normally would not want to wear a lifejacket at all. The idea is that there will always be worn lifejackets with maximum comfort.  
  During normal RYA sail training or under offshore conditions or when we are wearing heavy foul-weather gear anyway, the Spinlock 5D (offered in three different sizes on Regina Laska) will still be worn, obviously, just as usual. The new one-size-fit-all Spinlock LITE+ wests are intended for times, when it previously has been a bit hard to convince the crew to wear a lifejacket, especially in totally flat seas and warm weather. The new Spinlock LITE+ are feather light to wear and are highly comfortable. With their 170N buoyancy, they weigh no more than a mere 860 gr, including harness. Cool, he?!
All lifejackets now equipped with MOB Lifesavers
Wearing a lifejacket in order to survive a Man Overboard (MOB) situation is a good start. The remaining crew onboard then needs to be able to stop the boat, heavy-to, litter the place with floating safety gear and markers, press the MOB-button and the DSC- button, furl up the genoa, start the engine, return back to the casualty the correct way, tack back and lay alongside with the casualty midship and bow pointing upwind. This is all taught during the RYA Sail Training Legs, where we try out various MOB drills.  
  So far so good, but how to lift the casualty onboard? There are several methods, one including lifting the casualty by means of the halyard, optionally connected to an electrical winch, as on Regina Laska. But have you thought about the problem how to fit the halyard onto the lifting strap on the lifejacket? Were you planning to reach down to the MOB in the water?  
  Here, this new MOB Lifesaver comes in, invented by my felly Yachtmaster Instructor, Hallberg-Rassy 352 sailor and author Duncan Wells. It is so simple and could easily be made by yourself out of a string of floating spectra rope, if you like. I chose to support Duncan and bought 13 of them from his webpage for GBP 21.90 each to be installed on all my life jackets.  
  The MOB Lifesaver is folded into the bladder of the lifejacket. When you have the MOB lying next to the boat, you have the ability to "fish up" the spectra line by means of a boat hook.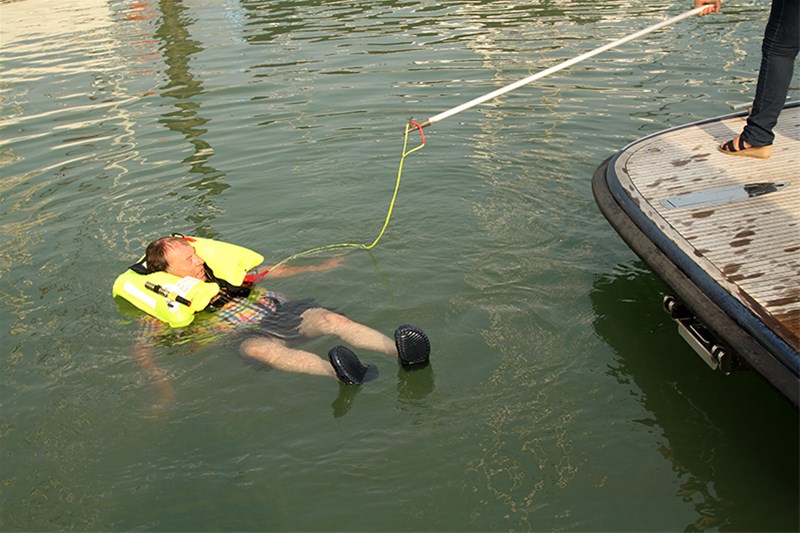 You fix the eye on the end to your halyard and have a direct connection between the MOB and the boat's lifting device. This is so much easier than trying to hook the halyard onto the lifejacket! The MOB Lifesaver should be added on every lifejacket, I think. If you buy one for yourself, give my regards to Duncan!  
 New "Magic Reboard" Safety Ladder
Regina Laska has a rigid safety ladder fulfilling the new ISO standard No 15085:2003 FDAM 2:2017. This new rule, valid for all new boats, is based on the EU-directive saying that a person, who has fallen overboard must be able to get back into the boat unaided.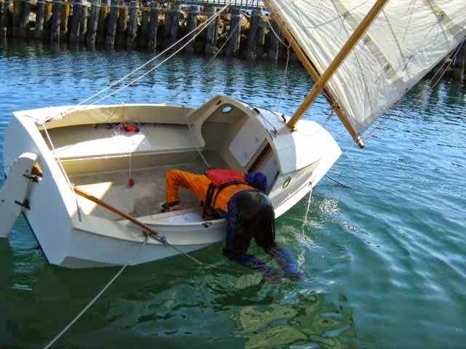 For more information on the ISO rule, see here.    

Checking out my existing soft rope ladder, I got a minor chock! I noticed that it does not work! The steps were too narrow, the ladder too short and the steps did float. Even when I prolonged it by hanging the rope ladder onto my midship ladder, the outcome was very mediocre, to say the least!  
I was checking the market for a good soft side ladder that was deployable from the water which one also could have installed fixed on the pushpit if requested. I found one and, and from 2019 I will have the "Magic Reboard" ladder by Outils-Oceans. Please note that there are two models of this "Magic Reboard" on the market, while only the ESR27350 has rigid steps and thus fulfils the ISO-standard.  
  I am looking forward to test this rope ladder during the upcoming season!  
 New larger 12V auxiliary battery
The independent 100 Ah 12V battery for the basic equipments in case of complete power loss, i.e. the fixed VHF, one of the fixed GPS's, the Iridium SatPhone, part of the ceiling downlights and the basic instruments for classic navigation (logg, sounder, wind), will be replaced by a lager 120 Ah AGM battery by Sellpower (representing Whisperpower in Sweden). The reason for AGM is that this battery is also used as an emergency start battery for the main engine and the generator and you should not connect two different typs batteries. The starter battery is AGM since it is best suited for starting engines and therefore this emergency battery is as well. As before, both the 100Ah starting battery and the new 120Ah auxiliary batteries will be kept fully charged from the 24V system in two independent and redundant ways: via the 230/12V charger as well as the 24V/13.5V converter. Both the main engine and the generators have a 12V alternator each, also giving redundancy to charge these essential batteries in many ways. They are placed well above sea level to give power even if the boat becomes flooded. Yes, there are so many details to keep Regina Laska safe, comfortable and in style!
 New Spectra Survivor-06 Handheld watermaker
This is a straight swap of an essential piece of equipment in case of severe emergency, e.g. having to go into a liferaft. Water is so essential for life!
Regina Laska has a large 900 litres in her main water tank, plus emergency water in separate water bottles under the floor-board, plus small amounts of emergency water inside the life-raft stipulated by the SOLAS rules (IMO's rule for Safety Of Lives At Sea). 
Further to this, Regina Laska has a water-maker that produces 150L/h using 230V electrical power from the batteries, the generator or the main engine.  
And in case we have a total electrical failure onboard with water running out, or have to abandon Regina Laska and go into the liferaft, a manual water-maker is placed in the grab-bag in addition to the small amounts of water in the liferaft. 
This Survivor-06 watermaker has now been sitting dormant in my grab-bag for 15 years, tested and pickled annually. After 15 years, I feel it's time for an exchange to be 100% sure of its perfect functioning. 
Nobody will notice the fact that the handheld watermaker is new, but it might give you a feel for the rigorous safety system onboard Regina Laska that it is! 
 New power supervision of LiFe batteries
In order to get full control over the LiFe batteries installed last year, a new Whisperpower Touch Display will be installed. This will give simple to undertand, accurate and detailed information about the onboard power system and all sorts of statistics of the batteries.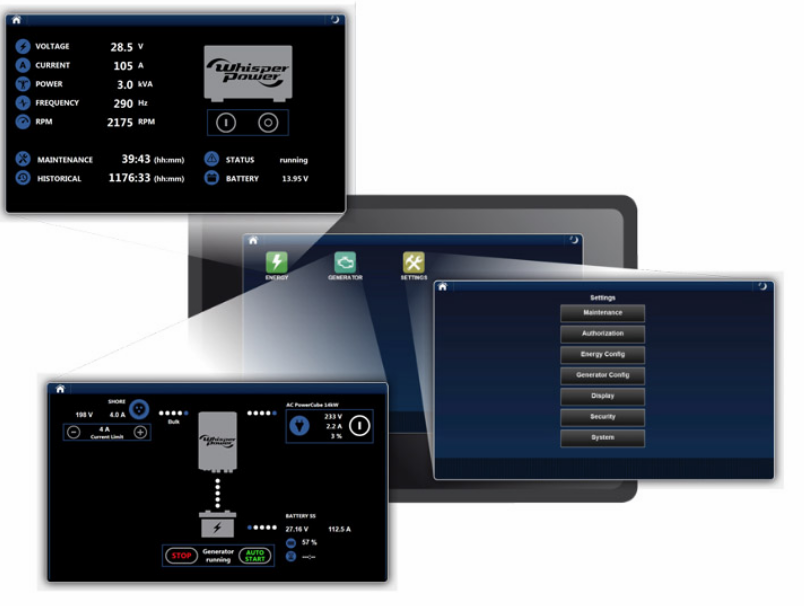 And for all over 50 years of age (as I am): The good news is that this new display is nice and large so you can read it (hopefully...).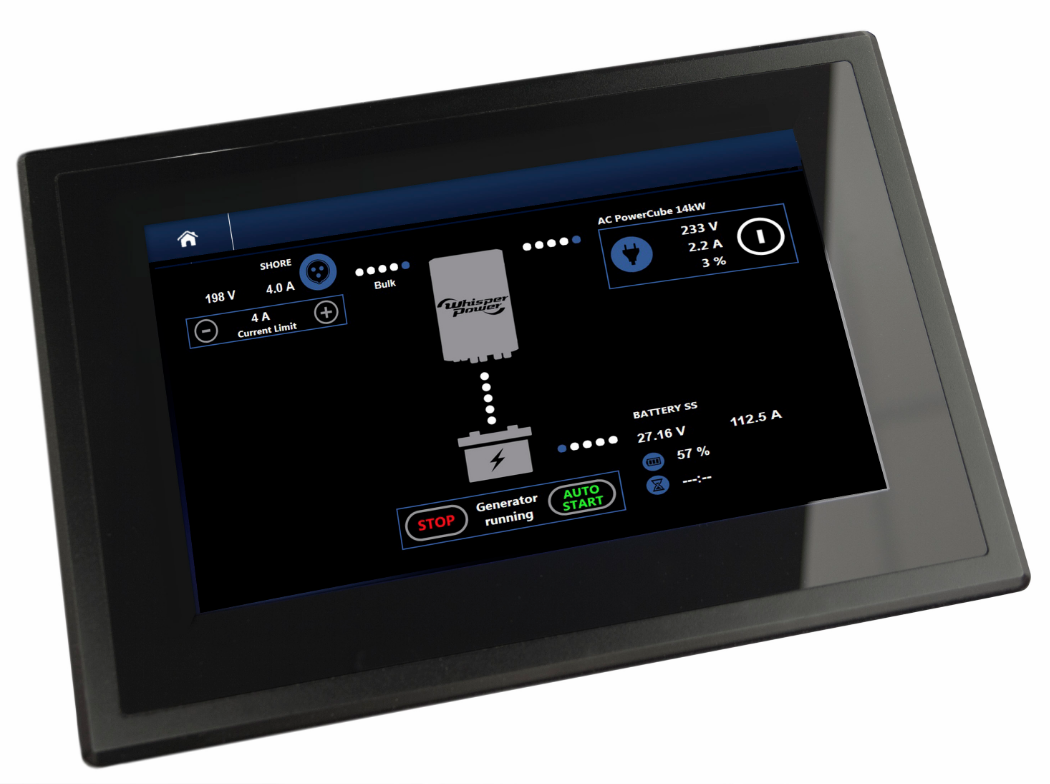 The old display will be kept for redundancy and programming purposes, i.e. changing the settings in the power supply system).  
 New washing machine
After 6 years of loyal support, my washing machine gave up in the end. And I do confess: I think I helped it to break down. I'm perhaps not such a smart engineer after all... Here's the story: I thought I was especially clever to use the washing machine in the morning, running off the inverter while motoring along. I had ample power anyway, the sun was shining and once in port there would be enough sunshine left to hang up the washing on the railing for it to dry. But obviously, even a slight pitching in the swell gives a huge force on the bearings of the washing drum. Especially during spinning! Imagine the washing machine spinning at some 1000 rpm and then the bow rising and falling in the swell! What a strain on the poor washing machine!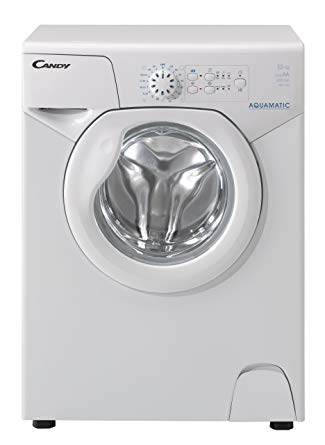 "Don't wash & sail" becomes similar to "don't drink & drive"!
I am surprised it held for so many years with the occasional washing while underway... It's a simple domestic machine, intended for small households ashore, after all!
I will give it a new try with the same brand: Candy out - Candy in and it should be a straight swap. Guests would not notice the difference, so here's just confessing my mistake, so not others destroy their machines in the same way... The only difference is that the new machine is good for 3.5 kg compared to 3 kg before.        
 New, improved Magma BBQ
My Magma grill has been as faithful and loyal as my washing machine and I am not aware of any possible mistake I have done here. Therefore, it does still work, but you can tell it has been heavily used and doesn't look or feel as new any longer after 6 seasons.  
  Dealing with gas is dangerous and I felt the old BBQ didn't lit up easily enough, so I think it's time for a change. The new Magma grill comes in a upgraded version compared to the old one, which was yet another tempting reason to get a new: the Gourmet Catalina II "Infrared" grill has a number of improved features.  The wording of "infrared" might be a bit misleading, but the idea is that the screens are radiant giving a more intense and even heat distribution, reducing the flare-ups, which have been a nuisance on my old grill. The new electronic puls ignition system is also promised to light every time, even under windy conditions. And last, but not least, it as a nice glass window so I can see inside without loosing a lot of heat by opening the lid each time.
Welcome onboard for a BBQ on aft deck!  
 New larger 40kg Rocna anchor
You can never have a too big anchor. My 33 kg Rocna has been great. It is, in deed, a fantastic anchor and the best I have ever had. Each time it has felt like an improvement when I have been following the evolution of anchors, from a SeaGrib (on my Albin Viggen), a Bruce (on my HR29), a CQR (on my HR31) and a Delta (on my HR40) and finally to Rocna on my HR46.  

I am very satisfied with the Rocna and would choose it again, as long as one can handle the round bar that is often in the way interfering the pulpit. The Rocna 33 has just fit snug on my HR46 but there is another HR46 that has been refitted by Adams Boat Care  and where Carl has fitted a special cradle to hold an even bigger Rocna, the next step up with 40 kg.  
  As you can see in the above photos, the holes are not aligned for the security pin to fit, which has to be solved on Regina Laska to fulfil the RYA and MCA rules. Further, I need to be able to sail with my Gennaker, using my bowsprit. Both these issues have to be solved by Adams Boat Care. If it works out: Count me in on a Rocna 40 for next year! (Anyone interested in a used Rocna 33 for a good price?)  
 New lighting in forward head cupboard and new cupboard
Just a minor additional feature for my guests: Some crew members have requested a light in the forward bathroom locker, to facilitate finding their toiletries during night hours. So, from 2019 on, there will be an automatic switch that lights up the bathroom cupboard when it is opened. It's called Båtsystem SMART.  
 New Båtsystem lamps in salon and aft cabin
Båtsystem has launched a couple of fancy wall lights that I plan to install to enhance the ambience even further, replacing the existing reading lamps. They have a very nice light, beautiful high-end design, built in dimmer and build in 2A USB-Charger. The Båtsystem LEIA LW1 USB will be installed in the salon.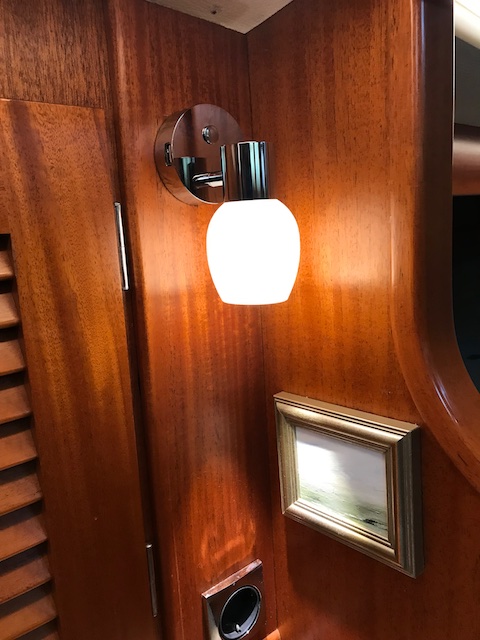 New Keel Shield anti-chafing on RIB dinghy by Gator Guards
At the Marine Equipment Trade Show (METS) in Amsterdam now recently, I got to know a very interesting company solving two annoying problems I have with my RIB. First of all, the GRP keel is becoming scratchy at best when pulling up the dinghy on the beach, for instance. (Unpainted) aluminium is much better here, but Regina Laska's Carib L9 dinghy is, like most others, made out of vulnerable GRP.  
  US-based Gator Guards is supplying a keel protection called "Keel Shield" that is glued onto the GRP keel that protects it and facilitates pulling the dinghy ashore.  
  The second problem Gator Guards solves is the chafing of the dinghy hanging on the davits, where Gator Shiel has a product they call Gator Skinz. I will test both next year.  
 Continuing of great NanoExtract polish
Last year, I mentioned I would test a new polish with Nano-Technology by  Nanogate implemented in a gelcoat sealer by Feldten Marine. I tested it and it really works! It fills up and smoothen the gelcoat to give a compeltely even surface on the hull, where no dirt finds a possibility to stick.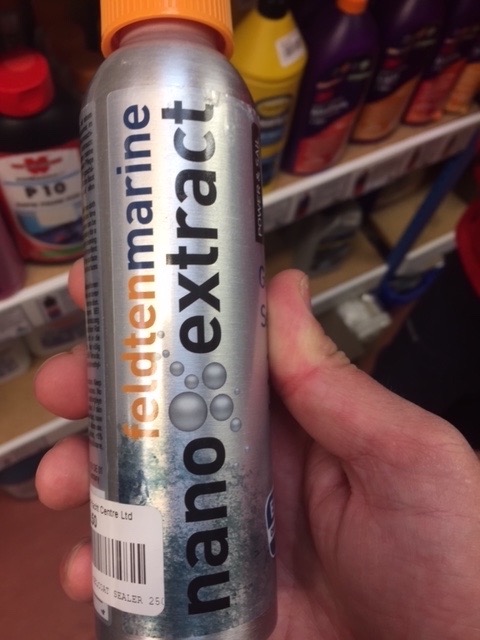 I didn't polish or wash the hull more than spraying it off with some fresh water during the entire season of 2018. Contrary to the proceeding years, the gelcoat remained beautiful throughout the entire 6 months of continuous sailing. Not even any yellow discolouring from organisms were a problem, which I used to get in certain waters. It was, however, very hard to put on the first year. They recommend to polish by hand only, so it is a costly thing to have done the first year, if you don't do it yourself. But it's worth it! Now, in the second year, it goes much quicker, since the surface already has its smooth structure. And every year from now on, it is said to become yet easier to apply. This is what I wish to test this year: Is it holding its promise to be easier to apply? The result is, in any case, outstanding!  
Continuing success with SeaPilot for my guests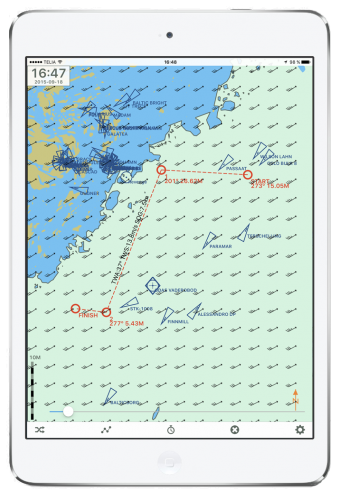 During 2018, my guests have all been able to load the SeaPilot App onto their devices and then add needed charts for free during their sail training legs. This has been an additional feature for crew members, who have been able to follow, plan and navigate on their own tablets or smartphones during the week. Features could be tested, screenshots have been e-mailed and charts could be compared to seen how accurate they actually are when comparing to the environment. SeaPilot is using the official charts with IMO symbols directly from the Hydrographic Offices, so the charts don't have to be compiled and transformed onto the own platform. The result is no time-lag and fast distribution resulting in highly accurate charts on SeaPilot. Often, when I get uncertain in areas I know are under constructions, for instance, or when reality around me does not really look like my charts, I consult my iPad and SeaPilot. Wind farms and amended Traffic Separation Schemes around these are typical examples where SeaPilot comes in handy. One example: When I entered Port of Dover last summer, for instance, my plotter looked quite different to the real environment around me. I got uncertain, since the harbour entrance looked so different that I thought I was in the wrong place! A quick check on SeaPilot and the situation became clear: The major construction (partly EU funded) of changing the entire port area (preparation for Brexit?) had gone further than the new charts on my plotter showed. The reason: While the charts on the plotter were purchased on Feb 7, 2018 the edition date was May 12 2012 and the revision date was Sept 22, 2017 (see below). It had thus taken almost 6 months to get from raw-date to the download site on the Internet. I cannot explain that, other than it goes via many production steps and stages to be included in the right format on the right level for the right plotter.  
  Please compare the harbour area above with the same area in SeaPilot below. SeaPilot gets the charts directly from the Hydrographic office. It might not look as fancy with - at times when zoomed out - having a lot of text cluttering on a rather small screen. On the other hand, the symbols are all official IMO standard, which is a good feature per se, I think. Charts are updated many times per year and you are informed when a new update is available to be downloaded. It all comes in the package, so to speak, with fresh updates always at hand. You don't buy the charts but "rent" them on an annual subscription basis. Typically, the charts cost some EUR 20/year (UK, Netherlands, ) in some countries, prices are lower yet in other countries (US: 0 EUR/year, Sweden: 10 EUR/year, Canada: EUR 15/year) and some countries have higher rates (e.g. Germany: 24 EUR/year, Denmark: 42 EUR/year, Greece: EUR 40/year, France: 52 EUR/year). It all depends on the price policy of the corresponding country's hydrographic office. Just compare Sweden with Denmark, where Sweden has really understood the economy of scale, while Danish authorities, although supervising a much, much smaller country, charges four times as much! On a Plotter, you often buy the charts for a very much higher price but may then keep them forever, which means that many people sail around with completely outdated charts. Not so with SeaPilot.  
  To sum up: On Regina Laska you have many means of navigation and compare which one suits you the best, thinking of redundancy as well as keeping a good overview and looking into enough details at the same time. Regina Laska caries up-to-date paper charts (which is an RYA and MCA rule), TimeZero Software on a stand alone PC with Raster and Vector Charts at the nav-station, Furuno TZT plotter with C-Map, Navionics and Rastercharts under the hardtop plus the said SeaPilot on iPads and iPhones all around. So, when you join on a Reginasailing leg, bring your iPads and iPhones and download and use the SeaPilot App for free during your sailing week!
New outer casing for the Swedebuoy
The standard plastic cover for the Swedebuoy MOB recovery ring gets extremely ugly and "sticky" after a year of intense sailing. I contacted Baltic, who are the developers of the Swedebuoy and they presented me a very snug new case of sturdy canvas. It looks great and I count on the fact that it will last for much longer.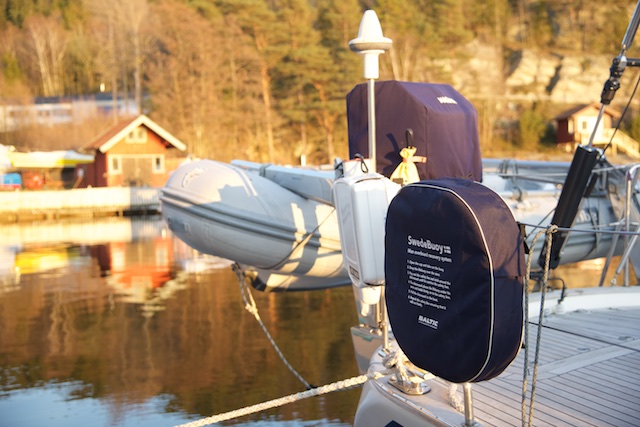 New pots 
I found some great square pots by Silit with a fantastic nickel-free ceramic surface called Silargan. This non-stick surface distributes the heat beautifully and the fact that it is square does not only mean that it better fits onto the stove and is easily stored away in the cupboard, but also that you can poor from one of the corners. 
The only disadvantage is that they are heavy, but this is perfectly all right on a cruising boat. Quality has its weight...!
New oven tray 
You can understand my excitement when I finally found an oven tray that has the exact measurements of my ENO-oven found on so many boats! It was by pure co-incidents that I stumbled over this tray in a standard grocery store in Germany. The company is called C. Hermann Gross (chg) and it's product No 98078 in case you wish to buy one, too. I bought two, since one acts as a lid for the other, if you don't wish to use them as separate trays.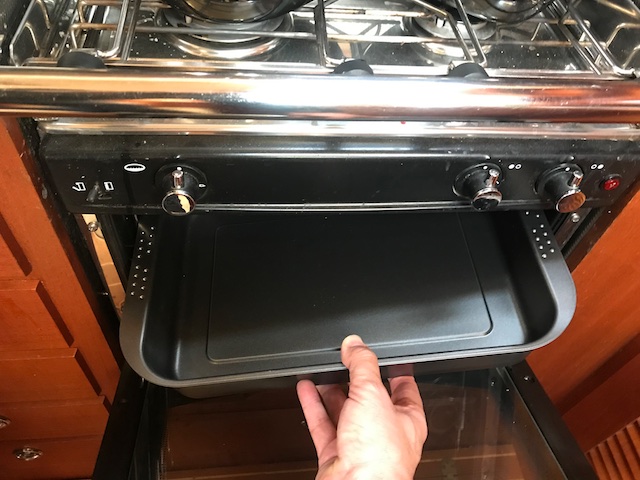 New fender socks 
Just to look fancy, the fender socks have been replace with identical ones from Fendequip. They lasted for 6 years intense sailing (6 months per year) and used more or less every day. 
They are strong and look very nice, especially with the boat's name on it. 
The reason one needs fender socks is in now way only just because it looks fancy. The real reason is much more important than that: If you are lying against a peer with sand, e.g. against a pier or a lock, the sand very quickly scratches your hull. With a thick fender sock, the sand stones are taken up by the material.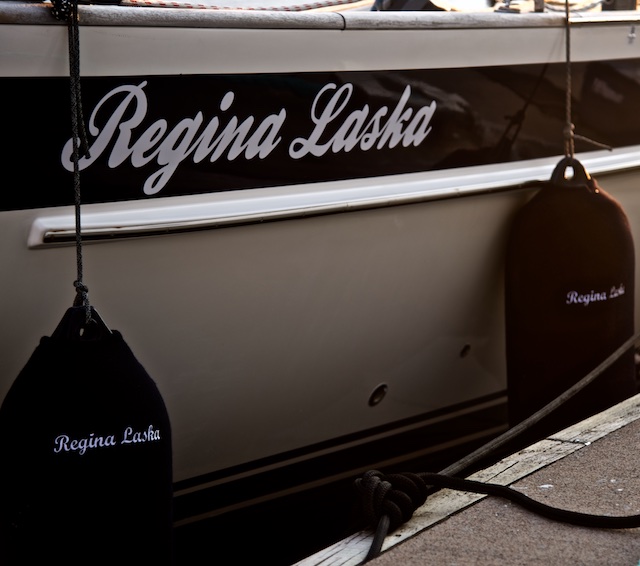 New cockpit cushions 
My cockpit cushions are replaced every other year. They don't last very long, unfortunately, especially the cheap ones. 
This year, I have chosen a high quality soft cushions as backrest from ARC Marine.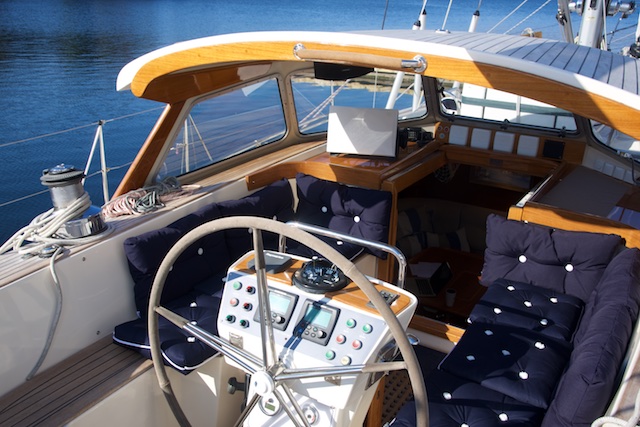 Bag for cutter stay running backstays and cutter stay sheets 
Blue-Line produces some very smart bags that you fit on the railing to take up excess rope. Very nice and clean looking.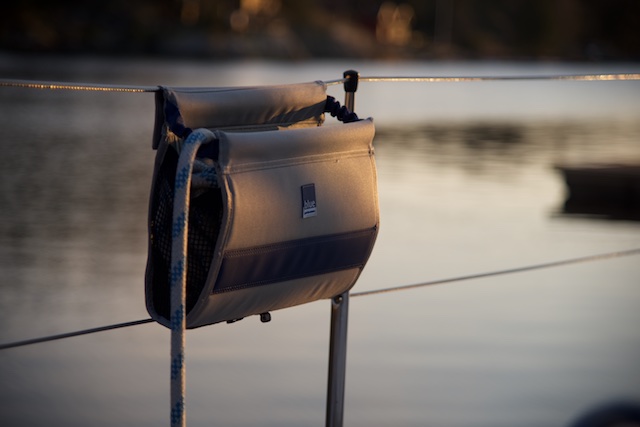 Ugly bolts for additional cleats covered 
The bolts that were visible from the inside which hold the new stoppers for the running backstay and for the preventer have been covered up by Adams Boat Care. A little detail nobody might notice. But I do! Thank you, Carl!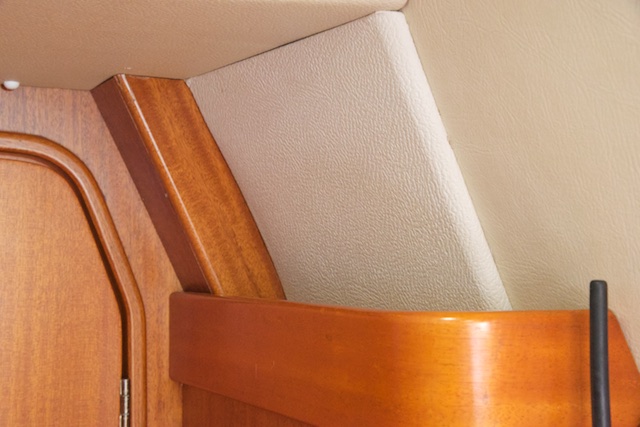 New bag for fruits 
My dear cousin Kajsa who bought her own Hallberg-Rassy 31, has given us a great present: During many dark Swedish winter hours she has handmade a new hammock for fruites. Please note the white "hull" with a blue "stripe". What else for a Hallberg-Rassy?!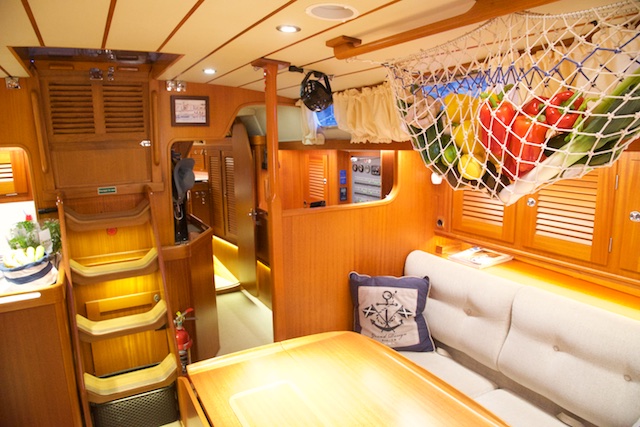 New shower heads 
To maximise comfort while showering, new Spa-like shower heads have been installed in both bathrooms. Nice smooth hot water is now showering down from a large head with many nozzles. 
By means of a button, the shower type can be changed according to request.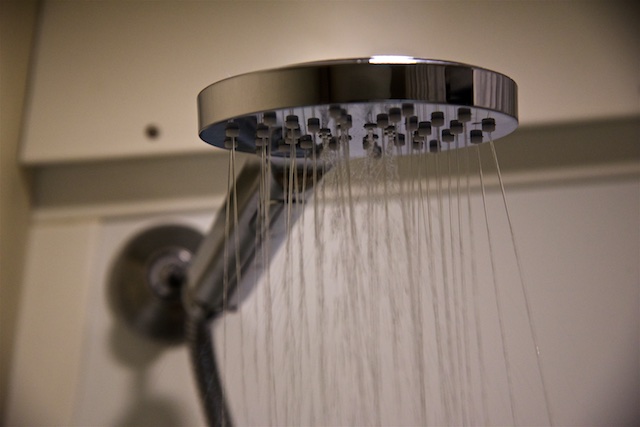 Brand new type of fire extinguisher added
More and more sailors install Lithium batteries, which was reason enough for me to write an article in a recent issue of YACHT (No 8/2019) about fire safety and Lithium Batteries. But even without domestic Lithium batteries, literally all boats have Lithium batteries onboard by means of all computers, tablets, smartphones, electric tools etc. These chemical fires can be really nasty, especially if their runaway temperature has been reached and the devices continue to create heat up to several thousand degrees C. 
For this reason, there is a brand new extinguishing liquid called AVD by Dupré Minerals Ltd in the UK, especially designed to cool down Lithium fires. The trade name of the extinguishers is LithEx and they have just been certification for EN3-7. I am proud to be one of the first boats on the market that received a LithEx extinguisher in order to enhance safety even further onboard.
I now have no less than 8 fire extinguishers onboard, ranging from CO2 via Foam and Powder to AVD.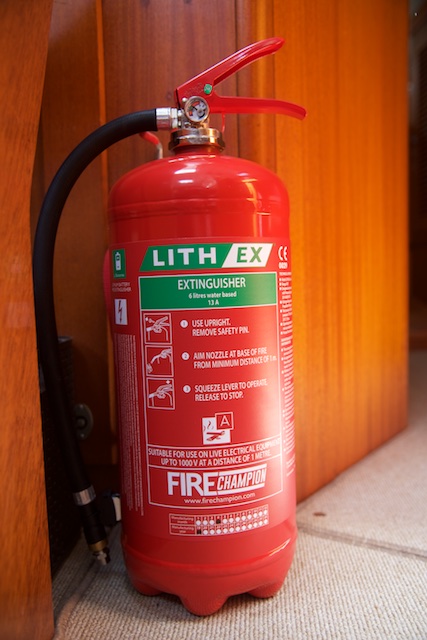 Gas mask added for fire fighting
Lithium fires produce very nasty and dangerous gases. But also other type of fires give harmful toxid gases so fire fighting can be dangerous. Yet, fighting a fire onboard may be the only option for survival. Therefore, Regina Laska has now a gas mask next to the fire extinguishers in the cockpit locker. 
In case of a fire, one can put on the mask and fight the fire for some 15 minutes despite any toxid gases. 
May this situation never happen!
Regina Laska is finally launched 
Regina Laska is now launched after her 7th year of annual refit. Ready for her seventh season. 
A new exciting season is planned with many wonderful guests who got a place on one of the legs taking us from Sweden via England, Ireland and Scotland to Galicia in Spain.