Hanseboot 2013, Hamburg: Let there be Light!
/
Monday, 18 November 2013
/
Published in
Past shows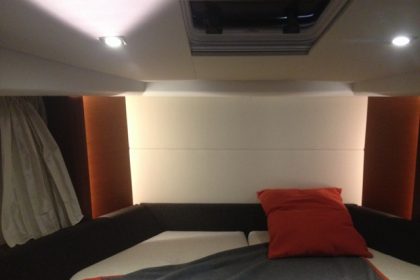 This year's Hanseboot was enlightening – literally! LED technology has really taken over and is now being used by many of the leading yards. Almost every boat looked lighter and brighter and LED tapes and spotlights were used to give a feeling of size and volume. Thanks to dimmers, cozy atmospheres could be created as well.
Light design is today built into new production boats. For instance, the inner ceiling provide openings, where LED tapes have been installed. This results in a feeling of wide open space, very similar to how air planes and modern trains are designed. Especially in confined cabins, such as the forepeak, claustrophobia is met by simulating a the wide open sky above by means of LED tape. It goes without saying that all modern ceilings were white.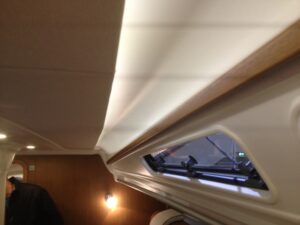 LED tapes were hidden behind handrails, curtain rails, under, besides or above cupboards or in dedicated "grooves" which were cut into the ceiling or bulkheads.
Tiltable spot lights were also popular, e.g. reading lights with a swan neck or spot lights with a narrow angle focus, which can be directed towards dark spots and areas which previously were so difficult to illuminate.
Thanks to modern LED technology, much more light can be used for the same power consumption, since LED consume less than one sixth of traditional halogen lights.
Leading light suppliers pride themselves to offer LED in the correct colour and – even more importantly – the correct Colour Reflecting Index (CRI). CRI is especially important when light is reflected on wood, especially mahogany, whereby white areas are much more "forgiving". Therefore it is important that you choose a lighting partner you trust, when deciding on LED for your boat.
I have become interested in light, since this is easily retrofitted also on older boats, and highly increases to comfort factor onboard. Changing the light on Regina Laska to Båtsystem's LED technology became the single most enhancing factor during my refit project, I must say.
My new interest in lighting leads me to visit METS in Amsterdam on 10-21 Nov, which is the professional marine equipment exhibition targeting yards, distributors and chandleries. Here, I hope to learn more about light and to start a co-operation with Båtsystem, the LED specialist I think has found the best balance between quality and price and who has full understanding of the complexity of the technology. For instance, they have an own "light lab" where they test the LED's before putting them on the market to ensure the correct parameters, such as the bespoke colour and CRI.
If you have any enquiries about lighting systems onboard your own boat, please revert and I will try to help.
For some pictures se below