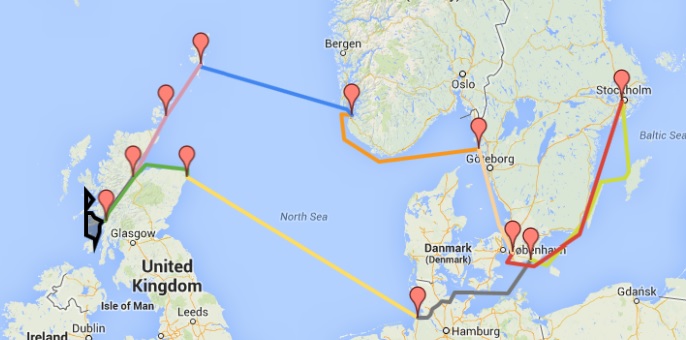 Itinerary 2019
  My seventh season: And I still enjoy to sail with my guests as much as on the very first day!

Reginasailing opens up the yearn for the ocean, to long for the vast and endless sea.
I am glad that my legs are so  sought after, although this means, at the same time, that it might seem difficult to get a place. Having said that, I would like to emphasize that there are always openings for new guests: so please don't hesitate to contact me.
Each below leg is different. Some are RYA sail training courses, others are ocean passages and yet others are just intended for a relaxed holiday sailing.
Whom you sail with is just as important as the leg itself, please send an e-mail as personal as possible and I will try my best to offer you a leg that suits your expectations, experience and fellow crew members!
2019 takes us from Sweden via Germany to France and to the South Coast of England where Competent Crew, Dayskipper, Coastal Skipper and Yachtmaster Prep Courses are offered, some of which take us to the Channel Islands. From England, we continue by exploring Cornwall and Scilly Islands, before crossing the Celtic Sea to Ireland and continue along the thrilling southwest coast of Ireland. We will sail to Scotland and then return back to Dublin for the crossing of the Bay of Biscay to Galicia, Spain for some relaxing cruising at the end of the season 2019.
Re prices, please click on the corresponding leg. The price is given at the bottom of each description of the leg in question.