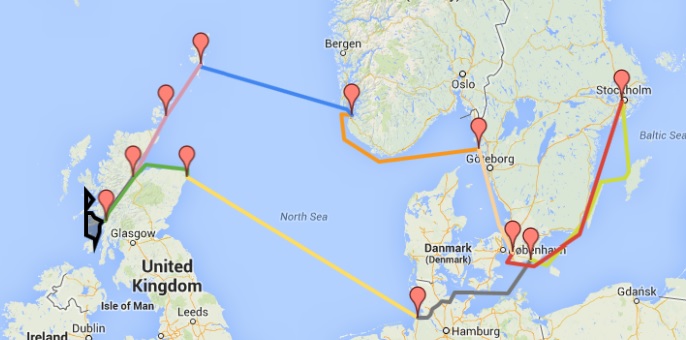 Itinerary 2020
  My eighth season: And I still enjoy continuously learning from my many guests!

Reginasailing opens up the yearn for the ocean, to long for the vast and endless sea.
Although it might seem difficult to get a place on one of my sailing legs, I would like to emphasise that there are always openings for new guests: so please don't hesitate to contact me. 
Each below leg is different. Some are RYA sail training courses, others are ocean passages and yet others are just intended for a relaxed holiday sailing.
Whom you sail with is just as important as the leg itself, please send an e-mail as personal as possible and I will try my best to offer you a leg that suits your expectations, experience and fellow crew members!
2020 begins with two relaxed sail trainings in Galicia, Spain, and continues on an RYA Yachtmaster Ocean qualifying leg over the Bay of Biscay to The Solent, England, where  there will be a Dayskipper course. We continue on an RYA Coastal Skipper course from The Solent to Edinburgh and then switch to adventure sailing up in the northern Scottish islands Orkney and Shetland. The North Sea takes us to Norway, where the summer will be spent in the picturesque and stunning Fjords all the way up to Helgelandskysten and then back again to Sweden, where I will winter, once again, with Adams Boat Care.
Re prices, please click on the corresponding leg. The price is given at the bottom of each description of the leg in question.